The Volo Museum is a unique and fascinating attraction located in Chicago.
Founded in 1960, the Volo Auto Museum has grown to become one of the world's largest and most comprehensive collections of automobiles, antiques, and artifacts.
The museum features over 35 exhibits, with a collection that ranges from classic cars and motorcycles to vintage tractors, military vehicles, and rare antiques.
This article shares everything you should know before booking tickets for the Volo Museum in Chicago.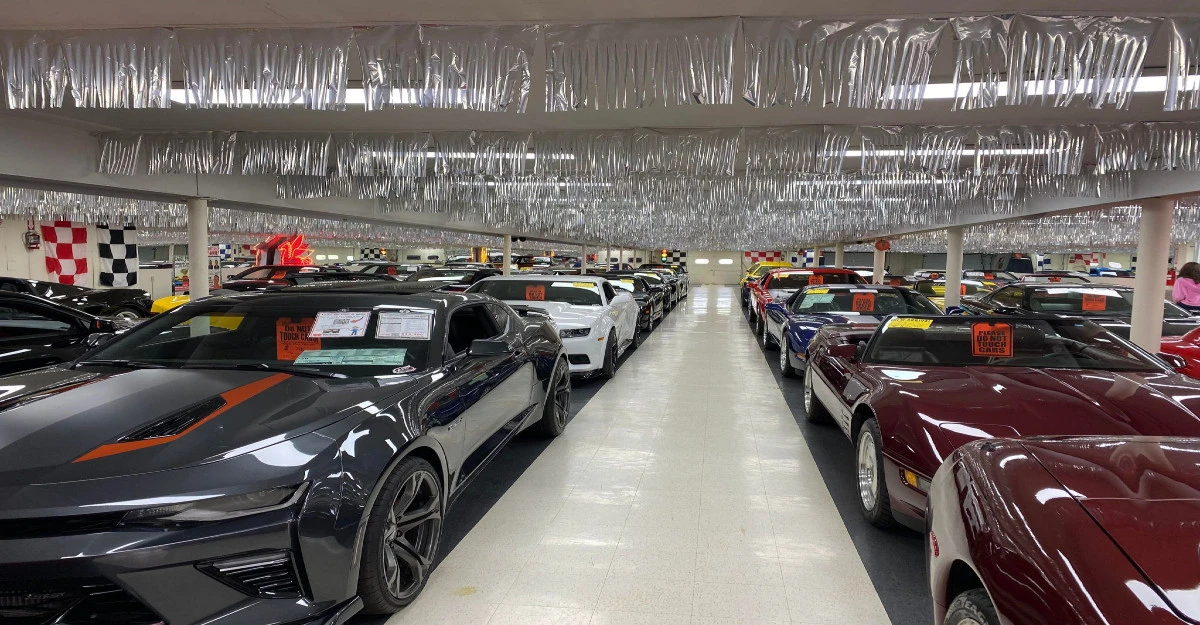 What to expect at the Volo Museum in Chicago
The Chicago Volo Museum exhibits are spread over 35 acres of land, and each exhibit offers a glimpse into a different aspect of automotive history.
You can see everything from classic and muscle cars to motorcycles, military vehicles, and rare antiques.
Here are some of the things you will expect to see at the museum:
Classic and Muscle Cars
The Volo Museum is known for its extensive collection of classic and muscle cars.
You can see a range of vehicles from different eras, including the 1920s, 1930s, 1940s, and 1950s.
Some of the iconic cars that are on display include the 1966 Ford Mustang, the 1957 Chevy Bel Air, the 1934 Ford Sedan, and many more.
Cars of the Rich and Famous
The Cars of the Rich and Famous exhibit features a range of luxury vehicles.
This includes a 1953 Cadillac Eldorado that once belonged to Elvis Presley and a 1930 Rolls Royce Phantom that was once owned by the Sultan of Brunei.
Hollywood Cars
The Hollywood Cars exhibit at the Volo Museum features vehicles from some of the most iconic movies and TV shows of all time.
You can find the Batmobile from the 1960s "Batman" TV series, the DeLorean from "Back to the Future," and General Lee from "The Dukes of Hazzard," among other iconic vehicles.
The exhibit also includes costumes, props, and other memorabilia from these popular films and TV shows.
Military Vehicles
The Military Vehicles exhibit showcases a range of military vehicles, including tanks, jeeps, and armored cars, from various eras in history.
The exhibit also features uniforms, helmets, and other military artifacts, giving visitors a glimpse into the lives of soldiers and military personnel.
Vintage and Antique Memorabilia
The Volo Auto Museum also has a large collection of vintage and antique memorabilia, including gas pumps, signs, and other artifacts from the early days of motoring.
The antique toy exhibit is also a must-see, with a collection of vintage toys dating back to the 1800s.
Classic and Antique Boats
You can also find an extensive collection of classic and antique boats on display at the museum, ranging from wooden speedboats to sailboats.
Vintage Arcade Games
The Volo Museum also features a vintage arcade game exhibit with various classic games, such as pinball machines and arcade cabinets.
Vintage Car Dealership
In addition to the exhibits, the Volo Museum also has a vintage car dealership on site.
Visitors can purchase classic cars, muscle cars, and other unique vehicles at the Volo Car Museum.
The dealership is well-known for its extensive inventory and knowledgeable staff, who can help visitors find the car of their dreams.
---
---
Where to buy Volo Auto Museum tickets
You can purchase your Volo Museum entry tickets at the attraction or online in advance.
If you land at the venue to buy tickets, you'll have to line up at the ticket counter.
During peak times, these lines can get long, and you will end up wasting your time.
Online tickets for the Volo Car Museum are cheaper than the tickets sold at the venue.
Online tickets also help you avoid last-minute disappointments when tickets get sold out.
How online ticket works
Go to the Volo Museum Chicago booking page, select your preferred date and the number of tickets, and buy the tickets instantly.
Immediately after the purchase, you receive the tickets in your email.
You don't need to take any printouts.
On the day of your visit, show your ticket on your smartphone and enter the automobile museum.
Cost of Volo Car Museum tickets
The Volo Museum Chicago entry tickets cost US $20 for all visitors aged between 13 to 64 years.
Seniors over 65 years get a discount of US $2 and pay only US $18 for entry.
Children between 5 to 12 years get a US $7 discount and pay only US $13 for entry.
Kids up to four years can enter the museum for free.
Military professionals with valid IDs can enter the Volo Auto Museum for US $17.
Volo Museum entry tickets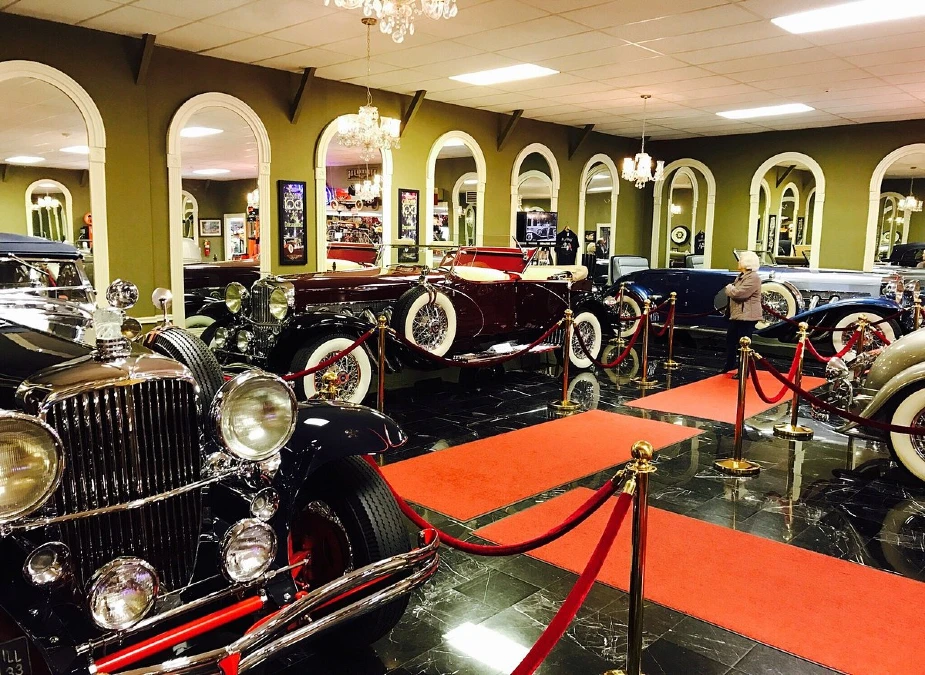 The Volo Museum entry tickets include access to all exhibits and displays.
The museum has a gift shop where you can purchase souvenirs, books, and other memorabilia related to the exhibits.
You can also find a café that offers a range of snacks, beverages, and light meals for visitors to enjoy during their visit.
Ticket Prices
Adult Ticket (13 to 59 years): US $20
Senior Ticket (60+ years): US $18
Child Ticket (5 to 12 years): US $13
Military Ticket (with a valid ID): US$17
Save time & money! Buy Chicago City Pass, and visit Shedd Aquarium, Skydeck Chicago, Museum of Science and Industry, and many more famous attractions, and go on a Shoreline Sightseeing Architecture River Tour.
How to reach the Volo Museum in Chicago
The Volo Museum is located in Volo, Illinois, approximately 50 miles northwest of downtown Chicago.
Address: 27582 Volo Village Rd, Volo, IL 60073, United States. Get Directions!
You can reach the Volo Auto Museum via private transport.
By Bus
You can board bus number 570 to reach the Rollins/Blackhawk Bus Stop, a 7-minute drive from the Volo Car Museum.
By Train
You can take the Milwaukee District-North (MD-N) Train Line to reach the Long Lake Train Station, an 8-minute drive from the museum.
By Car
The most convenient way to reach the Volo Museum in Chicago is by car, so turn on Google Maps on your smartphone and get started.
The Volo Museum is situated near the intersection of U.S. Route 12 and Illinois Route 120, making it easily accessible from major highways in the area.
The Volo Museum offers free parking for all visitors.
---
---
Volo Museum Chicago timings
During the peak season of May to September, Volo Museum is open from 10 am to 6 pm every Sunday to Friday.
On Saturdays, the museum remains open till 7 pm.
During the lean months of October to April, the Volo Museum opens at 10 am and closes at 5 pm daily.
The museum remains closed on Easter, Thanksgiving, and Christmas.
However, it welcomes guests on Christmas Eve and New Year's Eve but closes early, at 3 pm.
How long does the Volo Museum take
It takes around two to three hours to see everything that the Volo Auto Museum has to offer.
However, if you are a big fan of classic cars or military vehicles, you may want to explore those exhibits in more detail.
The Hollywood Cars exhibit can also be a highlight for movie buffs and car enthusiasts.
The vintage arcade game exhibit can be a fun diversion for visitors of all ages, and the antique toy exhibit is also a must-see.
Best time to visit the Volo Auto Museum
The best time to visit the Volo Museum in Chicago is as soon as it opens at 10 am.
The crowd is usually less during the morning, giving you ample time to stroll inside the museum and go through every exhibit at your pace.
On weekends, the Volo Car Museum experiences a huge rush, which may prevent you from exploring the museum conveniently.
Is the Volo Museum in Chicago worth a visit
The Volo Museum is an incredible attraction for car enthusiasts, history buffs, and anyone looking for a fun and unique experience.
Its vast collection of vehicles and artifacts, along with its knowledgeable staff, make it a must-visit destination for anyone visiting Chicago.
Sources
# Volocars.com
# Yelp.com
# Wikipedia.org
# Tripadvisor.com

The travel specialists at TheBetterVacation.com use only high-quality sources while researching & writing their articles. We make every attempt to keep our content current, reliable and trustworthy.
Popular attractions in Chicago