360 CHICAGO is an observatory in the iconic John Hancock Building, offering fantastic 360 degrees views of the city.
This observation deck at 305 meters (1000 feet) is also known as John Hancock Observatory.
The best part at the observatory is 360 CHICAGO Tilt, where visitors get the adrenalin rush of downward-facing views over The Magnificent Mile and Chicago's famous skyline.
This article explains everything you must know before buying 360 CHICAGO tickets.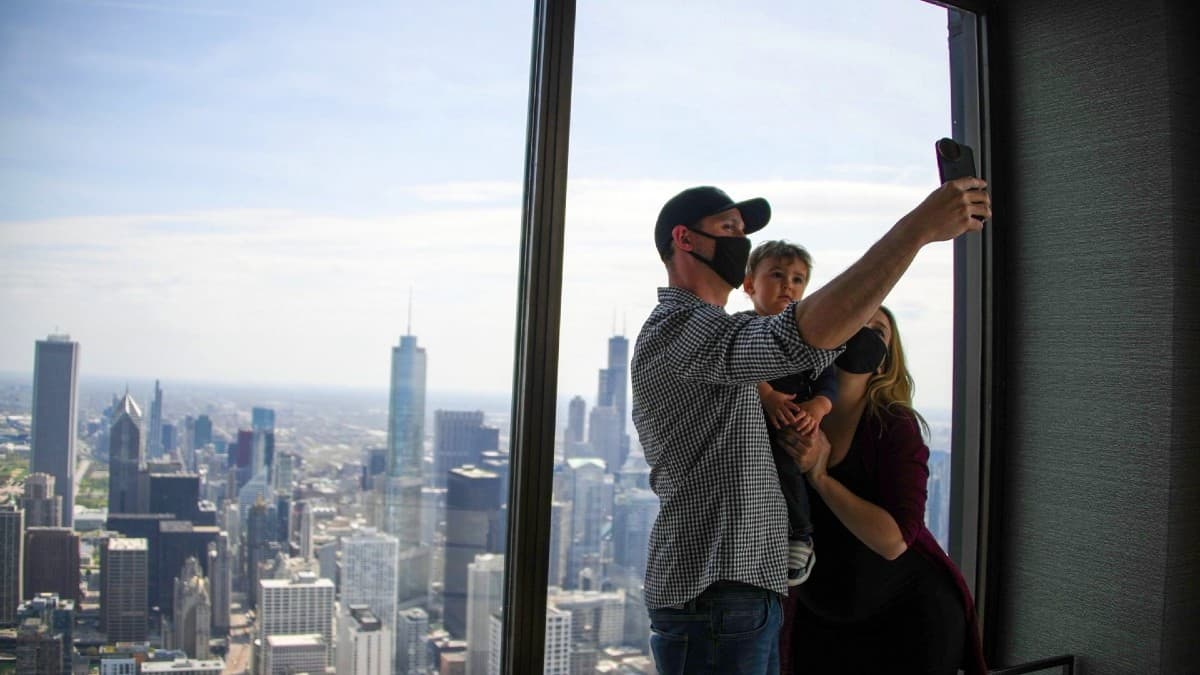 What to expect at 360 Chicago
So what are you waiting for? Book your tickets now!
---
---
360 Chicago hours
360 CHICAGO observation deck opens at 9 am and closes at 11 pm every day of the year.
The last entry at 360 CHICAGO is one hour before the closing.
---
---
360 Chicago tickets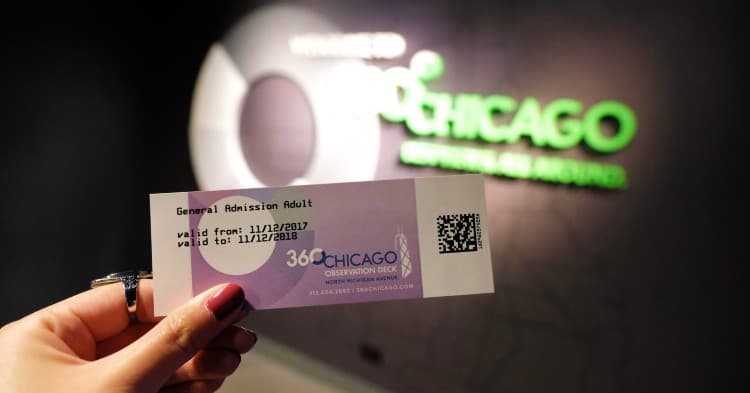 Purchasing your tickets for 360 CHICAGO online is a better experience for three reasons:
Online tickets are cheaper because there is no 'ticketing window surcharge.'
You don't wait in the ticket counter queue and waste your time and energy.
Only a limited number of tickets are sold per day (because of social distancing), and it is 'first-come, first-served basis. Booking your tickets online (and in advance) ensures a guaranteed entry.
The tickets get emailed to you.
On the day of the visit, you can skip the line at the ticket counter and proceed directly to the check-in booth to scan your smartphone ticket.
360 CHICAGO offers two kinds of experiences – regular 'skip the line' tickets and the 'Sun and Star' tickets.
Regular 'Skip the Line' tickets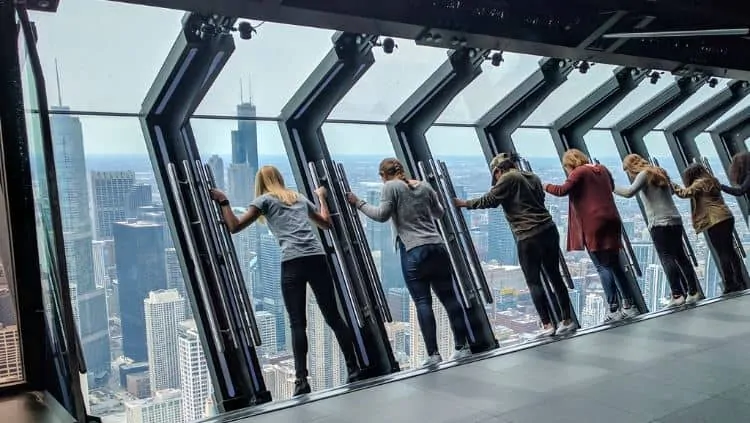 These are the most popular 360 CHICAGO tickets.
This Skip the line ticket gets you admission to the 360 CHICAGO observatory in the shortest possible time.
You can choose to book this ticket with the 360 CHICAGO Tilt experience or without it.
It is not possible to book your TILT experience in advance but once at the venue, you can upgrade your ticket to include the TILT.
360 CHICAGO Tilt has a minimum height restriction of 3.5 feet (42 inches).
Ticket price (Monday to Thursday)
Adult ticket (12+ years): $30
Child ticket (3 to 11 years): $20
Ticket price (Friday to Sunday)
Adult ticket (12+ years): $35
Child ticket (3 to 11 years): $23
Sun and the Stars tickets
360 CHICAGO Sun and the Stars tickets get you entry to the most beautiful observatory in the whole of Chicago twice – once during the day and once at night.
In effect, you see two different spectacular views of the city from the 94th-floor observatory.
You can book this experience without or with Tilt.
Ticket price (without TILT)
Adult ticket (12+ years): $26.50
Child ticket (3 to 11 years): $19.50
Ticket price (with TILT)
Adult ticket (12+ years): $34.50
Child ticket (3 to 11 years): $27.50
Children below 3 years walk in for free.
Because of the Covid pandemic, this ticket is currently not available.
Some visitors aren't sure which observatory they want to visit – 360 Chicago or Skydeck Chicago.
---
---
Best time to visit 360 Chicago
The best time to visit 360 CHICAGO is an hour before sunset.
Since everybody wants to see the sunset from 360 Chicago's observatory, it gets crowded around this time.
But it is the best possible experience at 360 CHICAGO because you get to see Chicago's skyline in three different forms – during daylight, twilight and nighttime.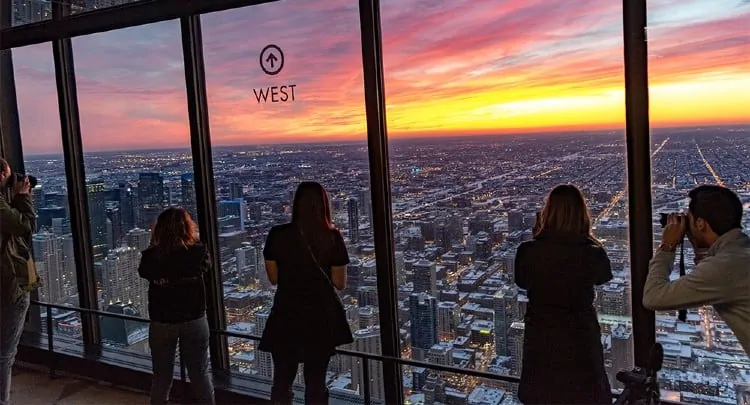 If you can't make it for the sunset, the next best time to visit 360 CHICAGO is before 10 am so that you can beat the crowd and go straight to the top.
It is also advisable to check the weather before planning your visit – the best time and day to visit any observatory is when the skies are clear.
---
---
How long does 360 Chicago take
Visitors usually spend 45 minutes to an hour enjoying the views from 360 Chicago observation deck.
Some tourists are known to stay up for more than 90 minutes.
If you haven't bought your 360 CHICAGO tickets online – you need to factor 45 to 60 minutes more in the ticketing line. To avoid waiting, buy the tickets online.
---
---
What to see in 360 Chicago?
There are many things to explore and enjoy at 360 CHICAGO.
Multimedia Exhibit
Chicago Multimedia Exhibit is an experience that begins on the ground floor of the John Hancock tower.
It is a museum-style exhibition to celebrate Chicago's history and its nine culturally rich neighborhoods.
Observation Deck
All visitors board one of the fastest elevators in the USA to ascend 94 stories to get to the observation deck of one of the tallest buildings in North America.
The elevator ride from the ground floor to the 94th floor takes only 40 seconds.
Towering above the Windy City's skyline, 360 CHICAGO observation deck offers breathtaking 360 degrees views of the city.
When the weather is clear, you can see up to 80 Kilometres (50 Miles) – up to four different states.
The observation deck also has panoramic touch screens with information on the city's history, architecture, natural scenery, culture, etc.
360 Chicago Tilt
TILT is a moveable glass and steel platform which can hold eight visitors simultaneously.
Once you are safely inside, facing the full-length window panes and holding the bars on both sides for support, the platform starts tilting outwards.
As the window panes tilt forward and outward from the 94th floor of John Hancock tower, you get downward-facing views of Chicago – from one thousand feet above The Magnificent Mile.
These panes tilt out gradually up to 45 degrees, making it one of the most thrilling attractions in Chicago.
How long does TILT last?
360 Chicago TILT lasts for around 2-3 minutes.
Depending on the time of the day and the season, you may have to wait for 5 to 15 minutes for your turn at the Tilt.
Michigan Pete
Michigan Pete is an interactive multimedia exhibit that narrates the construction of the John Hancock Building through the eyes of one of the workers.
Evald Peterson, also known as 'Michigan Pete' worked as head caisson inspector while constructing the John Hancock Building.
He documented with notes and photographs the whole process, which is now a fantastic history of the iconic building.
Bar 94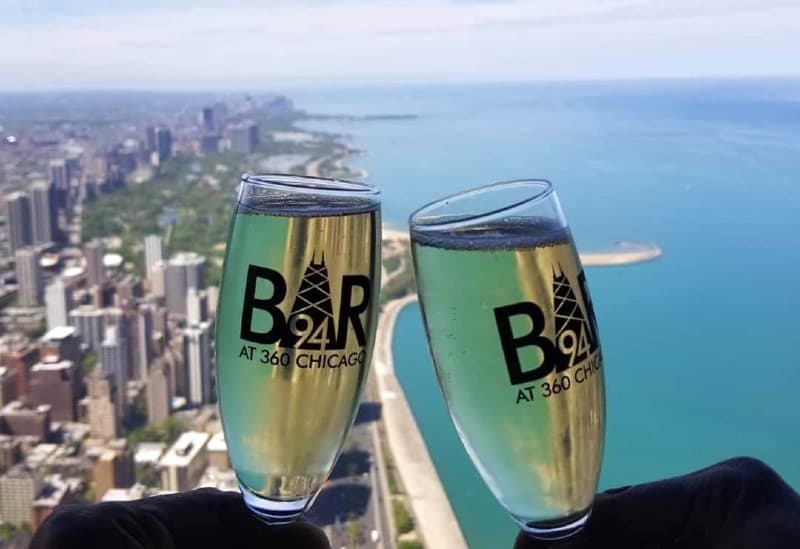 Bar 94 is on the 94th floor of the John Hancock tower and offers 360-degree views of the city.
If you are above the drinking age, we highly recommend checking it out.
Bar 94 serves locally crafted beers from Revolution Brewing and locally inspired spirits from KOVAL Distillery.
If you prefer, you can book Observation Deck Entry with a Drink at Bar 94 in advance.
---
---
Views from the observatory
On a clear day, the 360 CHICAGO observatory in the Hancock building offers excellent views in all directions.
You get fantastic views of Lake Michigan shoreline, Willis Tower, Navy Pier, downtown Chicago, etc.
In fact, on a clear day, you can see 88 km (55 miles) in any direction.
Ironically, you can even see the Willis Tower (which has the Skydeck observatory) amongst the Chicago skyline.
Northside view
Southside view
Eastside view
Westside view
Visitors love the large glass panes of this observatory, which makes it easy to look around and take photos.
The night time view is also brilliant – you can see the lit up Chicago skyline.
---
---
360 Chicago at night
After dark, from 360 CHICAGO's 94th floor, you can see the city's skyscrapers shimmering in golden light.
However, one side of the building will be dark at night since there are no lights on Lake Michigan.
To know what kind of views to expect from 360 Chicago Observatory at night, watch the video below –
Some visitors want to know what is better – visiting 360 Chicago during the day or at night?
Tourists who want to see the glittering Chicago skyline visit the observation deck after dark. Find out everything about visiting Skydeck Chicago at night.
---
---
360 Chicago during sunset
Sunset is a great time to visit any observatory, and 360 CHICAGO is no different.
You must find out the time sun will set on the day of your visit and buy a regular ticket for at least an hour earlier.
If you are at the attraction 45 minutes before sunset (with an online ticket), you can reach the 94th-floor observatory by the time the sun goes down.
However, be ready for long lines because many tourists prefer to check out the sunset from 360 CHICAGO.
If you plan it well, you can witness the City skyline during the daytime, see it change colors as the sun sets, and then watch in admiration as the lights come up one by one.
Once the sunset is over, the crowd thins down, making it seem like a private preview of the city of Chicago.
---
---
Activities at 360 Chicago
360 CHICAGO conducts exciting activities every week.
For photographers
It is tricky for photographers to find a photo-worthy attraction that allows photography.
360 CHICAGO solves this problem by allowing photographers to set up shots the way they like every Monday.
They can also use their tripods during the day and at night.
For artists
If you have a passion for art and creativity, you must visit 360 CHICAGO on Wednesdays.
Painters and illustrators are invited on Wednesdays to bring their easel and canvas up to the deck of 360 CHICAGO to capture the stunning skyline through an artist's eye.
For beer lovers
If you love beer, plan a trip to 360 CHICAGO on a Thursday evening.
From 5.30 pm to 8.30 pm on Thursdays, Revolution Brewing's locally brewed craft beer is available, plus big TV screens, board games with music, etc.
Everything is fun with a sea of city lights all around you.
For Yoga enthusiasts
360 Sky Yoga takes place every Saturday morning from 9 am to 10 am.
This one-hour yoga class is led by a professional instructor who takes participants through an all-level Yoga flow and meditation.
---
---
How to reach 360 Chicago
360 CHICAGO is in the heart of Chicago city.
It is at the top of the John Hancock Building, located at the corner of Michigan Avenue and Delaware Place, and overlooks Chicago's Magnificent Mile.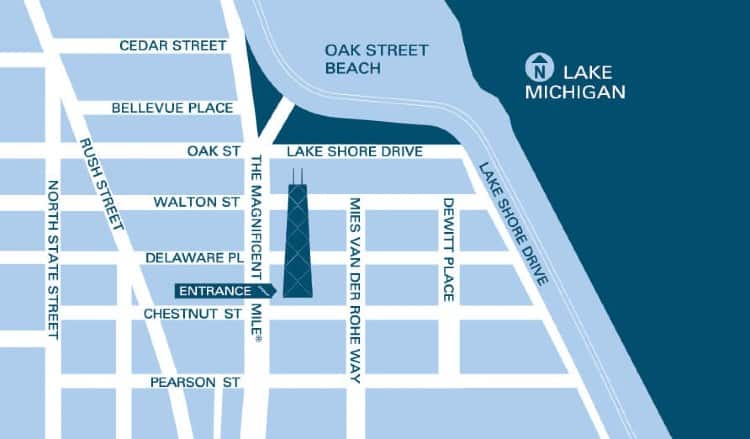 Address: 875 N Michigan Avenue, 94th floor, Chicago. Get Directions
Public Transport
To get to 360 CHICAGO, take L's Red Line to the Chicago subway station.
The Red Line is sometimes called Howard–Dan Ryan Line or the North-South Line.
From the station, the John Hancock Building is just 0.65 Kms (0.40 Miles), and you can walk the distance in less than 10 minutes.
The other option is to hop on to bus numbers 125, 146, 151, 66 and get down at the bus stop mentioned in the table below.
Divvy Bikes
Divvy's bike program is Chicago's bike-sharing system with thousands of bikes and hundreds of bike stations.
Within walking distance of 360 CHICAGO, you will find many bike stations.
It is straightforward to get a Divvy bike from one of the stations and get to this attraction.
360 Chicago parking
Parking for 360 CHICAGO is available at 875 N Michigan Avenue's garage.
The parking garage is easily accessible from the Chestnut Street or Delaware Place side of the building.
If you show your 360 CHICAGO tickets, you will receive a $5 discount on your parking fees.
To get up to a 50% discount on drive-up rates, reserve your parking spot on SpotHero.
Sources

# 360Chicago.com
# Themagnificentmile.com
# Tripadvisor.com
# Loopchicago.com

The travel specialists at TheBetterVacation.com use only high-quality sources while researching & writing their articles. We make every attempt to keep our content current, reliable and trustworthy.
Popular attractions in Chicago
Observatories in USA
# Empire State Building
# One World Observatory
# Top of the Rock
# The Edge
# Chicago Skydeck