The Field Museum in Chicago is an excellent natural history museum with exhibits such as dinosaurs, mummies, meteorites, ancient Egyptian artifacts, etc.
Some of the most famous exhibits at the Field Museum include Sue, the largest, most complete, and best-preserved Tyrannosaurus rex fossil ever discovered; the Grainger Hall of Gems, which showcases a variety of rare and beautiful gems and minerals; and the Ancient Americas exhibit, which explores the cultures and civilizations of the indigenous peoples of North and South America.
The Field Museum also conducts scientific research and has several ongoing projects, including studies on birds, insects, and plants.
Field Museum of Natural History is a perfect outing for kids and adults.
In this article, we explain everything you need to know before you visit this Museum.
Chicago Field Museum hours
Field Museum of Natural History opens at 9 am and closes at 5 pm every day of the year except Thanksgiving and Christmas Day when it remains closed.
The last entry is at 4 pm – one hour before the Museum closes.
Field Museum hours on Sunday
Field Museum's weekend timings are the same as weekday timings.
---
---
Field Museum tickets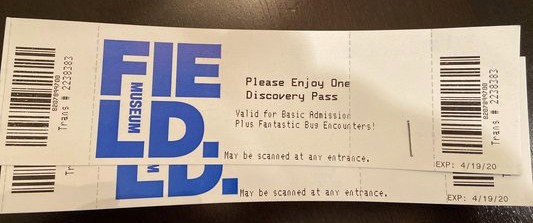 At the Field Museum, Chicago, visitors can choose from three types of tickets.
The 'Regular entry ticket' is the cheapest, and the 'All Access Pass', which gets you access to everything in the Field Museum, is the costliest.
If there are no time and money constraints, we recommend getting the All-Access Pass.
Since all these are smartphone tickets, you don't need to take printouts.
On the day of your visit, show the tickets on your phone at the entrance and walk in.
You can join the free guided tours with all three tickets led by docents.
Regular entry tickets
This Field Museum ticket gets you access to all the General Admission exhibitions.
These are also known as unticketed exhibitions. We list them below –
Griffin Halls of Evolving Planet and Sue Rex
A Natural Talent: The Taxidermy of Carl Cotton
Máximo, the Titanosaur
Inside Ancient Egypt
Nature Walk and Messages from the Wilderness
Crown Family PlayLab
Grainger Science Hub
Africa Exhibition
Brewing Up Chicago
Grainger Hall of Gems
Robert R. McCormick Halls of the Ancient Americas
McDonald's Fossil Preparation Laboratory
Looking at Ourselves
Abbott Hall of Conservation: Restoring Earth
Regenstein Halls of the Pacific
Maori Meeting House
Ronald and Christina Gidwitz Hall of Birds
Pawnee Earth Lodge
Animal Biology
DNA Discovery Center
Elizabeth Hubert Malott Hall of Jades
Plants of the World
Meteorites Exhibition
Exclusions: This ticket doesn't get you access to the ticketed exhibitions and the 3D movies.
Weekday Ticket Price
Adult ticket (18 to 64 years): $27
Youth ticket (5 to 17 years): $24
Weekend Ticket Price
Adult ticket (18 to 64 years): $29
Youth ticket (5 to 17 years): $26
On the ticket booking page, select 'Basic Admission'
Discovery Pass
The Discovery Pass includes admission to all the unticketed exhibits (mentioned above) plus your choice of ONE-ticketed exhibit or 3D movie.
The three ticketed exhibits and three 3D movies you can choose from are –
Cyrus Tang Hall China
Fantastic Bug Encounters
Underground Adventure
Titanosaur 3D: The Story of Maximo
Waking the T Rex 3D: The Story of Sue
Egypt 3D: Secrets of the Mummies
Ticket price
Adult ticket (19+ years): $35
Youth ticket (5 to 18 years): $31
On the ticket booking page, select 'Discovery Pass'
All Access Pass
With this Field Museum ticket, you can see all the general admission exhibitions and all the three ticketed exhibitions.
Also, you get to choose ONE of the 3D movies from the below list –
Titanosaur 3D: The Story of Maximo
Waking the T Rex 3D: The Story of Sue
Egypt 3D: Secrets of the Mummies
If money and time aren't a concern, we recommend you book this experience.
Ticket price
Adult ticket (19+ years): $41
Youth ticket (5 to 17 years): $36
On the ticket booking page, select 'All Access'
If you want a VIP experience at Field Museum, check out this Early Access Ticket. You start your one-hour guided tour at 8 am, much before the Museum opens for others, and then continue to explore for as long as you want.
---
---
Field Museum free days
The Field Museum announces free days in advance, during which all Illinois residents can walk into the Museum for free.
As an Illinois resident, you can benefit from these free days throughout the year.
Just show your Illinois residency proof, like a driver's license, State ID, or Chicago CityKey.

This free entry includes access to all general admission exhibitions, such as Evolving Planet, The Ancient Americas, and Inside Ancient Egypt.
To access other ticketed exhibits, you can buy discounted passes available at the venue (and can't be purchased online in advance).
---
---
Field Museum discounts
There are many ways to get a discount at the Field Museum of Natural History, Chicago.
Kids discount
Kids four years and below get a 100% discount on their tickets. They can enter the Museum for free.
Students discount
Students 5 to 17 can display their valid Student ID card and avail of a $3 discount on the General Admission ticket.
On Discovery Pass, they get a $4 discount, while on the All-Access Pass, they get a $5 reduction.
*Seniors aged 65 years and above also get similar ticket deductions, which can be availed at the venue.
Special Discounts
Visitors get a discount at the Chicago Field Museum if they qualify for any of the below-given conditions.
They can avail of these rebates only at the attraction's ticket counters.
Chicago Residents: Visitors within Chicago city limits can save $5 or more per ticket if they show proof of residence.
Active Military Personnel: The basic admission to the Museum is complimentary if you are currently active military personnel. That's a 100% discount for men and women in uniform.
Illinois Teachers: On producing a valid ID card, teachers from the State of Illinois (teaching any class) receive a free basic entry ticket.
Go Chicago Card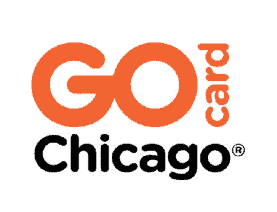 Save up to 45% on admission to 26 Chicago-area attractions (including the Field Museum) with a single ticket.
---
---
Best time to visit the Field Museum
It is best to visit Field Museum in Chicago when they open at 9 am.
When you start early, you avoid the crowd and catch the museum staff conducting free guided tours when they are most energetic.
Since the 'Ancient Egypt' exhibit gets the maximum crowd, exploring it as soon as you enter, the Museum is better.
If you are not a local, try avoiding the free days as the Museum is exceptionally crowded.
---
---
How long does Field Museum take
If you visit with kids, you will need at least 4 to 5 hours to explore the Chicago Field Museum to your satisfaction.
If you are in a hurry, you can stick to the highlights and finish your tour in 90 minutes.
Tip: If you plan to extend your stay at the Museum, visiting the restaurant in between helps recharge your energies.
---
---
Free tours at Field Museum
The Field Museum staff conducts free guided tours daily.
You can join these tours if you have a basic Museum entry ticket.
Field Museum highlights tour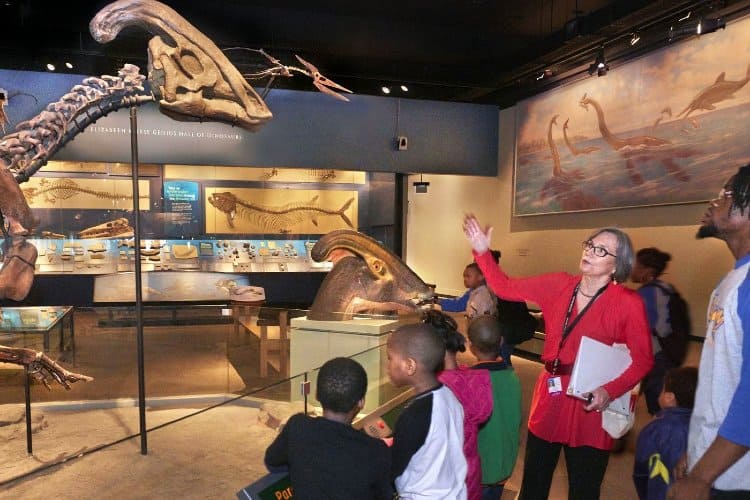 This one-hour tour starts at 11 am daily, except on Thursdays when it begins at 2 pm.
On this guided tour, you will be taken through the highlights of this Museum – including but not limited to Sue the T-Rex, man-eating lions of Tsavo, Egyptian mummies, etc.
You also learn about the Museum's history and ongoing science and research.
Some of the other free tours at Field Museum include –
1. Tour of the Dinosaurs
2. Evolving Planet
3. Africa Safari
4. Ancient America
5. Ancient Egypt
6. Pawnee Earth Lodge
7. Plants of the World
8. All About SUE
9. Gemstones, Gems, and Jewels
10. Travel Through Africa
On the day of your visit, get the list of free tours of the day and their schedule from the Information desk at the main level.
---
---
What to see at the Field Museum
The Field Museum is massive.
Its exhibition space occupies over 480,000 square feet on the Ground, Main, and Upper levels.
This Natural History Museum has 30 Million specimens.
However, less than 1% of the exhibits are displayed, and the rest are in storage.
Even then, for a first-time visitor exploring the Museum can be overwhelming.
Here is our list of the must-see at the Field Museum of Natural History.
Griffin Halls of Evolving Planets
In Griffin Halls, you learn about each organism that has ever walked on Earth.
See a variety of fossils, animated videos, etc., to learn about evolution from scratch.
Experience the educational journey from a single-celled organism to human.
In this section, you will see the fossil skeleton of Tyrannosaurus rex called Sue, Megatherium, a giant ground sloth, the Tully Monster, and Lucy, a 3.2-million-year-old hominid.
Field Museum Maximo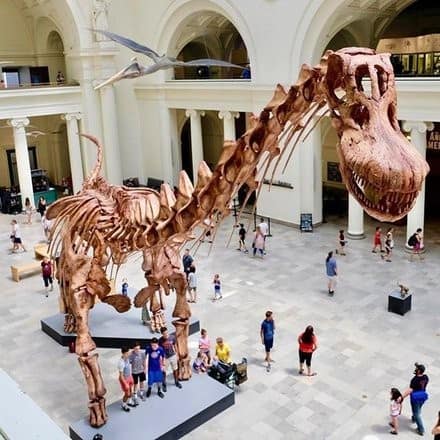 Maximo the Titanosaur is the biggest dinosaur discovered by scientists till now.
Field Museum Titanosaur reaches 122 feet, all the way across Stanley Field Hall. At his head, he stands 28 feet tall.
Check out the below-given pic to get a sense of how huge Maximo is –
Maximo is known to have lived more than 100 million years ago in present-day Argentina.
Wildlife Photographer of the Year
In this section, you get to have a closer look at nature, but through a lens.
The exhibition showcases 100+ of the world's best nature photographs.
Underground Adventure
You will shrink to the size of a penny once you enter this exhibit.
Once you are tiny, meet the creepy, crawling creatures dwelling inside the Earth.
Make new friends with mole cricket, wolf spider, and many more, and learn about their lifestyle.
When here, don't miss the insects that dig holes and move Earth, the protective earwig mama, her babies, hard-working ants, etc.
Field Museum Mummies
This exhibition takes you to Peru and Egypt.
It includes 14 mummies, coffins, and mummified animals too.
In this section, you can learn about these mummies' life, work, and religious beliefs.
Don't miss the famed Egyptian 'Gilded Lady,' and the Peruvian mummy bundles.
Cyrus Tang Hall of China
A pair of stone lions welcome you to the collection, which narrates the story of China.
Learn about the political history of China and watch a shadow puppet performance of the epic journey to the West.
Do not miss out on the animated map of dynastic China's shifting borders, the Qingming scroll, and the cargo recovered from a Chinese ship that sank in the Java Sea during the 12th or 13th century.
Inside ancient Egypt
Step into the dunes of ancient Egypt and learn about the daily life of the times.
Enter through a replica of Mastaba with two chamber rooms from the burial site of Egyptian Pharaoh Unis's son, Unis-Ankh.
This exhibition is a doorway to the life of ancient Egyptians.
Do not miss out on the floor-to-ceiling hieroglyphs in the Mastaba of Unis-Ankh and the 4,000-year-old royal boat which belonged to Pharaoh Senwosret III.
Grainger Science Hub
This is one section where the Museum's 'do not touch' policy doesn't apply.
This section is perfect for kids and adults; here, you can get your hands on the specimens and learn how to use scientific research tools.
Since the exhibits on display here keep changing, every time you visit, you see something new.
Crown Family Playlab
This interactive and hands-on learning adventure is specially curated for kids from two to six.
Explore the World's cultures through music and live inside a dinosaur's nest.
The Playlab lets your child learn while they play around.
Grainger Hall of Gems
This hall has been a visitor favorite since it was inaugurated.
The collection includes 600 gemstones and 150 pieces of antique and contemporary jewelry from all over the World.
From 3,400 years old Egyptian garnet necklaces to modern-day designs, this exhibition is the gem of Field Museum, Chicago.
Do not miss Tiffany & Co.'s stunning Sun God Opal, the Chinese jade ornament carved 600 years ago, and the 97.45-carat imperial topaz, the largest topaz on display.
---
---
Field Museum floor map
Spread over various floors and halls, the Field Museum in Chicago can overwhelm most visitors.
A handy map helps get the maximum out of your visit.
Besides the exhibits, the map will also help you find visitor services such as restrooms, restaurants, souvenir stores, etc.
Upper Level's floor plan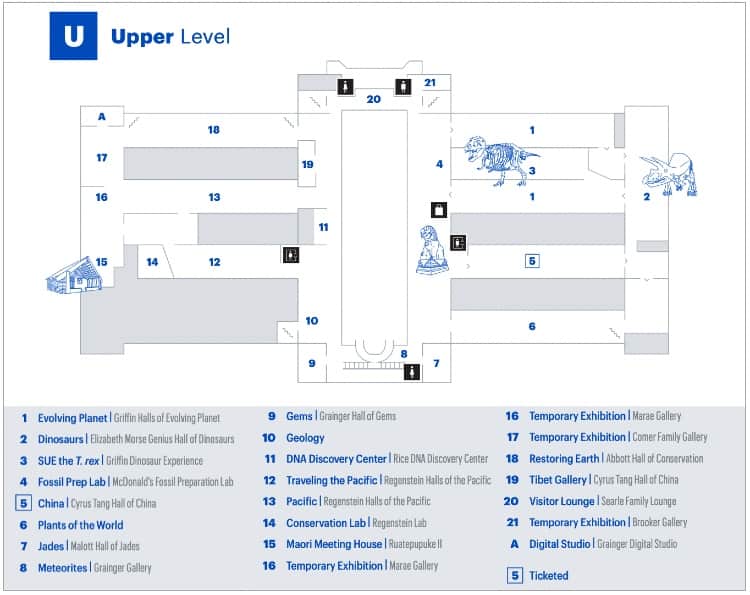 Main Level's floor plan
Ground Level's floor plan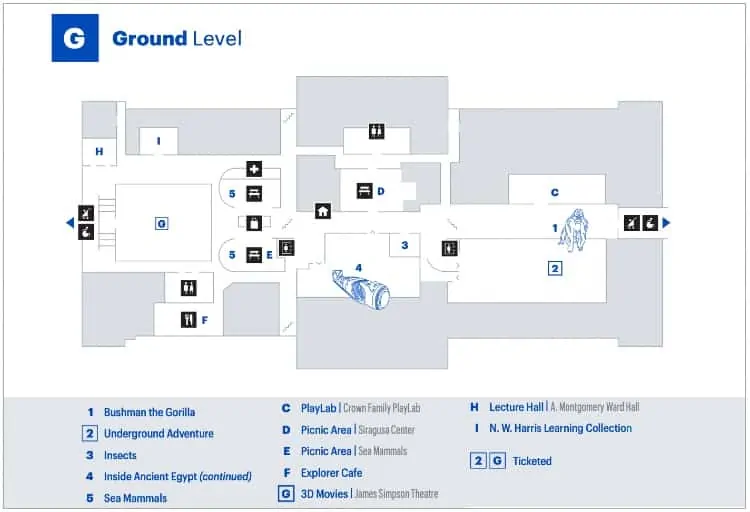 You have three options – save this page for later use, download the pdf version from here, or collect the Field Museum of Natural History floor plan at the Information desk on the day of your visit.
Credit: All maps courtesy Field Museum
---
---
Food @ Field Museum
If you want to use your Field Museum entry tickets, take regular breaks to recharge yourself.
Field Museum's ground level has a picnic-style eating area near the sea mammals.
If you have packed your lunch, you can retrieve it from your car and have it in this ground-level area.
Remember to get your hand stamped (and carry the Field Museum ticket for re-entry) before leaving to get your food.
Field Museum also has two restaurants – Field Bistro and Explorer Café – and a seasonal outdoor grill.
The Explorer Café (on the ground level) serves family-friendly foods in a casual ambiance.
Check out the Field Bistro (on the main level) if you want to catch up on a drink.
Besides beer and wine, this Field Bistro serves fares like Angus beef burgers, salads, soups, etc.
---
---
Field Museum history
The Field Museum is not just a presenter of history but a part of history itself.
Building a world-class museum emerged from World Columbia's Exposition of 1893.
To give this idea life, the officials procured exhibits one after one.
Edward E. Ayer, the first president of the Field Museum, then contacted Mr. Marshall Field, a well-known entrepreneur, philanthropist, and owner of a chain of department stores.
With his generous contribution of 1 Million dollars, the Museum earned a permanent place in society.
Soon, many contributors came in with even bigger exhibits.
Today, after a century, the Field Museum of Natural History still grows daily.
---
---
How to reach Field Museum
The Field Museum is in the middle of Chicago's Museum Campus, at 1400 South Lake Shore Drive.
The Museum Campus houses the Field Museum, Shedd Aquarium, and Adler Planetarium, three of Chicago's most popular attractions.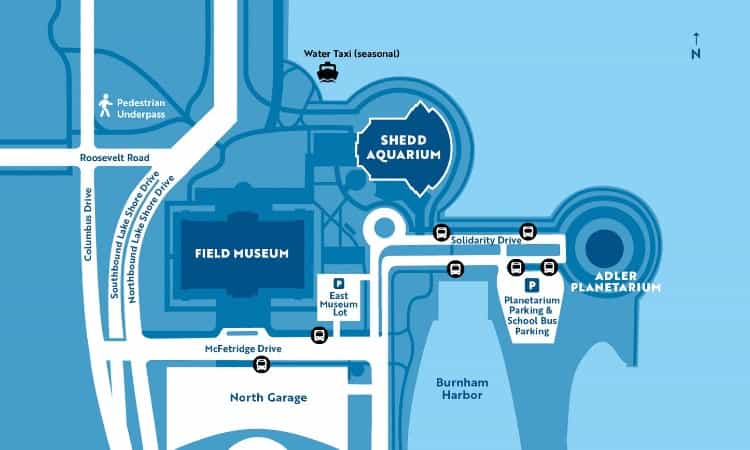 Chicago Transit Authority (CTA) has convenient public transport options, the best way to reach the Field Museum.
By CTA Train
You can get onto the Red, Orange, or Green line train and get down at Roosevelt Station.
From the Roosevelt station, Field Museum is a 15-minutes walk (see map below).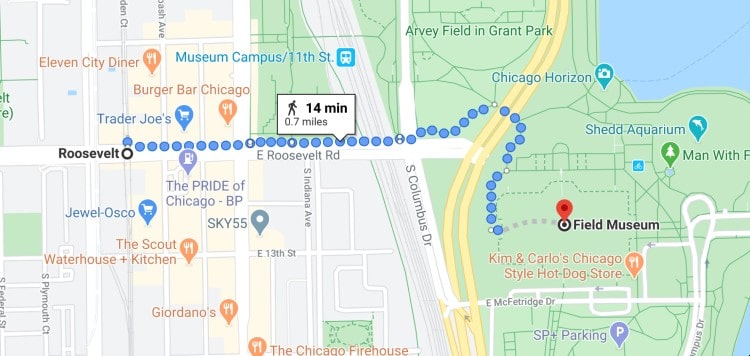 If you want to avoid walking, wait for Bus No. 146, which will take you straight to the Field Museum.
Bus No. 130 can also take you to the Museum.
You can use this CTA Bus Tracker to find out arrival times.
By Metra
Metra Electric District Station at Museum Campus/11th Street is the closest Metra stop to the Field Museum.
From the Station, the Museum is just .65 km (0.4 miles), and you can walk the distance in less than 10 minutes.
Field Museum parking
Driving to the Museum is the best option when traveling with family.
Just fire Google Maps and start driving.
SpotHero app can help you find several car parking options near the Field Museum Campus.
New app users get 5% off if they use promo code FIELDCHI
For paid parking spots, look no further than –
Soldier Field North Garage
Soldier Field North garage stays open from 5 am to 5 pm daily.
After the closing time, you can take your car out, but no overnight parking is allowed.
Parking costs 20 dollars for 4 hours and 25 dollars for 12 hours.
East Museum Lot
As the name suggests, this parking lot is on the Eastern side and opens at 9 am.
You can bring in your car till 3 pm, after which you can only take out your vehicle. No overnight parking is allowed.
It costs 25 dollars for 12 hours.
Sources

# Fieldmuseum.org
# Britannica.com
# Tripadvisor.com
# Wikipedia.org

The travel specialists at TheBetterVacation.com use only high-quality sources while researching & writing their articles. We make every attempt to keep our content current, reliable and trustworthy.
Popular attractions in Chicago