If you want to indulge in indoor skydiving in Chicago, you have two options – iFLY Chicago (Lincoln Park) and iFLY Chicago (Rosemont).
During this adventure in Chicago, you will experience the adrenaline of skydiving without ever having to get near a plane.
Begin with rigorous training to ensure that you are confident and aware of expectations.
Then, in a highly designed vertical wind tunnel, experience two 60-second 'free fall' adventures that feel like actual skydiving.
No prior experience is required, and your instructor will provide you with hands-on assistance all through.
After your indoor skydiving session is over, you will get a personalized flying certificate.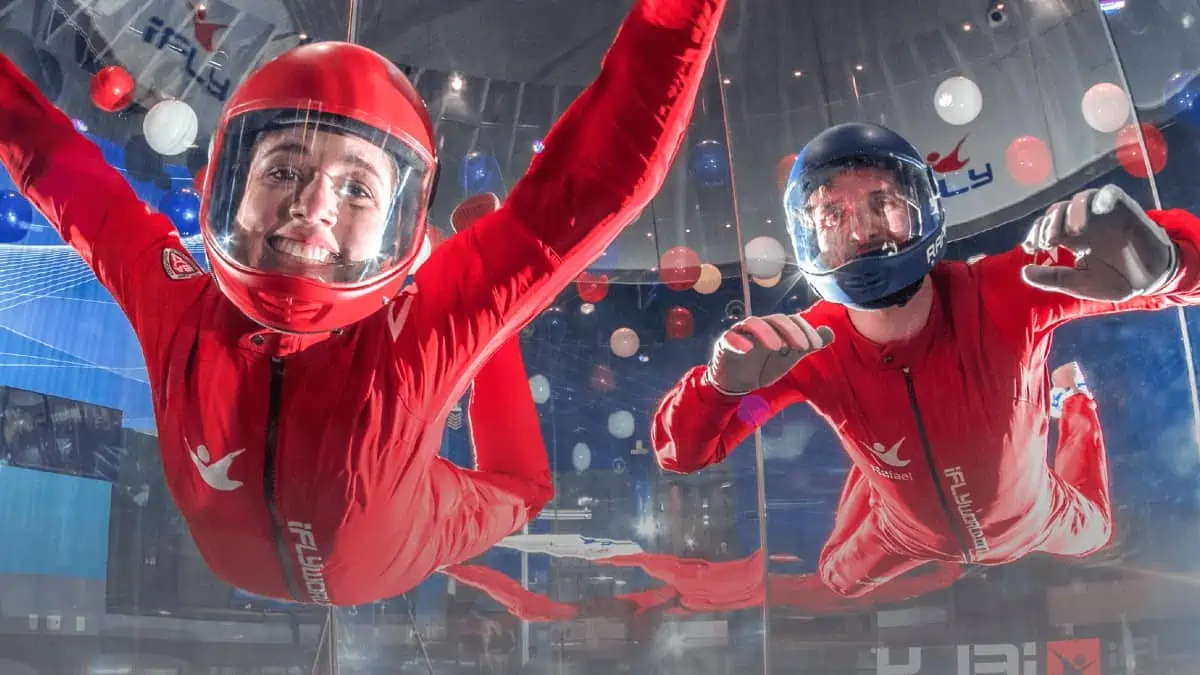 What to expect at iFLY Chicago
---
---
How long is the flight at iFly Chicago
When you leap from an aircraft, the free fall phase lasts around 45 seconds, but at iFly, it lasts longer – 60 seconds.
If you choose a package that includes two flights, you will get two 60-second spins in the wind tunnel with an instructor.
The iFLY first-time flier experience takes around 1 hour and 30 minutes from start to finish.
iFLY Chicago tickets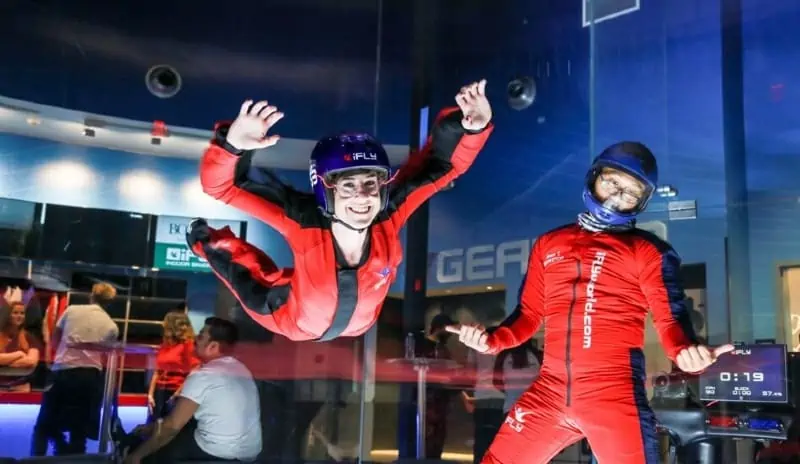 While booking your indoor skydiving tickets, you can either opt for the iFly skydiving center in Lincoln Park or the one in Rosemont.
Whichever center you choose, the iFly Chicago tickets get you the best indoor skydiving experience possible in the world.
Every guest gets two flights, and the first-time flyer experience takes about 90 min.
Before your flight, you get personal one-on-one guidance from a certified flight instructor.
You don't need to bring anything because this ticket includes all the required training and gear.
Since this is a mobile ticket, you can skip the lines and enter the attraction right away on the day of your visit.
This iFly Chicago ticket also gets you a personalized Certificate of skydiving.
You can cancel this ticket up to 24 hours in advance to receive a full refund.
Only guests older than two can participate, and there are no kids discounts.
Cost of ticket (Lincoln Park): US $92
Cost of tickets (Rosemont): US $88
---
---
Essential Information
The minimum age to try out flying at iFly Chicago is three years old.
A parent or guardian must sign the waiver for children under 18.
You will not be able to fly if you have had past neck, back, heart, or shoulder injuries, are pregnant, or are wearing a hard cast.
iFLY will be unable to accept flyers weighing more than 300 pounds (136 kg) to ensure the safety of its customers and instructors.
It is recommended that you wear comfortable clothing and well-fitting, lace-up sneakers or running shoes.
You are welcome to have food before your planned flight session. You will not experience motion sickness, nausea, or a sinking sensation in your stomach.
Travelers should be in a moderate degree of physical fitness.
---
---
iFly Lincoln Park's timings
iFly Lincoln Park is closed on Mondays and Tuesdays.
On Wednesdays, it is open from 10.30 am to 5.30 pm.
The indoor skydiving center is open from 11.30 am to 6.30 pm on Thursdays, and 10 am to 7 pm on Fridays.
It is open from 10 am to 6.30 pm on Saturdays, and on Sundays, it is available from 10 am to 7 pm.
iFly Rosemont's timings
iFly Chicago in Rosement remains closed on Monday and Thursday.
It is open from 10 am to 6.30 pm on Tuesdays and Wednesdays.
On Friday it opens late at 11 am and closes at 7 pm.
On Saturday, the sky diving center in Rosement is open for 12 hours – from 9 am to 9 pm.
On Sunday, it is available from 10 am to 8 pm.
---
---
How to reach the skydiving centers
iFLY Chicago (Lincoln Park) is at 800 West Scott Street, Chicago, IL, 60610, USA. Get Directions
iFLY Chicago (Rosemont) is at 5520 Park Place, Rosemont, IL 60018. Get Directions
Sources

# Adrenaline.com
# Yelp.com
# Tripadvisor.com
# Undercovertourist.com

The travel specialists at TheBetterVacation.com use only high-quality sources while researching & writing their articles. We make every attempt to keep our content current, reliable and trustworthy.
Popular attractions in Chicago