At the Briar Street Theatre, enjoy an outstanding Blue Man Group performance, one of Chicago's longest-running performances.
The Blue Man Group Chicago is a popular multi-sensory experience everyone must see at least once in their lifetime.
It is a dynamic combination of art, music, comedy, and technology, which appeals to a broad range of age groups and cultural backgrounds.
In all Blue Man Group shows, three bald blue men perform with the help of music, explicit comical actions, and great miming techniques.
You will enjoy the ever-changing, family-friendly entertainment's laugh-inducing antics, striking visuals, and high-tech stage show while experiencing the group's colossal tablet, the "GiPad."
This musical-comedy show has a circus-like appeal and is sure to leave you spellbound.
Top Blue Man Group Chicago Tickets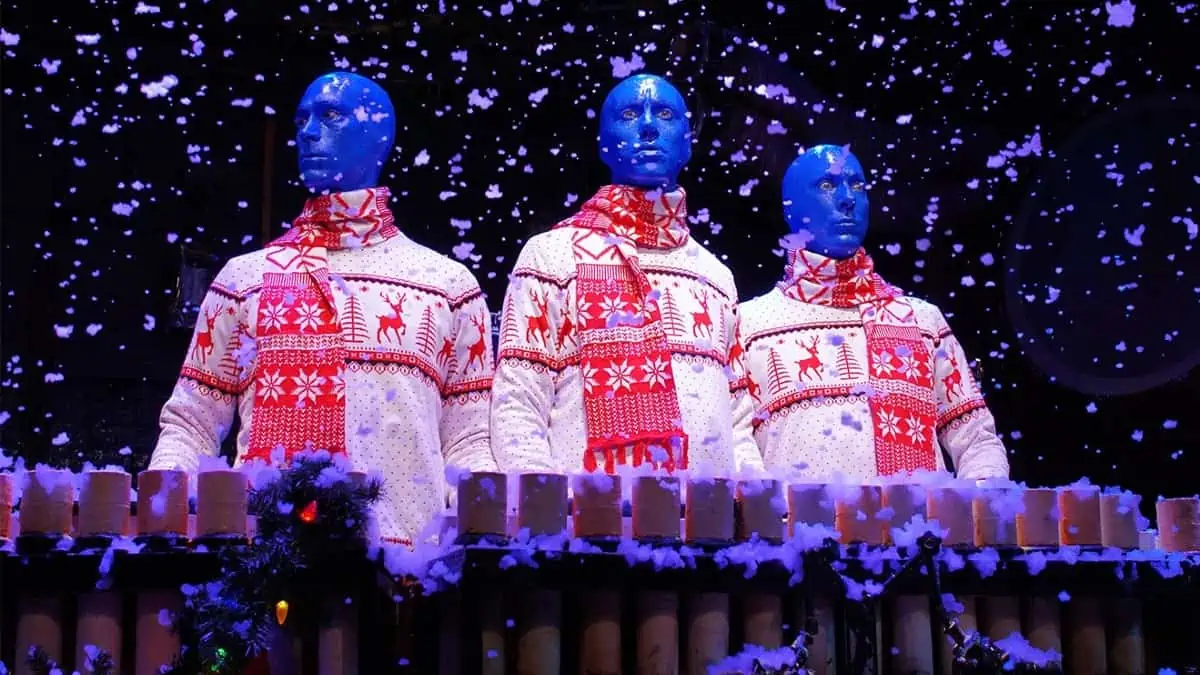 How long is the Blue Man Group Show?
Blue Man Group Chicago offers comedy, musical, theater, rock concert, and dance parties all rolled into one.
The whole show lasts approximately one hour and forty minutes.
Since there is no intermission, it is recommended that you bring in kids old enough to sit through the entire duration of the Blue Man Group's show.
---
---
Is Blue Man Group suitable for kids?
Even though Chicago's edition of Blue Man Show is outlandish and zany, there is no profanity or vulgar gestures.
It is very much suitable for all kinds of audiences.
This bizarre performance art is known to cast a hypnotic effect on children. Parents have claimed that their kids don't stop talking about the show.
The children can also get new ideas on how to express their creativity.
The Blue Man show also teaches the kids that there are no boundaries as far as art is concerned.
However, kids below three years of age aren't allowed in the Blue Men Chicago's show.
---
---
Blue Man Group show tickets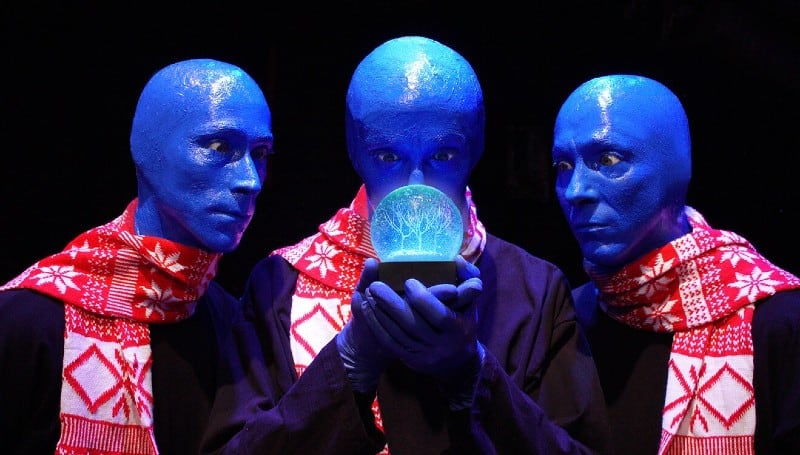 You must select your preferred seats while buying tickets to Blue Man Group's show at Briar Street Theatre.
Premium Seating is the costliest, next is the Main Floor Seating, and the Balcony Seats are the cheapest.
Since this is a Skip the Line ticket, you can avoid the lines at the ticket counter.
On the day of your visit, you can show the Blue Man Group Chicago's ticket on your mobile and walk in.
You can cancel this ticket up to 24 hours in advance to receive a full refund.
Cost of tickets
Premium seating (3+ years): US $100
Main Floor Seating (3+ years): US $78
Balcony Seating (3+ years): US $57
Important: Paint and other nontoxic materials used on stage may reach some audience members in the first few rows of the theatre due to the show's interactive nature. That's why it is better to wear casual clothes. Ponchos will be provided for the front row guests.
---
---
Blue Man Group Chicago's timings
Blue Man Group Chicago is open from 2 pm to 8 pm on Wednesdays, Thursdays, and Fridays. But, it is closed on Mondays and Tuesdays.
On Saturdays, it is open from 12 pm to 8 pm, and on Sundays, it is open from 12 pm to 5 pm.
How to reach Briar Street Theatre
Blue Man Group Chicago's address is Briar Street Theatre, 3133 N. Halsted Street, Chicago, IL 60657. Get Directions
Parking is available in the lot adjacent to the theater. It is better to arrive at least 30 minutes before showtime to avoid delays.
Best time to reach Briar Street Theatre
If you don't want to miss any of the fun, leave yourself plenty of time for reaching the theatre, security screenings, and bathroom visits before the performance begins.
Theater doors open 20 minutes before showtime, and it is better to arrive at the theater no later than 15 minutes before showtime.
If you are a bigger group, please arrive even earlier.
Sources

# Theatreinchicago.com
# Hottix.org
# Tripadvisor.com

The travel specialists at TheBetterVacation.com use only high-quality sources while researching & writing their articles. We make every attempt to keep our content current, reliable and trustworthy.
Popular attractions in Chicago