Visitors to Chicago love its cruises, exciting food, chequered history, and architecture, which is why it is an ideal Valentine's Day destination.
Young and old couples, visitors, and locals alike love spending their Valentine's Day in the Windy City.
If you adore your sweetheart (and we don't doubt it!), you will want to spoil them with all the romantic surprises Chicago has to offer.
Plan ahead of time, for many lovers will be flocking to this city to celebrate the most romantic day of the year – 14 February 2024.
Check out our pick for the most romantic Valentine's Day itinerary in the city with the best skyline in the world.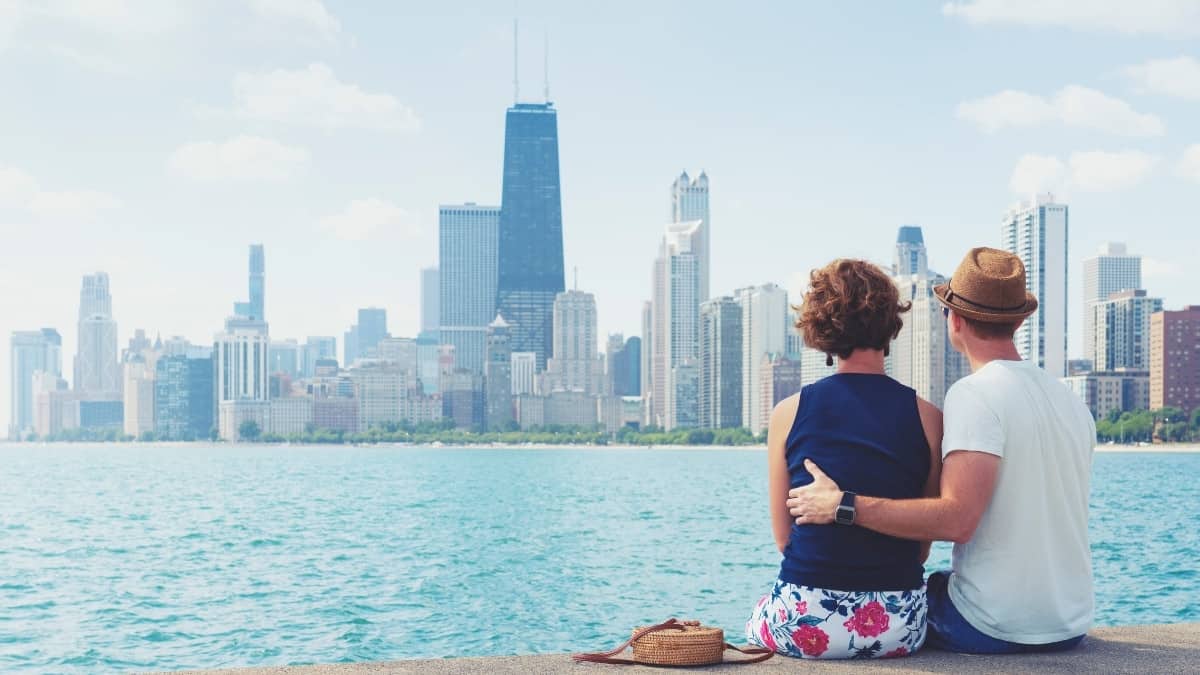 Things to do on Valentine's Day in Chicago
Here are our recommended 14 romantic things to do during your Valentine's Day week in Chicago.
You only need to bring your boyfriend or girlfriend along.
Enjoy a sunset cruise with your lover
Drinks and snacks are available for purchase on board.
If the cost doesn't matter but the quality of Valentine's Day experience matters, check out this 2-hour private sunset cruise.
---
---
Get lovey-dovey on a dinner cruise
Take a gourmet dinner cruise on a high-end luxury yacht against the backdrop of Chicago's magnificent skyline.
Climb aboard the ship for your voyage along Lake Michigan, which features a beautiful rooftop lounge and a sophisticated interior design.
Then settle down for a three-course dinner prepared on board by one of the world's finest celebrity chefs.
After supper, you can hold the hands of the person you love, look at the night views of Chicago and listen to the onboard DJ.
---
---
Go in search of Chicago's best food
Elders have said, "The way to his heart is through his stomach," and the same can be said for the way to her heart as well.
That is why one of the best ways to celebrate Valentine's Day 2024 in Chicago is to go on a food tour.
On these tours, a local food expert helps you experience the food and culture of the city.
If you and your lover are foodies, we recommend you opt for one of the numerous tours.
---
---
Try Chicago's popular Architecture Cruise
Chicago is known to have one of the world's best skyline, and its architecture tours are popular with tourists.
This Valentine's Day, why don't you cruise down the Chicago River to see the city's famous architecture?
The tour comes with a commentary from your onboard guide, who narrates stories about each building.
Offered several times throughout the day, it's easy to fit the leisurely excursion into your Valentine's Day itinerary.
---
---
Book a private helicopter tour
This helicopter tour is ideal for couples who need something extraordinary to make their Valentine's Day memorable.
During this 45-minute tour, you take in sweeping views of Chicago from the air and look at landmarks such as Millennium Park, Navy Park, and Wrigley Field.
It is also an excellent opportunity for stunning photo ops, both on the ground and in the air.
---
---
Learn about the Underworld
Even today, Chicago is considered the most gang-infested city in the United States.
Now imagine how it must have been in the 1920s when the gangs were at their peak.
If you and your partner love history or mystery, you will love to learn about the Chicago underworld.
There are two ways to learn about the bootleggers, speakeasies, and gangsters like the infamous Al Capone – the walking tour or the coach tour.
During these tours, you will also be visiting onetime gangster hangouts and haunted sites like the Palmer House, Congress Hotel, and Death Alley.
---
---
Get an adrenalin-rush on Speedboat
This fast-paced speedboat ride is sure to get your heart beating and includes a healthy dose of history, humor, and facts.
You listen to roaring music and the engines as your 2,000-horsepower craft zips along the lake on its way to an adrenaline-pumping tour.
Zoom down the shoreline of Lake Michigan on a fantastic speedboat excursion in Chicago, whizzing by iconic sites along the way.
The speed-infused adrenalin-rush is sure you bring both of you even closer, so don't miss it!
---
---
Kayak as a couple in Chicago
Both novice and experienced kayakers are at ease on this excursion past significant city landmarks.
---
---
Get classy at Art Institute of Chicago
Art Institute of Chicago has the most extraordinary Impressionist collection outside of Paris.
It is the only museum in the world to be top-ranked by TripAdvisor for four years continuously and is the Number 1 thing to do in Chicago.
It may not be the traditional way to celebrate your Valentine's Day in Chicago, but if you and your partner love art, why not?
In Chicago, the Field Museum is also one of our favorites. It is an excellent natural history museum with various exhibits such as dinosaurs, mummies, meteorites, ancient Egyptian artifacts, etc. Buy Tickets
---
---
Get romantic on a lakefront cruise at night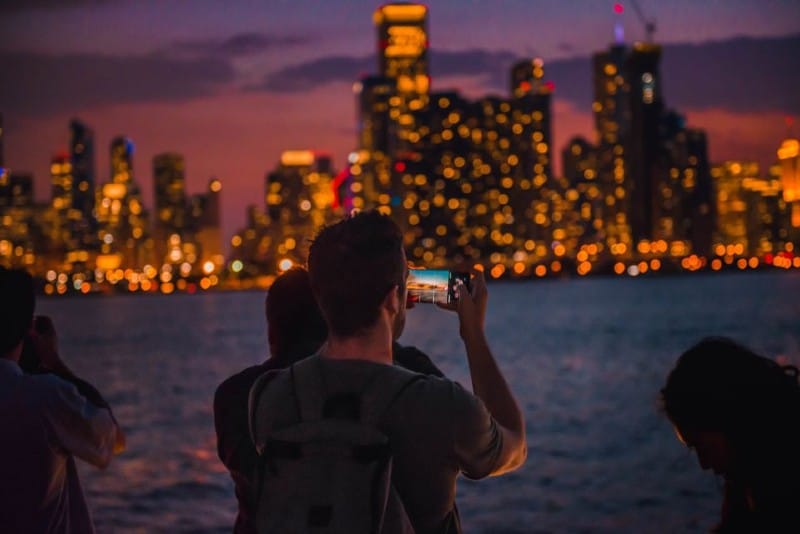 Witness the magic of Chicago at night as the city's magnificent skyscrapers and ancient structures come to life with millions of glittering lights.
This evening cruise begins on the picturesque Chicago River.
It then takes you through the Chicago Harbor Lock and out onto Lake Michigan, where you can enjoy panoramic views of the city's beautiful skyline and shoreline.
If you have Valentine's Day activities planned for the day, this nighttime cruise is the perfect way to relax and unwind with your partner for life.
---
---
Go pub hopping with your partner
If you love beer or pub-hopping, the Chicago Craft Brewery Barrel Bus Tour is the best way to celebrate Valentine's Day with the person you love.
You will travel from brewery to brewery in a Prohibition-era styled barrel bus. And during the tour, learn about the history of Chicago's beer industry originating in the 1800s.
This tour is open only for 21+ year olds, and couples must show a valid ID to join.
Your tour ends at the pickup location, after which you are free to hop into any pub and continue your romance.
---
---
Try out a Segway tour of the city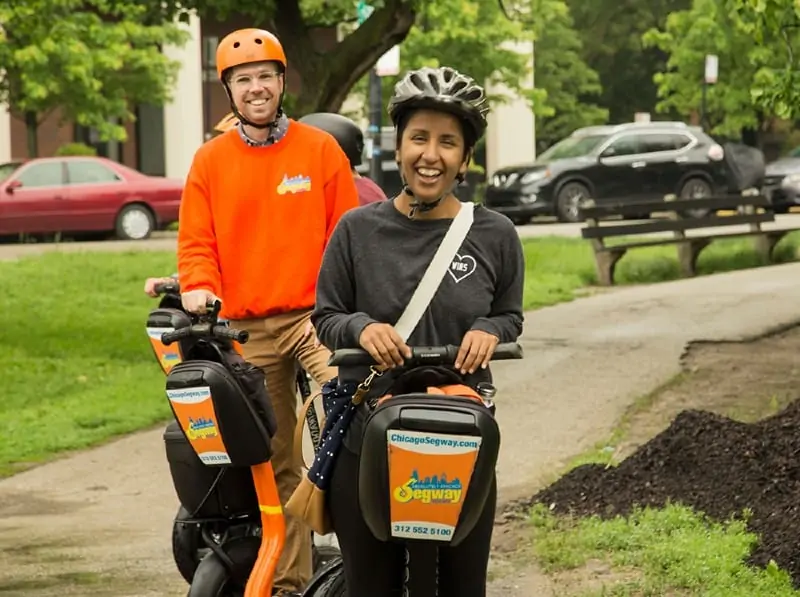 See many of the city's top sights on a 2-hour guided Segway tour of Chicago.
You will get started on your self-balancing Segway after a 30-minute orientation on using the future means of transportation.
A local expert will guide you along a scenic 13 km (8 miles) route during this tour.
It is an ideal Valentine's Day activity for young couples looking for something different.
---
---
See the city from an observatory
Chicago's skyline is one of the world's most stunning, easily ranking among the world's highest. The city is home to four of America's eight highest structures.
Two of the most famous observatories in Chicago are – Skydeck Chicago and 360 Chicago.
From the massive glass windows of their observation decks, you fully appreciate the city in all directions.
To increase the romance quotient, be at the observatory after dark – with all its lights on, Chicago is glittering below, and with fewer people, you get some privacy.
Not sure which observatory to visit? Check out our comparison Skydeck Chicago or 360 Chicago.
---
---
Roam around aimlessly with your love
Take a hop-on hop-off bus tour of Chicago that highlights over centuries years of history.
Depending on how long you want to stretch your Valentine's Day week, you can choose from 1 or 2-day tickets. Or night tour tickets.
This tour is an ideal way to spend time with your loved one because of the flexibility – you decide when you board and when to get off.
---
---
Chicago CityPass for more attractions
What can be more romantic than not worrying about the cost and roaming around Chicago freely?
Imaginative romantic couples go for a Discount Pass, which helps them get more out of less during Valentine's Day in the Windy City.
The Chicago CityPass helps both tourists and locals see must-see attractions and yet save lots of money.
So how do you and your love plan to celebrate Valentine's Day 2024 in Chicago?
Book ahead before your options run out – after all, it is yet another way of showing that you care.
Additional Reading
Valentine's Day in Paris
Valentine's Day in Venice
Best honeymoon places in the World
Romantic places to take your girlfriend or wife