Somehow our girlfriends and wives have a way with romance. It comes easy to them. But being romantic isn't an easy task for men. Well, not for all at least.
Expressing your love to your girlfriend and wife can be a difficult task. With time you learn a few tricks.
We learn to whisper sweet nothings into her ears and gift small love tokens. We learn to surprise. But is that enough?
To keep the romance alive in your relationship, the romantic in you has to be alive. For that, you need to travel to exotic and romantic places often.
What are the most romantic places to take your girlfriend or wife? If you drew a blank to that question, check out our list of the most romantic places.
These 15 most romantic places to take your girlfriend or wife is not a random list.
Men in love created this list – men who have managed to impress their girlfriends and wives by taking them along on romantic holidays.
Some of these places started off as romantic towns. Thanks to all the tourists, they have now ended up as romantic cities.
So, what are you waiting for? Take your girlfriend or wife on an amazing romantic vacation and win her heart forever.
Have you checked out the most romantic honeymoon destinations, yet?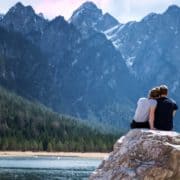 1. NEW YORK CITY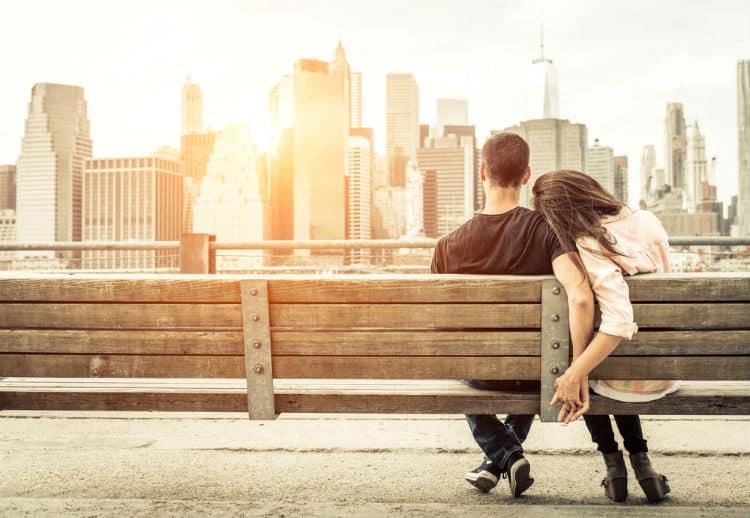 One of the most vibrant places of the world, New York stimulates all your senses in a unique manner.
Beauty of New York lies in its diversity and in its energy that you can feel in every corner of the city.
Dream city of millions of people, New York could be one of the best destinations to fall in love with your girl again.
2. BALI, INDONESIA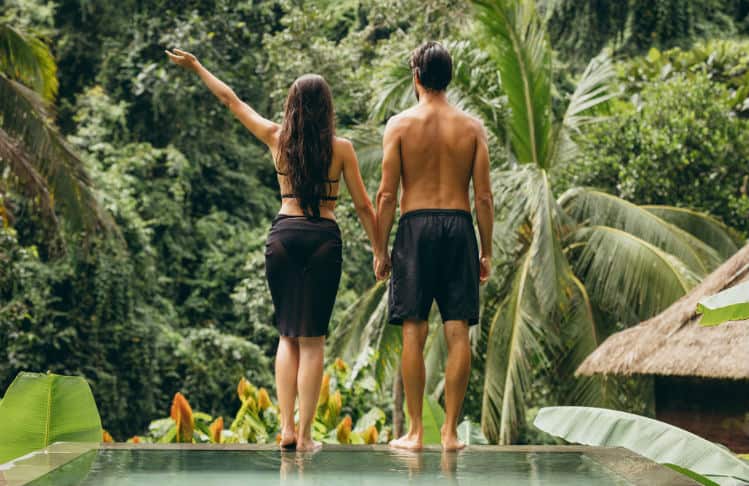 Bali has become one of the hotspots for couples and love-birds.
Those who are in search of some quality time to spend with their loved ones will love Bali.
Take a break from your daily life and land up in Bali with your girlfriend or your wife.
Bali's authentic food, dazzling nightlife, and world class beach resorts makes it one of the best places to take your girlfriend or wife.
3. THE WINELANDS, SOUTH AFRICA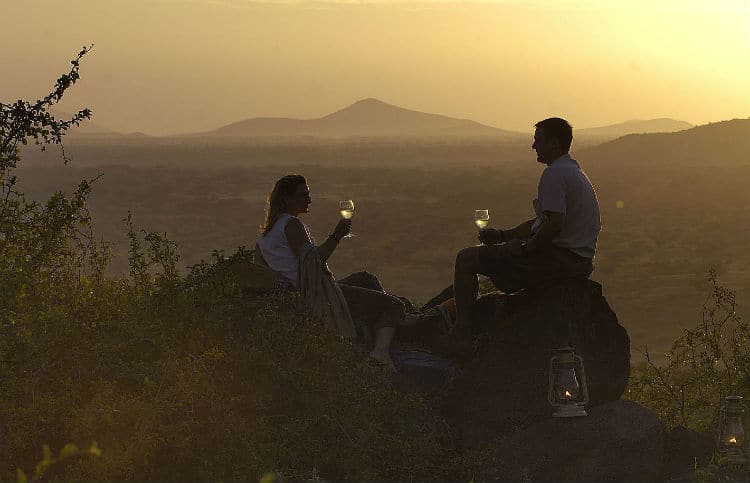 A short way from Cape Town, Winelands is an unbelievably beautiful place in South Africa.
You would love it's spectacular landscapes and amazingly designed resorts.
The picturesque mountains will set your mood by default on romantic.
Besides, no one can beat the charm of world's finest wine, which tastes best when your girlfriend of wife is around.
4. RIO DE JANEIRO, BRAZIL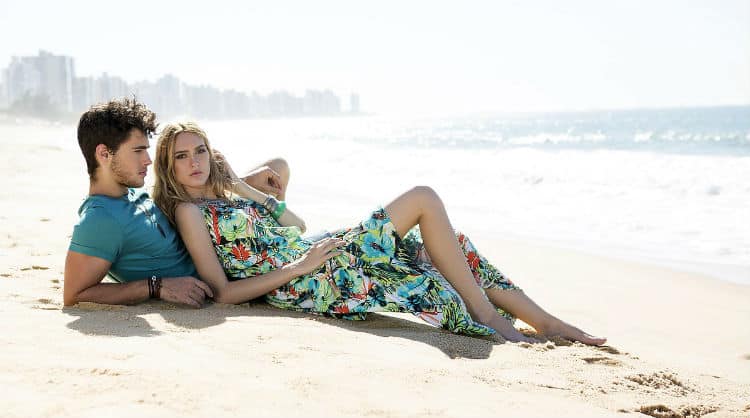 One of the happiest and lively places of the world, Rio De Janeiro is bound to be one of the most romantic places.
Host of world's most sensual festival, Carnival, Rio de Janeiro is not only romantic it is wild and sexy too.
It has some of the world's beautiful beaches, festive air and awesome landscapes.
This is the perfect recipe for a romantic getaway as you enjoy with your girlfriend or wife by your side.
Recommended Reading: Best African honeymoons
5. THE GREEK ISLANDS
Do you find pleasure in the simplest of things in life?
Then, Greek Islands is the right destination for you and your girlfriend (or wife).
There are more than 2000 islands here. Among these, Santorini and Symi Islands are best for couples looking for a romantic getaway.
6. JAIPUR, INDIA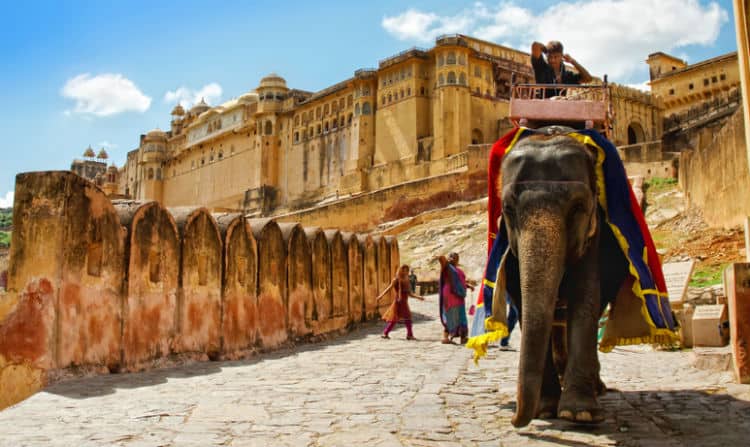 Do you love the royal treatment on a vacation? For sure!
Nothing is more romantic than the royal feeling.
Jaipur in Rajasthan takes you to the classical era of palaces and king and queens.
Here, you can give your girlfriend (or your wife) a unique royal feel. After all she is your princess and she deserves that treatment.
Besides Jaipur, the state of Rajasthan is also the home of many other romantic cities.
Udaipur and Jaisalmer are tourist attractions.
Spending a night in luxury tented camp under the wide, star-filled sky is one of the must do things in Jaipur.
7. VIENNA, AUSTRIA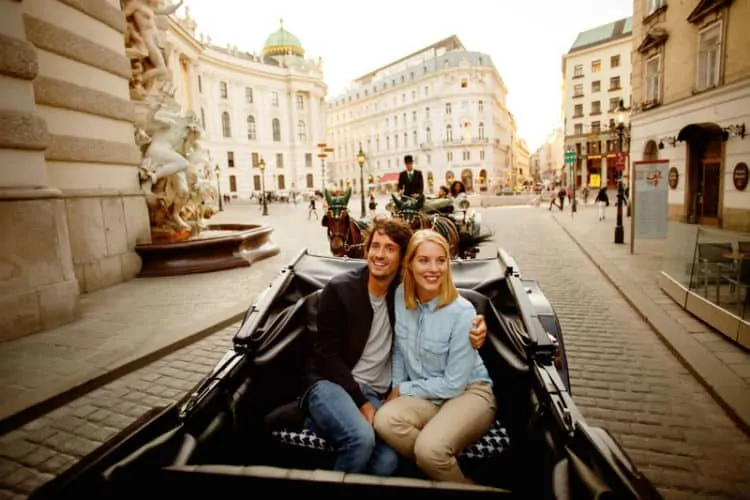 Romance is present in every corner of Vienna.
No matter where you go and no matter what you do, you will find romance in every aspect of the city.
People think of Vienna, they think of romance.
So it is a perfect place for a romantic vacation with your wife or girlfriend.
A horse-drawn carriage in the night through the Vienna city is the most romantic thing to do.
One more thing that you must do is kissing your love in front of "The Kiss". Self drive holidays in Austria
8. KYOTO, JAPAN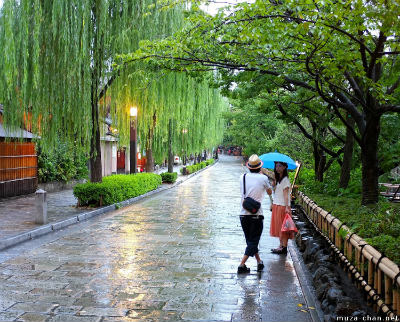 Kyoto is a very special city of Japan and the best honeymoon destination for the people in the region. Spring is the best time to visit Kyoto when cherry blossom trees burst into bloom. The entire city seems as it is on a conspiracy to seduce you. Full of culture, history and beautiful landscapes, Kyoto is an extremely vibrant city. It is also famous for being the epitome of Japanese culture.
9. KERALA, INDIA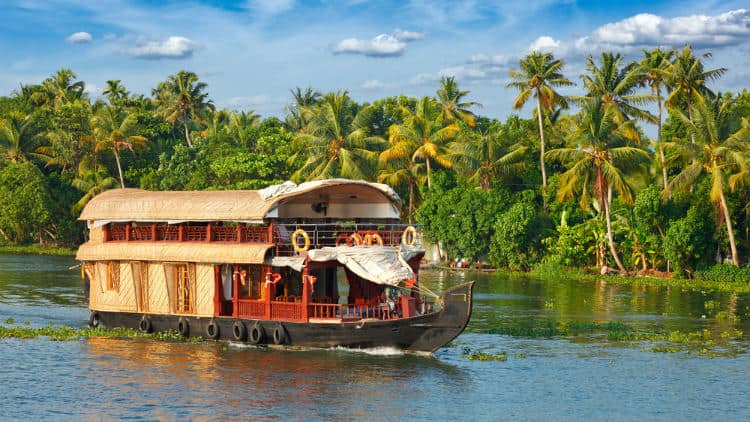 National Geographic Traveler has named Kerala as one of the ten paradises of the world.
Kerala is one amazingly beautiful state of India and is famous for its beautiful backwaters and greenery.
This God's Own Country is an awesome destination where you can take your girlfriend or wife with no worries.
She will fall in love with this place.
There are beaches, hill stations, and backwaters – just about everything.
It's up to you where you want to spend your time with your girlfriend.
A houseboat cruise on backwaters of Kerala is must do.
While all others in this list are cities, this destination alone is a state. Try out the river cruises in Kerala
Recommended Reading: Best all inclusive honeymoon packages ever
10. ISTANBUL, TURKEY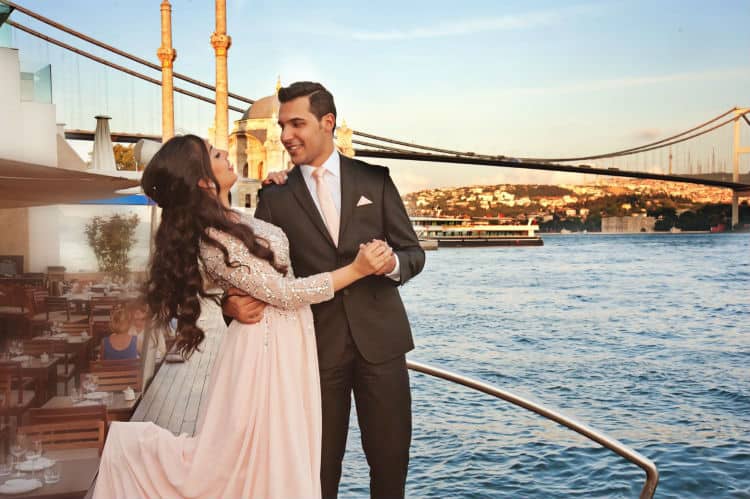 Istanbul is one of the most romantic cities in the world.
There are millions of romantic things to do in this majestic city.
We can guarantee you that your girlfriend or wife will fall in love with you all over again.
Such is the charm of this city.
It is best for a romantic getaway, honeymoon or just to spend some quality time with your loved one.
Istanbul's magical feel will make you come back here for more again and again.
Topkapi Palace museum, Grand Bazar, Haghia Sophia, a midnight cruise, and watching sunset are some of must do things in Istanbul. Popular attractions in Istanbul
11. BARCELONA, SPAIN
Barcelona is a city to fall in love with. If you are coming to Barcelona with love in your mind and your girlfriend or wife by your side, you would love to see how romantic this sporty city is.
There is no shortage of romantic hotels, bars & cafes in Barcelona.
Besides, there are so many other things to do.
Gypsy dance, sailing into the sunset, magic jets, royal spas are few of them.
12. BANGKOK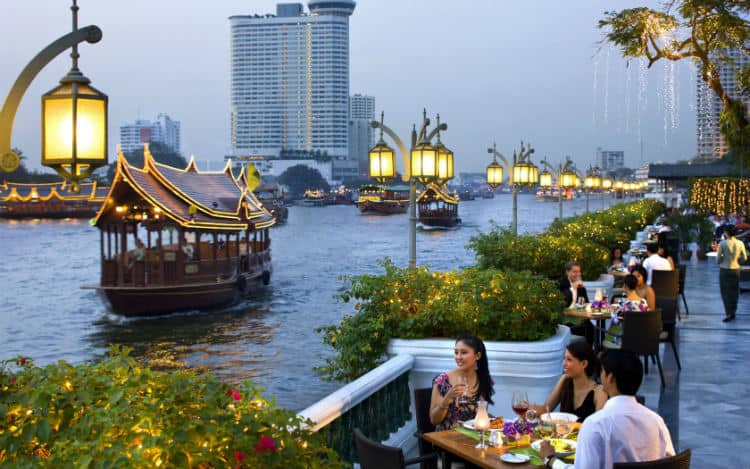 In recent years Bangkok has emerged as a hot destination for romantic getaways.
Bangkok has so many things to offer to its visiting love birds.
A romantic dinner cruise on the river Chao Phraya River is what most couples do when they are in Bangkok. You can also try that.
Taking your girlfriend or wife on one of the many rooftop bars is also a good idea.
13. AMSTERDAM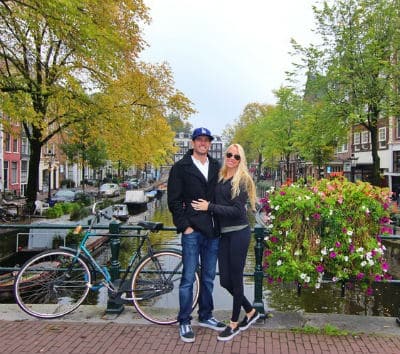 Many of visitors leave back their hearts in Amsterdam – that's how romantic this city is. Take your girlfriend or wife to Amsterdam and you will have the most romantic time ever. There are plenty of things to do here. The best time to visit Amsterdam is winters when the city is full of lights and the spirit of celebration is high. To add more romance on your life you can go for a romantic dinner in Ctaste. Or, you could go for a walk on one of many bridges of Amsterdam etc.
14. PARIS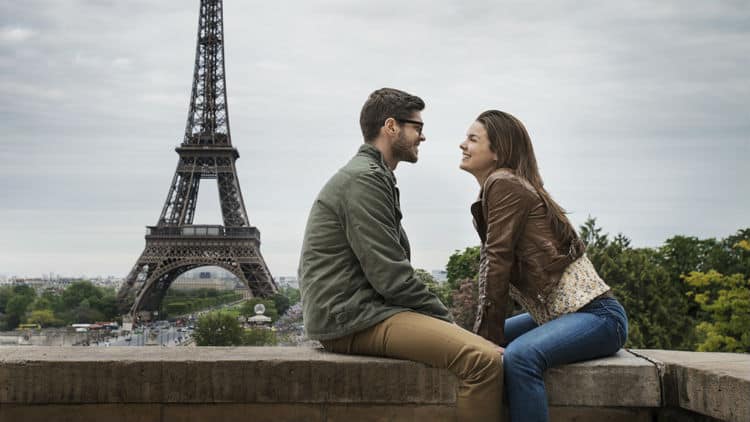 Perfect for exploring on foot, Paris has the reputation of being one of the best places to take your partner for a romantic and sexy getaway.
Fascinating Paris will make your love forever as it has a lot of things to offer to its visitors.
From royal treatments to world class dining and wining and, Paris has it all.
It's magnificently romantic landscapes are so appealing and romantic.
A trip to Paris can make your wife or your girlfriend fall in love with you all over again. Celebrate Valentine's Day in Paris
15. VENICE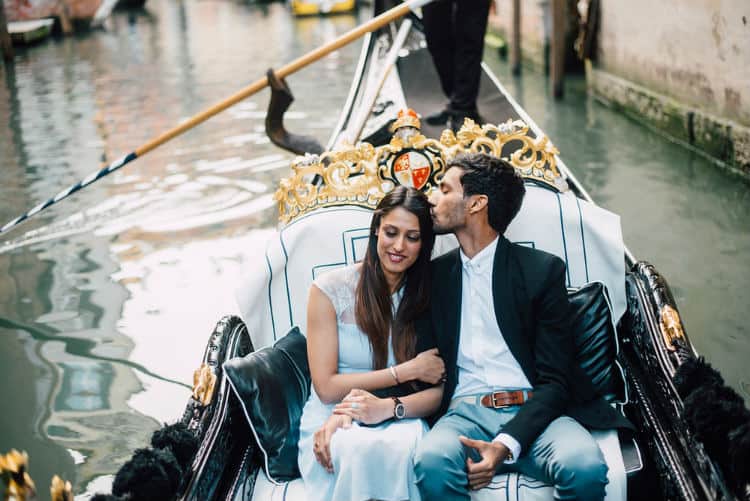 Venice is not just a city but a true work of art.
Overwhelmed by the tourist for most of the year, Venice is an extraordinary sensuous city. Venice never loses its charm.
Lying between dream and reality and floating on water, a trip to Venice with your girlfriend will make your heart melt and your love timeless.
Best thing one could do in Venice is to say "Ti amo!" to ones girlfriend on the Bridges of Sighs during sunset. Celebrate Valentine's Day in Venice
Recommended Reading
1. Best honeymoon places in the World
2. Most beautiful rivers of the World
4. Best honeymoons in Asia