The tourist attractions in Istanbul are so unique that the city makes for a once-in-a-life-time holiday for everyone.
Thanks to the amazing places to see in Istanbul, it ends up as a good holiday destination for singles, couples and families with kids.
There are enough things to do for every tourist depending on their likes and dislikes.
Istanbul is as much a teenager's, as it is of an elderly – so don't waste time thinking.
Just go ahead and start ticking off the various attractions in Istanbul off your list of things to see.
Thanks to its culture and history, Istanbul has a lot to offer to the visiting tourists.
While the capital of Turkey is today a modern city, in its history through the ages it has seen many phases.
At every stage of Istanbul's historic journey through history, it has attracted travelers from all over the world for some of its best attractions – the mosques, basilicas and cathedrals, and ancient bazaars.
A sort of Turkish delight, if you will.
If you are planning a vacation here, do check out our list of most popular tourist attractions in Istanbul.
This is only a collection of the top ten sights in Istanbul, so please don't restrict yourself by this list.
Get an Istanbul tourist pass and get an unlimited dose of the city.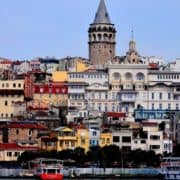 Top ten attractions in Istanbul
Here is our list –
Istanbul Archeology Museum
Founded in 1891, this splendid museum is one of the most popular tourist attractions in Istanbul. Istanbul Archeology Museum actually consists of three museums: Archaeological Museum, Museum of the Ancient Orient, and Museum of Islamic Art.
The museum complex is open daily except Monday.
If you are interested in very old art, fine statuary and tiles, this is a must visit place for you. Image: thepinkmoustache.net
Golden Horn
The Golden Horn, also known by its modern Turkish name Haliç, is the horn shaped body of water that seperates the old and new parts of European Istanbul.
The best way to explore The Golden Horn is on a short ferryboat cruise.
Golden Horn Cruise is also cheapest way to photograph the whole city. Image: Tourmakerturkey.com
Dolmabahce Palace
Dolmabahce Palace built in 19th century, was the administrative center of Ottoman Empire.
It is what a palace should be: huge and splendid with 285 rooms, and 43 large salons.
It is one of the most glamorous palaces in the world attracting millions of visitors every year. Image: Wikimedia.org
Recommended Reading: Did you know that Istanbul is one of the most romantic places in the world? Check out the list of most romantic places in the world.
Galata Tower
Galata Tower, originally named the Tower of Christ, offers the best panoramic views of the city.
While you are in Istanbul visit Galata Tower for the magnificent 360 degree view of this grand city steeped in history.
The tower's balcony is open daily from 9:00 am to 5:00 pm. Image: Taksimpremiersuites.com
Grand Bazar
Grand Bazar is one of the most popular tourist attractions in Istanbul which attracts between 250,000 to 400,000 visitors daily.
It is famous for its carpets, hand-painted ceramics, jewelry, spices and antique shops.
Before visiting this bazar you must sharpen your bargaining skills. Image: Wikimedia.org
Suleymaniye Mosque
This stunning Mosque of Sultan Süleyman, the Magnificent is the largest and grandest mosque of Istanbul.
Standing all in its glory and pride it is the must visit place in the city.
The mosque is open every day for free.
Go there to see the breathtaking architecture of Istanbul. Image: Erepublik.com
Basilica Cistern
Located at the right bank of Sultanahmet square, Basilica Cistern is coolest place of Istanbul, which makes it an amazing retreat in summer.
This huge underground water container was built during the reign of Emperor Justinian I in 532 to meet the water needs of the Great Palace and now it has become one of the most unusual tourist attractions of Istanbul. Image: Wikimedia.org
Topkapi Palace
Topkapi Palace is the classic example of Turkish architecture.
It is the largest and oldest palace of the world and is now a museum.
If you don't go to this palace on your Istanbul trip, it would be a matter of shame because this is the real treasure of Istanbul. Image: Istanbultouristpass.com
Hagia Sophia
Hagia Sophia is a great architectural beauty of the mystical city Istanbul. Hagia Sophia once was a cathedral, then a mosque and now a museum.
This is one of the most popular tourist attractions of Istanbul and there are a lot of interesting things to see in Hagia Sophia.
A must watch if you want to witness the 6th century's glory of Istanbul. Image: Wallerz.net
Sultan Ahmed Mosque
Sultan Ahmed Mosque also known as Blue Mosque is visited and admired by all who come to Istanbul.
It is the masterwork of Ottoman architect Sedefkâr Mehmet Ağa and it is almost a magical experience to see it both from outside and inside. Image: Wallpaperest.com
Closing dates for Istanbul attractions
Popular Istanbul attractions are closed on specific days.
You need to be aware of these dates to avoid disappointment while you are holidaying in Turkey.
We do try and keep this list of closing days of the best places to see in Istanbul updated, we also advise you to get the latest from your tour operator.
Topkapi Palace – Closed on all Tuesdays
Blue Mosque – Closed during all prayer times
Spice Bazaar – closed on 24th-27th June, 1st-4th September and 29th October
Grand Bazaar – closed on 24th-27th June, 1st-4th September and 29th October
All museums, palaces and other attractions – closed until 1pm on 24th June and 1st September
Best time to visit attractions in Istanbul
Istanbul and the whole of Turkey in general experiences hot summers and cold winters.
In fact, during winters snow is a common feature.
There are two slots which end up being the best time to witness these attractions in Istanbul – both Turkish spring and autumn.
The period from April to May and the period from September to mid-November attract a lot of travelers to Istanbul due to excellent weather conditions.
During this period the whole of Turkey experiences pleasant temperatures and clear skies.
Most of the rainfall occurs in winter and the summer months remain hot and dry.
Sources

# Planetware.com
# Touropia.com
# Holidify.com
# Tripadvisor.com

The travel specialists at TheBetterVacation.com use only high-quality sources while researching & writing their articles. We make every attempt to keep our content current, reliable and trustworthy.
Recommended Reading
1. Most romantic places in Europe
2. Self drive holidays in Europe
3. Muslim friendly holidays in Morocco
4. Golf holidays in Turkey