A honeymoon is once-in-a-lifetime event and that is why we all want it to be perfect.
If you are looking for the best ideas for a romantic European honeymoon, look no further than our list of the top 10 honeymoon destinations in Europe.
Once you have identified the ideal European city or country for your honeymoon, look around for a good all inclusive honeymoon package.
Some couples opt for a customized Europe tour – targeting four or five countries for their honeymoon trip – but we recommend planning your honeymoon in just one European destination.
Before the dates for your European honeymoon arrive, you will go through months of chaotic wedding preparations.
After the marriage is over, you will ONLY want to put up your feet and relax.
But sometimes a customized Europe tour package which includes visiting 4-5 countries can get hectic
Either way, once the destination is identified, you must negotiate a honeymoon package with a resort.
Once that's done, just build your honeymoon itinerary with husband (or wife) and wait for your honeymoon dates to arrive.
Yes, European honeymoons are that simple!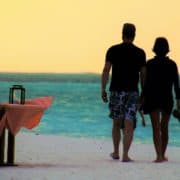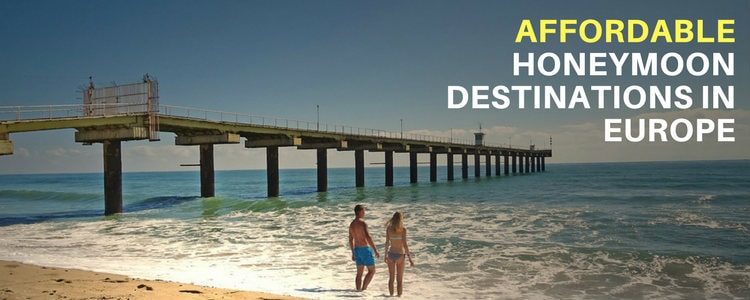 Best European honeymoons
Identifying the location of your European honeymoon is a critical part of planning your honeymoon.
That's why our list of top ten European cities for a romantic honeymoon have been compiled based on factors such as couple-friendliness, light-on-the-pocket tourist attractions, romantic dining options, couple-friendly accommodation and activities the newly-weds can do together.
Florence, Italy


It is believed and often said that if you can only visit one European country, it should be Italy.
Florence in Italy is an amazing European honeymoon destination because it offers warm people, good food, fine art, outstanding tourist attractions and above all nominal pricing.
Florence is one of the most touristy places in the world, and aren't we all tourists?
Imagine being able to walk the same streets as Michelangelo and examine the artwork of Leonardo Da Vinci.
Not to mention the Tuscan wine, gelato and great pizzas.
Things to do in Florence
Being the Renaissance capital a honeymoon in Florence will offer you attractions that are beautiful and artsy.
You can start with the works hung in Uffizi and the Galleria dell'Accademia to the architecture of the Duomo and the Palazzo Pitti.
Hold your partner's hands and walk through the Boboli Gardens, continue holding hands and walk along river Arno.
Don't miss the sunrise and sunset in Florence – they are amazing.
When you get bored of Florence you can always hop across to the nearby smaller town call Siena.
Popular destinations
Piazza della Signoria
Duomo (Cathedral of Santa Maria del Fiore)
Piazzale Michelangelo
Cheapest time to visit Florence
For an affordable honeymoon in Florence we suggest a visit in late fall or winter – the room rates will be lower and it won't be crowded.
The temperatures range in the mid-30s Fahrenheit and it could get a little sweaty, but that's the price one pays for making this amazing city your honeymoon destination.
Traveling to Florence during this low-cost season has one drawback – you can't witness art festivals, open-air dining and the Italian sunshine.
If these are important for your, we suggest you plan your European honeymoon in the months of May and September
Best place to stay
1. Portrait Firenze
2. Villa Cora
3. Four Seasons Hotel Firenze
---
---
Vienna, Austria

If you both are classical music fans or love history a honeymoon in Vienna, Austria, will be pure bliss for you and your partner.
Possibly the most cultural city in the whole of Europe, Vienna is home to both Mozart and Beethoven.
Vienna also offers an amazing natural setting for you to kick-start your married life.
While you are there, you may also want to check out their popular coffeehouses and Austrian wines.
Things to do in Vienna
In this honeymoon city, you can also visit a ball and waltz your way into your partner's heart. Check out this list of the best balls in Vienna.
Spend peaceful time at the riverside restaurants or rent a boat and get into the Old Danube.
Each Sunday morning Vienna Boys Choir performs at the Hofburg Chapel, and we suggest you pay them a visit.
If you both love Opera, a visit to Baroque opera house becomes a necessity.
For a nominal charge, you can rent a cycle and go around the city – being a small compact city you will be able to get across in less than 30 minutes. Find out the best things to do in Vienna.
Popular destinations
Cheapest time to visit Vienna
The cheapest time to plan your honeymoon in Vienna is in the months of April and May or September and October.
The mild weather in spring and fall ensures the crowd is less and the accommodation rates are minimum.
The months of June, July and August are peak summer months when the hotel rates go up and booking your all inclusive European honeymoon package during this period will only increase the price.
December is also a wrong choice for a budget honeymoon because tourists from other European countries start flocking in for a Viennese-style Christmas.
Best place to stay
1. Hotel Sacher Wien
2. Palais Hansen Kempinski Vienna
3. The Guesthouse Vienna
---
---
Corfu, Greece


If you love nature you will prefer to honeymoon in this Greek island called Corfu.
Beautiful crystal clear waters surround the island while the land itself is lush green thanks to over two million olive trees.
In short, for nature-loving couples Corfu is an affordable honeymoon in paradise.
This town offers one of the finest beaches in Greece and ends up being one of the best getaways for recently married folks.
Things to do in Corfu
Corfu is one of the best European honeymoon destination for those who prefer to relax.
Whenever you get bored of just lying down in the beach next to your partner you can head out to historical attractions – Byzantine churches, Venetian fortresses, palaces, museums etc.
To top it, there is the lively Corfu nightlife which can't be ignored.
This Greek island also offers a huge of selection of restaurants in which to enjoy both local and international cuisine and wine.
Popular destinations
Glyfada Beach
Old Fortress (Palaio Frourio)
Archaeological Museum of Corfu
Cheapest time to visit Corfu
You are most likely to get nominal rates on your all inclusive honeymoon package for Corfu if you visit in the shoulder season – April to May and September to November.
Winter months in Corfu are also cheap but then low temperatures make swimming difficult and what is a beach vacation without a dip.
Best place to stay
1. Corfu Imperial, Grecotel Exclusive Resort
2. Kontokali Bay Resort & Spa
3. Corfu Palace
---
---
Rome, Italy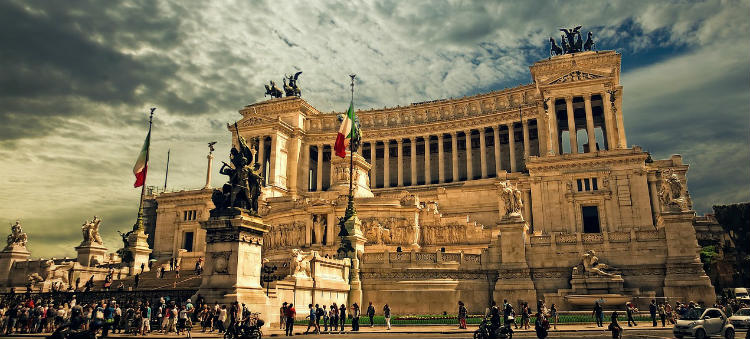 Known as the city of seven hills, Rome can easily charm lovelorn couples. No wonder newlyweds from all over the World kick start their married life from the Italian capital.
If you love history you can't go wrong with Rome – it is full of free or not so costly attractions for honeymooners.
With stunning art and monuments all over the city and Italian cuisine ready to be lapped up at every street corner, Rome is a feast for the senses.
Things to do in Rome
It isn't without reason that Trevi Fountain figures in the itinerary of all European honeymoon packages.
If you haven't added it in your itinerary yet please do so. Romantic couples drop in a coin in the Trevi fountain to get the newlyweds' good luck.
There are lots of churches to visit, numerous attractions such as the Colosseum, Pantheon, Roman Forum, Spanish Steps, and Piazza Navona all of which have vivid stories behind them. Find out the best things to do in Rome
Once you are done with the city, you can head just outside of the city for some beach experience.
Some of the best beaches nearby are – Santa Marinella Beach, Sperlonga Beach and Ostia Lido Beach.
Popular destinations
Cheapest time to visit Rome
If you don't want to overshoot your budget and yet have a great honeymoon in Rome, we suggest the months of October to April.
During these months both the accommodation costs as well as the flight tickets are lower than usual.
Just that you may need a warm coat during these months.
If you want to avoid the peak season but don't mind the heat you can opt for the period from May to September to plan your post-marriage getaway.
Best place to stay
1. J.K. Place Roma
2. Hassler Roma
3. Hotel de Russie, a Rocco Forte Hotel
---
---
Prague, Czech Republic


If you love history, picturesque architectural landmarks and beer you will fall in love with this European city.
In Prague, the hotels are romantic, wining and dining is exquisite, the landmarks are breathtaking, the palaces are amazing and to top it all the neighborhoods are safe.

What more can one expect from a romantic European honeymoon destination?
Besides all this, thanks to the affordable accommodation and low dining costs, a honeymoon in Prague can be well within your budget.
Things to do in Prague
Did you know that Prague is the only city in the world that has a special day for lovers?
If you are in Prague on May Day, kiss your spouse in front of the statue of romantic poet Karel Macha to seal your partnership for eternity.
If you love walking with your partner hand-in-hand, stroll down the narrow cobbled lanes in the Old Town (Stare Mesta) and Lesser Town (Mala Strana) districts.
This European city is so romantic that no matter which month of the year you visit, you'll find the spirit of love at every corner.
If you do opt for this city as your honeymoon destination in Europe, we recommend at least one vintage car ride. Read more about the best things to do in Prague
Popular destinations
Charles Bridge (Karluv most)
Cheapest time to visit Prague
For an affordable honeymoon in Prague, it is best to visit during spring and early fall when the weather is mild and crowd is less – that is the months of March, April, May, and June.
During winter, the accommodation and flight rates are reduced drastically due to a huge dip in tourist influx.
If you don't mind the cold, the November, January and February are also good months for a cheap honeymoon in Prague.
The month of December attracts tourists who want to celebrate Christmas.
Best place to stay
1. Alchymist Grand Hotel & Spa
2. Four Seasons Hotel Prague
3. Aria Hotel Prague
---
---
Sicily, Italy


Sicily is a balmy, laid-back European honeymoon destination with the much sought-after Italian mentality towards life.
Add to this the Italian cuisine and cheap accommodation costs and this triangular island at the toe of Italy's boot turns into an affordable European honeymoon destination.
In this island, you will experience amalgamation of the cultures of ancient Greeks, Romans, Normans and Moors which gives it the edge over a lot of other honeymoon destinations in Europe.
Things to do in Sicily
The biggest draw in Sicily are its beaches, so factor in lots of idle hours on the sand with your newly-wedded spouse.
For the best beach experience for couples visit the ones in North and North-West coasts.
Once the beaches are done, check out some of the finest ruins in the region – the Valley of the Temples and the Segesta Temple etc.
If you are a physically active couple, plan a trek on Mount Etna, Europe's most active volcano.
For Sicilian nightlife, just walk into any of the beachside clubs or up the ante by visiting Teatro Massimo, the largest opera house in Italy.
Popular destinations
Mount Etna
San Vito lo Capo
Monreale Duomo
Cheapest time to visit Sicily
To cut down on your flight and hotel bills you must plan your European honeymoon to Sicily in the months of July and August.
During these months, the weather isn't so bad but because of fewer number of tourists coming in, the prices drop.
The hotel and resort rates go down further in winter, but then the temperature is so low that it becomes difficult to swim in the sea.
We doubt you would want a honeymoon where you can't dip your feet.
Best place to stay
1. Belmond Grand Hotel Timeo
2. San Domenico Palace Hotel
3. Hotel Villa Athena
---
---
Madrid, Spain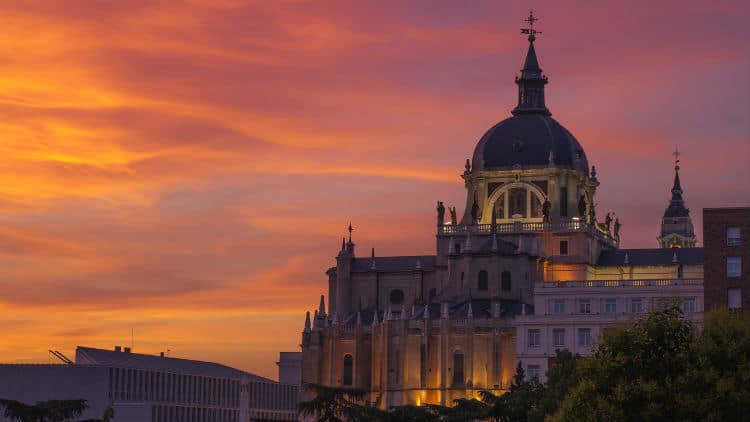 Madrid is giving a tough fight to Barcelona for the most romantic city in Spain tag.
With its palaces, rose-filled parks, café-lined streets and vibrant people who always seem to be awake, Madrid is one of the most romantic European honeymoon destination.
Walking around the streets of Madrid, soaking up the gorgeous Spanish architecture makes one want to get married to the spouse once again!
The most romantic part of Madrid is in the city center – the sprawling 3.00-acre El Retiro, home to glass palaces, a lake with rowboats and the most romantic of rose gardens.
Things to do in Madrid
A visit to Madrid's three main museums is a must – Museo del Prado, Spain's national art museum, Museo Thyssen-Bornemisza, home to Europe's largest private art collection and Museo Reina Sofía.
After the museums are done, you and your partner can hold hands and watch a Flamenco show or a soccer game – the call is yours.
Tickets for these shows and games are low, so they won't dent your budget.
Do add the flea market "Mercado de Motores" to your Milan honeymoon itinerary. Read more about the best things to do in Madrid
Popular destinations
Retiro Park (Parque del Retiro)
Cheapest time to visit Madrid
Visiting Madrid during winter – December, January, February – will work out the cheapest for you because the resorts and flights reduce their rates during this period.
But please be aware that Madrid becomes rather listless during the winters.
The next best time to visit Madrid both in terms of weather and low costs are the autumn months of September, October, November and the spring months of March, April and May.
The peak season, which you must avoid if you are targeting a low-cost honeymoon is during the months of June, July and August.
Best place to stay
1. Hotel Orfila
2. Hotel Ritz
3. Gran Melia Fenix
---
---
Cannes, France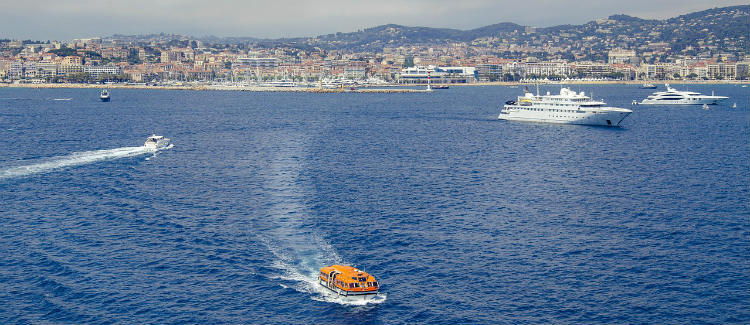 Cannes is a resort town on the French Riviera and is all about exclusivity.
The International Film Festival, which is conducted here every year in May, has exposed this beautiful town to rest of the World and made it a popular honeymoon place in Europe.
Two characteristics of Cannes keep attracting newly-weds to the city every day – it's warm, sunny climate and picturesque position between the Estérel hills and the Mediterranean Sea.
Things to do in Cannes
When in the town of Cannes, resting becomes your favorite activity. This town is more about chilling out with your partner and less about seeing places.
However, as is with most European cities there are a few museums and architectural marvels for you to enjoy.
You can also take a stroll along La Croisette, the fashionable promenade that runs along the seashore.
Do this walk twice – once in the morning to check out designer boutiques and once at night for the artsy entertainment.
Popular destinations
La Croisette
Iles de Lerins
Rue Meynadier
Cheapest time to visit Cannes
Since fewer people are buying them, the cost of flight tickets to Cannes reduces during winter and the hotels also move to their bargain prices.
If you don't like holidaying in winter, for a nominal budget you can still book your Cannes honeymoon in Spring.
Best place to stay
1. Five Seas Hotel Cannes
2. Le Grand Hotel Cannes
3. Grand Hyatt Cannes Hotel Martinez
---
---
Lisbon, Portugal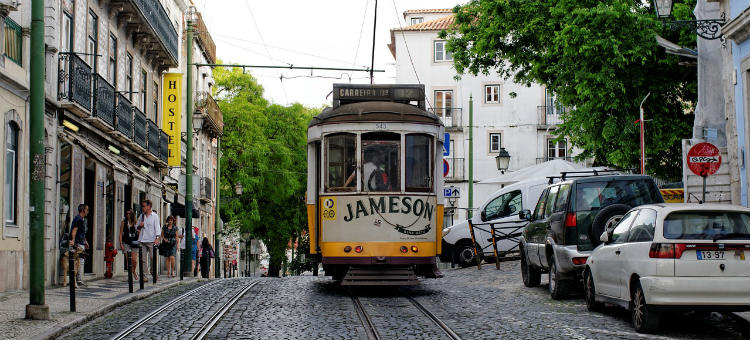 Portugal's capital has always been overlooked in favor of other romantic European cities.
However, the city of Lisbon has been attracting a lot of newly married couples lately.
Lisbon is not only incredibly romantic but also one of the most nominally priced tourist cities in Europe.
Romance and affordability – what more does one need for a budget honeymoon in Europe?
Perched atop seven hills, Lisbon specializes in lulling couples by its laid-back charm.
Things to do in Lisbon
When in Lisbon you can't escape its ornate architecture and the tradition of Fado music.
Hold hands of your partner as you stroll up and down the tiny streets of the old Alfama.
Plan lots of day trips to the nearby surrounding country and beachside towns – and one of these day trips must be to Sintara.
Check out the St. George's Castle, one of the oldest castles around, dating back to 2nd century BC.
Popular destinations
Cheapest time to visit Lisbon
Summer is the wrong time to visit Lisbon. Instead, for a low-priced honeymoon, you should plan it during the months of March, April, May or September and October.
During these months, the weather is still warm, but the resorts and hotels have reduced their rates.
More importantly, the crowds have gone – so it will just be you and your newly wedded partner.
Best place to stay
1. Olissippo Lapa Palace
2. Myriad by SANA Hotels
3. Altis Belém Hotel & Spa
---
---
Seville, Spain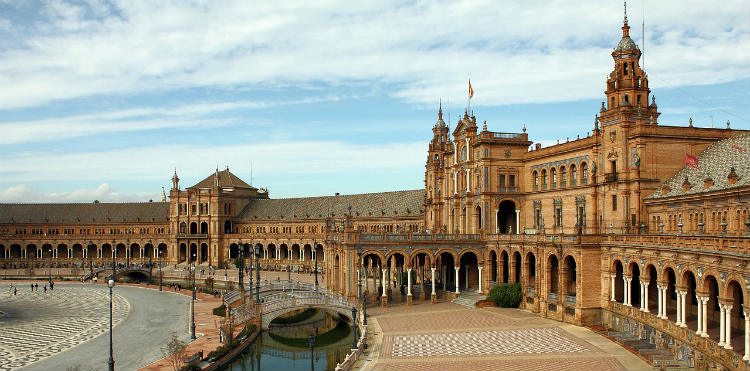 All couples who holiday in Seville fall in love with the city.
Seville proves itself as a Spanish city clinging on to its past – full of bull-fights, flamenco, tapas, and Don Juan.
Add to it, the cozy little squares of the downtown, to-die-for sunsets at Guadalquivir River, and the narrow paved streets of Barrio de Santa Cruz and Seville ends up being one of the most romantic honeymoon destinations in Europe.
In short Seville's centuries-old neighborhoods are just the perfect setting for an affordable honeymoon.
Things to do in Seville
Flamenco music is all romance, so make sure you witness at least one show.
Once that's done, take a horse carriage ride in Plaza de España and get down at regular intervals to take photographs and create memories.
Two other romantic activities popular with lovebirds is the mesmerizing boat ride in Guadalquivir river and a visit to the Triana´s Bridge.
Popular destinations
Real Alcázar
Parque de María Luisa
Catedral de Sevilla and La Giralda
Cheapest time to visit Seville
From both a cost of accommodation and from the weather perspective the best time to visit Seville is in the months of March, April and May.
Summer hasn't peaked so the tourists haven't started coming in yet, and the hotels and resorts have nominal pricing.
During summer, the temperatures in Seville often exceed 100 degrees Fahrenheit but that doesn't stop the tourists from marching in.
Planning a honeymoon in Seville during the winter months is also a cheaper option but it is not as much fun because the Sevillanos spend most of their wintertime indoors.
Best place to stay
1. Hotel Alfonso XIII, A Luxury Collection Hotel, Seville
2. Gran Melia Colon
3. Hotel Palacio de Villapanes
Recommended Reading
1. Best African honeymoon holidays
2. Best honeymoon destinations in Asia
3. Best honeymoon packages