Black Light Theater is a significant tourist attraction in Prague.
Over the years, the art has gone through various countries, and each country has added its flavor.
Black Light Theatre in Prague is all about combining the power of history, culture, and art in a single performance.
In this article, we explain everything you must know about Black Light shows in Prague.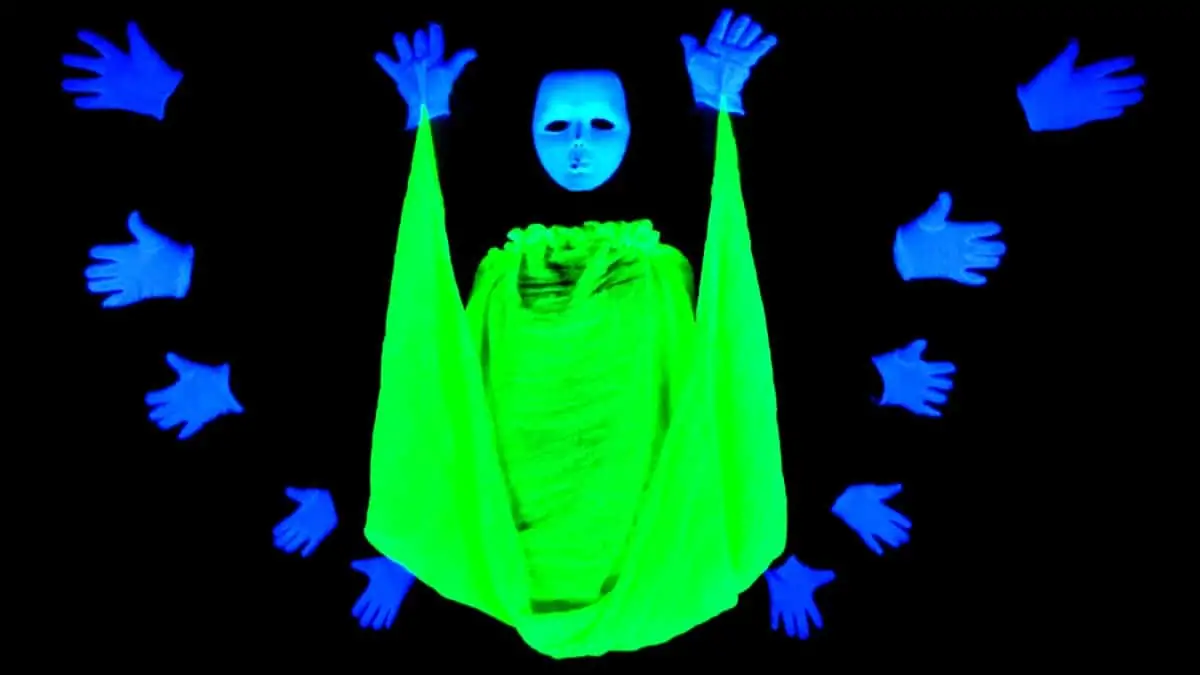 What is Black Light Theater
With its origins in China, the Black Light Theater has a long history of magical candlelight shows and shadow acts.
Black Light Theater creates magic on stage with the illusion of flying actors and large objects appearing from nowhere.
The principle behind the Black Light Theater is the use of ultraviolet light and spotlights to draw the focus of the audience on a particular object or actor.
These actors and objects wear bright colored props and colorful costumes, making them stand out on the dark stage.
The whole play is performed in front of a black screen to help focus the light and also hide the actors dressed in black.
Since these actors are wearing black clothes, the audience can't see them in ultraviolet light, but they can see the magically floating colorful props the actors are carrying.
Here is a video of what to expect in a Black Light Theatre in Prague –
---
---
Black Light Theater hours
The Black Light Theaters in Prague have various acts all through the week.
Most of these shows happen in the evenings – usually at 7 pm, 7.30 pm or 8 pm and last 60 to 90 minutes.
Occasionally, a Black Light Theatre performance may last longer.
It is advisable to reach the theatres at least 30 minutes before the show, to get the best seats.
---
---
Black Light Theater Prague tickets
All the shows recommended below accept mobile tickets – that is, you don't need to take any printouts.
Once you make the purchase, the tickets get emailed to you. On the day of your visit, you can show the ticket on your mobile and walk into the theatre.
Each of these tickets can also be canceled up to 24 hours in advance for a full refund.
Kids three years and below enter all these shows for free.
Check out our favorite two blacklight shows in the capital city of the Czech Republic.
Antología at Srnec Theatre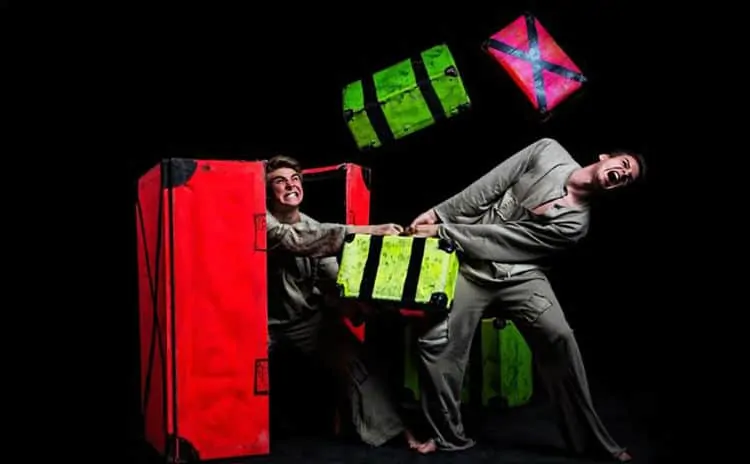 Antologia is a black light show that will make you laugh your heart out with the troublesome animals, brandishing actors, and melodic music composed by the theatre's founder.
With this 90 minutes show, you can see the boring old world get transformed into a work of astonishing creativity.
Antología at Srnec Theatre is highly recommended for kids aged seven to 15, and the best part is, they can enter for free.
Ticket price
Adult ticket (18+ years): 617 CZK (24 Euros)
Child ticket (up to 18 years): 514 CZK (20 Euros)
Seniors ticket (65+ years): 514 CZK (20 Euros)
Student ticket (valid ID): 514 CZK (20 Euros)
Aspects of Alice at Ta Fantastika Theatre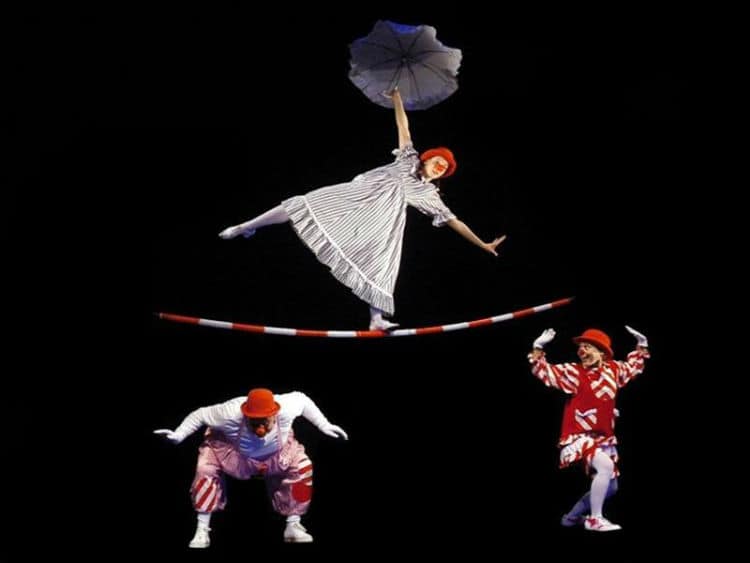 If you are a fan of 'Alice in Wonderland,' this Black Light Theatre play is just for you.
Portraying the story of Alice with a twist, the 'Aspects of Alice' is a play where Alice goes through the city of Prague in 80 minutes.
Alice is no more a little girl but a grown-up woman who discovers the beautiful architectural enigmas the city offers.
The 'Aspects of Alice' is performed in the Cathedral of Saint Vitus.
Ticket price
Adult ticket (16+ years): 705 CZK (27 Euros)
Child ticket (4 to 15 years): 522 CZK (20 Euros)
---
---
More theatre experiences in Prague
Though Prague is famous for its Black Light Theater, it is also home to many other creative theatres to showcase its long history and deeply rooted culture.
Ballet, music, and arts have always been the identity of the city.
Here are few more must-see experiences in the city.
Music: Gala concert at St. George's Basilica
This concert happens in St. George's Basilica in Prague Castle.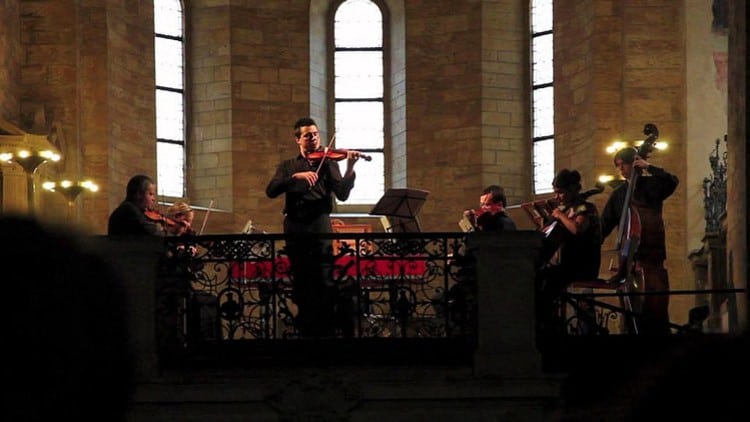 In this hour-long gala concert, you will enjoy classical pieces by Pachelbel, Mozart, and Vivaldi.
The concert is a combined effort of six musicians and a violinist, all of whom are part of the Prague Royal Orchestra.
Ticket price
Category A (Rows 8 to 13): 878 CZK (34 Euros)
Category B (Rows 14 to 18): 670 CZK (26 Euros)
VIP Category (Rows 1 to 7): 1085 CZK (42 Euros)
Puppets: Don Giovanni Marionette Show
Famous musician Mozart had composed "Don Giovanni" especially for Prague, and now you can watch it in the same city.
This fantastic show is a unique performance of Don Giovanni using puppets and marionettes at the Rise Loutek theatre in Prague.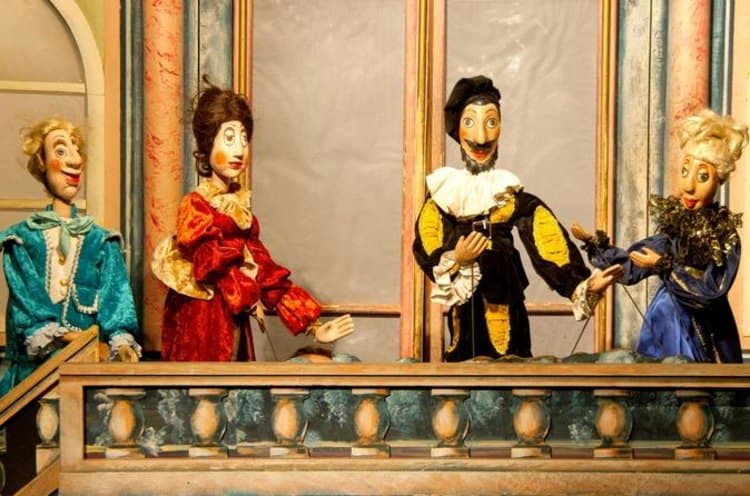 The show is two hours long.
Ticket price
Adult ticket (11+ years): 574 CZK (22 Euros)
Child ticket (less than 10 years): 470 CZK (18 Euros)
Student ticket (less than 26 years*): 470 CZK (18 Euros)
*With valid ID card
Ballet: The Best of Swan Lake
Enjoy Tchaikovsky's music and famous scenes from the world-famous ballet 'Swan Lake' performed by top dancers and soloists from the Prague National Theatre.
The Best of Swan Lake is a pure fairytale romance with princes, princesses, evil sorcerers, beautiful magic where the ultimate true love takes your breath away.
The 80 minutes show at Hybernia Theatre comes with a 15-minute intermission – so a total duration of around 95 minutes.
Ticket price
Category A (Rows 1-6): 1284 CZK (50 Euros)
Category B (Rows 21-24): 1078 CZK (42 Euros)
Category C (Rows 25-31): 873 CZK (34 Euros)
VIP Category (Rows 7-11): 1489 CZK (58 Euros)
---
---
Black Light Theaters in Prague
Prague is famous for its Black Light Theaters.
You can't have a holiday in Prague without stepping into one.
Some of the famous Black Light theatres in Prague are –
National Marionette Theater
Standing on the historic center of the world puppetry, the National Marionette Theater showcases the traditional art of puppetry with a twist – by using modern technology.
Visitors can indulge in various ongoing shows and events.
If you or your kids are interested in making puppets, check out their puppet-making workshops, where visitors can create their puppets.
Ta Fantastika Theatre
Established in the 1980s, the Ta Fantastika Theater showcases dramatic acts with a twist of poetic events.
Unlike many other Black Light Theater, the Ta Fantastika's sole purpose is to focus on the art of Black Light and the local music of the city.
Savarin Palace
Being a cultural monument, the Savarin Palace is famous among tourists.
Standing since the 18th century, the Savarin Palace showcases the art and culture of the city.
The acts performed in this first Black Light Theater are packed with dance, music, and exaggerated acting.
Theater Metro
Black Light Theater Metro's mission is to give its audience the best comedy, dance, and pantomime mix.
Their performances are non-verbal and integrated with contemporary dance forms making it a must-watch.
After the performance, the viewers can also indulge in a short workshop to understand how the Black Light performance works in reality.
Theater Image
Standing strong since 1989, the Black Light Theater Image is the most famous theatre in the city.
With a touch of black light technology, its acts also contain dance, music, and live performance.
Black Light Theater of Prague
The Black Light Theater of Prague is a place that appreciates poetry and the power of exaggerated, humorous acts.
Located at a distance of only five minutes from the city center, you get to be a part of a whole new Black Light Theater experience.
The monastery turned theatre gives you the perfect opportunity to experience the culture and relax after a trip around the city.
Broadway Theater
Broadway theatre is the perfect place to experience traditional practices with the integration of modern technology.
The theatre performs beautiful acts to bring out the child in you, and their live interaction with the audience helps you experience the play at a whole new level.
---
---
Black Light Theater reviews
Black Light Theater in Prague gets rave reviews from most tourists.
Check out two of the recent reviews we have picked up from Tripadvisor.
Fantastic show, interactive too!
We visited this theatre while in Prague. We didn't really know what to expect because we weren't sure what the Black Theatre was, but we were blown away. Black theatre is amazing. And the actors actually interact with the crowd. We did not expect that either. – Kanaikokos
Blacklight theatre to impress
The actors and their performance were outstanding. The use of bodies and technology to produce visually stunning drama made the evening a real spectacle. Audience engagement was continuous, and I would highly recommend getting along to one of their performances. – EJTH
Sources
# Tripadvisor.com
# Pragueclassicalconcerts.com
# Wikipedia.org
# Livingprague.com

The travel specialists at TheBetterVacation.com use only high-quality sources while researching & writing their articles. We make every attempt to keep our content current, reliable and trustworthy.
Popular attractions in Prague