Sedlec Ossuary is a famous church located in Kutná Hora, Czech Republic and is famous is because of its fascinatingly daunting infrastructure.
The large bone chandelier that sits in the middle of the Church of Bones is one of the Sedlec Ossuary's most intriguing creative creations. Every bone in the chandelier is authentic.
The coat of arms of the Schwarzenberg family, which is also fashioned of human bones, is another magnificent piece of art.
Even though there are other gothic destinations in Europe (like the Paris Catacomb), the Sedlec Ossuary is unique.
The Church has over 40000 real bones in its infrastructure.
This article explains everything you need to know before buying tickets for Sedlec Ossuary.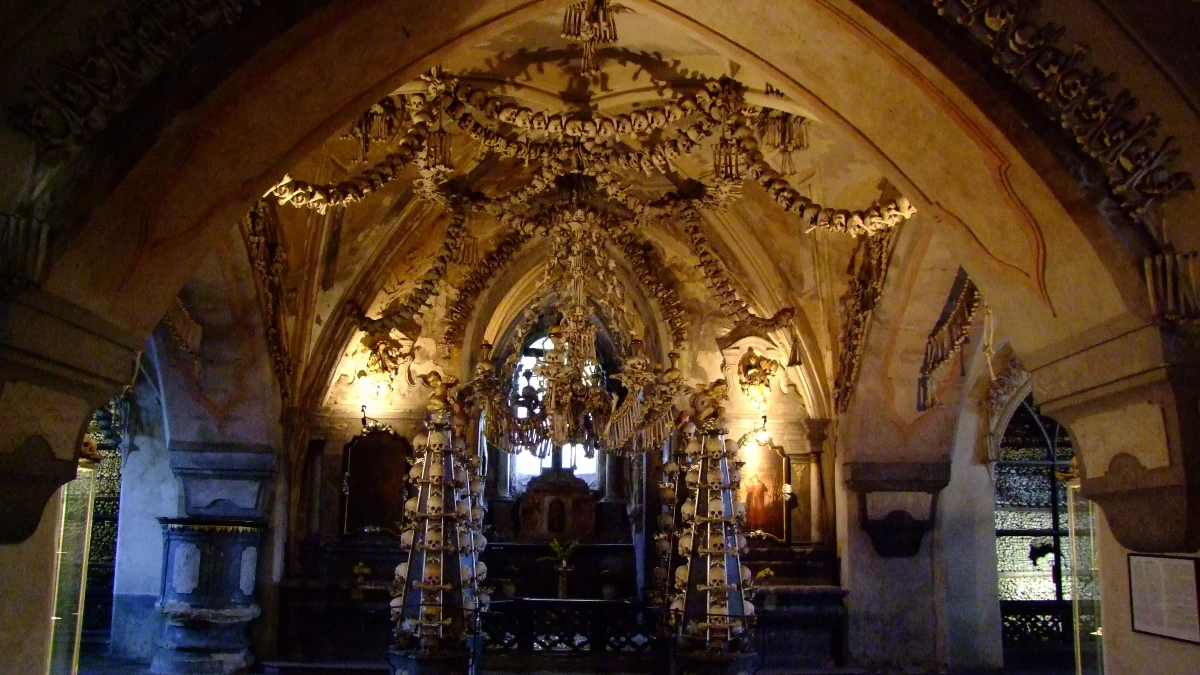 What to expect at Sedlec Ossuary
During your tour of Sedlec Ossuary in Prague, you can either take the stairs and go down to the Lower chapel or explore the Upper chapel.
The Lower Chapel is the main reason why people visit Sedlec Ossuary. The lower chapel holds a chandelier made out of bones.
You can see real bones of people everywhere in the Lower Chapel.
The Upper Chapel is a small church you can visit after exploring the the chandelier.
---
---
Sedlec Ossuary tickets
Visit Sedlec Ossuary Bone Church, also known as the Bone Church, and see the amazing artwork in the Church.
Book your tickets in advance to get assured admission.
Where to buy Sedlec Ossuary tickets
You can purchase tickets for Sedlec Ossuary online or at the attraction's ticket office.
However, when you buy them online, you save time, money and energy.
Online tickets are cheaper than what you will pay at the venue.
How online ticket works
You can select your desired date and time slot when buying tickets for the Sedlec Ossuary Bone Church online.
Following the purchase, the tickets will be sent to your registered email.
On the day of your visit, you can show the ticket on your mobile and enter Sedlec Ossuary Prague.
From Prague: Half-Day Tour to Kutná Hora and Ossuary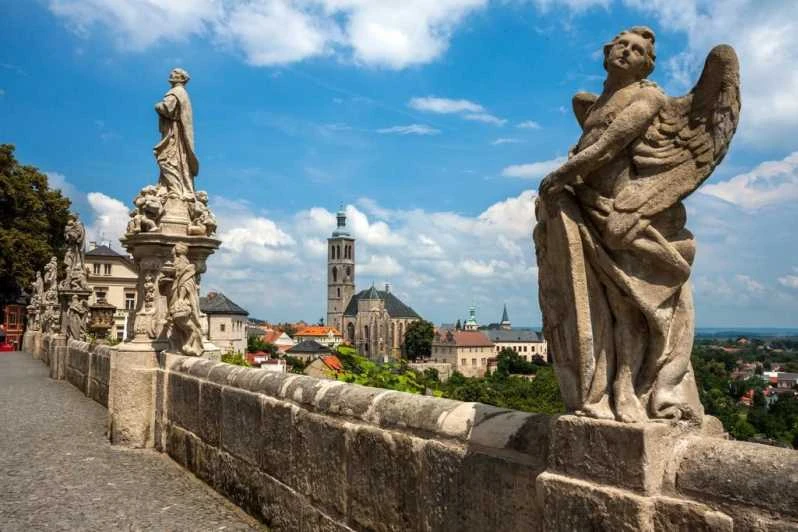 When you book this tour, from Prague you travel to the historical Kutná Hora, a UNESCO World Heritage Site.
When you visit St. Barbara's Church will you realize why this gothic architectural masterpiece is considered the town's icon and the pride of its miners.
Wander through the old city on a guided tour.
Next, proceed to the Sedlec Ossuary, which is located below the Church of All Saints Roman Catholic Cemetery.
This six-hour tour is a perfect combo for people who want to discover Prague in a day.
This half-a-day tour offers you a pickup from hotel option or you can also meet the crew at a central point.
The tour offers a live tour guide in 6 languages, including English, French, Italian, German, Spanish, and Russian.
Only commentary in English is guaranteed, whereas German, French, Italian, and Spanish are available upon request.
Meeting Point: If you choose the tour without the hotel pickup, you can meet the crew on the rooftop parking lot of the main train station. Get Directions
Cost of Last Minute Booking without Pickup
Adult Ticket (18 to 64 years): €62.92
Youth Ticket (12 to 17 years): €58.75
Child Ticket (3 to 11 years): €53.75
Senior Ticket (65 years+): €58.75
Student (with ID) (18 to 26 years): €58.75
Infant Ticket (up to 2 years): Free
Tour Prices with Hotel Pick-up
Adult Ticket (18 to 64 years): €67.08
Youth Ticket (12 to 17 years): €62.92
Child Ticket (3 to 11 years): €57.92
Senior Ticket (65 years+): €62.92
Student (with ID) (18 to 26 years): €62.92
Infant Ticket (up to 2 years): Free
---
---
Kutná Hora & Bone Church Excursion with Lunch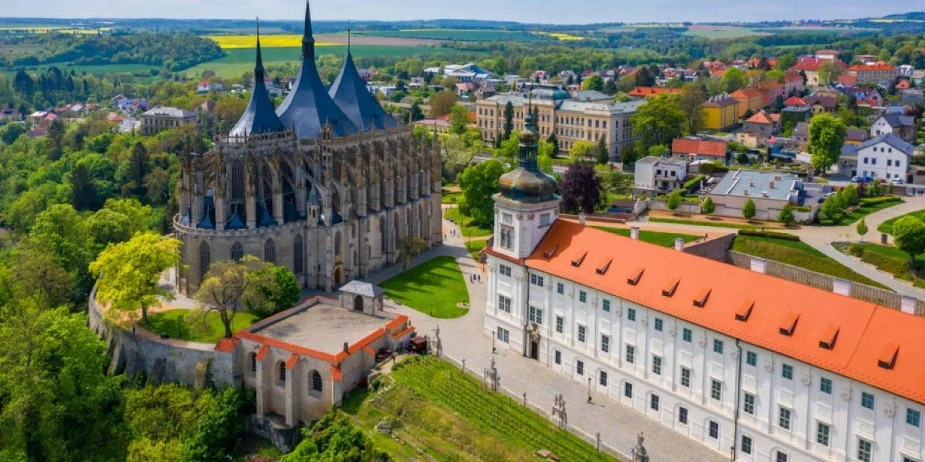 On this 5-hour tour to Kutná Hora you admire Sedlec Ossuary, decorated with human skeletons, and the Gothic cathedral of St. Barbara.
At the end of the tour, enjoy a traditional Czech meal.
On this guided tour, you visit the city's important medieval and Baroque structures, such as the cathedral's interior, the former central royal mint, and the neighboring Sedlec Ossuary, which is famed for its ornate decorations made of more than 40,000 human bones.
The tour offers a hotel pickup service and is a great option if you want to explore Kutná Hora without any hassle.
Ticket Prices
Adult Ticket (12 years+): €68.29
Child Ticket (3 to 11 years): €46.82
Infant Ticket (up to 2 years): Free
Private Tour of Kutná Hora, including Bone Chapel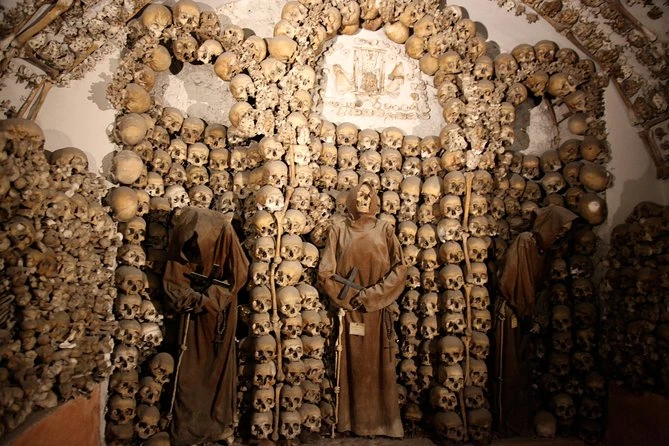 Spend a day visiting Kutná Hora, a medieval city with roots in the first half of the 13th century, which is located around 65 kilometers (40 miles) from Prague.
If you opt for this private tour of Kutna Hora, a knowledgeable tour guide will take you to the most significant locations in this historic town in a luxury vehicle.
You'll see the Ossuary, often known as "the Bone Church," adorned with the remains of thousands of Black Death victims.
The tour is offered in 7 languages and is perfect for small groups.
You can choose the language you're comfortable in. The languages include Spanish, English, Portuguese, French, Italian, German and Russian.
This tour is six hours long after which you can explore the city and shop around.
Things to remember
– Bring along your Passport or ID card for verification.
– Wear Comfortable shoes and clothes on your tour.
– Personal Shopping expenses are not included in this Ticket.
Ticket Price: € 490 (per group up to 3)
---
---
Sedlec Ossuary timings
During the peak season of April to September the Church of Bones in Prague is is open from 8 am to 6 pm.
During the shoulder months of October and March it opens at 9 am and closes at 5 pm.
From November through February, the Church is open from 9 am to 12 pm and from 1 pm to 4 pm.
Sedlec Ossuary is closed on Christmas Day.
How long does Sedlec Ossuary take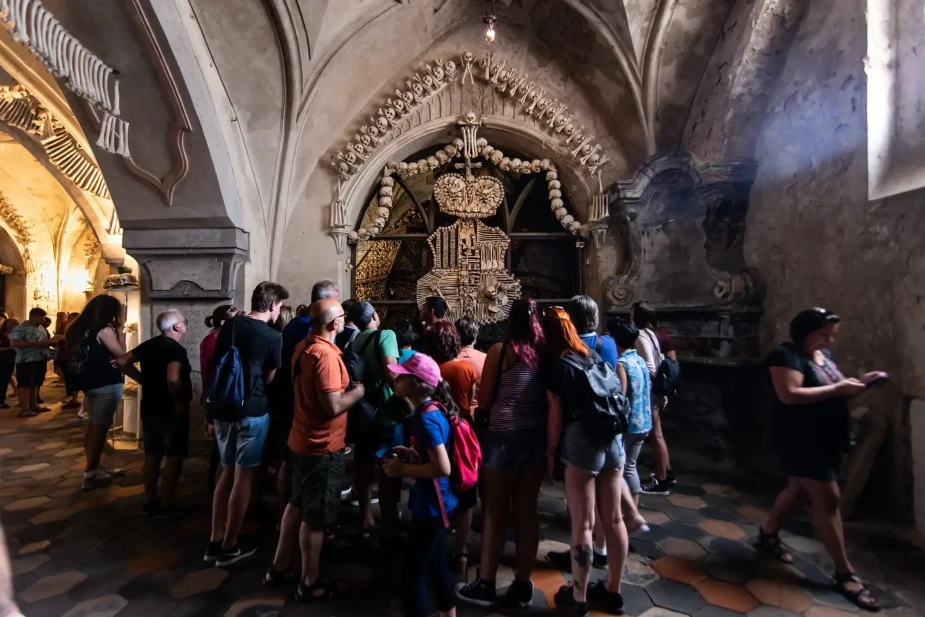 Most visitors to Sedlec Ossuary spend around 15 minutes exploring the chapel.
However, some guests stay for up to an hour to enjoy themselves.
Best time to visit Sedlec Ossuary
The best time to visit Sedlec Ossuary is as soon as it opens around 9 am.
It is always better to reach the location as soon as it begins because the crowd is comparatively less, and you can explore and marvel at the Church at your own pace.
---
---
How to reach Sedlec Ossuary
Address: Zámecká, 284 03 Kutná Hora, Czechia. Get Directions
You can either take public transportation or get your vehicle to Prague's Sedlec Ossuary.
By Bus
You can take bus numbers 381, 481, 533, 782, 784, 801, 802, or 803 and get off at Kutná Hora, Sedlec, kostnice.
From there, it is a 4-minute walk to Sedlec Ossuary.
By Train
Take the S28 train and get off at Kutná Hora-Sedlec station.
From there, it is a 6-minute walk to Sedlec Ossuary Prague.
By Car
Get a taxi or car to get to Sedlec Ossuary.
Put on google maps and get started!
You can find a lot of parking spaces around Sedlec Ossuary, Czech Republic.
---
---
Things to Remember
– You can buy your tickets offline at the Information Centre at Zámecká 279 Street.
– Photography is strictly prohibited in Sedlec Ossuary Prague.
– Dress respectfully on your tour, as the church and the tomb are holy places of worship.
– Food, drinks, smoking, and pets are prohibited in the Ossuary.
– Large bags and motorcycle helmets are not permitted.
– Helmets for motorcycles and large luggage are prohibited. Please store all large bags in the information center's storage bins. You may bring a pram, but you must carry it inside the Lower Chapel.
– The Lower Chapel is wheelchair-accessible. There is an access ramp on the steps outside and a platform lift on the stairwell inside. The Upper Chapel is not wheelchair-accessible.
Sources
# Sedlec.info
# Wikipedia.org
# Sedlecossuary.com
# Nationalgeographic.com

The travel specialists at TheBetterVacation.com use only high-quality sources while researching & writing their articles. We make every attempt to keep our content current, reliable and trustworthy.
Popular attractions in Prague