Terezin Concentration Camp, also known as Theresienstadt Ghetto, was used by the Nazis as a concentration and transit camp for western Jews.
In four years, more than 30,000 Jews died at the Terezin Camp, located close to Prague.
In this article, we explain everything you need to know before booking your Terezin Concentration Camp tour.
What is Terezin Concentration Camp
Prominent Jews from Germany, Austria, Netherlands, Denmark, and many other European countries were accommodated at the Terezin concentration camp.
From 1941 to 1945, Nazi Germany used Theresienstadt (in German) as a transit camp for western Jews.
As part of their propaganda, the Nazis allowed the Jews at Terezin Camp to self rule.
Thus, life at the Theresienstadt camp was culturally rich, including concerts, lectures, and education for children.
Here is a short video to help you understand what to expect at what was once known as the 'Nazi propaganda camp.'
Important: While a visit to the Terezin Concentration Camp is worthwhile, it is also emotionally overwhelming. If you are traveling with kids, be prepared to answer their questions.
---
---
Terezin concentration camp tours
You can take three kinds of Terezin tours – a full-day tour, a half-day tour, or a private tour.
Note: All the tour tickets mentioned below are smartphone tickets. That is, you don't need to take printouts. The tickets will get emailed to you, and you need to show them on your smartphone to join the tour.
Full-day tour from Prague
Starting time: 10 am
Duration: 7 hours 30 minutes
Transport: Private bus
Guide: Yes, an English speaking guide
Pick up spot: Show your smartphone ticket at 09:45 at the meeting point, just off Old Town Square, at the Discover Prague Tour Office. On Google Map
This is a highly-rated, seven-hour tour from Prague to Terezin Camp available on Fridays.
This tour follows the train lines used to move prisoners from Prague to the Nazi concentration camp at Terezín.
You can see the Terezín Memorial, Ghetto Museum, Small Fortress, Columbarium, the Jewish prayer room, and the rail tracks used to bring prisoners to Terezín.
Ticket prices: 1235 CZK (48 Euros)
Half day tour from Prague
Starting time: 9 am
Duration: 5 hours
Transport: Private bus
Hotel pick up & drop: Yes
Guide: Yes, an English speaking guide
As part of this half-day tour of Terezín Camp from Prague, you will visit the small fortress of Terezin as well as the Ghetto Museum.
A live guide accompanies you to help relive the moments the Jews experienced at the Terezin Camp.
Ticket prices
Adult ticket (14+ years): 1362 CZK (51.60 Euros)
Youth ticket (12 to 26 years): 1256 CZK (47.60 Euros)
Seniors ticket (65+ years): 1256 CZK (47.60 Euros)
Child ticket (3 to 11 years): 1045 CZK (39.60 Euros)
Private Terezin Camp Tour
Starting time: 9 am or 10 am or 11 am
Duration: 6 hours
Transport: Car (up to 3 people) or van (up to 6 people)
Hotel pick up & drop: Yes
Guide: Your driver will be your guide too
Since this is a private tour of Terezin Concentration Camp, it moves at your pace.
As part of this private guided tour, you will visit the small fortress, the big fortress, the Ghetto Museum, the crematorium, and the cemetery.
For a group of up to three tourists, this tour costs 7124 CZK (270 Euros).
---
---
Terezin Concentration Camp from Prague
Theresienstadt Ghetto is in Terezin in Czechia (the new name for the Czech Republic).
Terezín is approximately 60 Km (37.2 Miles) to the North of Prague.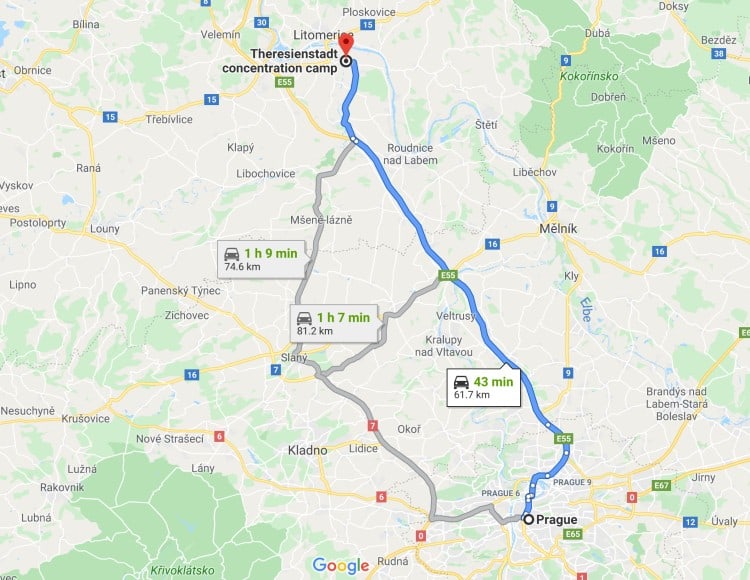 Get directions to Terezin Concentration Camp
Important: If you prefer local experts to take care of your transport from Prague to Terezin and back, it is better to book one of the three tours recommended below.
From Prague to Terezin by bus
If you're not traveling by private transport, buses are the next best alternative.
Approximately ten buses make the 45-minute trip from Prague to Terezin every morning.
The buses depart from central bus station Florence, the main bus station in Prague for domestic and international buses.
A few more buses depart from Stand 7 of the bus station beside Prague Holešovice train station.
Where to get down?
Terezín is divided into two parts by river Ohre.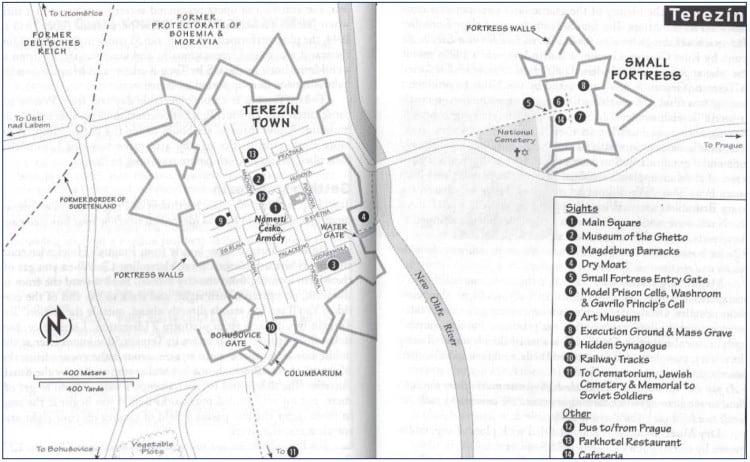 The Large Fortress is on one side of the river while the Small Fortress is on the other.
While traveling from Prague to Terezin, you will first spot the Small Fortress to your right.
If you plan to begin your sightseeing at the Small Fortress and Prison Museum, you must get off at the Terezin car park (you will see this after you spot the Small Fortress).
If you plan to start your exploration at the Large Fortress and Ghetto Museum, you must NOT get down at the Car Park.
Stay on the bus for a few minutes more, and you will reach Main Square with lots of trees (marked as Number 12 on the map above).
The bus drops you right in front of the tourist information office of Terezin concentration camp.
Getting back from Terezin to Prague
Once you have explored Terezin camp, you must follow the same routine.
There are two places in the concentration camp from where you can catch a bus to Prague.
1. The Main Central Square of the Large Fortress
2. Massive car park near the Small Fortress
Buses run a couple of times every hour until 5 pm, after which they become less frequent.
After 7.30 pm there are no buses from Terezin to Prague.
Missed the last bus from Terezin to Prague?
If you missed the last bus going from Terezin to Prague, don't worry.
You can catch a bus to a nearby town called Litoměřice (it is 8-mins from Terezin).
From Litoměřice you can catch a train to Prague. More information
To Terezin Camp by train
From Prague, you can take trains from either Praha Masarykovo railway station or the city's main station to reach the Terezin Camp.
However, we don't recommend them because you will have to walk for 20 to 30 minutes to reach the Small Fortress once you get off at the station.
Trains also take around an hour, while the buses get you to Terezin in approximately 45 minutes.
This is why most tourists either take the bus or book one of the Terezin Camp tours, including transport both ways.
---
---
Terezin camp hours
Terezin Concentration Camp has many sections, and during the peak months of April to October, most of them open at 9 am and close at 6 pm.
During the winter months, the camp's different sections open at 9 am but close much earlier.
Section
Opening time
Summer
Closing
Winter
Closing
Small Fortress
8 am
6 pm
4.30 pm
Ghetto Museum
9 am
6 pm
5.30 pm
Magdeburg Barracks
9 am
6 pm
5.30 pm
Crematorium*
10 am
6 pm
4 pm
Columbarium
9 am
6 pm
5 pm
Ceremonial Halls
9 am
6 pm
5 pm
Central Morgue
9 am
6 pm
5 pm
Jewish Prayer room
9 am
6 pm
5.30 pm
*The Crematorium is closed on Saturdays.
The Terezin concentration camp is closed on 24 Dec, 25 Dec (for Christmas), 26 Dec, and 1 Jan.
---
---
What to see in Terezin Concentration Camp
Terezin camp has numerous attractions for tourists to explore.
A half-day tour takes you to the most important attractions – the small fortress and the Ghetto Museum.
However, if you want to explore Terezin camp in detail, you must book a day-long tour.
The must-sees at Terezin camp are –
Small fortress
Emperor Joseph II built the small fort at Terezin in the 1780s to keep the Prussians safe.
From 1940 to 1945, the Small Fortress served as the prison for Jews from many nations.
In 1994, a new permanent exhibition devoted to the history of the political prison was inaugurated in this fortress.
As you walk through the cemetery in front and the numerous cells, you can't but feel the pain and anguish felt by the Jews once housed here.
Large Fortress
The Large Fortress is on the East side of the river and is almost like a town enclosed by walls.
The Nazi had used the Jewish artisans and carpenters to transform the massive fortress into a concentration camp.
The Ghetto Museum is in this big fortress.
Courtyards
Terezin Concentration Camp has four prisoner courtyards, which face the prison cells which housed the Jews.
Some tourists are known to hear the cries of those in the prison as they walk through these courtyards. It is that chilling.
It is believed that these tiny cells within Theresienstadt camp sometimes housed as many as 100 prisoners.
The prisons facing the third Courtyard were reserved for women.
Jewish Prayer Room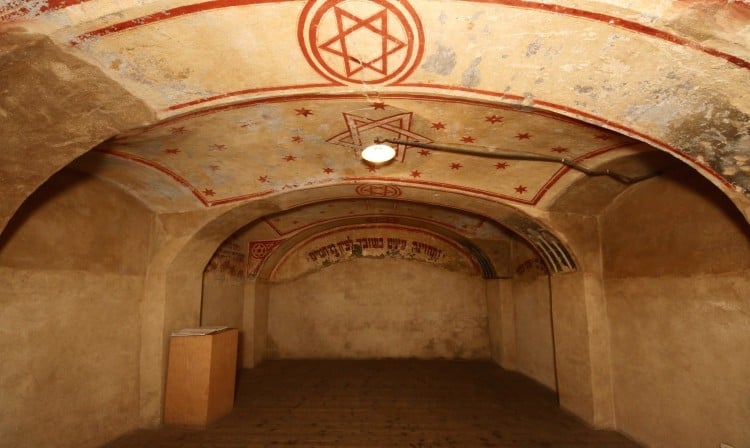 After the Nazi decided to use the Large Fortress as a concentration camp, the non-Jewish population of the fortress was expelled (in 1942).
This gave the Jews a lot of closed spaces to be converted into small prayer rooms.
They transformed Attics, garages, cellars, storage spaces, etc., into small Jewish prayer rooms.
The Jews then decorated the upper walls and vaulted ceiling to make it interesting.
Execution Grounds
At the Theresienstadt camp, a former shooting range was used as an execution courtyard.
The Nazis sometimes made the other inmates witness these executions.
Due to many executions daily, mass graves were unearthed later near the execution site.
Ghetto Museum
This Museum narrates the history of the Ghetto established in the Large Fortress.
This Museum is proof that even though the Jews were living in a Ghetto, they lived a productive life that included cultural and spiritual activities.
The Terezin Ghetto Museum also shows that life in the camp was tough with acute pain, hunger, and death.
During your visit, don't miss out on the exhibits of children's artwork.
Crematorium
The living conditions in the Ghetto were poor, and the executions were regular.
As a result, the Bohušovice basin close to Terezin Concentration Camp used to dump the bodies couldn't keep pace.
With pressure mounting, the Nazis eventually built a crematorium towards the south of the Town.
Columbarium
Columbarium: A room or space used to store urns with ashes of the deceased.
Since so many Jews were being put to death, a Columbarium was created in an enclosure near the assembly point XXVII of the Main Fortress.
However, just before the Germans lost the war, they started to cover the traces of their crimes.
The urns from the Columbarium in Terezin were taken and distributed elsewhere.
Some were buried in the Concentration Camp in Litoměřice, but most were thrown away in river Ohre.
Magdeburg Barracks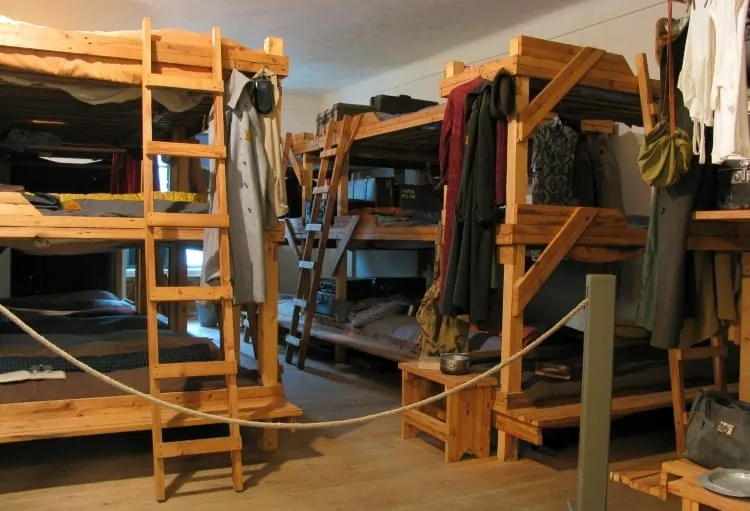 Magdeburg Barracks was the seat of the Jewish self-government at Terezin.
Magdeburg Barracks hosted all the major cultural events, religious services, lectures, and meetings, etc.
As of today, these barracks have been reconstructed and are used for educational purposes.
The Terezin Theatre
The Nazis wanted to project the Terezin Concentration camp as a 'model ghetto' to the rest of the World.
As a result, they allowed the Jews there the permission to indulge in cultural activities within Theresienstadt.
Even though the conditions weren't suitable for creativity, the Terezin theatre proliferated.
Ceremonial Halls
These are small halls where the dead bodies were kept for some time so that the mourners could pay their last respects.
Tourists are known to feel a tinge of sadness pluck at their heartstrings, even as they stand inside one of these halls.
Gestapo Prison Cells
Small Fortress was initially built as a Gestapo prison.
The prison cells in this fortress were in use extensively from 1940 to 1945.
Ironically, after the Allied victory, the German war criminals were made to stay in these prisons and later executed.
---
---
Where to stay in Terezin
We recommend the below given three hotels, which are both highly rated and close to Theresienstadt.
Hotel Koliba
Amongst the highly-rated hotels, Hotel Koliba is the closest to the Terezin Concentration camp.
Hotel Koliba is in a town called Litomerice and is 2.7 km away from the Terezin Memorial.
Grandhotel Salva
This is yet another excellent hotel in Litomerice, and from this hotel, it takes approximately 25 minutes by road to reach the Concentration Camp.
The distance from the GrandHotel Salva to the Terezin concentration camp is 3.3 km.
Hotel Lev
Hotel Lev is rated 4.5 on Tripadvisor.
Located in a small town called Lovosice, this hotel is 7.9 Kms (4.9 Miles) from the Terezin attractions.
---
---
Terezin concentration camp facts
1. Terezin started as a holiday resort reserved for the Czech elite.
2. Terezín is contained within the walls of the fortress Theresienstadt which was created in the late 18th century and named in honor of Empress Maria Theresa, mother of Emperor Joseph II of Austria.
3. Although Terezin was never supposed to be a slaughter camp, around 33,000 people have died here.
4. Executions alone didn't kill the Jews in Terezin. Malnutrition, extreme population density, and diseases are also known to have contributed to the deaths.
Sources
# Wikipedia.org
# Britannica.com
# Destinationwwii.com

The travel specialists at TheBetterVacation.com use only high-quality sources while researching & writing their articles. We make every attempt to keep our content current, reliable and trustworthy.
Popular attractions in Prague