"Being in Prague feels like you are in a fairy tale, except for one key difference – the city of Prague is for real."
Since no fairy-tale is complete without a castle, Prague has its own – the world's oldest castle aptly named The Prague Castle.
Prague Castle, which was built in 880 AD, is locally also referred to as Pražský Hrad.
It is a Guinness World Record-holder as largest ancient castle in the world and UNESCO World Heritage site.
In this article, we share everything you must know before booking your Prague Castle tickets.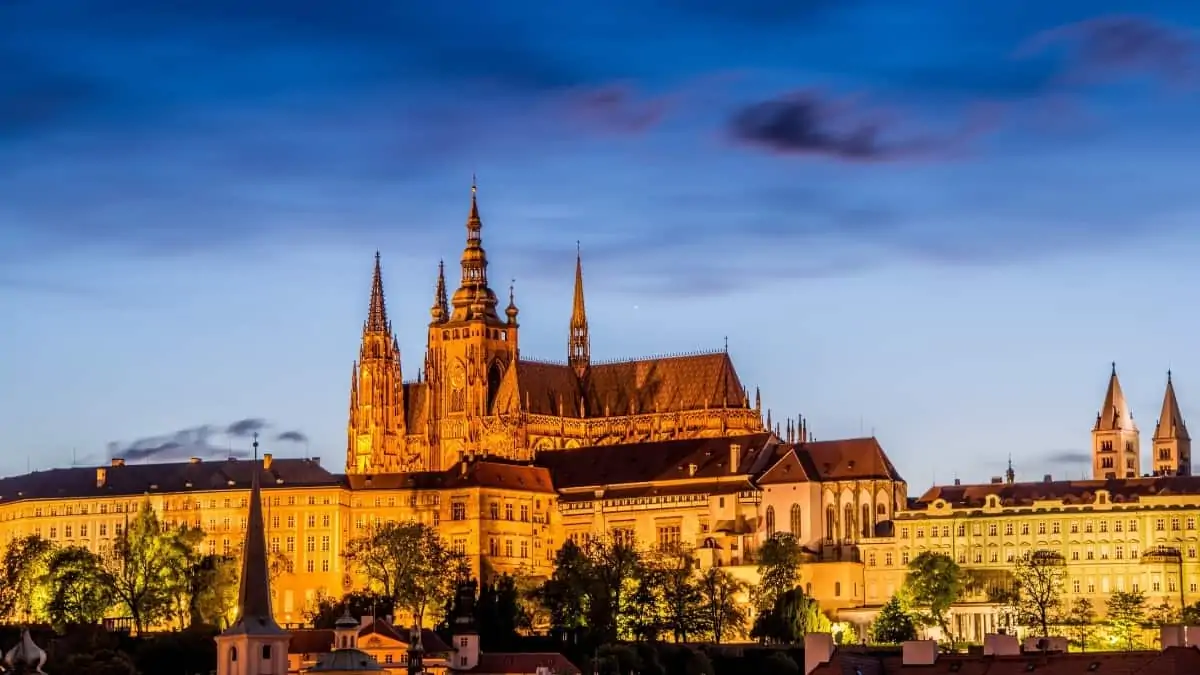 What to expect at Prague Castle
Visitors can choose from many kinds of Prague Castle tickets.
If money isn't an issue, but you want to create beautiful memories, check out the Best of Prague: 5-Hours Private Guided Tour.
---
---
Best time to visit Prague Castle
The best time to visit Prague Castle is as soon as it opens at 9 am.
From 10 am, the crowd starts pouring in and reaches its peak around 1 pm. By 3 pm, the lines at the Prague Castle shorten again.
If you can't make it to the Castle by 9 am, the next best time to visit is after 3 pm.
A hidden perk of arriving at the Castle after the peak time is over is that you can visit the Golden Lane for free.
That is, after 5 pm in summer and 4 pm in winters, you don't need an entry ticket to explore the Golden Lane.
Golden Lane is a street inside the Castle, consisting of tiny houses painted in bright colors.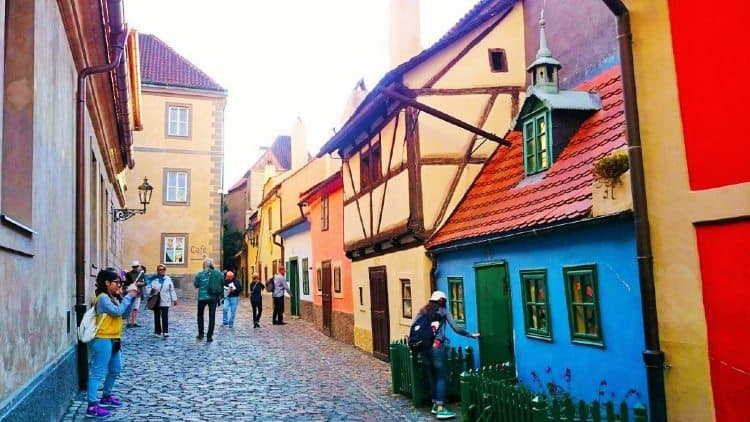 Like any other tourist attraction, Prague Castle sees the biggest crowd during weekends.
How long does Prague Castle take
An ideal tour of the Prague Castle Complex where you explore the historical buildings, the cathedrals, the exhibitions, and stroll in the gardens will take you at least five hours.
If you are not traveling with kids or seniors and want to explore everything on offer in Prague Castle quickly, three hours should be enough.
Prague Castle's audio guide is 3 hours long.
Many tourists believe that "you can stay a whole day and still not see everything at Prague Castle."
Prague Castle entry tickets don't have a time limit. Once inside, you can spend as much time exploring the Castle as you want.
---
---
Prague Castle ticket discounts
Entry to Prague Castle is free, but you can only explore the gardens and the corridors.
To see everything within the complex, visitors aged 17 years and above must purchase Prague Castle tickets worth 16 Euros.
Visitors aged 6 to 16 years get a 50% discount on the full adult ticket and pay only 8 Euros, while kids five years and less get a 75% discount and pay only 4 Euros.
You must show a valid ID card to prove your age.
Discounts available at the Castle
On presentation of valid ID at the Prague Castle's ticketing booth, secondary school students, university students (aged from 17 to 26), and senior citizens aged 66 and above can also get discounts.
Note: Buying the Prague Castle tickets online will help you save money and time (because you won't have to wait in the long ticketing counter lines).
---
---
Skip the Line Prague Castle tickets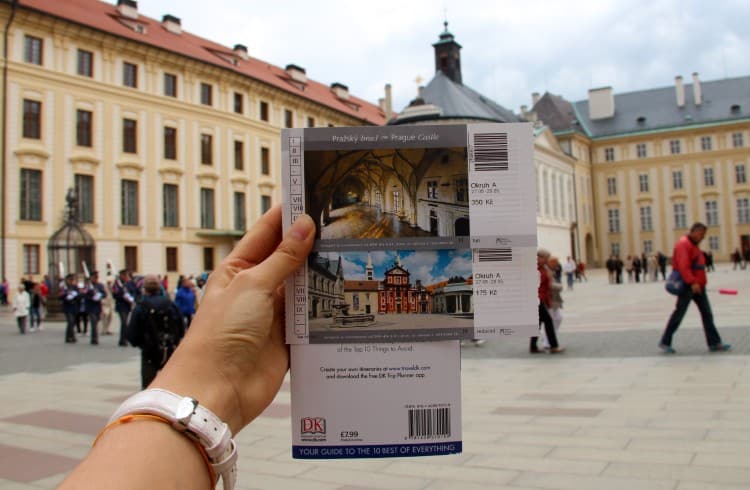 These are online Prague Castle tickets, which means you don't have to wait in line at the Castle's ticketing counter.
This Circuit 'B' ticket covers all the best attractions inside Prague Castle.
The route covers the castle interiors, the Old Royal Palace, St. George's Basilica, the Golden Lane, and the stunning stained glass windows of St. Vitus Cathedral.
On the ticket booking page, you can choose from four time slots – 10.30 am, 11.30 am, 1.05 pm, 2 pm.
Prague Castle ticket price
Adult ticket (17 to 65 years): 388 CZK (16 Euros)
Youth ticket (6 to 16 years): 194 CZK (8 Euros)
Child ticket (<5 years): 97 CZK (4 Euros)
---
---
Guided tour of Prague Castle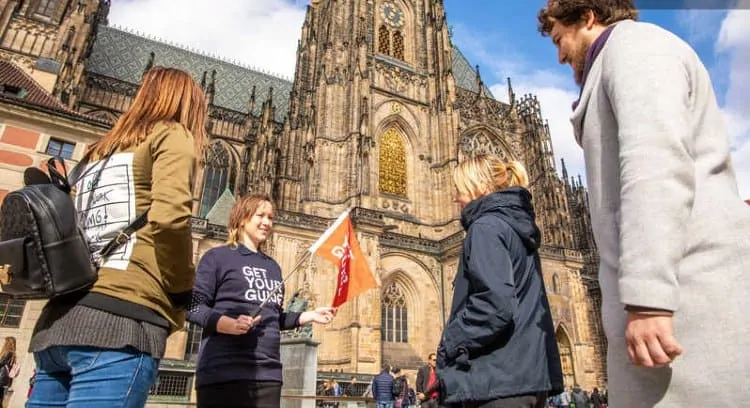 If you can afford it, we highly recommend a guided tour of Prague castle.
This is a 2.5 hours long guided tour in which a local expert takes the lead.
Your guided tour of Prague castle starts from a convenient location, outside the Palace.
The guide meets you near the Charles Bridge, where they will give you a short overview of the history of the castle looming over the capital city.
Then the guide leads you across the bridge, to Lesser Town Square, from where you hop on a tram to Prague Castle.
As you explore the Old castle, Vladislav Hall, St. George's Basilica, St. Vitus Cathedral, etc., your local guide provides all the stories of princes, kings, and emperors.
This tour is available in English, German, Italian, French, Russian and Spanish.
Price of guided tour
Adult ticket (16+ years): 850 CZK (35 Euros)
Child ticket (up to 15 years): 485 CZK (20 Euros)
---
---
Where is Prague Castle?
Prague Castle is one of the most significant monuments in the Czech Republic.
The famous Castle, which also doubles up as the house of the current Czech President, is located in Hradčany district (also known as the Castle district).
Standing on top of a hill overlooking Lesser Town, on the left bank of river Vltava, the Castle is Czech's most significant historical and cultural treasure.
How to get to Prague Castle
Since it is a significant tourist draw, Prague Castle is well connected to every corner.
One can easily reach Prague Castle on foot, by tram, or by metro.
On Foot
A brisk 8-minute walk from Metro station Malostranská (Line A) can get you to the Prague Castle.
If you are roaming around in the Lesser Town Square, you can find your way to Prague Castle via Nerudova Street.
Although this walk is a bit steep, the views are worth every moment.
At the end of your small trek, you will be in front of the Prague Castle gates.
By Tram
If walking isn't your thing, or if you are travelling with seniors or kids, we recommend you take a tram to reach Pražský Hrad.
Tram no. 22 will take you up the hill to the tram stop called 'Pražský Hrad'.
Once you get down, turn left and start walking. In 5 minutes, you will reach the 2nd Courtyard of Prague Castle.
You can board the tram at any station of your preference.
However, Národní Třída Metro stop (in front of the National Theater – Národní Divadlo) and Malostranská Station are the most convenient boarding points.
If you want to avoid walking or the crowd of public transportation, we recommend hiring a taxi.
Taxis can go up to the gates of the Castle.
---
---
Prague Castle hours
Prague Castle opens at 6 am and closes at 10 pm, all through the year.
However, the historical buildings in Prague Castle follow their timings – in summer months (Apr to Oct) they are open from 9 am to 5 pm and in winter (Nov to Mar) from 9 am to 4 pm.
Wondering what the historical buildings at Prague Castle are?
1. Old Royal Palace
2. The exhibition "The Story of Prague Castle"
3. St. George Basilica
4. Golden Lane with Daliborka Tower
5. Prague Castle Picture Gallery
6. Powder Tower
7. Rosenberg Palace
And since you don't want to miss out on these historical buildings, you must visit Prague Castle according to their timings.
---
---
Prague Castle free entry
Entry to Prague Castle is free.
Without buying any tickets, you can roam around in the castle corridors and the gardens.
However, there are many impressive buildings, exhibitions, etc., which you can't access without entry tickets.
Here is the list –
1. St. Vitus Cathedral
2. Old Royal Palace
3. The exhibition "The Story of Prague Castle"
4. St. George's Basilica
5. Golden Lane with Daliborka Tower
6. Rosenberg Palace
7. Prague Castle Picture Gallery
8. Great South Tower with a View Gallery
If you are NOT on a budget holiday in Prague, we recommend you buy the Prague Castle tickets online and explore it to the fullest.
Free entry to 'qualified' tourists
Tourists who fulfill specific criteria can enter Prague Castle for free. They are –
1. Kids six years and below
2. Nursery school group and their teacher
4. Differently-abled tourists with a valid disability card
3. EU licensed tour guides with clients holding purchased tickets
---
---
What's inside Prague Castle?
The Prague Castle complex dominates the city's skyline and offers many attractions and sights within.
1. Prague Castle church
There are two Cathedrals inside Prague Castle – St. Vitus Cathedral and St. George's Basilica.
These are the oldest of the churches in the Czech Republic.
St. Vitus Cathedral
The St. Vitus Cathedral is the largest and the most important church in Prague.
The Cathedral stands in the center of the Castle, with its oldest parts dating back to the 14th century.
Tourists who have visited this cathedral have marveled at the intricate stained-glass making up the windows.
St. George's Basilica
It is the second oldest church in the Castle, founded around 920 by Prince Vratislav I.
The Cathedral features a beautiful and colorful Baroque facade.
The facade dates from the 17th century and is dedicated to Ludmila of Bohemia.
The building is now home to 19th century Bohemia Art collection and also serves as a concert hall.
2. Prague Castle Gardens
The castle garden was commissioned by Habsburg Ferdinand I and founded in 1534.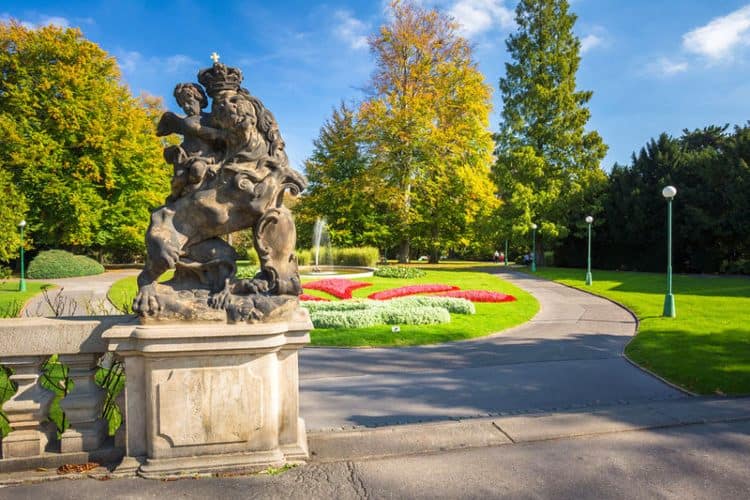 Apart from the rare botanical specimens and exotic plants, the garden also has a few buildings built to entertain the Royals who stayed here.
While in the garden, you can spot the Ball Game Hall, the Royal Summer Palace etc.
3. Golden Lane
Golden Lane is a street with small, colourful houses.
This street gets its name because it is believed that Goldsmiths (and alchemists) lived on this street. Today these houses are mostly souvenir shops.
Among these houses, one of them is more popular than the rest – House No. 22 – for this is where writer Franz Kafka is known to have stayed.
He lived in House No 22 with his sister Ottla from 1916 to 17.
It is believed Franz Kafka got his inspiration to write his book titled 'The Castle' while living in Golden Lane, inside Prague Castle.
4. Rosenberg Palace
The Rosenberg Palace is situated in Jirska street, inside Prague Castle.
This renaissance Palace was used as a residence for unmarried noblewomen.
The palace is small yet adequately restored and maintained.
5. Change of Guard
Presidential Guards stand at all three entrances of the Prague Castle, and every hour they change without much of a show.
However, every day at noon, the first courtyard of Prague Castle sees the ceremonial Change of Guard.
If you can arrive at the courtyard by 11.40 am, you can get a vantage position for the best view.
Note: To see the change of guard, you don't need to buy any tickets.
6. Prague Castle Moat
If you are visiting Prague Castle in the summer months, don't miss out on the moat.
Once you have seen the manicured gardens, get to the Upper Moat via the entrance in the royal gardens.
If you love walking, this is a great way to enjoy nature.
From the Prague Castle's Upper Moat, you will find trails that will take you to the Lower Moat.
7. Vladislav Hall
Vladislav hall is one of the most magnificent structures within Prague Castle.
It was built between 1493-1502 and today is used for large public gatherings such as coronations, banquets, and other conferences.
The most striking feature of the hall is its ceiling, making it the largest secular vaulted room in Europe.
The Gothic ribbed vaulting of the roof holds the ceiling spanning over fifty feet.
8. Powder Tower
The Powder Tower dates back to the 15th century and served as one of the main entrances to the walled city of Prague.
This Gothic gate originally separated the Old Town from the New Town.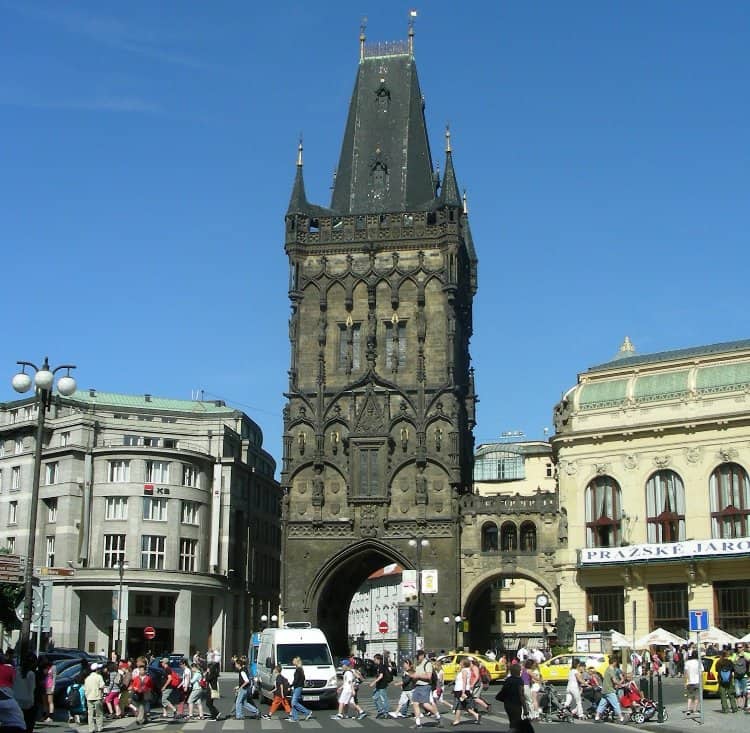 When it was built, it was called the 'New Tower.'
However, since it was used to store gunpowder, with time, it got the nickname 'Powder Tower.'
9. The Story of Prague Castle
This fantastic exhibit illustrating the history of Prague Castle is a must-see while visiting the Old Royal Palace.
The exhibit also displays the extensive and vibrant history of Prague and Czech.
Primary displays include the displays and artifacts related to Czech crown jewels and the treasure of St. Vitus Cathedral.
---
---
Prague Castle map
Stretching over 750,000 square feet, the Prague Castle is a vast and magnificent structure.
While trying to absorb this true beauty, one can quickly lose track of time and way.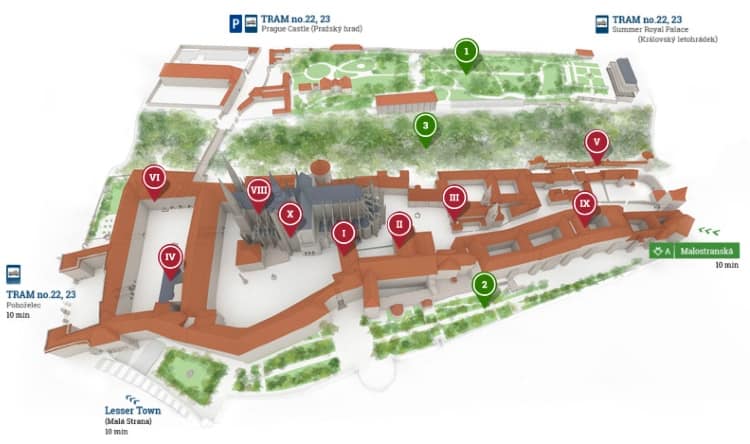 List of Buildings
I – Old Royal Palace
II – The Story of the Prague Castle
III – St. George's Basilica
IV – The Treasury of St. Vitus Cathedral
V – Golden Lane
VI – The Picture Gallery at Prague Castle
VIII – St. Vitus Cathedral
IX – Rosenberg Palace
X – Great South Tower of the Cathedral
Gardens in Prague Castle
1 – Royal Garden
2 – The South Gardens (closed in 2019)
3 – Stag Moat (closed in 2019)
Carrying a map of the Castle will not only save you from getting lost but will help you find the tourist attractions faster.
Recommendation: Since Prague Castle is enormous, touring it with a local expert makes a lot of sense. Check out this guided tour of the Castle.
---
---
Understanding Circuits in Prague Castle
Once you decide to buy Prague Castle tickets, the first question that gets asked is, "Which Prague Castle ticket should one buy?"
Most tourists get confused because there are three types of tickets –
1. Circuit 'A' tickets
2. Circuit 'B' tickets
3. Circuit 'C' tickets
Prague Castle complex is so big that its organisers have taken two steps to make it easy for tourists:
1. They have increased the validity of the tickets for two days. Yes, that's right. So you can bring the same ticket the next day and explore the Castle for one more day.
2. The organisers have divided the points of interest in Prague Castle complex into 3 different circuits, making it easier for visitors to decide what they want to see.
Before we come up with our recommendation on which circuit ticket you must buy, let's first understand what each of these circuits means.
Circuit A of Prague Castle
A Circuit A ticket gives you access to all the historical buildings inside Prague Castle.
The buildings are St. Vitus Cathedral, Old Royal Palace, the Exhibition "The story of Prague Castle", St. George's Basilica, Golden Lane with Daliborka Tower and Rosenberg Palace.
Circuit B of Prague Castle
Circuit B ticket includes entry to St. Vitus Cathedral, The Old Royal Palace, St. George's Basilica, Golden Lane with Daliborka Tower.
The only building missing in this Circuit is the Rosenberg Palace.
Circuit C of Prague Castle
With a Circuit C ticket in your hand, you can enjoy "The treasure of St. Vitus Cathedral" Exhibition and Prague Castle Picture Gallery.
Yes, that's about it.
Which is the better Circuit at Prague Castle?
With three different types of tickets to choose from, it is natural to get confused.
Tourists who have been to Prague Castle say that the Circuit B tickets are the best – they cover the most important historical buildings.
Check out tourists who provide their reasons on TripAdvisor and Ricksteves.com.
Circuit A & Circut C tickets are costlier than Circuit B tickets which also works in the latter's favor.
---
---
Prague Castle guides
If you are looking for a guide to help you explore Prague Castle better, you have two options.
Human guides
Professional tour guide in the following languages – Czech, English, German, French, Italian, Spanish and Russian – are available.
A standard one-hour tour takes you to the St. Vitus Cathedral and The Old Royal Palace. You can arrange for both a personal or group trip.
If you want the Prague Castle guide in Czech language, it will cost you 50 CZK/ hour/person.
Foreign language guides charge you double of that. Find out More.
Audio Guide
You can also opt for an Audio Guide to explore the Castle.
They cover 95 points of interest within the Prague Castle complex, and the duration of this AudioGuide tour is 3 hours.
Hiring the Audio Guide for three hours will cost you 350 CZK per device. If you want it for the entire day, you will have to shell out 450 CZK per device.
---
---
Photography in Prague Castle
While you can take photographs in Prague Castle, not all areas allow for free photography.
To take photos of the building interiors, you need to buy a Photography license.
If you carry a camera and love taking pictures, this is a small and quick investment in creating memories.
If you decide not to buy a Prague Castle's photo license, keep an eye out for markings where you can take free photographs and where you can't.
Sources
# Wikipedia.org
# Hrad.cz
# Britannica.com
# Praguecastletickets.com

The travel specialists at TheBetterVacation.com use only high-quality sources while researching & writing their articles. We make every attempt to keep our content current, reliable and trustworthy.
Popular attractions in Prague