Introduction
Zizkov television tower is one of the most recognizable features in the Ikov area.
The Tower was created in the 1980s by Václav Aulick and Ji Kozák.
It is 216 meters tall and is the city's highest structure.
This article explains everything you need to know before buying Zizkov television tower tickets.
What to expect
At Prague TV tower, you can get a 360° view of Prague from the viewing platform, 93 meters above the ground.
An entire floor is devoted to leisure and, most importantly, high-end culinary experiences.
The Zizkov Tower also offers a gourmet experience with a restaurant, bar, bistro, SKY SUITE hotel, and tower babies.
The Zizkov Tower has three steel body tubes that make up the construction.
The main tube has two personal lifts, the second tube has a freight lift, and the third tube has a staircase.
Tower Babies
There are ten fiberglass sculptures called tower babies, placed along the Tower that Czech artist David Černý designed.
The babies, known as "Miminka," were placed along the Prague TV tower in 2000 and then permanently established in 2001 due to its popularity.
Žižkov Television Tower tickets
The Žižkov Television Tower is Prague's city symbol.
Žižkov Television Tower tickets will grant you access to the observatory deck of the Prague TV tower, giving you a rare opportunity to view the lovely city from about 100 meters above the ground!
This tour is wheelchair accessible.
Where to book tickets?
You can purchase tickets for the Žižkov Television Tower online or at the reception.
It is better to buy your ticket online as it can easily get sold out quickly.
Online tickets save time and money.
How online ticket works?
You can select your desired date online when buying tickets for the Žižkov Television Tower.
Following the purchase, the tickets will be sent to your registered email.
You can scan your smartphone ticket at the turnstile and proceed to the left elevator to the fourth floor.
You can get the infant ticket only in combination with the adult ticket.
For student tickets, a valid ID must be presented upon arrival.
Ticket Prices
Adult ticket: €12.42
Student Ticket (14 to 26 years): €9.52
Senior Ticket (60+ years): €10.35
Child Ticket (above 100 cm): €7.86
Infant Ticket (below 100 cm): Free
---
---
Tickets for Žižkov TV Tower: Mini-Golf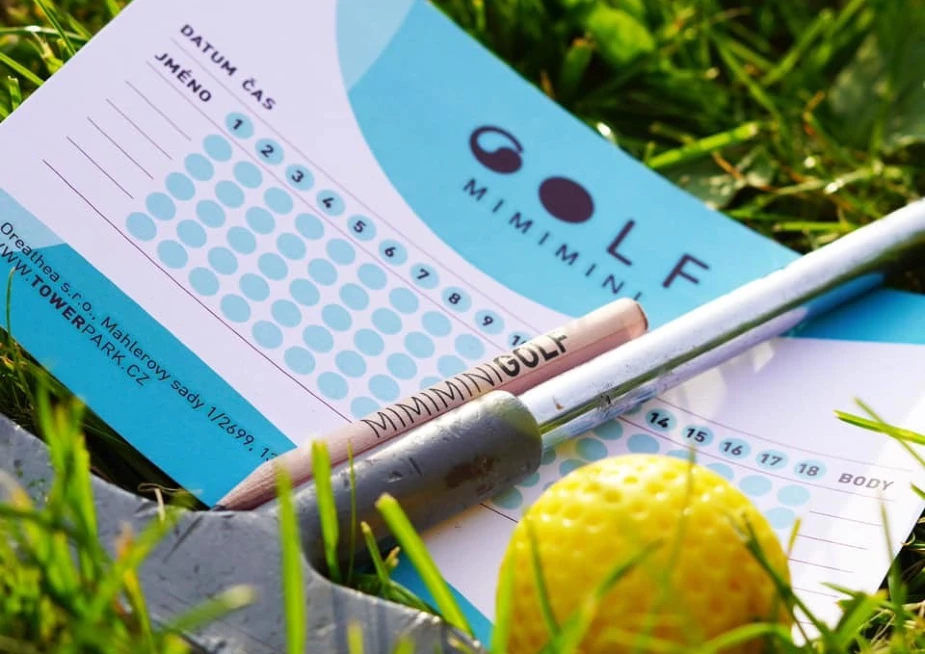 Are you a golf- fanatic? Then this ticket is for you!
Play golf in front of the Žižkov TV Tower.
Get access to the mini-golf course at Žižkov TV Tower and get mini-golf equipment, including a club, scorecard, pencil, and ball.
You get 1 round (18 holes) of miniature golf.
Discover Prague and its historical monuments, museums, and galleries with a 2, 3, or 4-Day Prague Card. Explore top attractions like Prague Castle, Prague Zoo, Lobkowicz Palace, and many more!
Ticket Prices
Adult Ticket (18+ years): €5.82
Senior Ticket (65+ years): €4.15
Child Ticket (up to 17 years): €3.32
How to reach Žižkov Television Tower?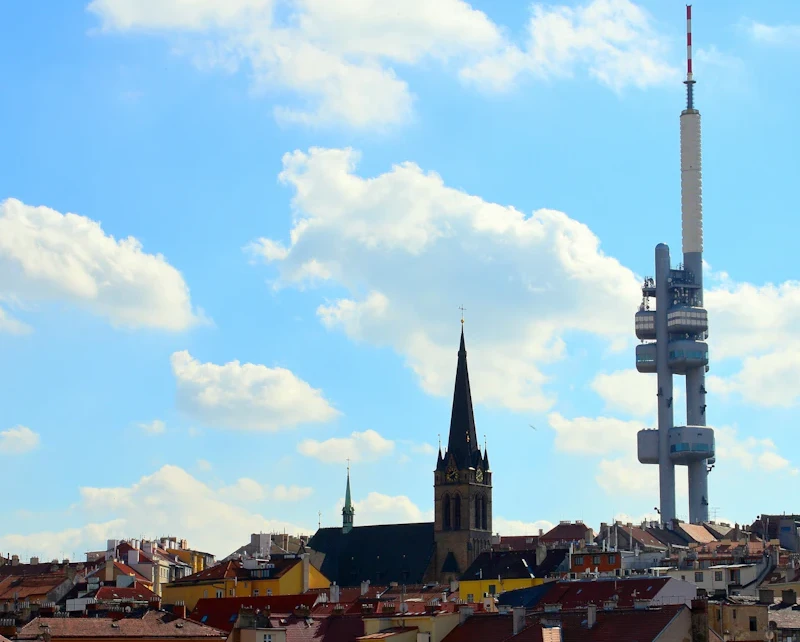 Address: Mahlerovy sady 1, 130 00 Praha 3-Žižkov, Czechia. Get Directions
You can either take public transport or get your car!
---
---
By Tram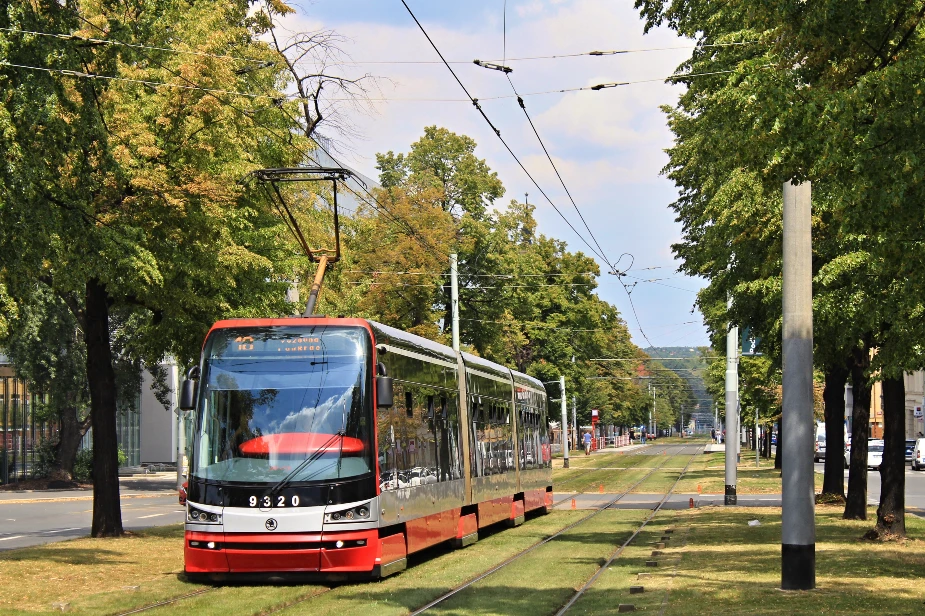 If you're taking Tram 5, 11, or 13, get off at Jiřího z Poděbrad.
From there, take a 7-minute walk to the Prague TV tower.
If you're taking Tram 1, 2, 5, 6, 8, 9, 12, 14, 15, 23, 25, 26, 95, 98, or XC, get off at Lipanská.
From there, take an 8-minute walk to the TV Tower.
By Bus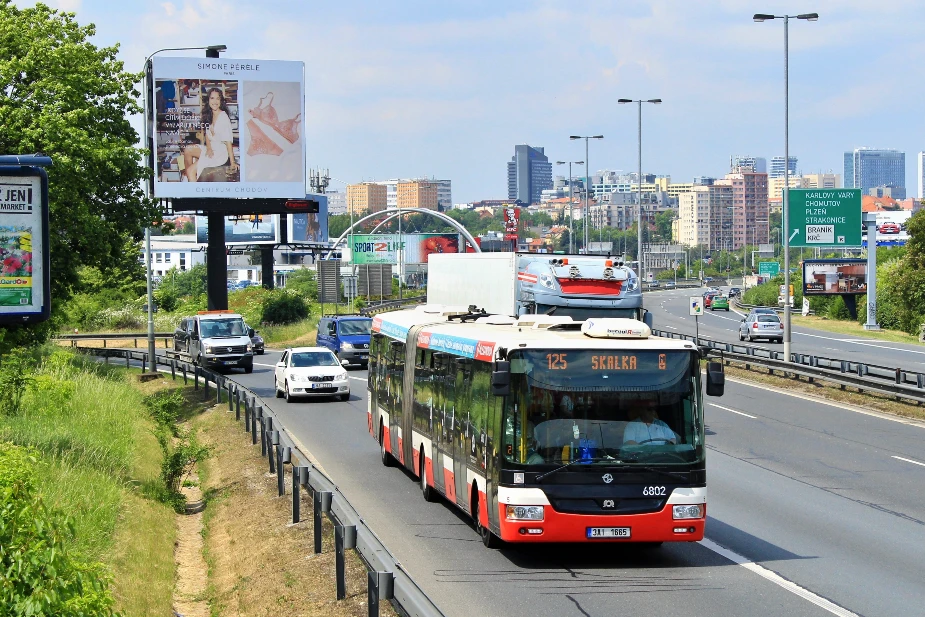 If you're taking Bus 101, get off at Park Rajská zahrada.
From there, it is a 9-minute walk to the TV tower Zizko. 
---
---
By Car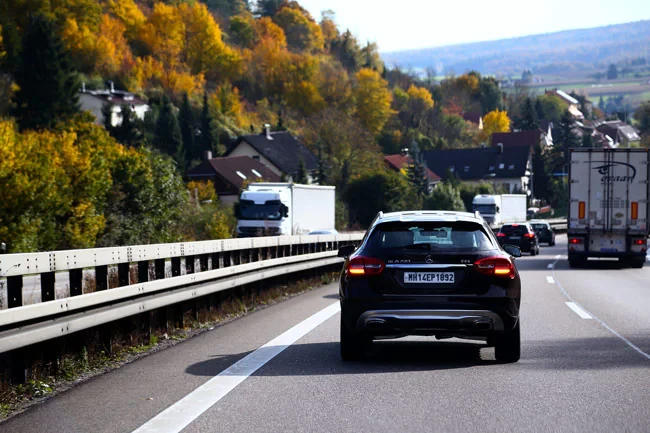 The Zizkov TV tower can be reached by taxi or by your car.
Turn on Google Maps and begin your journey!
Car Parking
There are a few parking lots around the Prague TV tower.
Click here to get a list of the parking lots!
Žižkov Television Tower timings
Zizkov TV tower is open every day from 9 am till midnight.
Book your tickets and enjoy the beautiful Zizkov television tower.
How long does Žižkov Television Tower take?
The tour takes approximately 2 hours.
If you plan to visit the hotels and restaurants, it might take a little longer, depending on the availability and dinner.
Best time to visit Žižkov Television Tower
The best time to visit is as soon as it opens at 9 am.
In the morning, the tower park is not crowded, and you can enjoy the sight at your own pace.
July and August are among the best time to visit Prague. It has nice weather, longer days and fewer tourists.
Where to eat at Žižkov Television Tower?
You can eat at the three restaurants in the Prague TV tower.
The restaurants are Oblaca restaurant, Miminoo Garden restaurant, and Bistro 66.
Oblaca Restaurant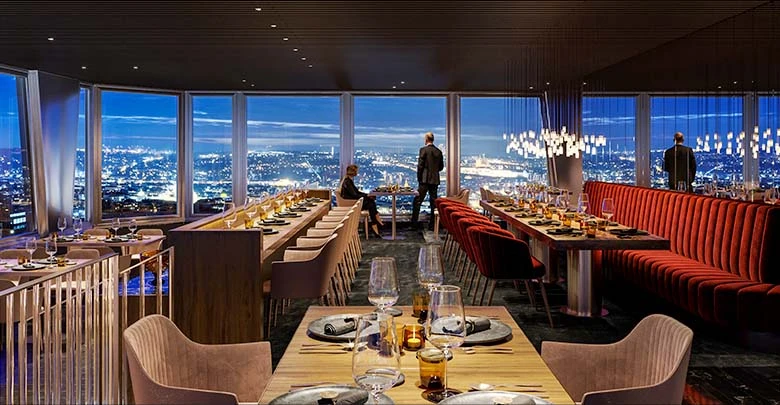 Oblaca Restaurant is among the clouds and the perfect place for you to have a dinner date.
Get amazing food from Tomas Hendrych, a famous cook at Oblaca Restaurant.
Get fresh, high-quality food and a good ambiance at the restaurant.
The restaurant is famous for its creativity and experimentation with the food.
Enjoy a gourmet menu or a special menu among the clouds.
The restaurant offers a general menu and a special menu. 
---
---
Miminoo Garden restaurant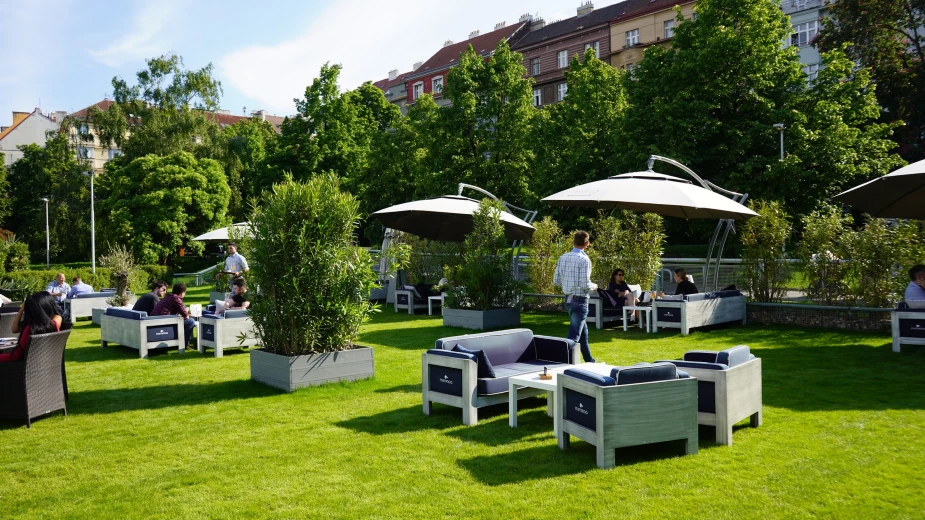 Enjoy the scenic beauty and admire the crawling babies on the Zizkov television tower.
Miminoo Garden Restaurant was awarded the prestigious Golden Lion award from 2015-2021.
Martin Chalupa, the head chef of the restaurant, will enrich your experience with authentic Italian and Czech gastronomy with a unique signature.
Enjoy delicacies directly from the Italian Dolomites, prosecco, fresh-baked pizza, and pastries made every day!
You can choose between the Breakfast Menu, Ala Carta, or Special Menu.
The restaurant is a beautiful garden in the summer and a fun Ice-Rink in the winter. Plan your trip according to your desire!
Bistro 66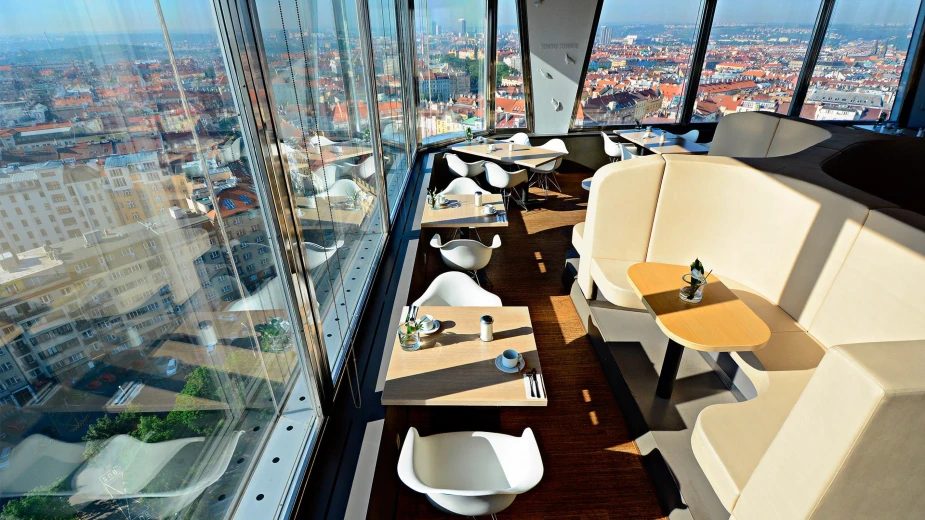 Get gourmet food at fast food speed and prices.
Bistro 66 is the perfect restaurant for breakfasts and snacks.
They use local and seasonal ingredients to make their menu, and it is a must-have if you're visiting the Zizkov tower.
The restaurant is open from 9 am to 11 pm. Make your reservations online and get ready for a beautiful gourmet experience.
Enjoy Breakfast Menu, Ala Carte, or Special Menu.
Where to stay?
Sky suite is a perfect place for your stay on your Zizkov tower tour.
The hotel rooms are unique and beautiful.
Lie in a roomy bed and unwind in a cozy bathroom from a height of 70 meters.
Take in the beautiful view of Prague while being treated to first-rate service.
Popular attractions in Prague
# Prague Castle
# Jewish Quarter Prague
# Terezin Concentration Camp
# Black Light Theater, Prague