Aquapalace Prague is the largest water and sauna park in the Czech Republic and is only 30 minutes from Prague.
Aquapalace Prague will excite everyone, including adrenaline seekers, sea surfers, competitive swimmers, and especially families with young children.
Await the excitement, tranquility, rush of adrenaline, and lots of fun!
This article shares everything you need to know before booking Aquapalace Prague tickets.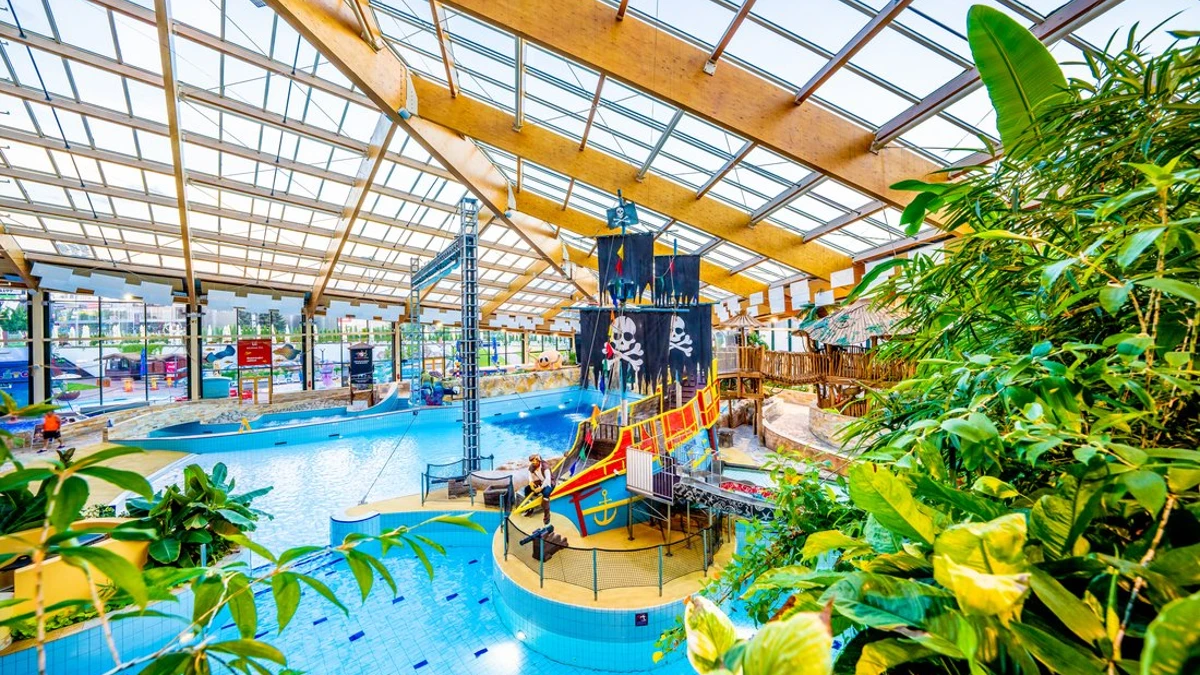 What to expect at Aquapalace Praha
Aquapalace Praha features the Palace of Treasures, Palace of Adventures, and Palace of Relaxation.
Six water slides, 3 steep slides, 1 space bowl, and a wild river are available at the Palace of Adventures.
You can also try the unique Magic Tube toboggan and ride through space and time with virtual reality.
You can expect artificial waves, wading pools, and slides for younger kids and parents at the Palace of Treasures.
Relax in the jacuzzis, massage seat, or swimming pool at the Palace of Relaxation.
Guests can enjoy the outdoor zone's activities and relaxation areas during the summer.
The Coral Dome, home to dozens of magnificent fish, starfish, urchins, corals, and sea turtles, is ideal for romantic souls.
---
---
Where to buy Aquapalace Praha tickets
You can buy Aquapalace Praha tickets at the attraction or online.
However, we suggest you book your tickets online as it offers many benefits.
– You get a discount on booking tickets online, which means you can save money.
– You don't have to travel to the attraction to buy tickets and sweat yourself standing in long queues.
– You can book your tickets in advance and plan your tour accordingly.
– Sometimes, the tickets get sold out quickly. However, if you purchase tickets online, you can avoid last-minute disappointment.
How online ticket works
You can reserve your entry to Aquapalace in Prague by booking tickets online.
On the booking page, select your preferred date, time slot, and the number of tickets and buy them right away.
Tickets will be immediately emailed to your registered email address following payment. No need to print them.
Once booked, your ticket is valid for three hours or 1 day (depending on your selected option).
On the day of the visit, show your e-ticket on the smartphone at the entrance to receive a wristband.
With this wristband, you can make purchases onsite by scanning it at the venue's shops and bars.
Cost of Aquapalace Praha tickets
The Aquapalace Praha ticket cost €40 for visitors aged 12 to 59 years for three hours, while for a 1-day ticket, they must pay €45.
Children aged 1 to 11 years receive a discount and pay €30 for three hours, while for a day, they will pay €34.
Ticket for a family of 2 adults and 1 or 2 children is priced at €102 for 3 hours and €111 for a day.
An adult must accompany kids under 12 years.
Kids under 100 cm get in free.
Aquapalace Praha entry tickets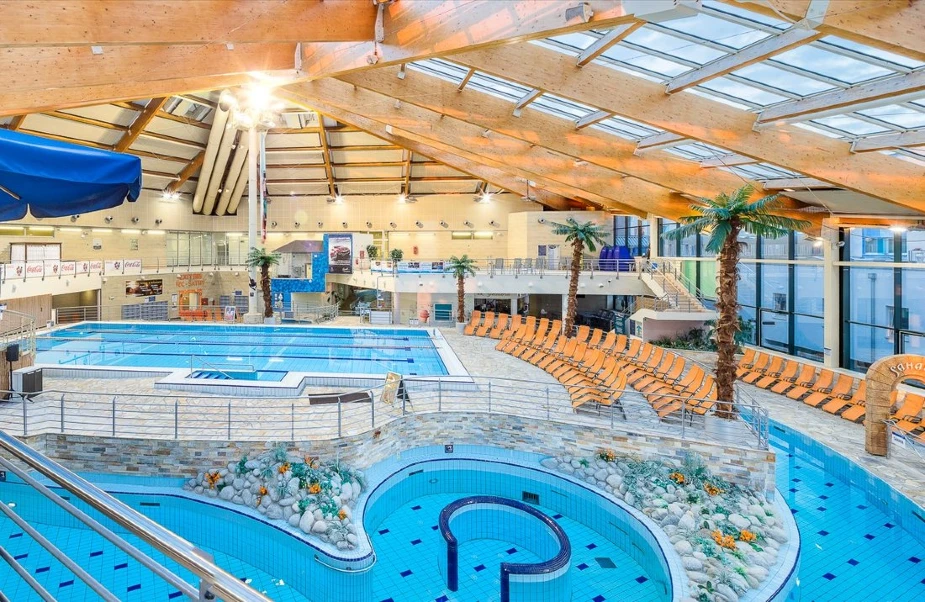 Book your tickets to the largest indoor aqua park in Central Europe.
This Aquapalace Praha ticket gives you access to the Palace of Treasures, Palace of Adventures, and Palace of Relaxation.
The ticket does not include access to Sauna World, VR rides, and other rides.
However, you can experience them by buying tickets separately at the attraction.
Ticket Price
| Type of visitor | 3 hours | 1 day |
| --- | --- | --- |
| Adult Ticket (12 to 59 yrs) | €40 | €45 |
| Child Ticket (up to 11 yrs, 100 to 150 cm) | €30 | €34 |
| Family Ticket (2 Adults with 1 or 2 kids) | €102 | €111 |
Aquapalace Praha + Prague Castle
Aquapalace Praha and Prague Castle are approximately 23 km (14 miles) away and can be reached in less than 30 minutes by car.
So why not visit both attractions on the same day?
With a combo ticket of Aquapalace Praha and Prague Castle, you will get skip-the-line access to Prague Castle (A UNESCO World Heritage site) and its interiors which will be valid for 2 consecutive days.
This ticket also offers admission to Charles Bridge Museum.
On this journey, the tour representative will give you a short introduction in English at the meeting point.
You get up to a 5% discount on this combo ticket.
Ticket Cost: €49
Save money and time: Discover Prague and its historical monuments, museums, and galleries with a 2, 3, or 4-Day Prague Card. Explore top attractions like Prague Castle, Prague Zoo, Lobkowicz Palace, and many more!
---
---
Aquapalace Praha timings
Timings for Water World
The Aquapalace Praha is open all days of the week.
Monday to Thursday it runs from 10 am to 8 pm, while on Friday from 10 am to 10 pm.
The Prague Aquapalace is open on Saturday from 9 am until 10 pm.
However, Sunday, it operates from 9 am to 8 pm.
Timings for Fitness World
Fitness World is open from 6 am to 11 pm from Monday to Friday.
You can visit the Fitness World from 8 am to 11 pm on Saturday, Sunday, and public holidays.
Timings for Spa and wellness
The timings remain the same for the entire week and on public holidays from 9 am to 9 pm.
Timings for Balneo & Medical
The Aquapalace Praha's Balneo and medical center are open from 7 am to 9 pm from Monday to Friday.
Best time to visit Aquapalace Praha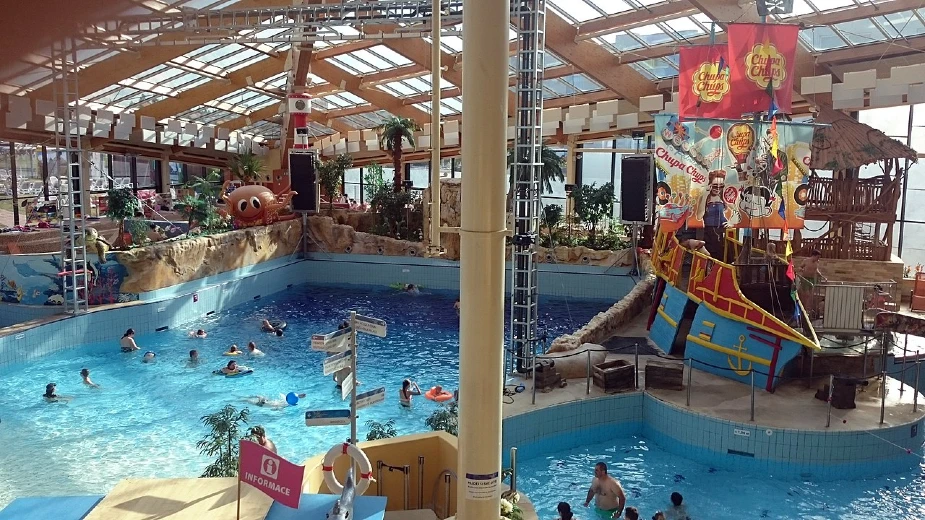 Most families typically arrive early when the Aquapalace Prague opens for the day at 10 am.
When you come early, you get enough time to experience the fun activities.
It is better to avoid going to Aquapalace in Prague during midday because this is the most crowded time.
Weekends are usually packed, so weekdays are the best if you want to spend the entire day at Aquapalace Praha.
Since the park is an outdoor attraction, it is important to check the best season.
Prague experiences the spring season from April to May, and this is the best time to visit this attraction.
How long does Aquapalace Praha take
You will need at least 5 to 6 hours to discover the Palace of Treasures, Palace of Adventures, and Palace of Relaxation.
If you are running short of time, you can spend three hours, but less than that is not recommended.
If you are with kids, you can expect your stay to last the whole day.
---
---
How to reach Aquapalace Praha
Aquapalace Praha is in Čestlice, about 100 meters from Prague's border.
Address: Pražská 138, 251 01 Čestlice, Czechia. Get Directions
The best way to reach Aquapalace Praha is by bus and car.
By Bus
If you travel by bus number 325 or 385, you can get down at Čestlice, aquapark (1-minute walk from Aquapalace Praha), Nákupní zóna (Available buses: 325, 328, 357, 363, or 385) or Čestlice, V Oblouku (Available buses: 325, 328, 357, 363, 401, 402, 406).
Passengers boarding buses 328, 357, 363, or 385 can get off at the Polní bus stop.
Aquapalace Praha is a 14-minute walk from the Čestlice, zábavní park bus stop.
By Car
If you don't want to take public transport, you can reach Aquapalace Praha by car. Use Google Maps for easy navigation.
You can park at Parkovacím dům Aquapalace Č.2 parking garage, which is 27 meters away from Aquapalace Prague.
---
---
What to do at Aquapalace Praha
If you have the time and energy, you can spend the entire day at Aquapalace Prague.
Visitors spend most of their time visiting the attraction's six major highlights.
Water World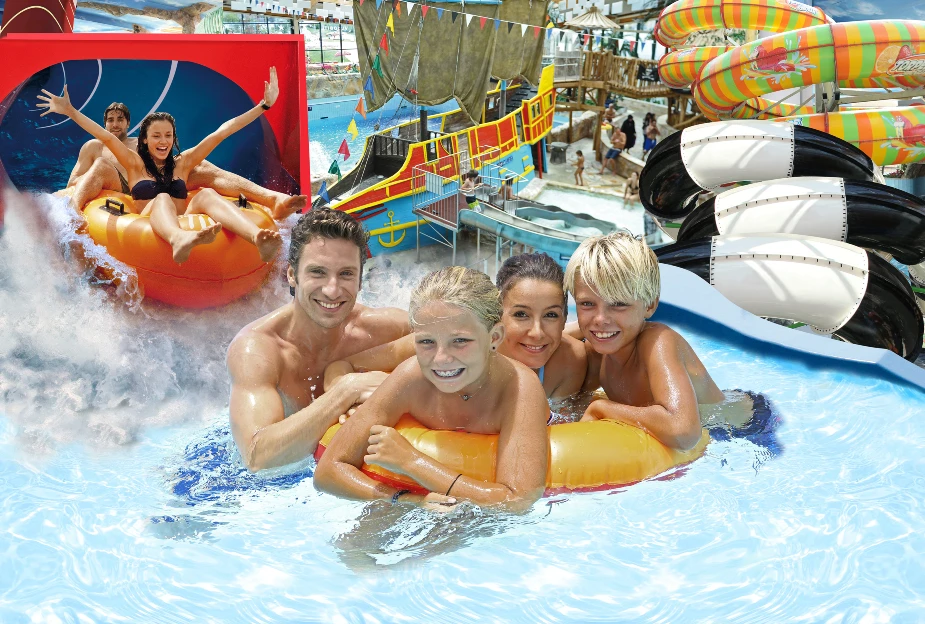 You can swim here year-round.
So many attractions are waiting for you that you won't know which one to try first.
Why don't you ride the Czech Republic's longest water slide, conquer a wild water river, or enjoy a laser show?
Fitness World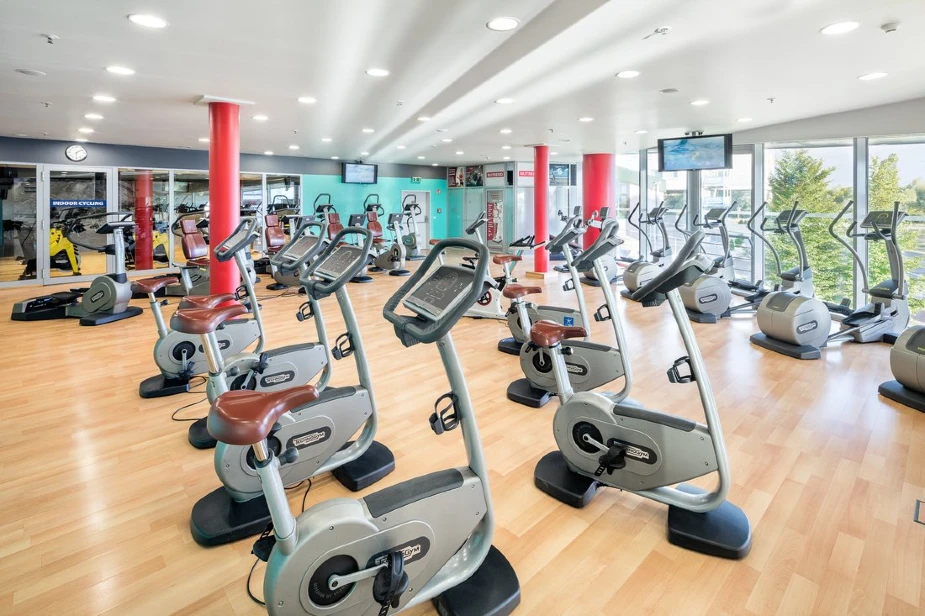 The two-story, huge, completely air-conditioned Aquapalace Praha fitness center is the best equipped in the Czech Republic.
Spa and Wellness Center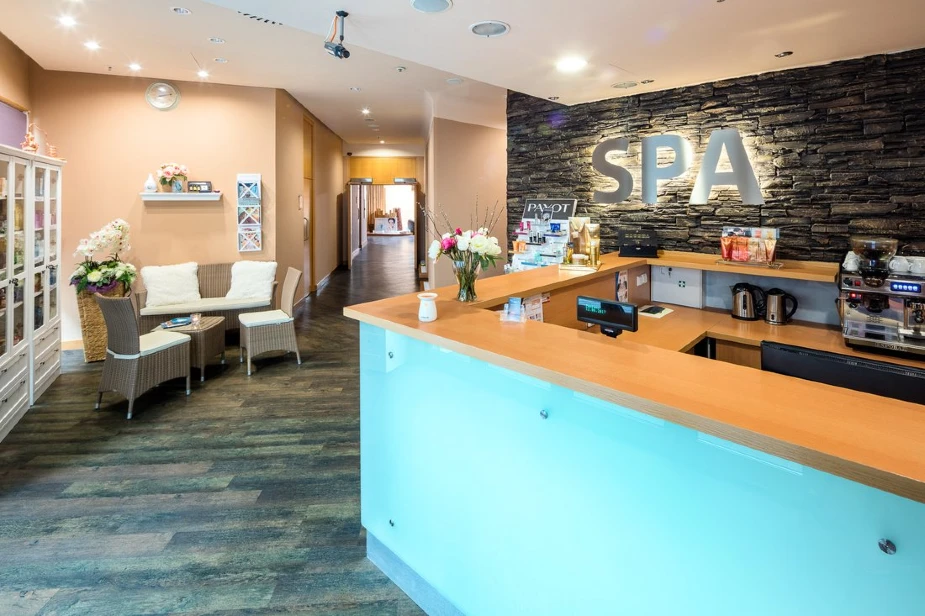 The Spa & Wellness center at the Aquapalace Praha complex offers thorough regeneration and relaxation care for your body and mind.
Balneo & Medical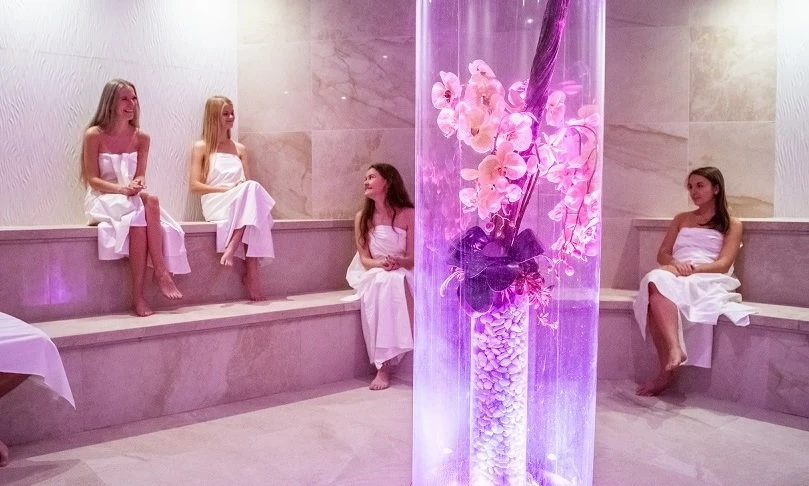 Balneo & Medical is a cutting-edge technological center offering a variety of therapeutic procedures.
Aquapalace Hotel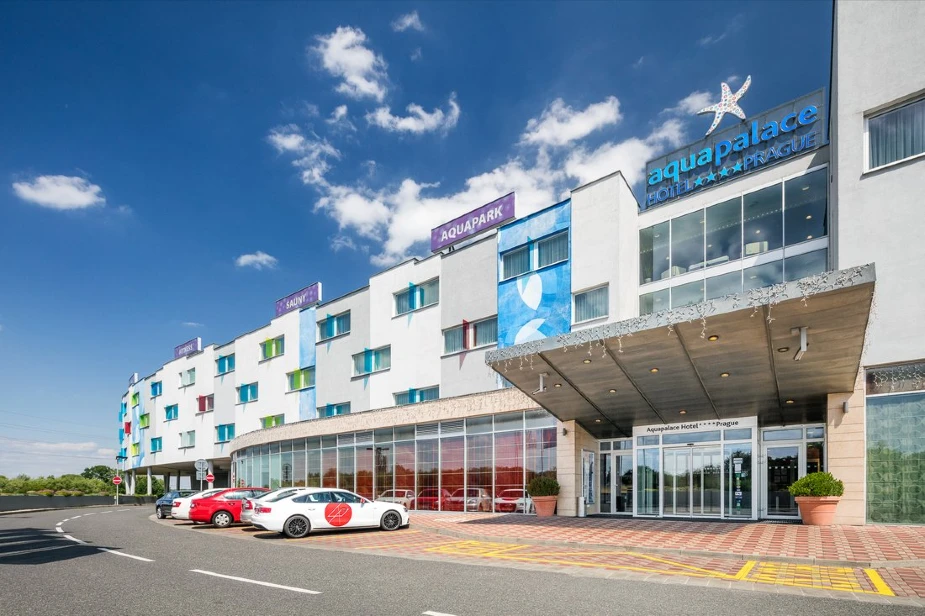 The Aquapalace Hotel Prague offers pleasant accommodations like pirate suites and excellent food.
Sauna World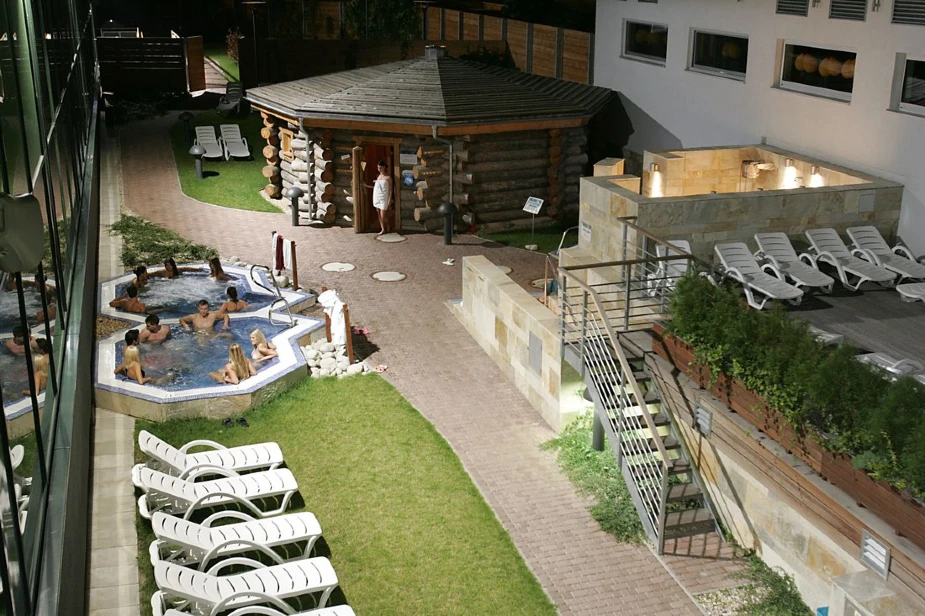 There are 18 distinct heating rooms created for pleasant, luxurious, and unusual sauning.
The space is separated into conventional Finnish saunas, Roman baths, and an outdoor section.
---
---
Rules for visiting Waterworld
– Children below 3 years are only permitted to enter the Water World if accompanied and continually supervised by an adult.
– Children between 3 to 12 years are only permitted to enter the Water World when accompanied and supervised by an adult. Persons and minors above 12 years who are taller than 100 cm may also enter the Water World independently.
– Persons with impaired mobility or orientation who do not require help may enter the Water World only if accompanied by an adult.
– Alcoholics and drug addicts cannot enter the Water World.
– Water World does not allow animals.
– Swimsuits or bathing suits made up of elastic and tightly-fitting material are suitable for bathing.
– Costumes such as underwear, working apparel, and sportswear other than swimsuits, raincoats, jackets, helmets, trousers, shorts, trunks without integrated briefs, etc., are unsuitable for swimming in public pools.
– Before entering the Water World, visitors must shower properly without their swimming suits, use soap, and follow personal hygiene requirements.
– There are the following restrictions in the Water World:
Smoking outside of the permitted areas
Calling for help without a legitimate reason
Tossing Kleenex or handkerchiefs into the water
Polluting water and other areas by spitting, littering, etc.
Severe violations of the visiting guidelines, refusing lifeguard's orders and other staff present at Aquapalace Praha
Unauthorized use of first aid supplies and life-saving tools
Making visual or video recordings without the management's permission
The guest may be kicked out of the facility without being entitled to compensation if any of the rules above are broken.
---
---
Where to eat at Aquapalace Praha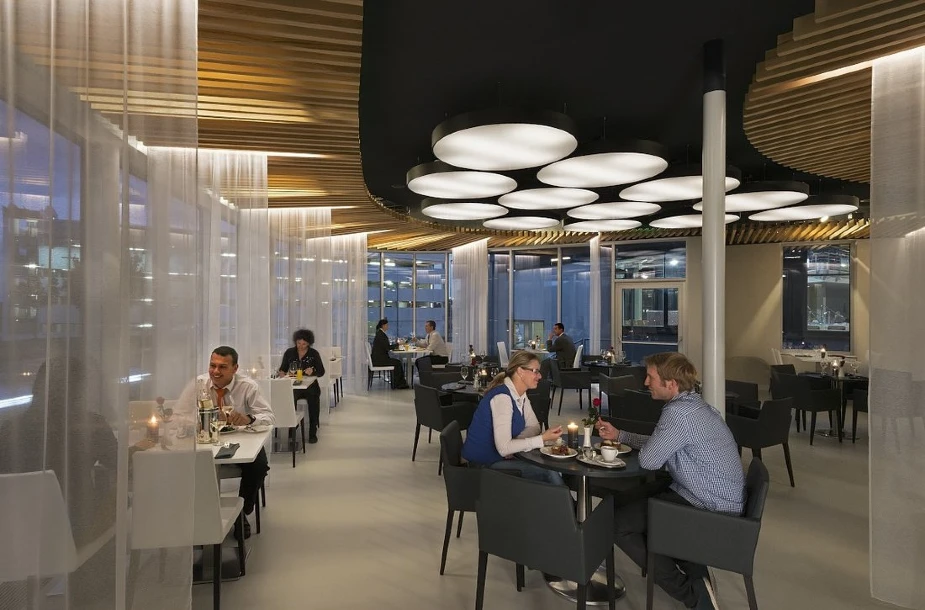 There are many restaurants and bars inside Aquapalace Prague.
Ice Bar – Gelateria
Ice Bar is located at the Palace of Relaxation beside the diving pool.
You can enjoy various ice-cream flavors, sorbets from the premium Carte D'OR brand, pancakes made from fresh ingredients, and non-alcoholic drinks at Ice Bar.
Restaurace Athena Grill
You can find Athena Grill at the entrance hall at Aquapalace Prague.
Athena Grill specializes in cooking food with premium, fresh ingredients that define Greek cuisine.
Cafe Clara
Cafe Clara is present at the entrance lobby to Aquapalace Prague.
The chic Café Clara offers a variety of excellent CAFÉ RESERVA brand items.
Coca-Cola Restaurant
Coca-Cola Restaurant is on the 1st floor of Water World between the Adventure Palace and the Treasure Palace.
Coca-Cola Restaurant serves well-known Czech classics, substantial chunks of succulent meat, sausages, and grilled chicken.
Coral Bar
Coral Bar is in Coral Dome, an outdoor swimming pool.
Refreshments are also available at the Coral Dome's interior bar area.
Excellent coffee, dew-covered draft beer, wine, cocktails, and a view of the garden and outdoor pool are all available here.
Fitness Bar
If you're looking for pre-workout stimulants, nutritional support throughout your workout, or a beverage to aid muscle repair and growth after your session, don't hesitate to visit Fitness Bar at Aquapalace Praha.
Paradise Cafe
Paradise Cafe is on the Relax Palace's indoor terrace.
Away from the major events and water activities, you may relax on the soft loungers and comfy sofas at Paradise Cafe with a touch of the exotic.
The pleasant staff may also prepare a light snack, salad, baguette, or sweet dessert, and you can also order wine and other alcoholic and non-alcoholic beverages.
Pool Bar
Pool Bar is present in the Palace of Treasures.
Cool down with blended cocktails, cold draft beer, or other refreshments from the Pool Bar menu.
Dive into the whirlpool, which is close to the Pool Bar, for total relaxation.
Sources
# Tripadvisor.com
# Aquapalacehotel.cz
# Wikipedia.org

The travel specialists at TheBetterVacation.com use only high-quality sources while researching & writing their articles. We make every attempt to keep our content current, reliable and trustworthy.
Popular attractions in Prague