Visit the Gallery of Steel Figures–Prague's one-of-a-kind gallery showcasing sculptures and art pieces curated from recycled steel scrap.
The man behind this project, "Jose" Mariusz Olejnik, has worked with experienced and trained craftsmen and artists to carve out intricate and complex designs on sculptures.
You'd be surprised to see how the metals dumped in scrapyards can take new forms, shapes, and sizes.
In this article, we will share with you what you can expect at Prague's Gallery of Steel Figures, where to book tickets, how online tickets work, opening hours, and many more!
Top Gallery of Steel Figures Tickets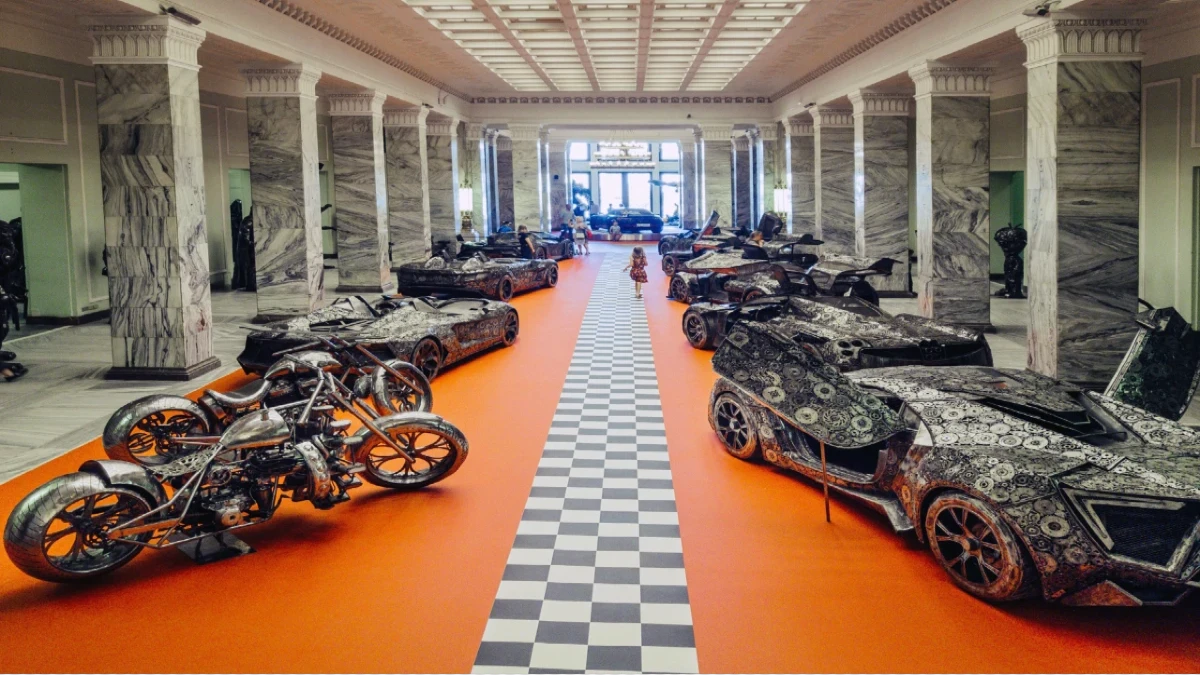 What to expect at Gallery of Steel Figures
At Steel Figure Gallery Prague, witness a whole new world of STEEL, which we bet will STEAL your heart!
Get closer to sculptures made from salvaged engines, gearboxes, brake pads, chains, nuts, bolts, and assorted mechanical bits and bobs.
All the art pieces are constructed using the basic welding process, employing simple tools like torches, welders, hammers, and cutters.
Though this may sound simple and easy, it takes almost eight long months or 7000 hours of teamwork to prepare just one masterpiece!
From animals to cars to furniture to superheroes, anything or say everything can be created with polished scrap steel.
Gallery of Steel Figures in Prague is a must-visit exhibition for families and friends where you see, touch and feel the sculptures and learn about the 3Rs of waste management.
What can be better than sitting in a recycled car, riding a motorcycle, or borrowing weapons from your favorite superhero and getting photos clicked for your social media?
Once you're done with the Gallery of Steel Figures tour, you can quickly pay a visit to their onsite Gift Shop, from where you can buy souvenirs for your loved ones.
There is a stunning collection of bracelets, earrings, necklaces, rings, cufflinks, and unisex robots for the neck or keys.
---
---
Where to book tickets for Gallery of Steel Figures
Are you planning to visit the Gallery of Steel Figures in Prague? Then book your tickets online or purchase them from the ticket office in person.
However, we strongly recommend buying tickets in advance to get guaranteed entry into the gallery.
In fact, when you book online tickets, you can select a date beforehand and plan your tour accordingly.
Sometimes, the Gallery of Steel Figures tickets get sold out quickly, especially during weekends, and if you don't want to face such last-minute disappointments, book in advance.
The best part about online tickets is that you get discounts and deals that let you save a few bucks.
How online ticket works
Go to the Gallery of Steel Figures ticket booking page, select the number of tickets and date, and click the Book Now button!
Upon payment, the tickets will be emailed to you.
On the day of your tour, present your e-ticket at the entrance gate, and you're all ready to go!
Cost of tickets for Gallery of Steel Figures
Tickets for Gallery of Steel Figures are priced at €13 for all guests aged 13 years and above.
Students aged between 16 and 26 years and seniors over 65 years pay just €11 to get admission.
Children in the age group of 4 to 15 years receive €5 discount and can buy tickets at €8.
Infants up to 3 years get free entry.
Gallery of Steel Figures tickets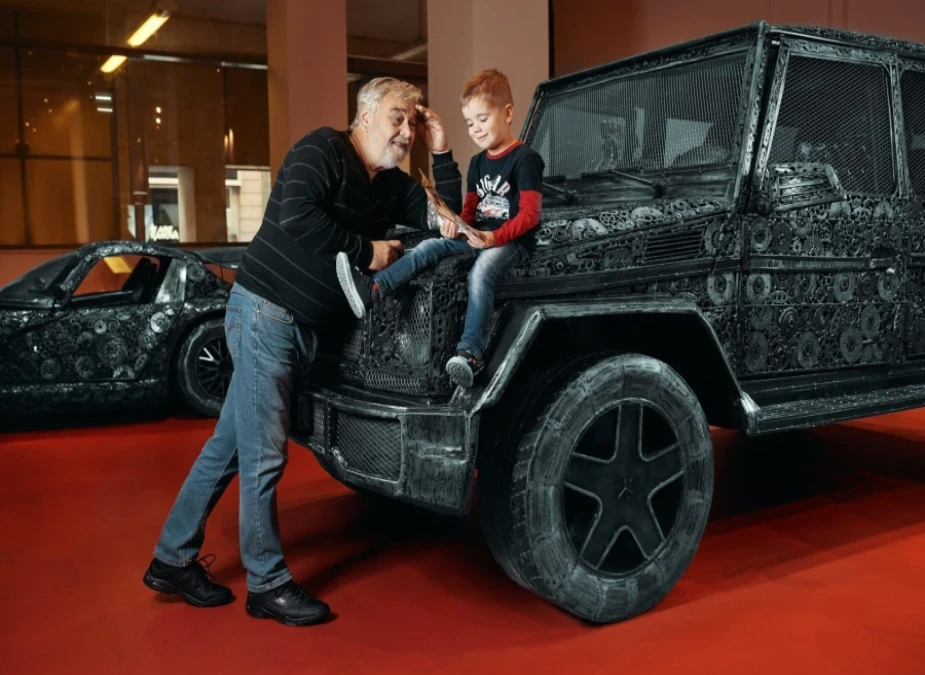 With this Gallery of Steel Figures ticket, you get admission into the gallery where over 100 steel exhibits are placed.
As you keep walking, learn from information panels the story of steel production, recycling, and the City Palais building, protected by UNESCO, on which this gallery is built.
Cartoons, sci-fi movies, comics, fairy tales, and many other sources inspire automobiles, superheroes, and other sculptures.
You'll be stunned to see the exhibitions and praise the ingenious minds behind them.
Ticket Prices
Adult Ticket (16 to 64 years): €13
Child Ticket (4 to 15 years): €8
Student Ticket (16 to 26 years): €11
Senior Ticket (65+ years): €11
Infant Ticket (up to 3 years): Free
Save money & time! Discover Prague and its historical monuments, museums, and galleries with a 2, 3, or 4-Day Prague Card. Explore top attractions like Prague Castle, Prague Zoo, Lobkowicz Palace, and many more!
---
---
How to reach Gallery of Steel Figures
The Gallery of Steel Figures is In between the Old Town Square and Powder Tower.
Address: Celetná 15, 110 00 Staré Město, Czechia. Get Directions
You can reach the art gallery both via public and private transport.
By Bus
Masná and Staroměstské náměstí are the nearest bus stops within 5 minites walking distance.
By Subway
Staroměstská subway station is only a 7 minutes walk away.
By Car
If you're traveling by car to Gallery of Steel Figures, turn on your Google Maps and get started
Click here to find the nearest car parking.
Gallery of Steel Figures timings
The Steel Figure Gallery Prague is open from 10 am to 9 pm from Monday through Thursday.
On Fridays and Saturdays, it runs from 10 am to 10 pm and from 10 am to 9 pm on Sundays.
The gallery remains open even on public holidays.
---
---
How long does Gallery of Steel Figures take
There are nearly 120 interactive steel exhibits inside Steel Figure Gallery displayed on two floors.
Therefore, you can expect your gallery tour to last about one to two hours, which again depends on your pace, and interests.
A visit to the Czech kit Merkur workshop is a must before you exit the gallery.
Best time to visit Gallery of Steel Figures
The apt time to tour the Gallery of Steel Figures in Prague is when it opens at 10 am.
The crowd is at the ebb in the early hours of the day, so you can consider visiting then.
Those who are always busy can plan a visit on public holidays as the art gallery remains open.
FAQs about Gallery of Steel Figures
Here are some frequently asked questions about the Gallery of Steel Figures Prague.
Where can I buy Gallery of Steel Figures entrance tickets?
You can purchase Gallery of Steel Figures tickets by clicking here. 
Is there any car parking facility inside the Gallery of Steel Figures?
There is no onsite car parking facility. But you can park in the Kotva shopping centre which is at a walkable distance from the Steel Figure Gallery in Prague. 
Can I touch the exhibits inside the Gallery of Steel Figures?
You are not just allowed to touch the exhibits and figurines but also allowed to take photographs with them. 
How much time to spend at the Gallery of Steel Figures?
You must spend at least one hour in the gallery to discover exhibits. Your tickets are not timed, so you can stay as long as you want. 
Is Gallery of Steel Figures wheelchair accessible?
Yes, the entire gallery is suitable for disabled visitors and those in wheelchairs.
Popular attractions in Prague