Dalí Prague Engima Exhibition holds the largest collection of Salvador Dali, a well-known painter, and sculptor.
You can spot bronze sculptures, surrealist furniture, gold items, glass sculptures, hand-signed graphics, gouaches, and other artworks at the museum.
The company, Dali Universe, manages the artworks of Salvador Dali.
This organization was started by Mr. Beniamino Levi, who admired Dali's work and was even there when it all happened.
This article shares everything you should know before buying tickets for Salvador Dalí Enigma Exhibition.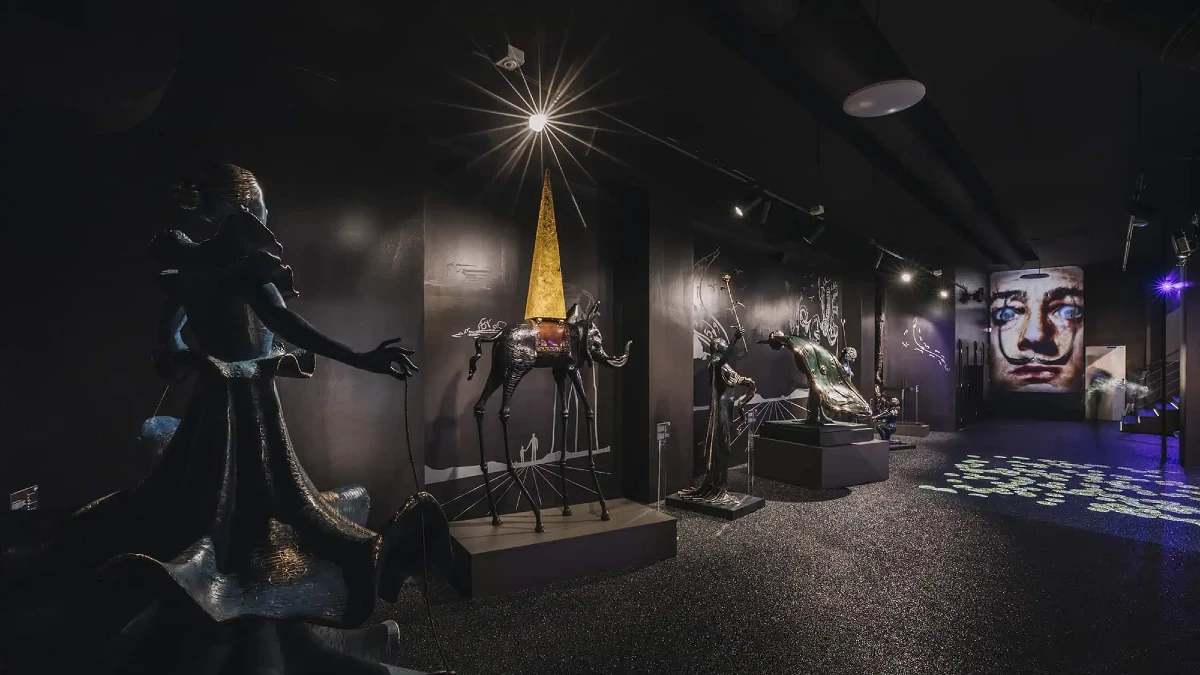 What to expect at Salvador Dali's Enigma Museum
Salvador Dalí Enigma Museum portrays Salvador's mental images and how he understood the world.
In this exhibition, you get an insight into the minds of one of the most prominent artists of the Surrealist movement.
Marvel at the finest works of Salvador Dali in this museum.
You can see about 50 graphic prints and 15 sculptures, many from Beniamino Levi's collection, including Space Elephant, Space Venus, Snail, and the Angel.
Explore the Fine Art located on the first level.
Here, you can buy his works and learn more about them from the staff.
The Bookstore Corner is located on the ground floor, where you can purchase souvenirs like melted clocks and coffee mugs for your loved ones.
---
---
Where to book tickets
You can purchase tickets for the Dalí Prague – Enigma online or at the museum.
Online tickets are worth buying because they save time and money.
If you plan to buy the tickets offline, you must wait in line at the ticket desk. These queues may become longer during peak season and will waste your time.
Also, online tickets help you avoid last-minute disappointments when tickets get sold out.
How online ticket works
On the booking page, select your preferred date and the number of tickets and buy them right away.
Following the purchase, the tickets will be sent to your registered email ID.
Show the ticket at the entrance and enter the Salvador Dalí Enigma Exhibition.
Cost of the exhibition tickets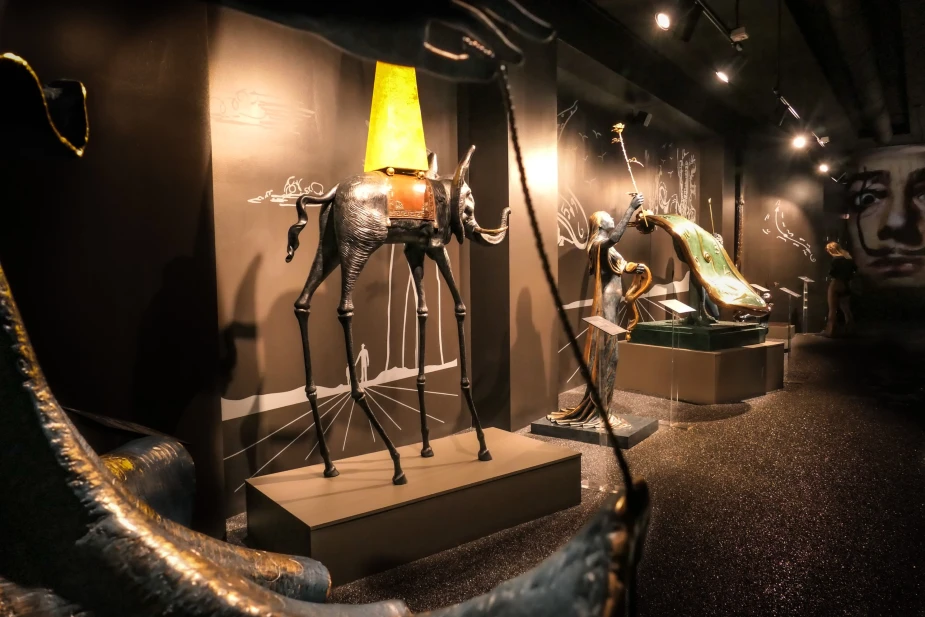 The Salvador Dali's Enigma Exhibition ticket is priced at €12 for visitors aged 16 to 64 years.
Kids aged 6 to 15 years, students up to 26 years (with valid IDs), and seniors aged 65 years and above get a discount of €4 and pay only €8.
Children up to the age of 5 can enter the exhibition for free.
Salvador Dali's Enigma exhibition ticket
Learn more about the famous surrealist Salvador Dali, well-recognized for his technical skills, deft drafting, and peculiar pictures.
Explore the modern and interactive Enigma Museum and admire authentic Salvador Dalí works, including sculptures, glassworks, illustrations, furniture, gold works, and jewelry.
Ticket Prices
Adult Ticket (16 to 64 years): €12
Child Ticket (6 to 15 years): €8
Student Ticket (up to 26 years, with ID): €8
Senior Ticket (65+ years): €8
Infant Ticket (up to 5 years): Free
Save money & time: Discover Prague and its historical monuments, museums, and galleries with a 2, 3, or 4-Day Prague Card. Explore top attractions like Prague Castle, Prague Zoo, Dalí Prague – Enigma, and many more!
---
---
Exhibition timings
Salvador Dalí Enigma Museum is open every day from 10 am to 6.30 pm.
The last admission to the museum is at 6 pm.
How long does it take
Salvador Dalí's Enigma Exhibition is a beautiful experience with over 2400 artworks that will easily take over two hours if you cover every artwork.
But you can take as much time as you want and learn about the artworks and paintings.
Best time to visit Enigma Exhibition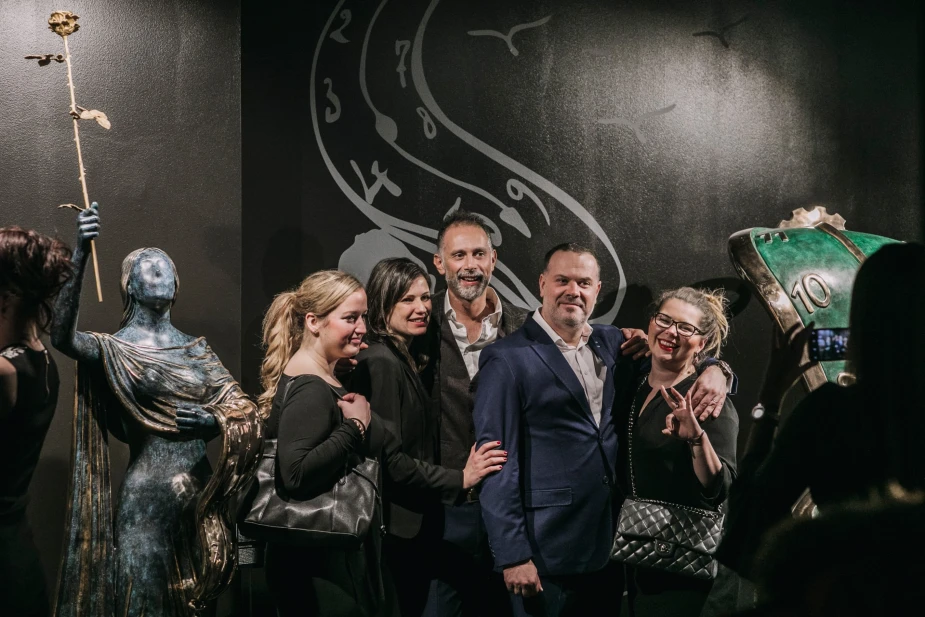 The best time to visit Dalí Prague – Enigma is as soon as it opens at 10 am.
Remember to reach the location early so you can enjoy the museum at your own pace and soak in the beauty of it all.
On weekends the museum is packed, so weekdays are best!
---
---
How to reach Salvador Dalí Enigma Exhibition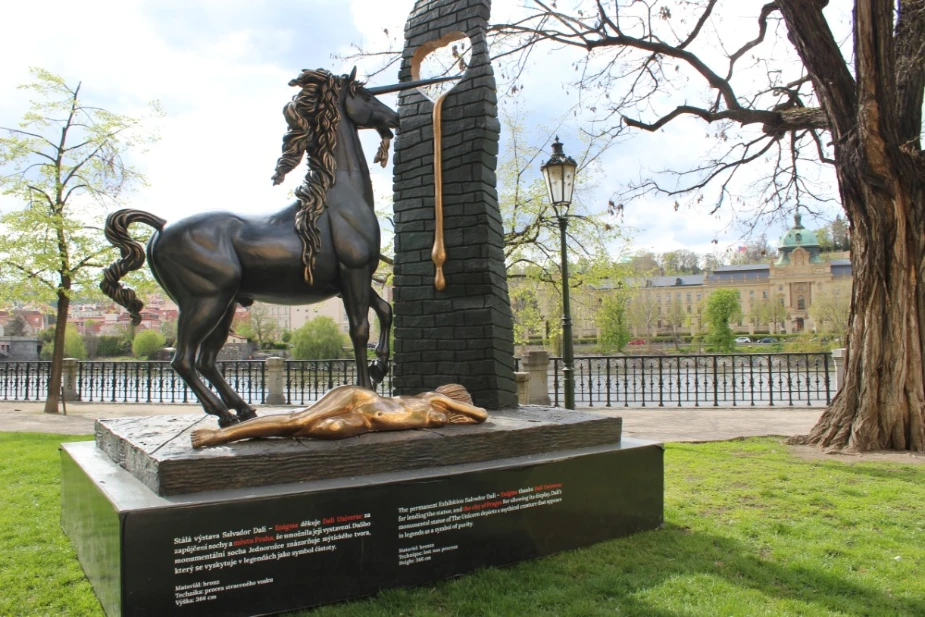 The exhibition is only a few meters from Wenceslas Square on Opletalova street.
Address: Opletalova 1535/4, 110 00 Nové Město, Czechia Get Directions
You can get to Dalí Prague – Enigma Exhibition by public transport or car!
By Bus
If you're taking Bus 904, 907, 908, 910, or X22, get off at Ve Smečkách.
From there, it is a 7-minute walk to Salvador Dalí Enigma Museum.
By Tram
If you're taking Tram 1, 3, 5, 6, 9, 14, 23, 24, 25, 36, 91, 92, 94, 95, 96, or 98, get off at Václavské náměstí.
From there, it is a 4-minute walk to Museum Salvador Dalí Prague.
By Car
You can bring your vehicle or get a cab to Dalí Prague Museum. Put on Google Maps and get started.
If you plan to come by car, you can park at the several parking lots near Salvador Dali Museum in Prague.
---
---
What to see at Salvador Dalí Exhibition
There are over 2400 artworks in Dalí Prague – Enigma.
Take your time as you enjoy the sculptures, furniture, books, DAUM, gold works, small sculptures, and graphics.
Sculptures
Look at the amazing sculptures made by Dali.
Dali is well-known because of his paintings, but only a few know about his sculptures.
Some of the sculptures are Dalinian Dancer, Dance of Time III, Femme à la Tête de Rose, Homage to Fashion, Homage to Terpsichore, Man with butterfly, Persistence of Memory, Saint George and the Dragon, Snail and the Angel, Space Elephant, Space Venus, Toreador Halucinogene, Venus à La Girafe and Woman of Time.
Gold Works
Admire the beautiful artwork in gold displayed in the Dalí Prague – Enigma.
Some artworks are Avida Dollars, Clé, Croix, Dali Fleur, Isis Porte Portrait, Miroir, Pendentif Dali Gala, Pendentif Dalinien, Porte Cigarette, Serpent Magique, Soleil Glorieux, and Tortue Porte Dali Bonheur.
DAUM
Explore the beautiful glass artwork in the exhibition Enigma Prague.
The artworks include Calice 157, Calice 158, Debris D'une Automobile, Guitare, Maternite, Oeil De Pâques, Rhinocerotype Chippendale, and Venus Aux Tiroirs.
Small-sized Sculptures
Enjoy looking at the small-sized sculptures in the museum.
There are numerous artworks you can look at, including L'èsclave Michelin, La Mite Et La Flamme, Mannequin Javanais, Nu Fèminin Hystérique Et Aérodynamique, Premonition De Tiroirs, and Vestiges Ataviques Apres La Pluie.
Jewel Sculptures
Look at the Jewel Sculptures, including Alice in Wonderland, Dance of Time II, Triumphant Angel, and Unicorn.
Other Artworks
Admire some sculptures made with different metals, including Alice in Wonderland, Dance of Time I, Adam and Eve, Birdman, Horse Saddled with Time, and Lady Godiva with Butterflies.
Look at the beautiful furniture built by Dali, including the stunning Mae West Lips Sofa and Muletas Lamp.
Admire the illustrated books and graphics by Dali, including Moise Et Monothéisme, Neuf Paysages, Poems Secretes, and After 50 years of Surrealism.
Sources
# Daliprague.cz
# Tripadvisor.com
# Visitczechrepublic.com
# Getpragueguide.com

The travel specialists at TheBetterVacation.com use only high-quality sources while researching & writing their articles. We make every attempt to keep our content current, reliable and trustworthy.
Popular attractions in Prague