Prague Zoo is one of the best zoos globally and gets more than 1.5 million tourists every year.
Prague Zoological Garden is situated close to the city, in a unique rugged landscape on the banks of the Vltava River.
More than 5000 animals representing 670 plus species are divided into 13 pavilions and 150 exhibits spread at this beautiful zoo.
In this article, we explain everything you need to know before buying Prague Zoo tickets.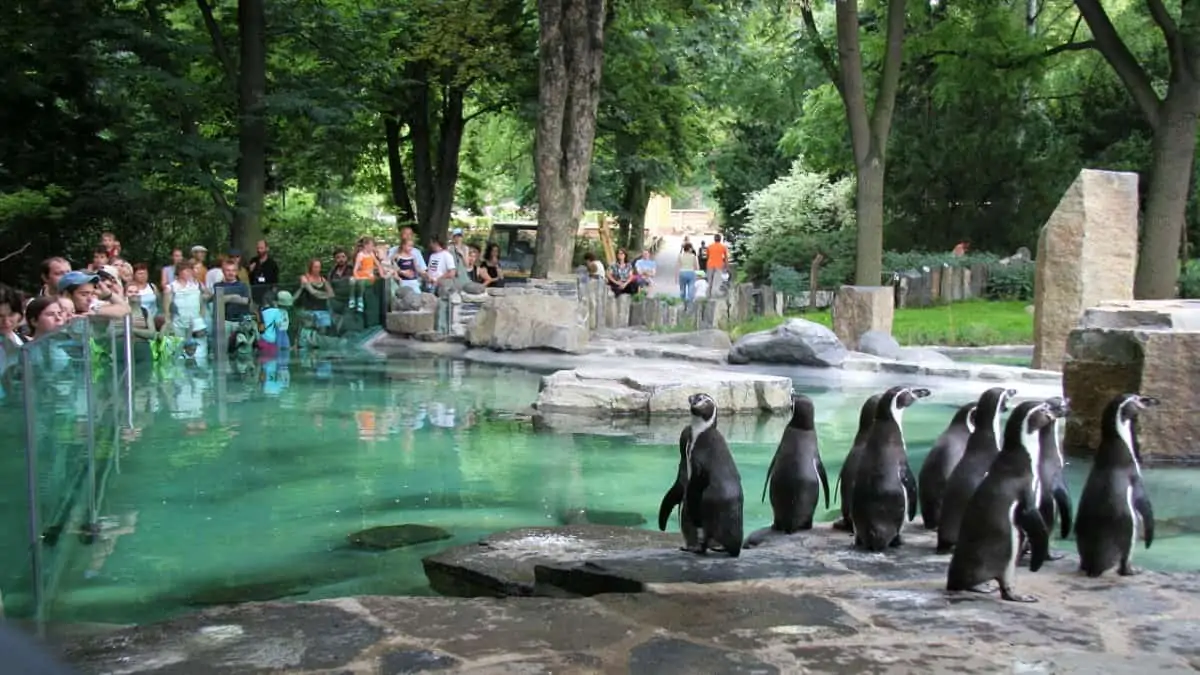 How to reach Prague Zoo
Prague Zoo is located about six kilometers outside the city center.
You can use both public transport and private transport to get to the zoo.
Prague Zoo Metro station
Most tourists prefer the Metro to reach Prague Zoo.
You must board Line C to the Nádraží Holešovice station.
Once you get down, walk out of the Metro station and get on to Bus No. 112, which will drop you near the Zoo entrance.
Over the water
If you happen to be holidaying in Prague between March and October, you can take a boat ride to the zoo as well.
You can cruise along the Vltava river and, in approximately 75 minutes, reach the zoo.
If you have the patience, a passenger ferry boat that goes between Podbaba and Podhoří can also reach Prague Zoo.
After you get off the boat at Podhoří, you can either walk the remaining distance of approximately 1.5 Kms (.94 Miles) or take Bus No. 236 to reach the Zoo.
---
---
Prague Zoo tickets
It is better to buy your Prague Zoo tickets online, much in advance.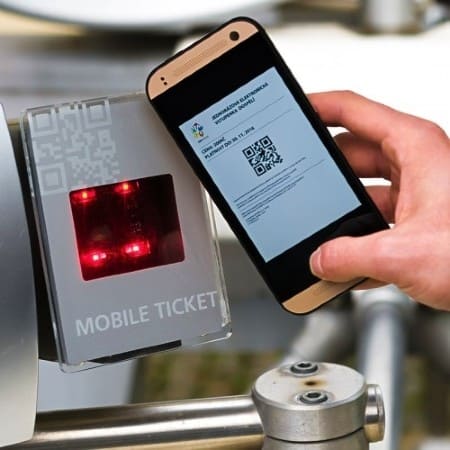 Within minutes of your purchase, the tickets get emailed to you.
On the day of your visit, you can show your mobile at the e-ticket reader on the turnstiles and just walk in.
You don't need to take any printouts.
Types of Prague Zoo experiences
When it comes to Prague Zoo, there are two kinds of experiences possible.
You can buy the regular Prague Zoo tickets, or you can up the ante and buy the Prague Zoo tickets with a boat ride.
We explain both of them below –
Regular Prague Zoo tickets
These tickets give you access to all the Zones of the Prague Zoo.
These are single entry tickets, and once you enter the Zoo, you can explore it for as long as you want.
You can also buy these tickets from the ticket office, right outside the Prague Zoo entrance.
The ticket office remains open till half an hour before the closing time of the Zoo.
Ticket prices
Adult ticket: 250 CZK
Child ticket (3 to 15 years): 200 CZK
Student ticket (with valid ID): 200 CZK
Seniors ticket (70+ years): 150 CZK
You can buy these tickets online, here.
Boat ride to the Prague Zoo and entry tickets
If you answer 'Yes' to any of the questions below, this boat ride plus Prague Zoo ticket is perfect for you.
a) You are in Prague for the first time
b) You are traveling with your spouse
c) You are visiting the Zoo with kids
This combination tour starts at 11.15 am with a boat ride on the Vltava River.
Your expert guide narrates the city's history as you cruise along.
You will witness the beautiful Prague Castle, the Dancing House, the National Theatre, and Charles Bridge during the cruise.
Once you reach the Prague Zoo, the guide will provide you with an admission ticket along with a map of the Zoo and a return bus ticket.
The duration of the tour is approximately 7 hours.
On the ticket booking page, you can decide the language in which you want the tour. Your options are: English, German or Russian.
Ticket prices
Adult Ticket (19+ years): 1,185 CZK
Youth Ticket (13 to 18 years): 1,185 CZK
Children Ticket (3-11 years): 1,080 CZK
---
---
Prague Zoo hours
During the peak season of June to August, Prague Zoo opens at 9 am and closes at 9 pm, and during the shoulder months of April, May, September, and October, it opens at 9 am and closes at 6 pm.
The rest of the year, Prague Zoo operates from 9 am to 4 pm.
The last entry is half an hour before the closing time of the Zoo.
The Ticket office at the main entrance is open daily. From June to August, the ticket office closes at 7 pm.
On weekends, public holidays, and school holidays, the ticket counters at the Southern and Northern gates of the Zoo open to handle the increase in visitors.
---
---
Best time to visit Prague Zoo
Prague Zoo is vast and made up of 26 zones of different terrain and climate.
Since most animals are outdoor exhibits, you will see them enjoying the sun in the summer.
And since this weather is favorable for the visitors too, summer months are crowded.
If you plan to visit Prague Zoo in the summer and avoid the crowd, you have only one option – to be there at 9 am.
Early in the morning, the animals are also most active.
The best time to visit Prague Zoo is the moment they open.
Note: Make sure you stay hydrated. Pack sunscreen to avoid excessive tanning.
---
---
Is Prague Zoo worth It?
If you love animals, a visit to the Prague Zoo is worth it.
It is a unique and enriching experience for children and an excellent opportunity to have a family trip.
The Zoo has picnic spots for spending leisure time with family and loved ones.
There are exciting playgrounds and activities for the children as well.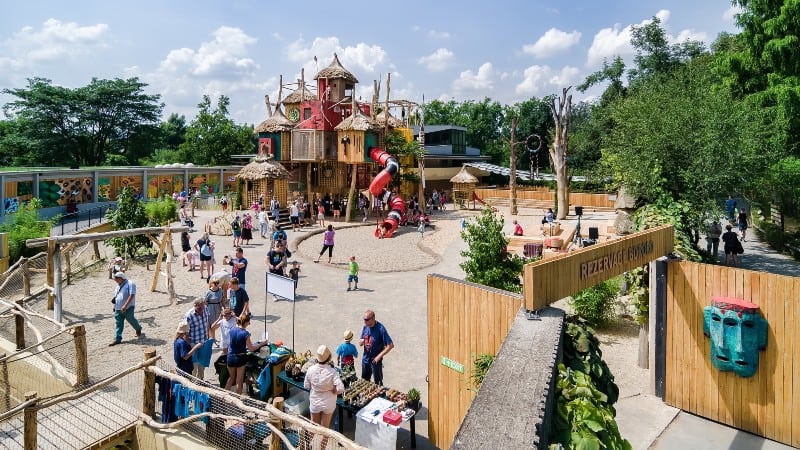 Prague Zoo is one of the best
Every year TripAdvisor reviews are used to rank all the Zoos in the world.
In the last ten years, Prague Zoo has made it to the top ten three times.
In 2017, it was ranked the fifth-best zoo in the world.
If this doesn't make Prague Zoo worth visiting, what will?
---
---
How long does Prague Zoo take?
Prague Zoo is spread over 60 hectares with a wide variety of open-air and indoor exhibits.
If you explore at a brisk pace, you should be able to cover most of the exhibits in four hours.
Families who want to explore as much of Prague Zoo as possible end up spending around five to 5 to 6 hours.
That's because families with kids and elders tend to spend time at the feeding stations, picnic spots, restaurants, etc.
Make sure you have a map of the Zoo to help you move around faster.
Other kid friendly activities in Prague
---
---
Prague Zoo ticket price
Visitors 16 years and above need to pay the admission price of 250 CZK to enter the Prague Zoo.
The ticket price for children between 3 and 15 years and students with a valid Student ID is 200 CZK.
The senior's ticket price (70 years and above) is 150 CZK.
Children under the age of 3 years are allowed free entry.
---
---
Prague Zoo ticket discount
Students with a valid ID, children between 3-15 years of age and senior citizens aged 70+ get a discount of 50 CZK on their Prague Zoo ticket prices.
During the non-peak months, Prague Zoo offers further discounts to encourage visits.
Every Monday, except during the peak season, children, students, and seniors can enter Prague Zoo by just paying CZK 50. This is known as the 'Happy Monday' discount.
These seasonal discounts on the tickets aren't applicable in July, August, and on public holidays.
Groups of 10 and more people receive a 10 percent discount.
Tip: If you are a few people short of the magic number 10, you can always speak to the other visitors outside the Zoo and include them in your group for the discount.
---
---
Map of Prague Zoo
It is best to have a copy of the Prague Zoo map to navigate without any difficulties.
The various animal exhibits, the different Zones, refreshment stalls etc. are explicitly mentioned in the Zoo's layout plan.
The map can help you save time and also ensure you don't miss any exhibit.
We recommend you bookmark this page or keep a printed copy of the map while exploring the Zoo.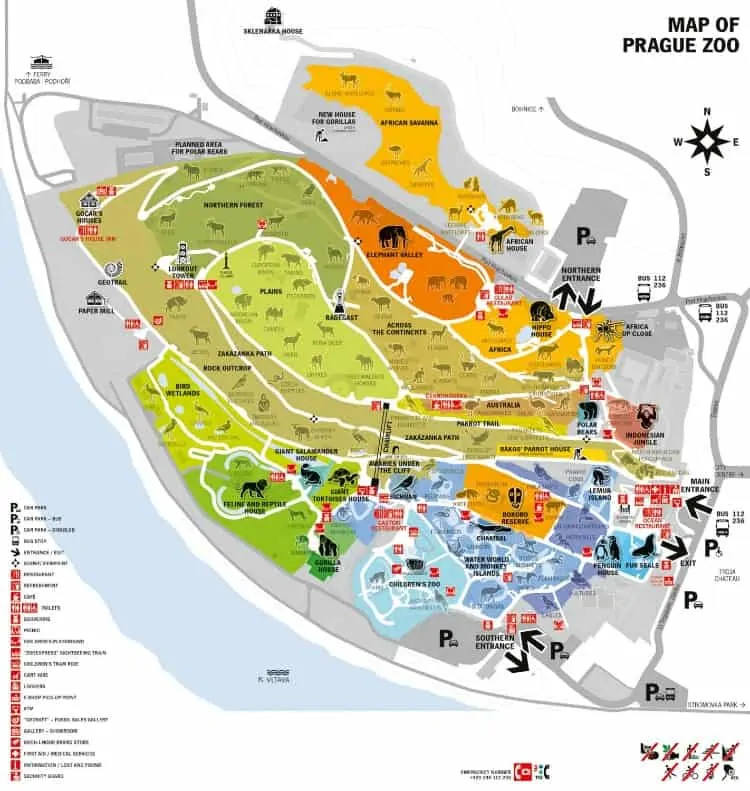 ---
---
Tripadvisor reviews
Prague Zoo is rated a high 4.5 on TripAdvisor.
Almost every year this Prague attraction wins Tripadvisor's Traveller Choice Award.
To give you a sense of what kind of reviews Prague Zoo gets, check out two of we have hand-picked –
One of the best zoo's I've been to
My partner and I went to this zoo for the first time. We spent a full day here. This Zoo is one of the best I have been to and would recommend it to anyone who comes to Prague. – AmyBird14
It is a fantastic zoo!
The Zoo is huge. So many animals in proper sized enclosures, we were there from 10.30 am to 3.30 pm. You do need a good amount of time to see all of the animals. We ate in Gocarovy Domy which was a cute little building. Food was good. Would happily go back. Make sure you wear good shoes! – Kay8991
---
---
Animals in Prague Zoo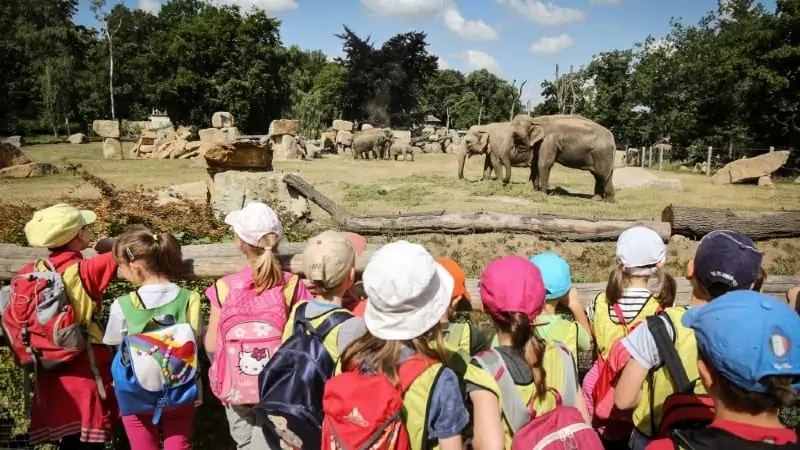 Prague Zoo has 12 pavilions and 150 exhibits.
The animals live in different terrains divided into 26 zones to replicate the natural conditions of the animals as much as possible.
Prague Zoo is officially home to 681 different species including 132 reptiles, 293 birds and 167 varieties of mammals.
One of the biggest and expensive animal pavilions is the Indonesian Jungle which houses many exotic animals like Orangutans, birds like fruit bats and endangered species like the Binturong.
It is the only Zoo in Europe to house Asiatic Lions from their Indian homeland.
The Zoo also plays home to a few Malayan Tigers from Borneo.
Endangered species such as Red Pandas, Malayan Tapirs etc. also inhabit this Zoo.
If you visit with kids, don't miss out on the Children's Zoo, which houses domestic animals and is perfect for cuddling and petting.
---
---
Feeding times at Prague Zoo
Visitors to Prague Zoo are allowed to feed giraffes and camels. Unfortunately, Prague Zoo entry tickets don't cover the feeding activity.
Once you are in the Zoo, you can buy these feeding activity tickets.
Feeding the Giraffes
Visitors go up to the feeding platform to feed the Giraffes.
Feeding the Giraffes begins at 2.30 pm.
During this 30-minute activity, the visitors also get to know about their life in the zoo.
Children below six years are not allowed to join this feeding activity.
Ticket prices
Adult ticket (15+ years): 150 CZK
Child ticket (6-15 years): 100 CZK
Family tickets (2 adults and 2 children): 400 CZK
Group tickets (6 people): 750 CZK
Feeding the Camels
If you fancy Camels, you can go up real close to them and feed and stroke them as well.
Camel feeding activity begins at 1.30 pm.
During this 30-minute activity, the Zoo representative will take you through the life of a camel in the Zoo.
Children below six years are not allowed entry.
Ticket prices
Adult Ticket (15+ years): 150 CZK
Child Ticket (6 to 15 years): 100 CZK
Family Tickets (2 adults and 2 children): 400 CZK
Group Tickets (6 people): 850 CZK
---
---
Prague Zoo free with Prague City Card
Prague City Card is a great way to save both money and time while holidaying in the capital city of the Czech Republic.
The discounts, offers and free entries help you save money.
The skip the line access to numerous attractions help you save on the waiting time.
In fact, with the Prague City Card, you can explore Prague Zoo for free.
With this card, you also get to use the public transport system – bus, metro, tram, river ferries – for free.
Tourists 17 years and above must buy the adult card, and kids between the ages 6 and 16 need to buy the child card.
Student rates are available for tourists aged 16 to 26 with a valid ID.
2-Day Card
Adult Card: 1,888 CZK
Student Card: 1,356 CZK
Child Card: 1,356 CZK
3-Day Card
Adult Card: 2,154 CZK
Student Card: 1,542 CZK
Child Card: 1,542 CZK
4-Day Card
Adult Card: 2,340 CZK
Student Card: 1,702 CZK
Child Card: 1,702 CZK
---
---
Prague Zoo in winter
If you are planning a trip to the Prague Zoo in the winter months, it is sure to be less crowded.
The snow makes the Zoo look beautiful, and with very few people around you can experience the Zoo at a much more leisurely pace.
Depending on the number of visitors, there might be a drop in ticket prices during the winter months.
The Zoo has many internal exhibits which are not affected by the weather outside.
Some of the animals might be kept inside because of the cold, but you will still be able to view them.
Sources
# Praguego.com
# Wikipedia.org
# Tripadvisor.com
# Britannica.com

The travel specialists at TheBetterVacation.com use only high-quality sources while researching & writing their articles. We make every attempt to keep our content current, reliable and trustworthy.
Popular attractions in Prague