Leonardo da Vinci is one of Italy's most ingenious minds, and there are many museums dedicated to the painter, sculptor, engineer, and scientist.
However, the Leonardo Da Vinci Experience in Rome offers the best experience.
It is the only Leonardo Da Vinci museum with 50 plus certified inventions and approved reproductions of his stunning paintings.
In this article, we share everything you must know before buying Leonardo da Vinci Experience tickets.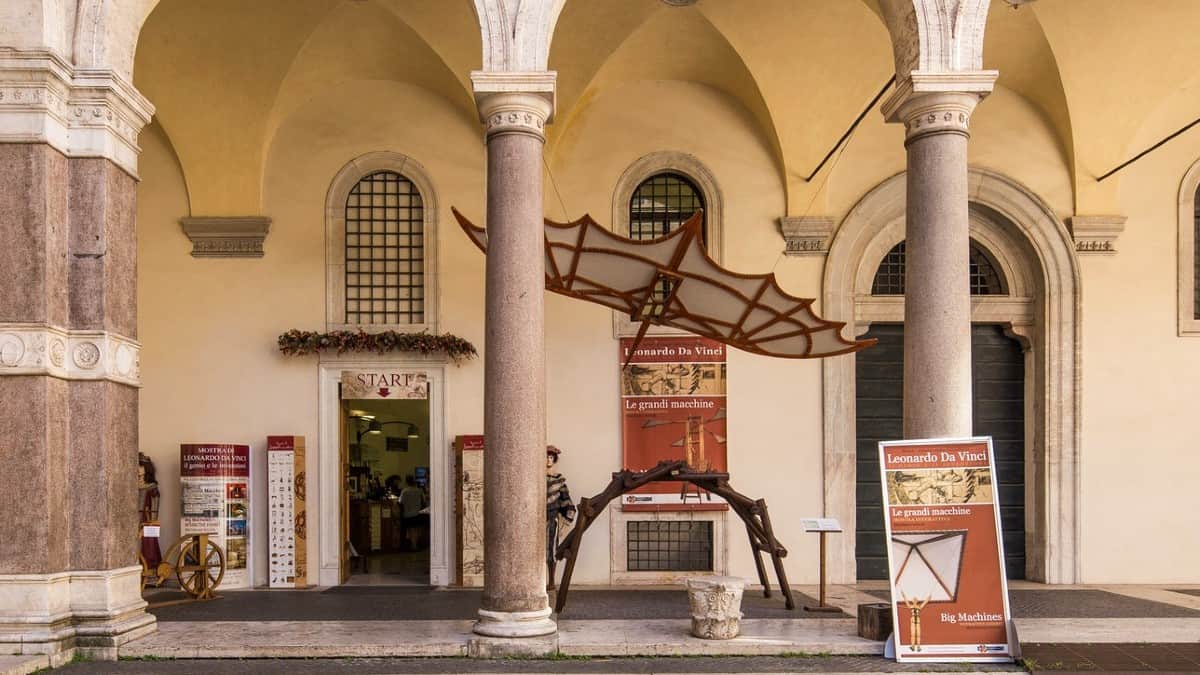 What to expect at da Vinci Experience
The Leonardo Da Vinci museum in Rome offers a comprehensive overview of Leonardo's work as both inventor and painter.
The immersive displays use projections, holograms, and recordings to illustrate his works in an engaging way for adults and kids alike.
Leonardo Da Vinci Experience in Rome is a small museum but is divided into five thematic rooms –
Room 1: Flight Engine Room & Last Supper
Room 2: War machines Room
Room 3: Hall of perspective
Room 4: Principles Hall
Room 5: Painting Gallery
In effect, four of the museum's rooms are dedicated to more than 50 of his intelligent machines built according to original sketches.
These are all 1:1 working reproductions, and visitors can touch and feel them.
The fifth room displays hand-painted reproductions of more than 20 of his masterpieces.
The prestigious Bottega Artigiana Tifernate art studio created these full-scale paintings using techniques and materials from Leonardo's time.
Along with the paintings collection, visitors will also find the famous mirror room.
---
---
Tickets for Leonardo da Vinci Experience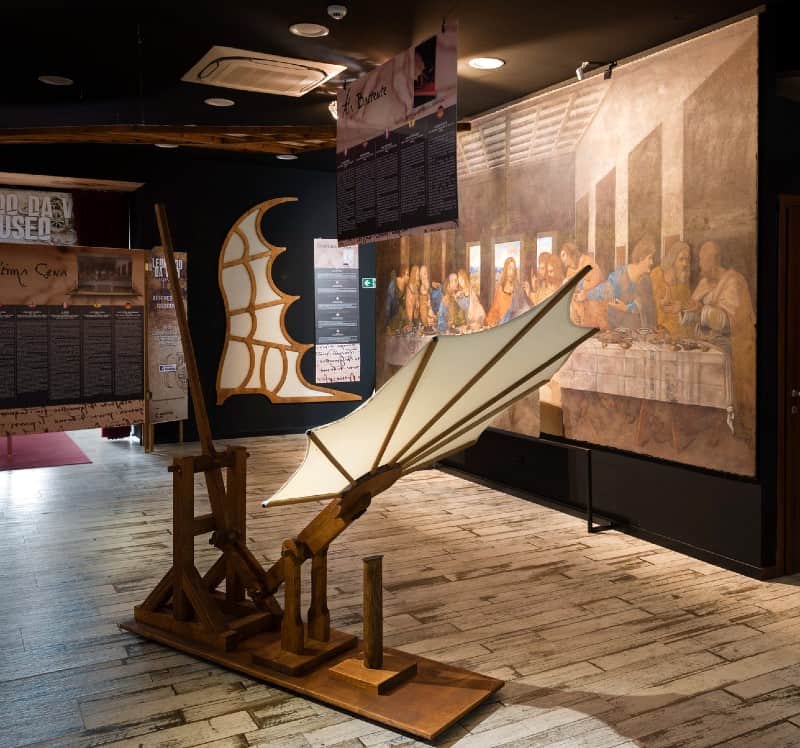 This Leonardo da Vinci Experience ticket gets you access to everything on display at the museum.
As soon as you make the purchase, the ticket gets emailed to you.
On the day of your visit, you can show the ticket on your smartphone at the entrance and walk in.
No need to take printouts!
Every ticket to the Leonardo da Vinci Experience museum also includes a multi-language interactive guide.
Once the museum tour is over, the staff gives all visitors a surprise gift.
Kids under five years can enter the Leonardo museum for free.
Ticket prices
Adult ticket (16+ years): €12
Child ticket (5 to 15 years): €10
---
---
Guided Tour + Workshop for Kids
If you are visiting Rome with a 6 to 12-year-old child, this is an ideal ticket to buy for them.
Besides admission to the Leonardo da Vinci Experience, the kids get a 2 hour and 30 minutes guided tour and a workshop (if selected).
With every child ticket, one adult can enter the museum for free. Additional adults need to buy a ticket onsite.
This ticket is a great way to take your kids on a wondrous thematic experience of Da Vinci's life.
Tour prices
Guided tour (6 to 12 years): €18
Guided tour + workshop (6 to 12 years): €28
---
---
Da Vinci Experience & St. Peter's Basilica Audio Guide
The Leonardo Da Vinci Experience is only 400 meters (1 fourth of a mile) from Peter's Basilica in the Vatican, which is why many tourists visit both experiences together, one after the other.
Even though entry to the Peter's Basilica is free, visitors prefer to get an audio guide so that they can explore the church at their own pace.
This combo is a great way to save time and money while exploring two of Rome's most popular attractions.
Ticket prices
Adult ticket (16+ years): €30
Child ticket (6 to 15 years): €25
Infants (up to 5 years): Free entry
Leonardo da Vinci Experience and Castel Sant'Angelo are only 1 kilometer (two-thirds of a mile) apart. If you want to see them on the same day, check out this combo. You also get a 6% discount!
---
---
How to reach Leonardo da Vinci Experience
Leonardo da Vinci Experience is in Via della Conciliazione, 19, a short walk from the St. Peter's Basilica, the Vatican Museums, and Castel Sant'Angelo.
That's why it is essential to book tickets in advance to avoid a long wait to enter.
It is easy to get to the Da Vinci museum – you can walk across the Ponte Sant'Angelo, or take metro line A to the Ottaviano subway station.
From the subway station, the Museum Leonardo da Vinci Experience is 1.1 km (.7 mile) away, and you can walk the distance in around 15 minutes.
Bus lines 23, 40, and 46 can also take you close to the museum.
It would be best if you got down at Traspontina-Conciliazione, less than 200 meters (650 feet) from the museum.
---
---
da Vinci Experience hours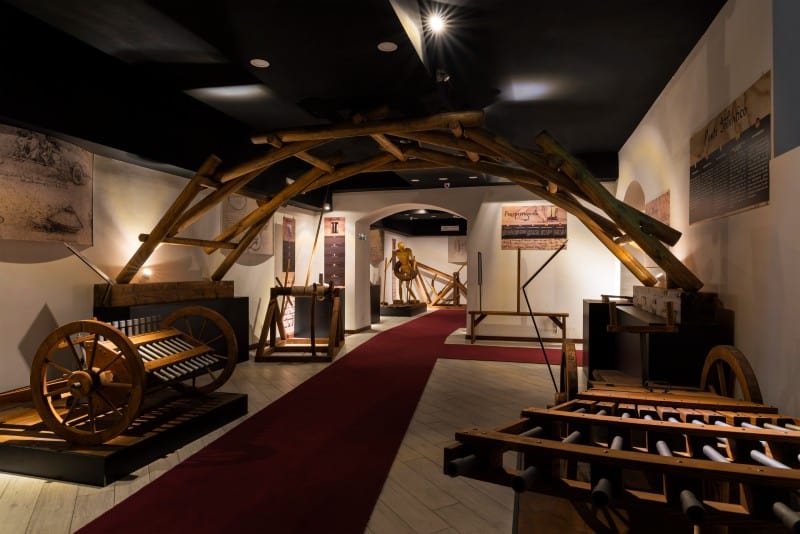 Leonardo da Vinci Experience in Rome opens at 9 am and closes at 7.30 pm, every day of the week.
The last entrance is at 6.30 pm.
---
---
How long does the Da Vinci Experience take?
Visitors usually spend an hour exploring all the machines and seeing all the paintings at Rome's Leonardo Da Vinci Experience.
The experience features a wide range of visual, auditory, and experiential aspects, which appeal to both kids and adults.
Families with kids tend to spend more time at the museum.
Leonardo Da Vinci's Museum doesn't have a cafe, but the surrounding neighborhood has lots of excellent dining options.
Sources
# Leonardodavincimuseo.com
# Tripadvisor.com
# Grande-experiences.com

The travel specialists at TheBetterVacation.com use only high-quality sources while researching & writing their articles. We make every attempt to keep our content current, reliable and trustworthy.
Tourist attractions in Rome