Built in the 7th century BC, Mamertine Prison is Rome's oldest prison.
Known as the Tullianum during ancient times, it is also referred to as the Tullianum Carcer.
It is a small, dark, and cramped place that held enemies of Rome such as captured Kings, conspirators, and even Saints Peter and Paul before the State executed them.
According to legend, a spring of water flowed in Tullianum Carcer so that St Peter could baptize visitors (and two prison guards).
After the site stopped being a prison, it became a holy destination because it had held some of the Bible's most hallowed saints.
In this article, we share everything you must know before buying Mamertine Prison tickets.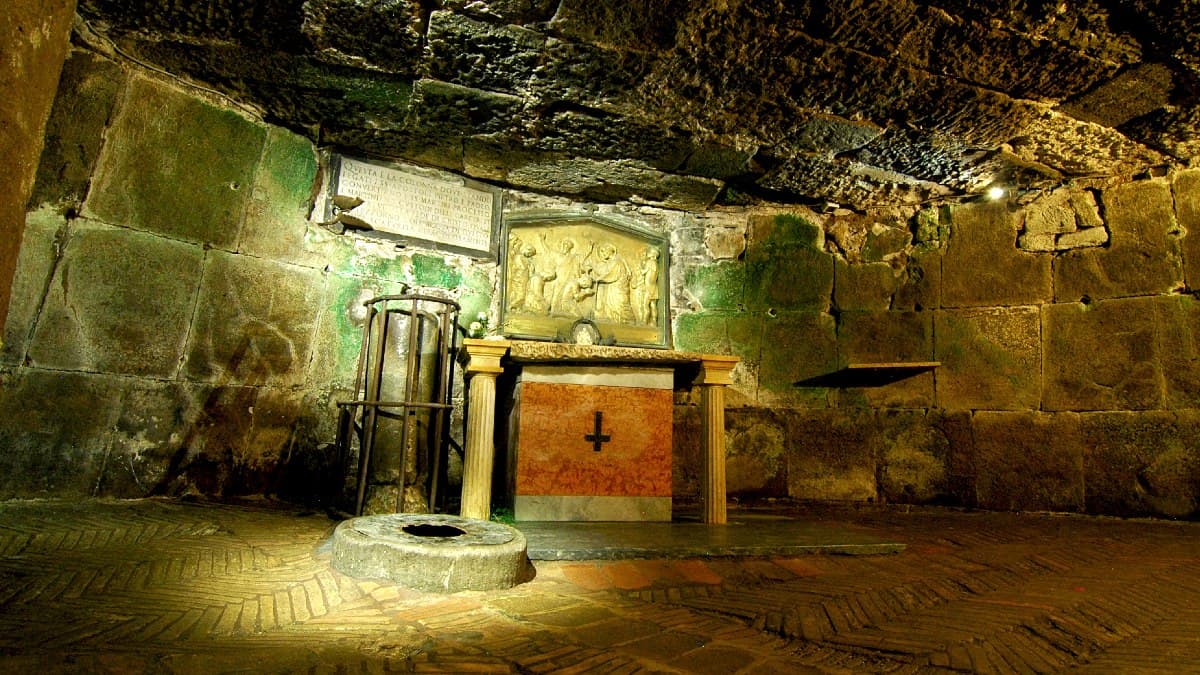 What to expect at Mamertine Prison
The Mamertine Prison consists of two dark underground cells, where Rome's enemies were imprisoned and usually executed.
Recently built steps take you to the upper level of the prison, which is at the original ground level of ancient Rome.
The upper room of the prison dates from the 2nd century BC and displays a plaque naming the more famous prisoners and how and when they died.
The second plaque lists the saints and martyrs imprisoned here and their persecutors.
You will also see the busts of Saints Peter and Paul in this room.
Back in the days when the Mamertine Prison was active, prisoners would be lowered into the lower room through a round opening on the upper room floor.
Nowadays, visitors take a staircase to get to the lower room.
At the top, visitors can see the stone said to have St. Peter's head imprint from when he was thrown into the prison.
The lower room, the Tullianum, is circular and has a small altar, with a relief of St. Peter baptizing his fellow prisoners.
At the altar, you will also see an upside-down cross because St. Peter got crucified upside down.
Don't miss the column where St Peter and St Paul were tied when they converted two prison guards to Christianity.
You will also see the spring that St Peter was supposed to have miraculously created to baptize people.
---
---
Tickets for Mamertine Prison
This Mamertine Prison ticket lets you explore Rome's oldest prison and discover its fascinating history with a unique video guide.
The video guide is available in English, Italian, Spanish.
As soon as you purchase the tickets, they get emailed to you.
On the day of your visit, reach the attraction ten minutes before your chosen timeslot, show the Mamertine Prison tickets on your smartphone and enter.
No need to take printouts!
Kids under six and visitors with 74% disability get in for free.
Ticket prices
Adult ticket (18+ years): €11
Child ticket (6 to 17 years): €6
---
---
Mamertine, Colosseum, Roman Forum & Palatine Hill
This combo ticket helps you explore Mamertine Prison, Colosseum, Roman Forum, and Palatine Hill at a discounted price.
Once activated, your ticket is valid for 24 hours.
You must first visit Mamertine Prison, and when you show your smartphone ticket at the ticket office, you will receive your tickets for Colosseum, Roman Forum, and Palatine Hill.
Your time to visit the Colosseum will be around 100 minutes after your time slot for the Mamertine Prison (which you select while booking the ticket).
The Colosseum is a 15-minute walk away from the Mamertine Prison, and it is better to arrive at the massive attraction at least 15 minutes before time.
Kids younger than six years can join in for free.
Ticket prices
Adult ticket (18+ years): €28
Child ticket (6 to 17 years): €6
First-time visitors to Rome also tend to go for the Mamertine + Vatican Museums + Sistine Chapel combo ticket.
---
---
How to reach Mamertine Prison
The Mamertine Prison is on the northeastern slope of Capitoline Hill, at Clivo Argentario, 1. Get Directions
It overlooks the ruinous and scarred Roman Forum, the heart of ancient Rome.
To get to the prison, you can take Metro Line B to the Colosseo station.
Mamertine Prison is just 900 meters (half a mile) from the station, and you can walk the distance in ten minutes.
If you prefer a bus, board any line to Piazza Venezia. From the town square, the prison is just a five-minute walk.
---
---
Mamertine Prison hours
During the peak months of April to October, Mamertine Prison is open from 8.30 am to 6.30 pm.
During the lean months of November to March, the ancient Roman prison opens at 8.30 am and closes at 4.30 pm.
The last entry is one hour before closing.
---
---
How long does Mamertine Prison take
Mamertine Prison is a small attraction, and most visitors finish exploring it in 15 to 20 minutes.
That's why visitors tend to visit nearby attractions, such as Roman Forum (1 min walk), Capitolini Museums (3 mins walk), Colosseum (10 mins walk), Pantheon (15 mins walk), etc. together.
Combo tickets that also include access to the Colosseum, Roman Forum, and Palatine Hill are a hit with tourists.
Best time to visit
Since Mamertine Prison is a hidden gem and doesn't get much crowd, any time of the day is a good time to visit.
---
---
History of the Mamertine Prison
The Mamertine Prison was constructed in the 7th century BC under King Ancus.
Builder Servius Tullius built the lower room of the prison, which is why it is also known as Tullianum.
Ancient historian Sallust has written that this part of the prison was 3.6 meters (12 feet) below the ground and was dark and smelly.
Tullianum was used for the detention and execution of condemned criminals.
The prison was in use until at least the late 4th century AD, after which it became a pilgrim site because of its association with Christian martyrs.
With time it got the name Mamertinus.
In the 16th century, the San Guiseppe dei Falegnami church got built above the prison.
---
---
Mamertine prison's Christian connection
According to early legends, Saints Peter and Paul were imprisoned in the Mamertine jail by Emperor Nero before their execution.
It is believed that after being in this prison for some time, both started their journey to martyrdom – St Peter towards the Circus of Nero and St Paul towards the Aquae Salviae.
At St. Peter's request, he was crucified upside down on the site of the Vatican, and St. Paul was beheaded at Three Fountains Abbey.
Believers say St Paul refers to the Mamertine prison in the Bible (Timothy 4:21) when he urges Timothy to visit him as he did not expect to get out until the following winter.
Even though there is no actual historical evidence for this, the prison is an important religious site.
The legend had taken root by the 5th century when the prison started attracting early pilgrims.
During his stay, St. Peter is known to have caused a spring to miraculously well up in the prison so that he could baptize his fellow prisoners and two of the guards.
However, according to Catholic Encyclopedia, the spring existed long before St. Peter's incarceration.
Sources
# Wikipedia.org
# Bibleplaces.com
# Romesite.com
# Colosseumrometickets.com

The travel specialists at TheBetterVacation.com use only high-quality sources while researching & writing their articles. We make every attempt to keep our content current, reliable and trustworthy.
Tourist attractions in Rome