Hadrian's Villa, also known as Villa Adriana, is an extensive complex of Roman imperial palaces and villas in Tivoli, Italy.
The Roman Emperor Hadrian built it in the early 2nd century AD as a retreat and a place to escape the stresses of court life.
The Villa was designed to be a microcosm of the empire, and it contained a wide variety of buildings, including palaces, temples, libraries, and theaters.
It was considered one of the ancient world's most exquisite and opulent villas.
The Villa was rediscovered in the 16th century and excavated in the 18th century, and it is now a UNESCO World Heritage Site.
Hadrian's Villa is open to the public as a UNESCO World Heritage Site and is considered one of the most important examples of Roman imperial architecture.
Visitors can explore the ruins of the Villa and learn about the daily life of the ancient Romans and the history and culture of the Roman Empire.
Villa Adriana combines the best elements of the architectural heritage of Egypt, Greece, and Rome in the form of an 'ideal city.'
This article shares everything you must know before booking tickets for Villa Adriana in Tivoli.
What to expect at Villa Adriana?
When visiting Hadrian's Villa (Villa Adriana), you can expect to see various architectural and landscape elements that make up the complex.
The 120-hectare Villa Adriana is a wonderful architectural treasure that takes several hours to tour and has replicas of the emperor's favorite Greek and Egyptian structures on it.
A replica of a sanctuary found close to Alexandria is one of the villa's most notable features.
It is a sizable pool encircled by columns and adorned with caryatid statues.
Maritime Theatre, a circular pool surrounded by columns with an island in the middle, surrounds the libraries, restrooms, guest cottages, gardens, fountains, and ponds.
A tiny Roman villa can be seen on the island.
You can also expect to see a lot of ruins and some reconstructions, as some of the villas were destroyed over time, and some parts still need to be excavated.
Some structures may need to be in better condition, and only foundations remain.
It is also recommended that visitors take a guided tour.
A tour guide can provide historical and cultural context for the villa's various elements and help visitors understand the significance of the villa in the Roman Empire and art history.
Where to buy Villa Adriana tickets
Tickets for Villa Adriana in Tivoli are available online and at the ticket booth open at the attraction.
However, we recommend that you book your tickets online because it provides you with several perks.
– By booking tickets online, you can save money since you receive an online discount.
– You don't have to travel to the attraction and exert yourself by waiting in long lines at the ticket counter.
– When you reserve in advance, you get your preferred time slot for the tour.
– The tickets usually get sold out quickly. But you can prevent last-minute disappointments if you buy tickets online.
– Reserve now to keep your travel plans flexible.
How does online ticket work
When you book Villa Adriana Roma tickets, on the booking page, you can select your preferred date and the number of tickets and purchase tickets right away.
You will receive an email with your tickets as soon as you purchase them. There is no need for you to bring printouts.
On the day of your tour, show your smartphone ticket at the ticket office, and you can enter at the first time slot available.
Cost of Villa Adriana tickets
The Villa Adriana tickets cost €18 for all visitors aged 18 years and above.
Children up to 17 years and people with disabilities get a discount of €12 and pay only €4 for entry.
EU citizens and residents of Tivoli, Castel Madama, Guidonia Montecelio, Marcellina, S. Polo dei Cavalieri, San Gregorio da Sassola, Vicovaro, Subiaco, Palestrina aged 18 to 25 years also get a discount of €8 and pay only €10 for entry.
---
---
Villa Adriana tickets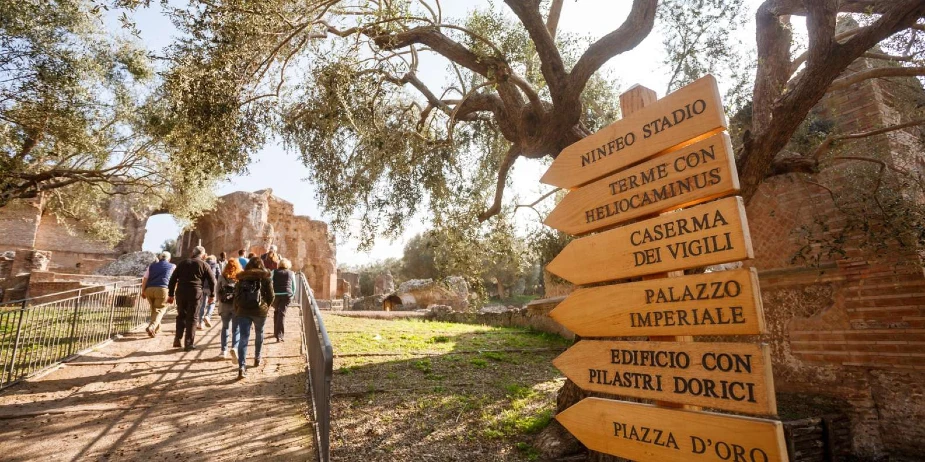 Buy Villa Adriana Rome tickets and get ready to discover the ruins of Emperor Hadrian's lavish retreat.
Take a look at pools and steam baths, walk in the gardens, and see the fountains embellished in the villa.
Visit the Maritime Theater – an artificial island that will surely amuse you.
Book your tickets and visit the ruins of an emperor's retreat.
You get a free PemCard on the purchase of these tickets.
Ticket price
Adult Ticket (18+ years): €16
Child Ticket (up to 17 years): €4
EU Citizen or Resident Ticket (18 to 25 years): €10
Disabled Visitor Ticket: €4
This ticket includes a free code to use in the Pemcards app. This unique service lets you upload your own travel photo to create a bespoke, personalized postcard that will arrive at your selected destination. Simply download the Pemcards app, and insert the free code you receive with this ticket.
Tickets for Villa Adriana & Villa D'Este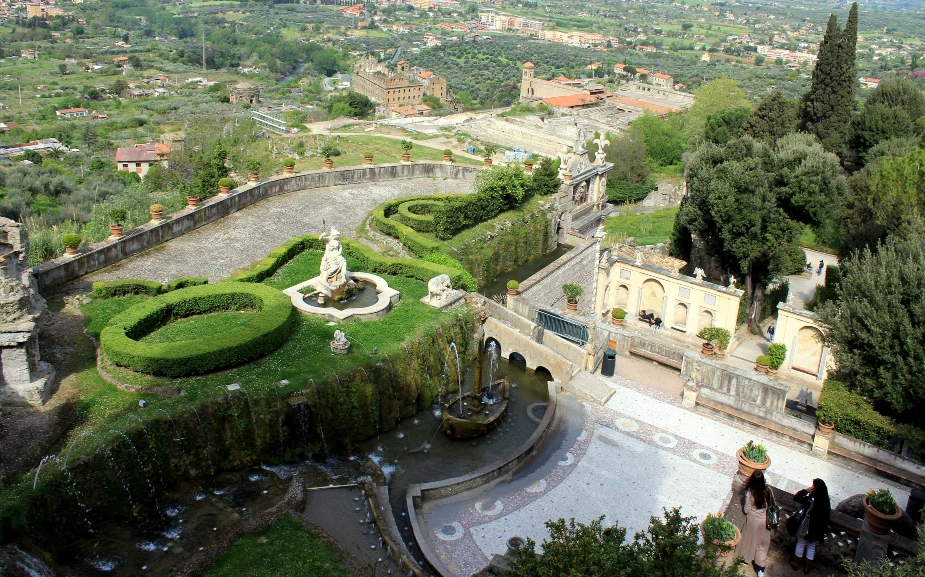 By booking tickets for Villa Adriana & Villa D'Este, you get access to the wonders of Tivoli.
An hour from Villa Adriana, in Tivoli, you may visit the lovely Villa d'Este, a UNESCO World Heritage Site.
With this single ticket, visit Villa Adriana, which combines parts of the architectural history of Egypt, Greece, and Rome, and Villa D'Este, to admire the lovely fountains, statues, and grottoes.
After that, visit The Sanctuary of Hercules Victor to view one of the finest specimens of Roman cult architecture.
Villa Adriana opens every day from 8.15 am to 3.30 pm.
The Palace and the Gran Viale are open daily from 8.45 am to 5 pm.
A tour of the Villa Adriana Tivoli can take about two hours, and Villa D'Este can take around one to one and a half hours.
Ticket Price
Adult Ticket (18+ years): €31
EU Citizen Ticket (18 to 25 years): €12
Child Ticket (up to 17 years): €4
Villa Adriana & Villa D'Este with transport from Rome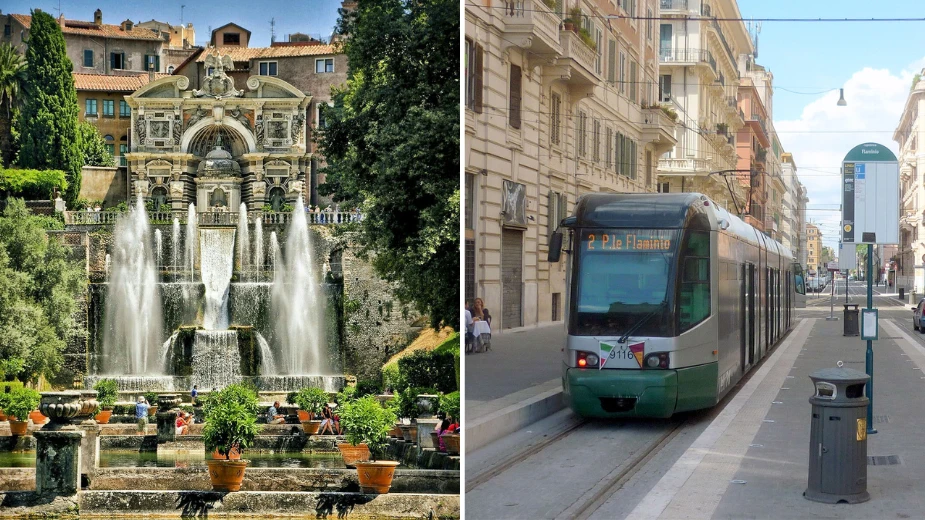 By booking tickets for Villa Adriana & Villa D'Este with transport from Rome, you can explore Renaissance living just 30 km from Rome with return transport.
You can skip the line at Villa Adriana and Villa d'Este, both UNESCO World Heritage Sites.
A live tour guide will also be offered to learn all the details and make the most of your history lesson.
You don't have to do any planning thanks to this ticket.
Have a typical Roman lunch at Terme di Diana Restaurant while you're in Tivoli.
You'll soon discover what authentic Carbonara tastes like!
The duration of the tour of Villa Adriana & Villa D'Este with transport from Rome is seven hours.
Thus, wearing comfortable clothes and shoes and carrying food and water is advisable, especially if traveling with children.
Ticket Price
Adult Ticket (18+ years): €70
Child Ticket (6 to 17 years): €60
Kids Ticket (up to 6 years): Free
Buy Roma Pass and visit one or two of Rome's top attractions with access to public transport. Pick either a 48-hour pass or a 72-hour pass and get direct entry into the famous gems of Rome.
---
---
How to reach Villa Adriana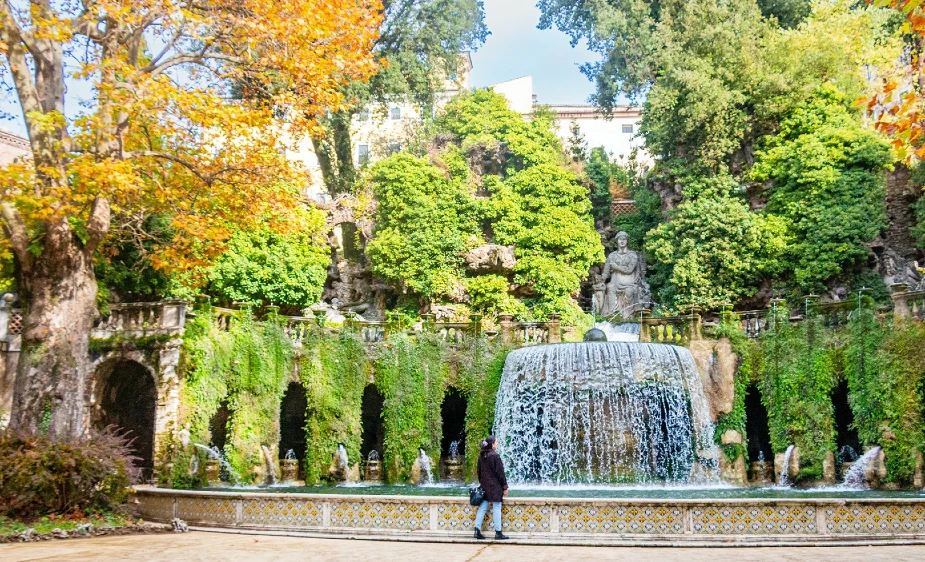 Villa Adriana is located across Via Lago di Lesina.
Address: Largo Marguerite Yourcenar, 1, 00010 Tivoli RM, Italy. Get Directions.
You can reach Hadrian's Villa by car or local public transport.
By Bus
The nearest bus stop is TIVOLI | Via Villa Adriana Via Rosolina #f11904.
The buses available from this stop are Corcolle – Tivoli # PI010A, Guidonia Montecelio – Tivoli # PI18A, Guidonia Montecelio – Tivoli # PI43D, Roma Ponte Mammolo – Tivoli # PI707A, etc.
The bus stop is 350 m away from the site and can be reached in 3 to 4 minutes.
Another bus stop is TIVOLI | Via Rosolina Via Galli # f11903 (available buses: Corcolle – Tivoli # PI010A, Guidonia Montecelio – Tivoli # PI18A, Guidonia Montecelio – Tivoli # PI43D, Roma Ponte Mammolo – Tivoli # PI707A, Roma Ponte Mammolo – Tivoli # PI717A, etc.
The bus stop is 600 m from the attraction, so you can walk or take a cab to reach it.
By Metro
Take Metro line B, stop at Ponte Mammolo, take a bus Co.Tral direction Via Prenestina, and stop about 300 m. from the site.
By Car
If you are traveling by car, turn on google maps and follow the route.
Car Parking
Click here to view the nearby parking lots.
Villa Adriana timings
Villa Adriana opens from 9 am to 5.30 pm every day.
The last admission is 90 minutes before closing.
How long does Villa Adriana take
A tour of Villa Adriana Roma can last roughly about two hours.
You can stay for less than two hours or much longer, but you won't want to leave once you get there! It is very lovely and energizing.
Best time to visit Villa Adriana
The best time to visit Villa Adriana is when it opens at 9 am.
You can enjoy your trip with fewer people as the place is usually not too busy during this time.
Remember the Italian national holidays and weekends, as Tivoli Villa Adriana could be crowded on those days.
Things to Remember
– The villa covers a large area, so wearing comfortable shoes and bringing water is recommended, as it may take several hours to see everything.
– Free entrance will be provided for all on the first Sunday of the month.
– Big bags and suitcases aren't allowed.
– Villa Adriana Tivoli is wheelchair accessible.
– Taking pictures for private purposes, without using a tripod or flash, is allowed.
– Dogs are allowed on a leash and big dogs should wear a muzzle.
– Certain areas of the villa may be closed due to restoration work.
Sources

# Whc.unesco.org
# Britannica.com
# Tripadvisor.com
# Wikipedia.org

The travel specialists at TheBetterVacation.com use only high-quality sources while researching & writing their articles. We make every attempt to keep our content current, reliable and trustworthy.
Tourist attractions in Rome