Aquafelix is one of the best water parks in Italy and is just an hour's drive from Rome.
The water park offers every family member the right mix of pools, water slides, water rides, music, and sun, making it popular with locals, tourists, and cruise passengers.
This water theme park in Civitavecchia is massive and is open only during the summer months every year.
In this article, we share everything you must know before buying Aquafelix tickets.
Top Aquafelix Water Park Tickets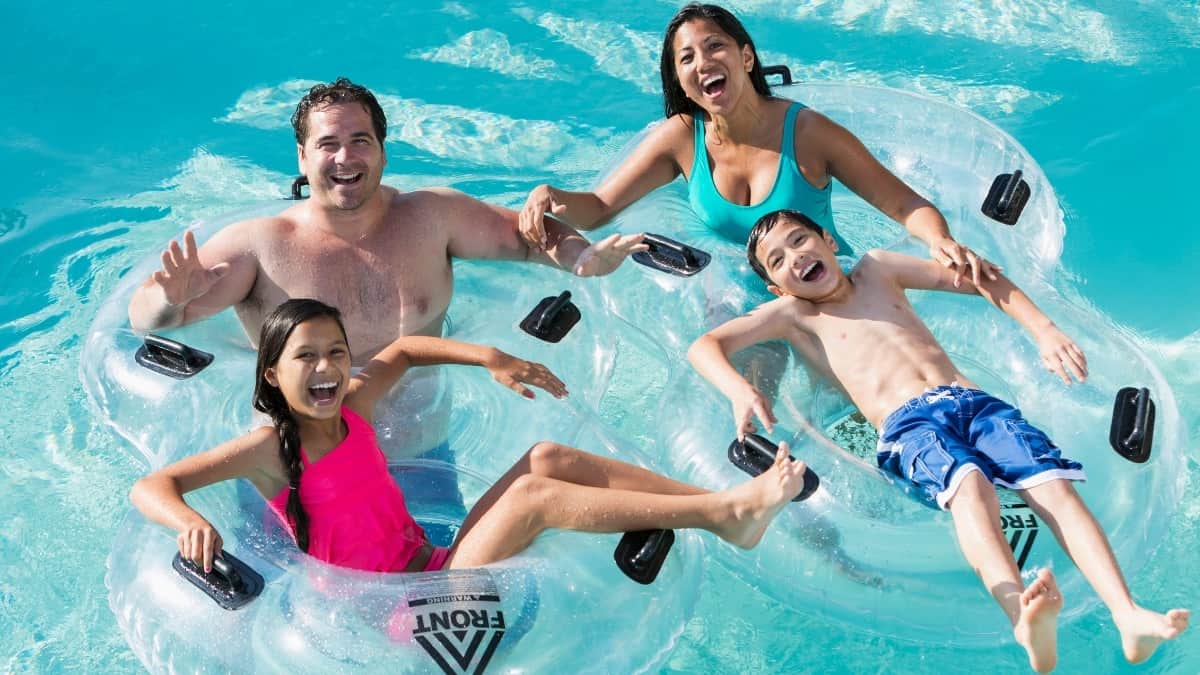 What to expect at Aquafelix
---
---
Aquafelix tickets
This Aquafelix ticket includes access to all the attractions in the water park.
It is better to purchase tickets for Aquafelix online and in advance because they are €6 cheaper.
At the ticket counters of Aquafelix, the same-day tickets cost €21, while the online tickets are priced at €15 per person.
All visitors taller than 1 meter (3.2 feet) must purchase Aquafelix tickets, and all others can enter the water park for free.
As soon as you purchase the tickets, they get emailed to you.
On the day of your visit, you can show the tickets on your smartphone and walk into the attraction.
No need to take printouts!
Cost of ticket: €15 per person
Note: Visitors in wheelchairs don't need to pay for entry. Other disabled visitors can buy the tickets directly at the cash desk at the cost of € 13.
Aquafelix + Zoomarine Waterpark
When you buy tickets to Aquafelix and Zoomarine together, you save €3 per person.
---
---
How to reach Aquafelix
Aquafelix is in Civitavecchia, around 70 km (43 miles) from Rome, and it usually takes an hour to get to the water park.
Address: Casale Altavilla, Via Terme di Traiano, 00053 Civitavecchia (RM). Get Directions
Aquafelix shuttle
The water park also offers a shuttle service which starts from Civitavecchia train station, at 10.15 am, and 11.15 am.
You can take one of the morning trains from any stations in Rome or nearby cities and be at the Civitavecchia train station to catch the shuttle.
Aquafelix shuttle bus starts at 6.40 pm from the water park for the return journey to the station.
Driving to the water park
If you are driving, take the A12 Rome – Civitavecchia motorway and exit at Civitavecchia Nord.
Take the provincial road (Via Terme di Traiano) towards Allumiere – Tolfa, and follow the signs to reach Aquafelix.
The best is to fire up your Google Map and follow directions.
Parking at Aquafelix
Aquafelix has around 1500 parking spaces in large parking lots adjacent to the park entrance.
Visitors with Aquafelix tickets can park here for free.
---
---
Aquafelix hours
Aquafelix water park is open from 10 am to 6.30 pm, every day of the week.
The ticket office closes at 4 pm.
The water park in Civitavecchia is open to the public only during summer – from mid-June to the first week of September.
---
---
Best time to visit Aquafelix
If you are an early bird, you can be at the water park as soon as they open at 10 am, have fun for 3-4 hours, have your lunch and head back.
The next best option is to reach there by 2.30 pm and enjoy their rides and pool till 6.30 pm when the water park closes for the day.
If you plan to take a train to Civitavecchia station, it is best to be there by 10.15 am and 11.15 am to catch the shuttle and reach the water park in ten minutes.
How long does Aquafelix take
Most visitors take three to four hours splashing around in the pool, trying out the rides, or just sunbathing at Aquafelix in Civitavecchia.
---
---
What to do at Aquafelix
If you have the energy and the willingness, you can spend the whole day at Aquafelix water park.
The attraction has seven major highlights, where visitors spend most of their time.
Maremotum
Maremotum is Aquafelix's main pool, and it is the perfect place to dance, have fun and ride the wave.
The wave pool has music by the DJs, lots of water splashes, waterfalls, and waves.
The pool and the day-long entertainment are ideal for all ages groups.
Multi Splash
Multi Splash has four parallel slides running down a steep hill.
It is ideal for family races.
Visitors of all age groups keep trying it repeatedly – going up and sliding down the whole day long.
Vortex
Vortex is a semi-closed all-curved slide where you can whiz along with your friends and family.
While it is suitable for all age groups, kids should use it at the parents' discretion.
Mozza Fiatum
With their bumps and fascinating slopes, these adrenaline-pumping slides are the perfect place to challenge your friends and family.
Mozza Fiatum's two parallel slides are ideal for all ages.
Bahia Felix
Bahia Felix is an isolated area for relaxation and where children can have fun in their own world.
It is divided into two parts and offers slides, hydromassage, whirlpool, swimming pools, and waterfalls.
This part of the water park also has entertainers.
Flentum
Flentum is a slow river on which you can travel while you sit and relax on comfortable donuts.
This engaging but pleasant experience is ideal for visitors of all age groups because the water pushes the donut slowly.
It is best to get on the Flentum before trying the adrenaline-pumping Aquafelix slides or after.
Katakumba
Katakumba is an indoor slide, and visitors get to experience unparalleled emotions aboard an inflatable raft between curves, splashes, and hair-raising descents.
Only guests taller than 120 cms (47.25 inches) are allowed to try Katakumba.
Additional Services
Hot showers are free for ticket holders and available up to 30 minutes before the water park closes. Visitors can use the sun loungers and umbrellas for free. However, seats are limited.
---
---
Map of Aquafelix
It is better to spend time with a Map of Aquafelix and plan your time at the water park before your visit.
You don't want to overstay at one attraction and get tired before trying out the other highlights.
Being aware of Aquafelix's layout is even more necessary if you are visiting with kids.
Besides the rides and pools, a map of Aquafelix will also help you identify restaurants, washrooms, lockers, showers, hammocks, etc.
Download Aquafelix Map (560 Kb)
---
---
Restaurants at Aquafelix
Golosarium is the restaurant at Aquafelix water park.
Visitors can order sandwiches, drinks, ice cream, etc., to re energize in between attractions.
Magnafelix is the Aquafelix bar, restaurant, and pizzeria where visitors love to relax on its massive terrace.
Sources
# Tripadvisor.com
# Visititaly.eu
# 10best.com

The travel specialists at TheBetterVacation.com use only high-quality sources while researching & writing their articles. We make every attempt to keep our content current, reliable and trustworthy.
Tourist attractions in Rome