One of the most thrilling sights you shouldn't miss in Rome is the Bioparco di Roma or Rome Zoo!
It is said to be the biggest zoo in Italy and is situated on the grounds of Villa Borghese in Rome.
It is widely known for its conservation and animal-friendly environment.
If you're interested in wildlife, this is the place for you!
Bioparco Rome's Zoological Garden has over 1300 animals of 200 different species from different parts of the world.
You may observe elephants, reptiles, giraffes, lemurs, fish, and other species inside the park.
This article shares everything you should know before buying Bioparco di Roma tickets.
What to expect at Bioparco Roma
Discover large and little critters from every corner of the world in a beautiful, exotic environment filled with plants at Bioparco.
This zoological bio-park gives animals a safe space to stroll and enriches their quality of life.
Hippos, Giraffes, Tigers, Bears, Leopards, Snakes, Birds, Monkeys, and many other animals will be encountered along the journey.
Animal enthusiasts will be elated to see the incredible menagerie of rare and gorgeous creatures.
Rome's zoo plays an important role in the conservation of animals.
You can even play your part in the conservation of animals by adopting one!
Learn how you can contribute to the effort to prevent the extinction of these stunning species, as well as the threats to their habitats and food chains.
Where to buy Bioparco Roma tickets
You can buy Bioparco di Roma tickets online.
It is preferable to buy tickets online because you get them at a lower price, and it is the best way to avoid long queues at the ticket counter.
Tickets for Bioparco Roma get sold out quickly because it's kids' and families' favorite tourist attraction.
When you purchase online tickets, you can keep last-minute disappointment at bay.
How online ticket works
When buying the Giardino Zoologico di Roma tickets, select your preferred date and the number of tickets on the booking page and book them right away.
You'll receive your tickets in your registered email once your tickets are booked.
Show your smartphone ticket at the entrance and enter Bioparco.
Cost of Bioparco Roma tickets
The Bioparco Roma tickets cost €17 for all visitors aged 11 to 64 years.
Kids up to the age of 11 years and taller than 100 cm can get the ticket for €14, at a discount of €3.
Tickets for seniors 65 years and above are also discounted and priced at €14.
You can get reduced tickets at the ticket counter for disabled visitors and free entrance for their carers.
Kids under 100 cm get free entry.
---
---
Bioparco Roma tickets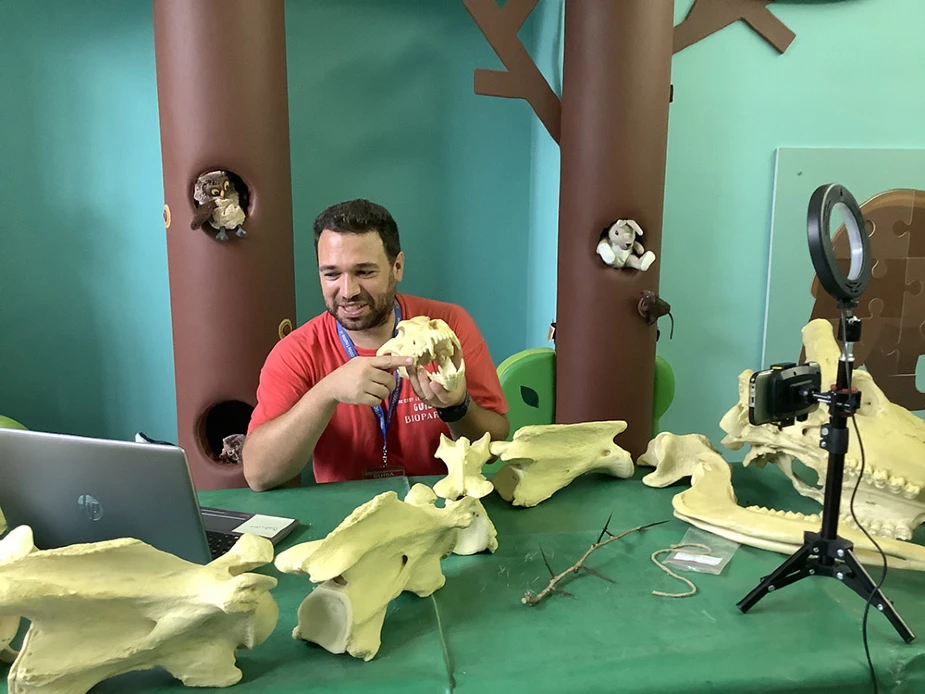 With this ticket, you get direct admission to the Rome Zoo, where you can see the various animal exhibits of Bears, Rhinos, Elephants, and Giraffes and attend the feeding sessions.
But to enjoy these exhibits and activities, you must make reservations at the reservation desk at the entrance, even though they are included in your ticket.
Buy Bioparco di Roma tickets online and skip the line at the ticket counter.
Things to Remember
– There are specific hours for different animal exhibits, some of which cannot be accessed 30 to 60 minutes before the park's closing time.
Reptiles: 60 minutes before the park closes.
Felons (lions, lynxes, leopards, and tigers): 60 minutes before park closing.
Scimpanzas: 60 minutes before the park closes.
Bears, Rhinos, Elephants, and Giraffes: 30 minutes before park closing.
On Sundays, the zoological staff will take you to see the animals at various times.
– You can see the feeding sessions of different animals.
Sundays around noon, Sofia, the Asian elephant, is fed.
Hippos, wolves, lemurs, leopards, chimps, and seals are fed at various times on Saturdays, Sundays, and holidays.
– You must make reservations for these activities at the reservation desk at the entrance, even though they are included in your ticket.
For specific times, check at the information desk.
Ticket price
Adult Ticket (11+ years): €17
Child Ticket (up to 11 years and taller than 1 meter): €14
Senior Ticket (65+ years): €14
Free entrance for kids shorter than 100cm
Buy Roma Pass and visit one or two of Rome's top attractions with access to public transport. Pick either a 48-hour pass or a 72-hour pass and get direct entry into the famous gems of Rome.
Combo tickets
Combo tickets are the best way to explore Rome as they let you discover two attractions closer to each other on the same day.
You can buy Bioparco tickets in combination with the Borghese Gallery, Colosseum, and Leonardo da Vinci Exhibition.
Borghese Gallery + Bioparco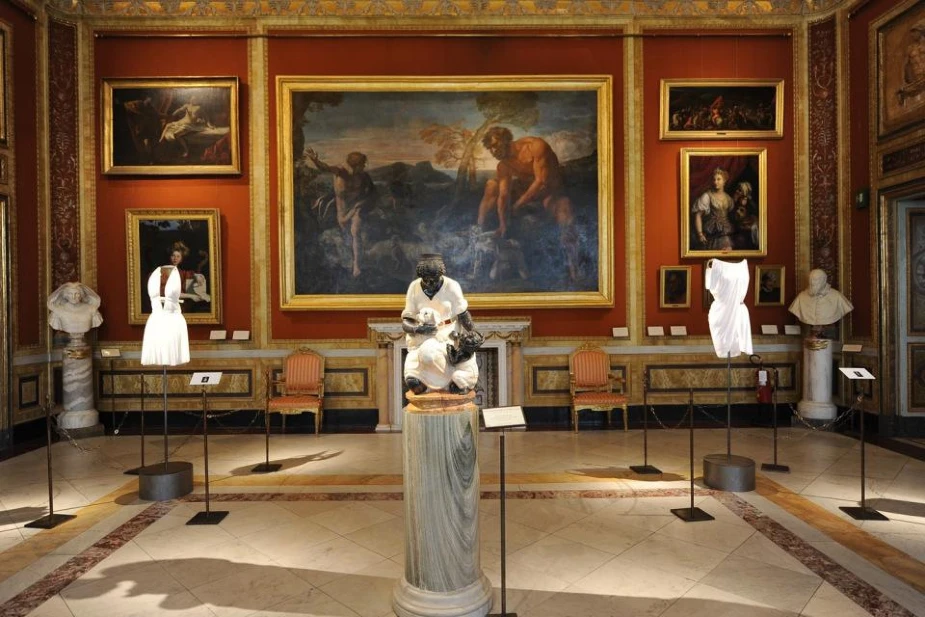 Bioparco and Borghese Gallery are just a 6-minute walk away – so why not visit both attractions on the same day?
Enjoy exploring the Borghese Gallery and the temporary exhibitions (if available).
Access Bioparco, which is a perfect destination for kids and adults.
Ticket Price: €41 per person
Bioparco + Colosseum Priority Entrance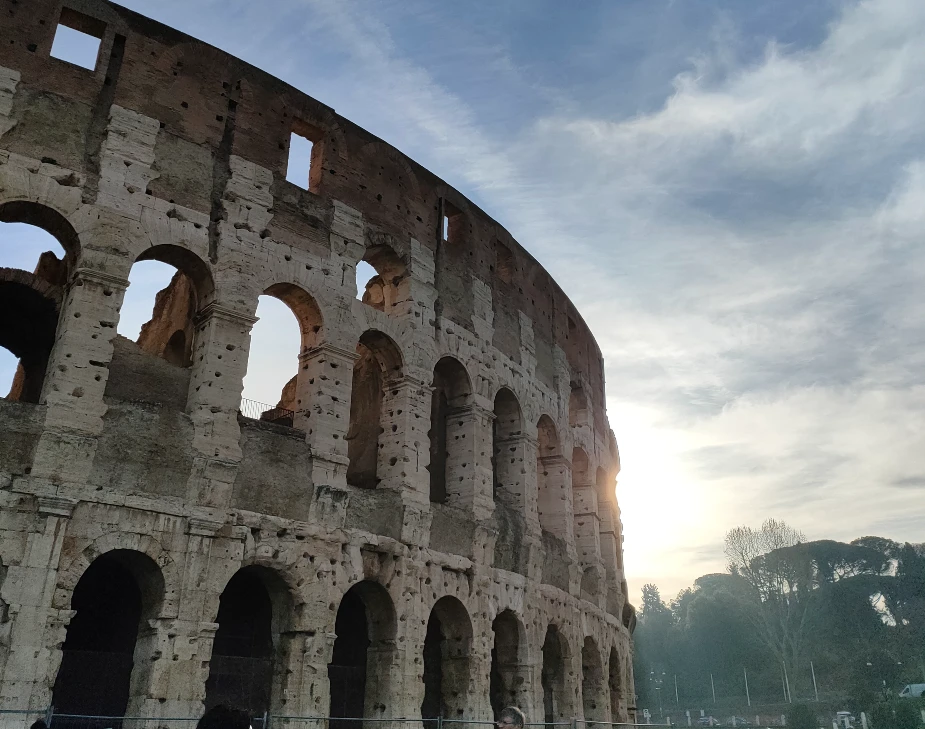 Distance: 7.6 km (4.7 miles)
Time Taken: 20 minutes by car
Get admission into the Colosseum with priority entrance and take the help of a digital guide that takes you through the Colosseum, Roman Forum, and Palatine Hill.
You get an audio tour of the Colosseum in English, Chinese, German, French, Italian, Polish, or Spanish.
With this ticket, you can also explore the Bioparco Zoo and look at the conservative measures scientists took.
Ticket Price: €40 per person
Bioparco + Leonardo da Vinci Exhibition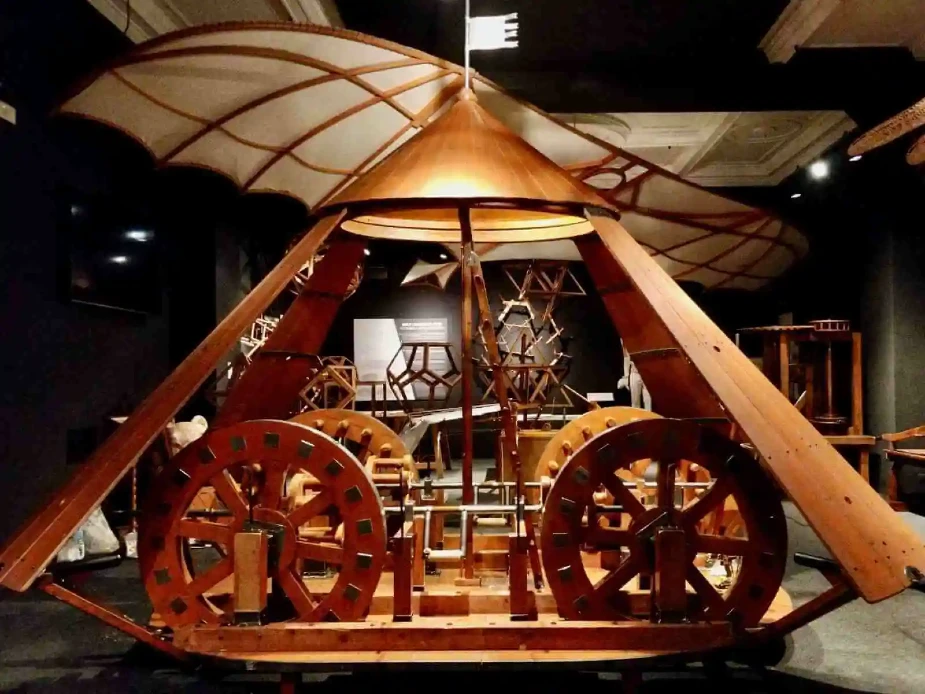 Discover the Leonardo da Vinci Exhibition and Bioparco with this combo ticket.
Leonardo da Vinci Exhibition is a sanctuary for history and science fanatics.
Get a peek inside Leonardo Da Vinci's mind and admire more than 200 machines, including nine animated holograms and 65 operational models he created.
After exploring the Leonardo da Vinci Exhibition, enjoy your day with exotic wildlife at Bioparco Zoo.
Ticket Price: €26 per person
How to reach Bioparco Roma
Bioparco di Roma is located in Villa Borghese Park.
Address: V.le del Giardino Zoologico, 20, 00197 Roma RM, Italy Get Directions
You can either drive to the location or use public transport!
By Bus
If you're taking Bus 982, get off at Bioparco.
From there, it is a 4-minute walk to the zoo.
By Tram
If you're taking Tram 2, 3, 3L, or 19, get off at Bioparco.
From there, it is a 4-minute walk to the zoo.
By Metro
To reach Bioparco di Roma Zoological Garden, take the red line and get off at Flaminio or Spagna stations.
If you're getting off at Flaminio, then take Bus 89, 490, or 495 to Victor Hugo/Museo Bilott.
From there, it is a 9-minute walk to Giardino Zoologico di Roma.
If you are getting off at Spagna, book a cab and get to Giardino Zoologico di Roma.
By Car
You can take your car or rent a cab to Bioparco di Roma zoological garden.
Put on Google Maps and get started!
Car Parking
There are numerous parking spaces around the Bioparco Zoo in Rome.
---
---
Bioparco Roma timings
Rome Zoo's opening and closing hours vary as per year's season.
| Date | Opening Time | Closing Time |
| --- | --- | --- |
| 1 January – 25 March | 9.30 am | 5 pm |
| 26 March – 28 October | 9.30 am | 6 pm |
| 29 October – 31 December | 9.30 am | 5 pm |
| 26 March – 1 October (Only Saturdays, Sundays and holidays) | 9.30 am | 7 pm |
Ticket offices close, and the last entry is 1 hour before the park closing time.
The park is open every day of the year except 25 December.
How long does Bioparco Roma take
Bioparco Zoo in Rome takes at least two to three hours to explore.
But when you're here at the zoo with kids, you can expect your stay to extend by a few more hours as kids are always excited to see animals and their feeding sessions.
Best time to visit Bioparco Roma
The best time to visit the Rome Zoo is when it opens at 9.30 am.
You can avoid getting stuck in crowds and queues when you start early.
Also, starting early gives you enough time to explore the animal exhibits and have food.
You can spot animals easily during the early morning as they're more active then.
On weekends and public holidays, the zoo is thronged by visitors, so weekdays are better for a comfortable and uninterrupted visit.
Map of Bioparco Roma
Use a map to plan your trip efficiently.
Look out for animals you want to visit first, cover the neighboring animals, and then move on to other exhibits.
You can easily locate the different service facilities like a ticket office, washrooms, picnic areas, restaurants, auditorium, gift shop, changing table, play area, etc.
Use this map to navigate!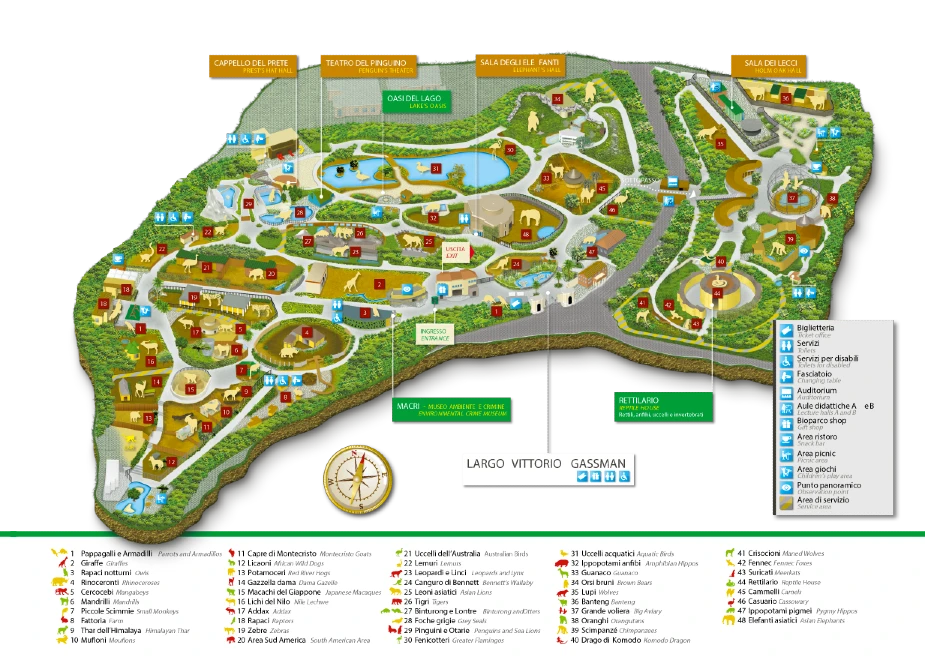 Where to eat at Bioparco di Roma
You can dine at the four dining options in Bioparco di Roma.
The Mascagni and Bar Ninfeo refreshment areas are open during the week, with the addition of the Oasi del Lago and Bar Grande Voliera on weekends, holidays, and Saturdays.
Enjoy fast food, including pastries, sandwiches, ice cream, snacks, cold dishes, salads, first courses, beverages and coffee.
What to see at Rome zoological garden
There are a lot of things you can explore at Bioparco Zoo in Rome.
Animals in Bioparco Zoo
There are over 1000 animals in the zoo.
Watch for animals, including Chimpanzees, orangutans and other monkey species, lizards, crocodiles, turtles, snakes, and other reptiles.
Look at the zebras, tigers, seals, elephants, and giraffes.
You can even look at the various kinds of wild animals, for example, parrots, flamingos, and other exotic birds.
Gift Shop
Take-home toys, books, games, stationery, and other souvenirs are available in Bioparco Gift Shop.
The shop includes plastic-free packaging to play its part in nature.
When you buy something, a part of your purchase contributes to the betterment of the zoo.
Play your part in the initiatives to preserve and protect particular animal species.
Visiting Rules
– Don't jump over the fences; it can be risky for you and the animals.
– Please do not feed the animals at the zoo because they have a balanced diet.
– Avoid making loud noises as they can disturb the animals.
– Pets are not allowed at the zoo, except for guide dogs.
– Avoid banging on exhibit glass or fences.
– You are not allowed to enter with balloons, balls, skateboards, bicycles, scooters, roller skates, or shoes with wheels.
– Animals are living beings, so avoid throwing anything at them and show them compassion.
– Strollers are prohibited in the Reptile House, other places, or Bioparco Express.
– The park does not offer any luggage storage.
FAQs about Bioparco
Here are a few frequently asked questions about the Bioparco:
Can I purchase tickets online in advance?
Yes, you can purchase tickets for Bioparco online in advance. This is often a convenient way to avoid long lines at the entrance, ensure your visit, and avoid last-minute disappointment.
Can I bring my food and drinks to Bioparco Rome?
Visitors cannot bring any food and drinks into the park. Bioparco Rome has on-site dining facilities and food vendors for visitors.
Are tickets to Bioparco timed, and do I need to arrive at a specific time?
The tickets to the zoo are not timed; you can arrive at your convenience. However, we recommend reaching out when the Bioparco opens to avoid crowds and enjoy your day.
Can I use my Bioparco ticket any day, or is it date-specific?
The ticket to Bioparco is date-specific. Refunds and rescheduling are not possible for this ticket.
Sources

# Bioparco.it
# Romesightseeing.net
# Tripadvisor.com
# Wikipedia.org

The travel specialists at TheBetterVacation.com use only high-quality sources while researching & writing their articles. We make every attempt to keep our content current, reliable and trustworthy.
Tourist attractions in Rome