The Trevi Fountain, or the Fontana di Trevi, is a must on your trip to Rome.
It has been featured in many films, including Roman Holiday, Three Coins in the Fountain, and The Lizzie McGuire Movie.
The fountain is one of the oldest water sources in Rome, dating 4th century.
Trevi Fountain is situated at the junction of 3 streets, marking the end point of one of Rome's earliest aqueducts, Aqua Virgo, thus getting the infamous name.
This article shares everything you need to know before purchasing Fontana di Trevi tickets.
What to expect at Trevi Fountain?
Standing 26 meters tall and 49 meters wide, Trevi Fountain is one of the most celebrated fountains in Rome.
You can look at the beautiful fountain during the day or at night.
A statue of Oceanus, standing beneath a triumphal arch, is in the fountain's center.
The Abundance statue stands to the left of the arch, and on the right is the statue of Health.
There is a story regarding the fountain. It is said that if you throw one coin in the fountain, you will return to Rome.
If you toss two coins, a gorgeous Italian will win your heart.
If you toss three coins, you will marry the person you met.
You should throw the coin with your right hand over your left shoulder to get the desired result.
Bring your special ones on this trip and experience this romantic moment with them.
Where to book Trevi Fountain tickets
You can purchase tickets for the Trevi Fountain online.
It is better to buy your ticket online because-
– Tickets for Trevi Fountain get sold out quickly. So you can avoid last-minute regrets by purchasing tickets online.
– Online tickets save time and money.
– Tickets are less expensive online than offline.
– You can choose your preferred time of the visit and plan your trip accordingly!
How online ticket works
When you book tickets for Trevi Fountain, on the booking page, select your preferred date, timeslot, and the number of tickets and buy them right away!
Following the purchase, the tickets will be sent to your registered email.
Show the ticket at the starting point and collect your paper ticket.
Cost of Trevi Fountain tickets
The Trevi District Underground ticket costs €12 for all visitors aged 18 years and above.
Children aged 6 to 17 years can get the ticket for €9, at a discount of €3.
The Guided tour of Trevi District Underground tickets are priced at €29 for visitors over 18 years.
Children aged 6 to 17 can get the ticket for €19 and save up to €10.
For both tours, kids up to 5 years get free admission.
---
---
Trevi District Underground ticket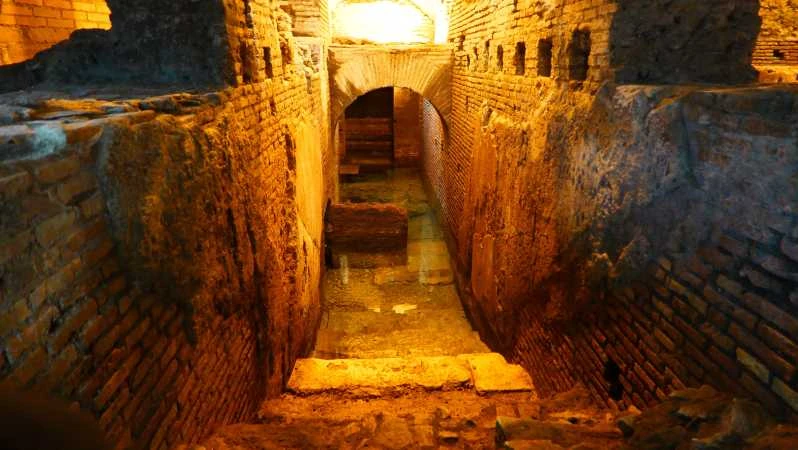 After you've made your wish by the Trevi fountain, you can explore the world beneath the Trevi District.
Explore the Trevi Underground district with an audio guide.
The audio guide is available in 5 languages – English, French, German, Italian, and Spanish.
This 30-minute tour is perfect for people who love history and wants to explore a hidden gem in Rome.
Ticket Prices
Adult Ticket (18+ years): €12
Child Ticket (6 to 17 years): €9
Child Ticket (up to 5 years): Free
You can buy a child ticket only in combination with an adult ticket.
Guided tour of Trevi District Underground

If you want to sign up for a guided tour, this tour is for you!
With this ticket, you get an admission reservation to Trevi District Underground.
Discover the imperial-era relics and an ancient building complex.
Explore the labyrinthine archaeological area of ​​Vicus Caprarius and see the evidence of historical events like the Great Fire of Rome.
This 45-minute guided tour is available in English and Italian.
Ticket Prices
Adult Ticket (18+ years): €29
Child Ticket (6 to 17 years): €19
Infant Ticket (up to 5 years): Free
You can book the infant ticket only in combination with an adult ticket.
Combo tickets
Combo tickets are the best as it lets you explore the famous attraction in Rome that are located closer to each other.
You can buy tickets for the Trevi fountain in combination with Castel Sant'Angelo and Doria Pamphilj Gallery.
Castel Sant'Angelo + Trevi Underground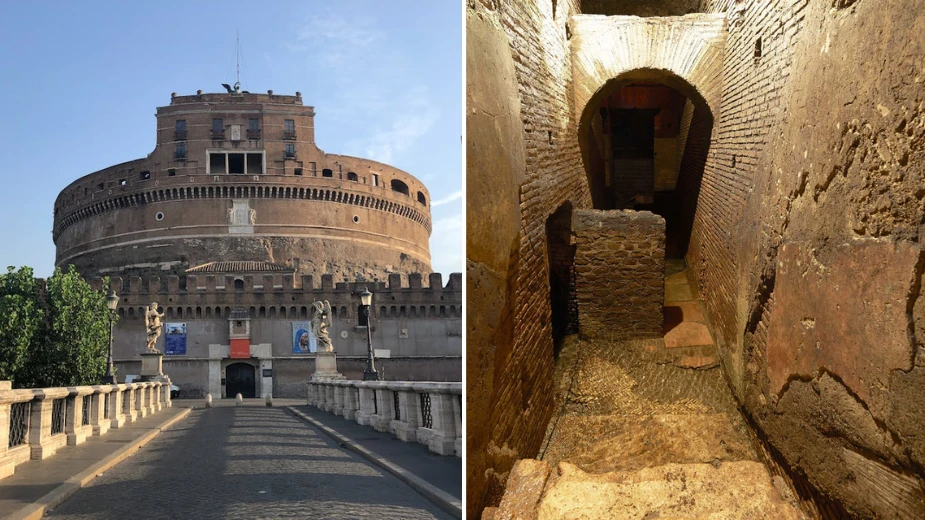 Trevi Fountain is nearly 2.5 km away from Castel Sant'Angelo, and a 10 minutes drive drops you at the mausoleum.
Book the combo ticket of Castel Sant'Angelo and Trevi Underground and amplify your experience.
Get a chance to overlook the Tiber from this Castel Sant'Angelo and access permanent and temporary exhibitions.
Explore Trevi District Underground with an audio guide in five languages (English, French, German, Italian, and Spanish).
Ticket Cost: €27 per person
Trevi Underground + The Doria Pamphilj Gallery
Trevi Fountain and The Doria Pamphilj Gallery is located just 450 meters away and can be reached in 6 minutes by walk.
So you can definitely think of purchasing this combo ticket.
Explore The Doria Pamphilj Gallery, one of Rome's most valuable art galleries.
After exploring the gallery, you can learn the history of Rome by seeing the archaeological site of the Trevi District.
Along with access to Trevi District Underground, you get an audio guide in five languages (English, French, German, Italian, and Spanish).
You get the city app audioguide which is downloadable on your smartphone.
Ticket Cost: €33 per person
Buy Roma Pass and visit one or two of Rome's top attractions with access to public transport. Pick either a 48-hour pass or a 72-hour pass and get direct entry into the famous gems of Rome.
How to reach Trevi Fountain
Trevi Fountain in Rome is next to Palazzo Poli.
Address: Piazza di Trevi, 00187 Roma RM, Italy. Get Directions
You can reach here either by car or public transport.
By Bus
If you plan on taking the bus, take Bus 51, 52, 53, 62, 63, 71, 83, 85, 117, 160, or 492, and get off at Tritone/Fontana Trevi or Largo Chigi.
From there, it is a 2 to 3 minutes walk to Trevi Fountain.
By Car
You can take your car or rent a cab to Fountain Trevi in Rome.
Put on google maps and get started!
Car Parking
There are many parking lots around the fountain.
Click here to find out!
Trevi Fountain timings
Rome's Trevi Fountain is open 24/7.
You can explore the fountain whenever you see fit.
---
---
How long does Trevi Fountain take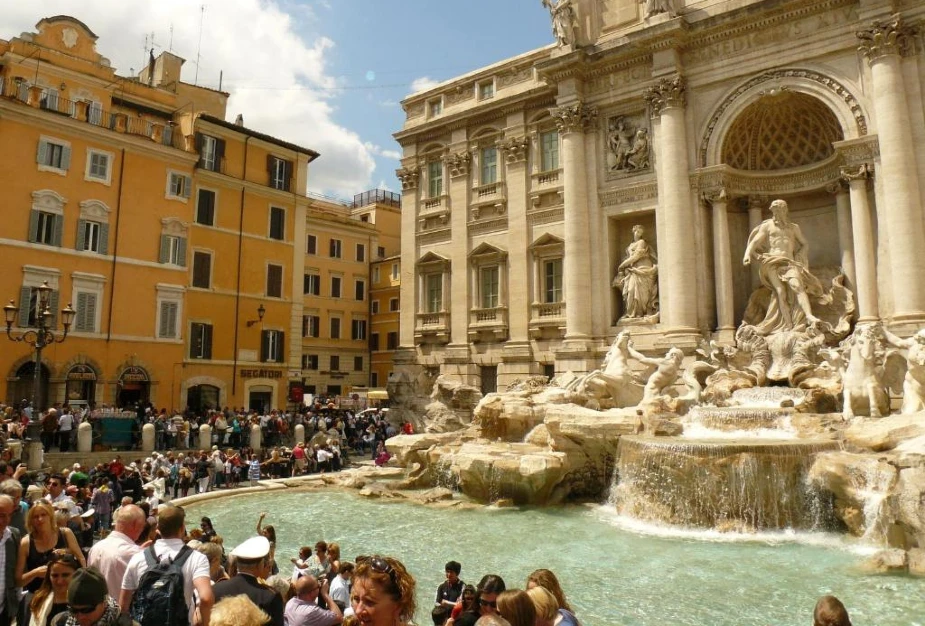 Fountain Trevi does not take a lot of time, and you can cover it within 15 to 20 minutes.
But you can take as long as you want.
If you take a guided tour of Trevi District Underground, then you'll be able to tour everything in less than an hour.
Some families who come for a picnic near the fountain, stay for a longer time.
Best time to visit Trevi Fountain
The best time to visit Trevi Fountain in Rome is early morning (around 7 am) or night (after 9 pm).
The fountain shows a different type of serenity during these times, which is a must-watch if you're in Rome.
Between 12 pm to 7 pm, it receives the most crowd, and you may not like it much then.
On weekends too, the fountain is thronged by visitors, especially families.
Trevi Fountain at night
Trevi Fountain looks ethereal in the nighttime.
In the late evening or night, the dark sky reflects in the Trevi Fountain's basin, which is soothing to the eyes.
The sparkling cobblestones and marble set up the mood around the fountain and you wouldn't want to leave when you're here.
This is the perfect time to hold your partner's hand and toss the coin in the water wishing for all love.
Sources

# Rome.net
# Britannica.com
# Romesite.com
# Wikipedia.org

The travel specialists at TheBetterVacation.com use only high-quality sources while researching & writing their articles. We make every attempt to keep our content current, reliable and trustworthy.
Tourist attractions in Rome