Emperor Nero built the extravagant Domus Aurea imperial house in the 1st century AD.
It was the largest house ever erected in Rome during that period.
Due to its size, luxury, and use, archaeologists called it 'Versailles in the heart of Rome.'
This article shares everything you should know before buying tickets for Domus Aurea in Rome.
What to expect at Domus Aurea?
The Domus Aurea, or Nero's Golden House, is one of Rome's most important archaeological sites and a stunning historic landmark.
If you're a history or archaeology buff, you'll be smitten with this secret underground palace.
Impressive excavation work has revealed the hidden part of the Domus, and many areas are now open to the public.
You will see how the palace became Nero's power symbol at Domus Aurea.
Where to buy Domus Aurea of Rome tickets
Domus Aurea in Rome tickets are available at the attraction and online.
However, booking online tickets is the best option because it provides several benefits.
– You get a discount on booking tickets online, which means you can save money.
– You don't have to travel to the attraction to buy tickets and sweat yourself standing in long queues.
– You can book your tickets in advance and plan your tour accordingly.
– Sometimes, the tickets get sold out quickly. However, if you purchase tickets online, you can avoid last-minute disappointments.
– You select a date for the tour that works best for you.
How online ticket works
Select your preferred date and the number of tickets on the booking page and buy them right away.
After booking tickets, you will receive them in your registered email.
Show your smartphone ticket at the ticket counter to get entry.
Cost of Domus Aurea Rome tickets
Domus Aurea ticket is priced at €35 for all visitors aged 18 years and above.
Children aged 6 to 17 years get a €5 discount and pay only €30 for entry.
Domus Aurea entry tickets
Book tickets for Domus Aurea and learn about its intriguing history on a guided tour.
Exploring Emperor Nero's luxurious palace near the Colosseum is a fascinating experience!
You can pick from two options – a one-hour guided tour or a two-hour guided tour.
2-hour Domus Aurea Guided Tour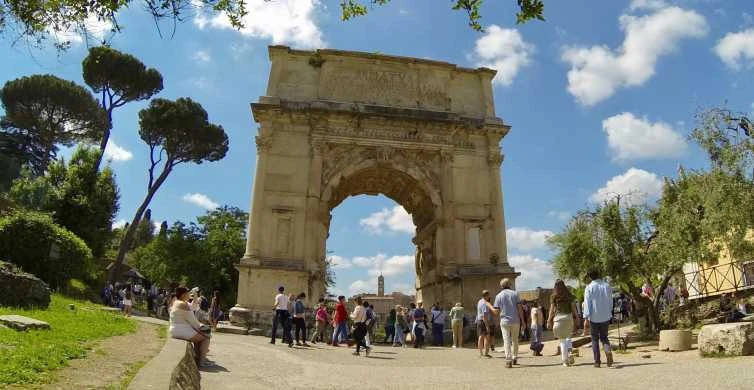 Take advantage of a unique opportunity to explore one of Rome's most exclusive ancient sites with a 2-hour Domus Aurea Guided Tour.
When you walk inside the excavated remnants of Nero's Golden House (Domus Aurea), you'll be taken back to the Roman empire's magnificent glory.
Learn about Nero's interesting life and times with the help of a guide.
If any traveler has mobility concerns, please contact the activity provider during the booking process to get suitable accommodations.
A valid student ID must be shown on the tour day to earn the student discount.
A student must pay the full admission fee if they do not have a valid student ID.
Ticket Price
Adult Ticket (18+ years): €49
Child Ticket (5 to 17 years): €44
Student Ticket (18 to 24 years with ID): €44
Infant Ticket (up to 4 years): €5
1-hour Domus Aurea Guided Walking Tour
This 1-hour Domus Aurea Guided Walking Tour will help you discover Nero's Golden House, the Domus Aurea, and it's luxurious past.
See the relics of wealth from the past, such as exquisite frescoes and marble walls.
Learn about the site's underground lakes, soaking baths, and rotating dining rooms with the help of a professional guide.
A passport or ID card for children is a must.
Ticket price
Adult Ticket (18+ years): €35
Child Ticket (6 to 17 years): €30
Infant Ticket (up to 5 years): €5
Buy Roma Pass and visit one or two of Rome's top attractions with access to public transport. Pick either a 48-hour pass or a 72-hour pass and get direct entry into the famous gems of Rome.
---
---
How to reach Domus Aurea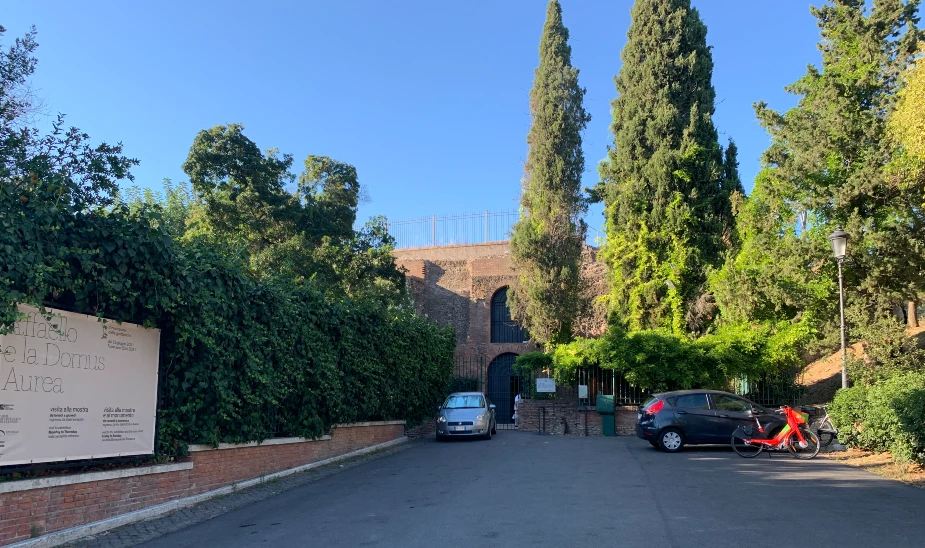 The Domus Aura is in Rome's city center, more precisely on Oppian Hill.
Address: Via della Domus Aurea, 00184 Roma RM, Italy. Get Directions
You can either drive to the attraction or use public transport.
By Metro
If you take B1 or MEB (Blue Line), get down to Colosseo (the nearest metro station) or Cavour (850 meters from Domus Aurea).
By Bus
You can get off at Colosseo (Buses: 51, 75, 85, 87, 117, nMB, 400 meters) or Cavour/Annibaldi (Buses: 75,117, nMB, 650 meters) bus stops.
By Car
You can take your car or rent a cab to Domus Aurea in Rome.
To get a start, open Google Maps and start navigating!
Car Parking
There are several parking lots near Domus Aurea.
Click here to find out!
Domus Aurea timings
Domus Aurea opens at 9.45 am and closes by 4.45 pm from Monday to Sunday.
If you are interested in any guided tour, check your tickets for timings, which may vary.
How long does Domus Aurea take
The time taken for the Domus Aurea tour depends on which guided tour you have booked.
You can take either a one-hour or two-hour guided tour based on your convenience.
However, history or archaeology buffs prefer exploring the palace and its surroundings for long hours.
Best time to visit Domus Aurea
The Domus Aurea of Rome is best when it opens at 9.45 am.
Getting there early can avoid being caught up in queues and crowds.
Weekends and holidays are busy with tourists, so weekdays are best for a calm and uninterrupted trip to the attraction.
Is the Domus Aurea worth visiting
The Domus Aurea, Rome, is breathtaking and a must-see for everyone interested in Roman history.
Regarding terrain and history, the Domus' specific past is a good introduction to Imperial Rome.
The guides are fantastic and help to bring the sight to life.
The Domus is underground, but the halls are spacious, and the ceilings are high, so claustrophobia should be minimal.
Best things to see in the Domus Aurea
Here are some major highlights of the Domus Aurea that you shouldn't miss on your tour.
The Mighty Corridors
Walking into the Domus Aurea is like entering a maze of wide hallways.
Long and wide with high ceilings, the corridors are now built of exposed brick.
Many of the original decorations are gone, but many are still visible.
But even when they are not, the Domus Aurea's hallways leave a lasting effect.
Their size is a resounding testimony to the size of this palace.
The frescoes on the walls and ceiling of the Domus Aurea
The tour focuses on architectural features and highlights some of the stunning paintings and mosaics that still exist today.
Although most decorations are broken, enough illumination makes it easier to find them and makes the experience rewarding and pleasant.
The Pompeian style, Andromache frescoes, the famous Hector in the final room, and Anubis are worth mentioning.
The mosaic and Ulysses and Polyphemus
The Domus Aurea has several water basins, one of which has a unique mosaic depicting Ulysses and Polyphemus.
The mosaic adorns the ceiling and is both beautiful and historically significant as one of the first examples of figurative mosaic work.
The Domus Aurea convivium room
The dining room is one of Domus Aurea's oldest surviving and most interesting rooms.
This room, unlike the others, still has its original mosaic floor and wall paint.
The XV-century ceiling holes
Several large holes can be observed in the ceiling of Domus Aurea's rooms.
Built-in the XIV century by thieves to climb down into the Domus to steal important materials and jewels!
The holes are intriguing, and the story behind their formation is one aspect that sets the Domus Aura apart.
The Octagonal room
The trip concludes with the octagonal room, which is unique.
According to ancient historians, the Domus had a spinning dining room, and the effect it must have left has been replicated with a light show.
---
---
FAQs about Domus Aurea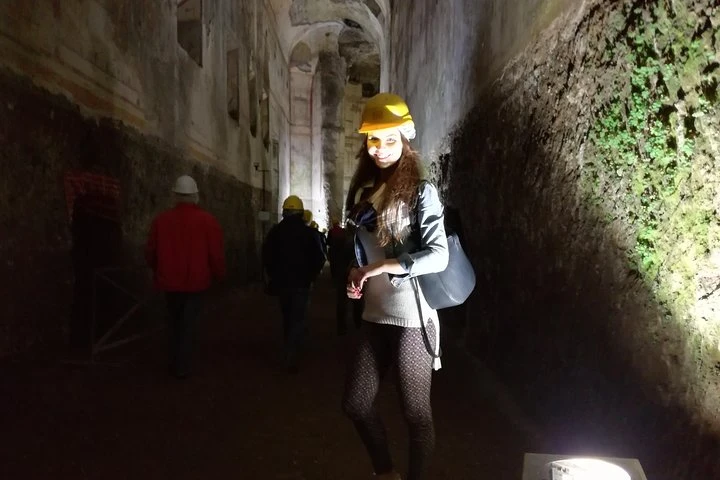 Find out the list of frequently asked questions by visitors before visiting Domus Aurea.
Do I need a ticket to visit Domus Aurea?
Reservation of tickets is necessary and can be done online.
How much does the Domus Aurea ticket cost?
An adult pay €49 for a 2-hour guided tour, while for a 1-hour guided tour, the ticket price is €35.
Is Domus Aurea worth visiting?
The Domus Aurea is highly spectacular and well worth a visit for anybody interested in Roman history.
How long will the trip to Domus Aurea last?
The tour last for about one to two hours.
Is Domus Aurea open?
After a long period of restoration, Nero's Domus Aurea has finally been opened to the public and is only accessible by guided tour.
Is it necessary to use VR goggles for the Domus Aurea guided tour?
It may be essential in some areas, but not always.
What to wear for Domus Aurea?
The temperature in the domus is around 10 degrees. Appropriate clothing and comfortable shoes are recommended. Wear proper walking shoes because this tour includes steps, staircases, and uneven ground.
When does Domus Aurea open?
Domus Aurea opens daily at 9.45 am.
Where is the entrance to the Domus Aurea?
Entrance to the attraction is accessed via Colle Oppio Park.
Sources

# Viator
# Get Your Guide
# Which Museum

The travel specialists at TheBetterVacation.com use only high-quality sources while researching & writing their articles. We make every attempt to keep our content current, reliable and trustworthy.
Tourist attractions in Rome