Capitoline Museum is a collection of many Art and Archaeological Museums, in Rome, Italy.
Capitoline Museums have been around since 1471 in some form or the other and hence are also the World's oldest National museums.
The Romans also refer to it as Musei Capitolini.
In this article, we explain everything you must know before buying Capitoline Museum tickets.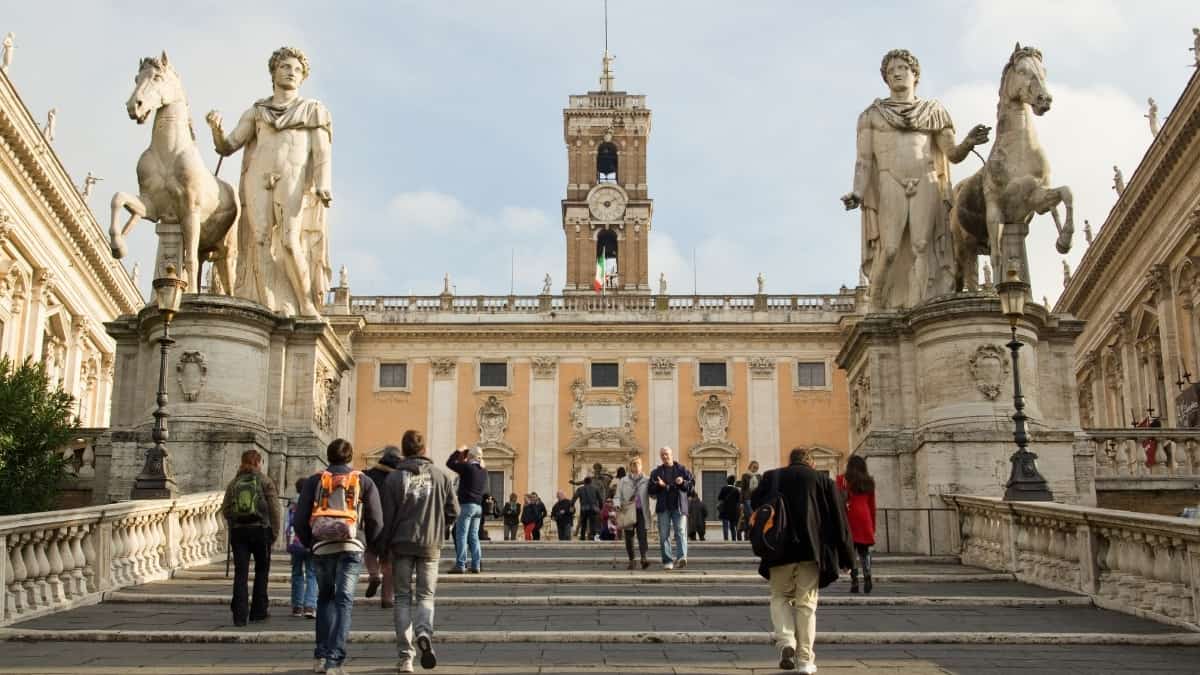 What to expect at Capitoline Museum
The museum has temporarily discontinued the self-guided entry ticket because of the pandemic.
Since the museum only allows visitors under supervision, you can either book a hosted entry ticket (25 Euros) or a guided tour of the Capitoline Museums (58 Euros).
---
---
How to reach Capitoline Museum
This Museum is in Piazza del Campidoglio, on top of the Capitoline Hill.
Getting to Musei Capitolini is straightforward.
Most public buses of Rome travelling towards the city centre stop at Piazza Venezia.
If you prefer the Metro, get down at the Colosseum station, which is just 10 minutes walking distance from Capitoline Museum.
You can also take a taxi which can drop you at the bottom of Capitoline Hill.
For disabled visitors, the taxi can even go to at the top.
The trambus is also a good option because it stops every 30 minutes at most of Rome's famous attractions.
To get down at Piazza Venezia, you must get onto the Trambus with route no 110.
Bus lines are also available for Teatro Marcello, which is 200 meters from the Capitoline Hill.
The lines are 30, 44, 63, 81, 83, 85, 87, 130F, 160, 160F, 170, 175, 271, 628, 715, 716, 780, 781, 810, C3, H, n3, n8 and n19.
---
---
Opening hours
Capitolini Museum opens at 9.30 am and closes at 7.30 pm, every day.
Last entry is one hour before the closing time.
On 24th Dec and 31st Dec, the Museum opens at the same time but closes a bit early – by 2 pm.
Capitoline Museum stays closed on 1st January, 1st May and 25th December.
---
---
Free entry into Capitoline Museum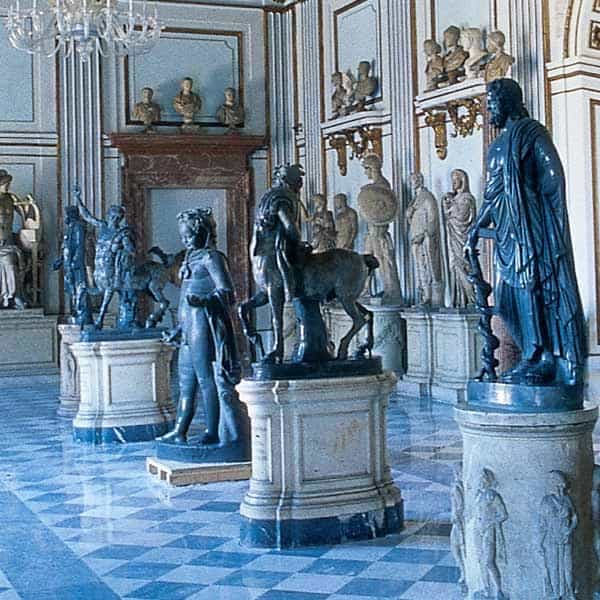 Children under the age of six enter Capitoline Museum for free.
The residents of Rome and nearby provinces also get to enter Capitoline Museum for free on the first Sunday of every month.
If you want to avoid the crowd, suggest you skip the Museum on the free entry day.
Image: Museicapitolini.org
Capitolini Museum free with Roma Pass
Roma Pass is a great tool to save money while holidaying in the city.
With Roma Pass, you can gain direct and FREE entry to the Capitoline Museums.
Some of the other attractions where you can enter for free with this Pass are the Colosseum, Borghese Gallery, Castel Sant'Angelo etc.
It comes in two flavours – for 72 hours and 48 hours.
Seventy-two hours Roma Pass: Direct entrance to two museums of your choice, unlimited travel with all public transport (excl. trains) for three days. Price: 39.50 Euros.
Forty-eight hours Roma Pass: Direct entrance to one museum, unlimited travel with all public transport (excl. trains) for 48 hours. Price: 29 Euros.
---
---
Capitolini Museum queues
The Museums attract a lot of crowd in the morning.
It is better to book your Capitoline Museum ticket online if you wish to skip the line because, during peak days, you may end up spending up to 30 minutes in the ticketing queue.
Whatever time you go, you are sure to find the Marcus Aurelius statue, and the Capitoline Wolf's sculpture crowded.
One should avoid visiting during the first two and last two weeks of any temporary exhibition.
---
---
How long does Capitoline Museum take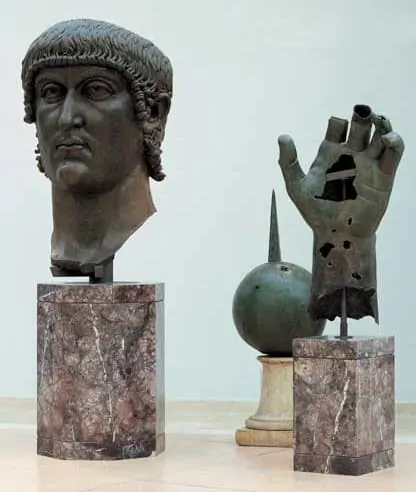 Most of the visitors take two hours to explore Capitoline Museums. In fact, even the duration of the audio guide is 90 minutes.
Tourists in a hurry are known to finish their tour in 45 minutes or so while the art aficionados are even known to spend up to four hours exploring the Museum.
Image: Museicapitolini.org
If you are visiting during peak times, you must add 30 minutes more – the time you will spend in the ticketing queue.
Insider Tip: If you want to avoid wasting your time, you must buy your Museum tickets in advance.
---
---
Capitolini Museum tickets
The self-guided Capitoline Museum ticket, the cheapest way to enter the museum, is discontinued because of the pandemic. Now visitors must either book a hosted entry ticket (25 Euros) or a guided tour of the Capitoline Museums (58 Euros).
Capitoline Museum's skip the line tickets are the cheapest and the most popular.
This ticket helps you access everything on display in the World's first Museum including the ongoing temporary exhibitions.
The tickets are valid for 4 hours, and it is enough to explore the whole museum.
These are smartphone tickets, which means as soon as you make the purchase they get delivered to your email.
On the day of your visit, show the ticket in your email and walk in.
There is no need to take print outs.
Update: Due to the pandemic, this ticket has been discontinued. Please see below for more options.
Ticket price
Adult ticket (6+ years): 11 Euros
Child ticket (less than six years): Free entry
Hosted entry into Capitoline Museum
Since the self-guided tour of Capitoline Museums is suspended because of the pandemic, the hosted entry is the next cheapest option to explore the World's first museum.
Besides access to the permanent and temporary galleries and exhibitions, you also get a 25-minute multimedia video on Ancient Rome.
You can book this experience in two flavors – Museum only or Museum and Happy Hour.
If you book the Capitoline Museum's Happy Hour ticket, after exploring the exhibits, you can spend time at one of the fascinating viewpoints located in the heart of Rome.
One cocktail and snacks are included in the ticket, and you can order more if you prefer.
Ticket price (Museum only)
Adult ticket (18+ years): 25 Euros
Child ticket (6 to 17 years): 20 Euros
Infant ticket (up to 5 years): Free entry
Ticket price (Museum entry + Happy Hour)
Adult ticket (18+ years): 50 Euros
Child ticket (6 to 17 years): 45 Euros
Infant ticket (up to 5 years): Free entry
Guided tour of Capitoline Museum
If you love getting into the details of the art on display, we recommend a guided tour of Musei Capitolini.
During this 3-hour tour, you will explore Capitoline Hill, Capitoline Museum and St. Mary of Aracoeli Basilica.
It is available in English, German, French, and Spanish.
Ticket price
Adult ticket (26+ years): 58 Euros
Youth ticket (18 to 25 years): 53 Euros
Child ticket (6 to 17 years): 48 Euros
Infant ticket (0 to 5 years): Free entry
---
---
What to see in Capitoline Museum?
The Municipality of Rome owns and administers these Museums.
Pallazodei Conservatori and Pallazo Nuovo are two main buildings that together form the Capitoline Museum.
Galleria Lapidaria, a tunnel, runs between the two buildings and connects them from under the Piazza del Campidoglio.
Pallazo dei Conservatori
Thrown open to the public in 1734, this Museum stores amazing artwork of great artists like Caravaggio, Tiziano, Rubins, Tintoretto.
Art on display here include paintings, sculptures, busts of famous personalities across history and other miscellaneous creations.
Capitoline Wolf's original sculpture is the centre of attraction here.
Capitoline Wolf is also referred to as the 'She Wolf' and is a significant symbol of Rome.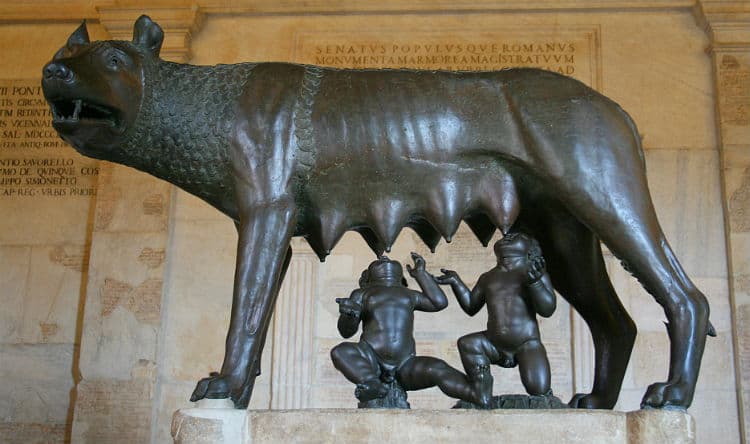 The first sculpture of a living person, Ritratto di Carlo I d'Angiò de Arnolfo di Cambio, is also featured in this Museum.
A glass-covered hall in the centre of which lies an equestrian statue of Marcus Aurelius is another astonishing thing to see in Pallazo dei Conservatori.
Pallazo Nuovo
This mansion is known for its exhibition of statues, sculptures, mosaics and busts.
Another attraction here is a marble sculpture, Capitoline Venus, designed between 100 and 150 AD.
The statue of Dying Gaul and Discobolus is also worth seeing.
There is a hall of philosophers where you'll find portraits of Greek and Roman philosophers.
---
---
Capitoline's audio guide
With these guides, you can explore the Capitoline Museum better.
Video guides suitable for adults are available in Italian, English, Spanish, German, French and Russian for just six Euros.
Audio guides are available for children aged six to 12 years of age.
These audio guides cost four Euros and are available in English and Italian.
---
---
Capitoline Museum or Borghese Gallery
It is unfair to compare Capitolini Museum and Borghese Gallery because both the Museums are unique and have their own appeal.
Capitoline Museum is full of Roman sculptures and contains artwork from different eras. At the same time, the Borghese Gallery is full of Bernini sculptures, with most of its exhibits from the Baroque period.
Borghese Gallery is in a beautiful park, while the Capitoline Museum offers a superb artistic impact.
We feel both the Museums have their unique appeal and are worth visiting.
Because both Borghese Gallery and Capitoline Museum are close by – only 4 Kms (2.5 Miles) apart – many tourists prefer to visit them on the same day.
---
---
Capitoline Museum reviews
Rome's Capitoline Museum is a highly rated tourist attraction.
Check out two Capitoline Museum reviews we have picked from Tripadvisor, which give you an idea of what to expect at the Museum.
Packed full of Roman treasures
A brilliant museum packed full of Roman treasures. Expertly curated, making it easy to explore each room without feeling overwhelmed. Spend time in the first courtyard to be amazed by the sheer scale of various ruins from once colossal statues. You also get to see wonderful views across Rome from the terrace and spectacular views of the Forum, with the Colosseum in the distance. – Ben A, Woking
Unmissable!
Capitoline Museum is the best museum in Rome, of course after the Vatican. It is in the stunning Piazza del Campidoglio, the two palaces hosting the museums are beautiful, and the masterpieces on display are a must-see. My third time in Rome and only one regret that I never went in before now. I will certainly revisit it next time! – ElenaLuciaAgnese, London
Sources
# Wikipedia.org
# Museicapitolini.org
# Romesite.com
# Britannica.com

The travel specialists at TheBetterVacation.com use only high-quality sources while researching & writing their articles. We make every attempt to keep our content current, reliable and trustworthy.
Tourist attractions in Rome