If you love art, you will love the Borghese Gallery in Rome.
The Borghese Gallery (Galleria Borghese) is in the beautiful Villa Borghese Pinciana, a large park in the city's heart.
The gallery houses an impressive art collection, including sculptures, paintings, and antiquities, from the 15th to the 18th centuries.
Once a private collection of a wealthy cardinal, Borghese is one of the most famous art galleries in the world today.
You can see several masterpieces by Caravaggio in the Borghese Gallery, including "Boy with a Basket of Fruit," "David with the Head of Goliath," and "Saint Jerome Writing."
This highly-rated attraction gets more than half a million tourists every year.
In this article, we explain everything you must know before buying Borghese Gallery tickets.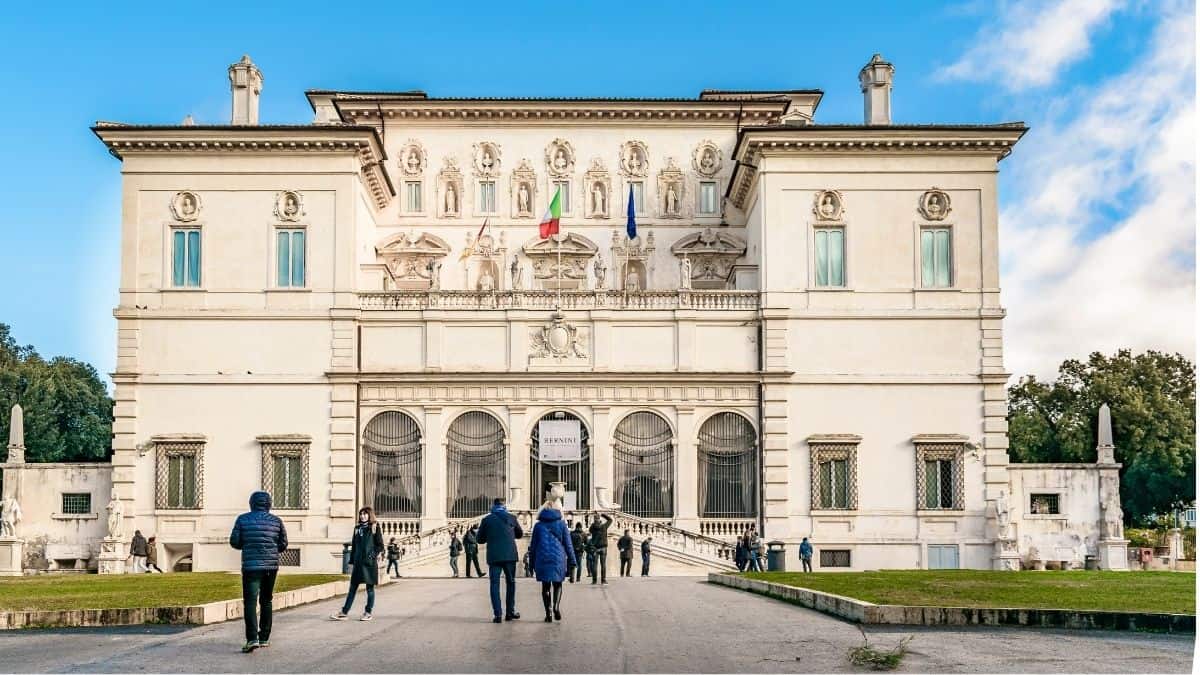 What to expect at Borghese Gallery
You can expect to see masterpieces by artists like Gian Lorenzo Bernini, Caravaggio, Raphael, Titian, Peter Paul Rubens, and Antonio Canova.
One of the gallery's highlights is the extensive collection of sculptures by Bernini, a master of the Baroque era. You will see his renowned works such as "Apollo and Daphne," "David," and "The Rape of Proserpina," among others.
The museum features works by Raphael, one of the most celebrated Renaissance painters, including "The Deposition" and "The Entombment."
You can admire paintings by Titian like "Sacred and Profane Love" and "The Venus of Urbino," as well as pieces by Peter Paul Rubens, including "The Deposition" and "The Four Evangelists."
Surrounding the gallery, you will find the Villa Borghese gardens, a delightful place for a stroll or a picnic. The gardens offer a tranquil and picturesque escape in the heart of Rome.
---
---
Borghese Gallery tickets
There are two ways to explore Borghese Gallery – with or without an expert art guide.
Where to book tickets
The tickets for Borghese Gallery are available online in advance or at the attraction.
Online ticket prices tend to be cheaper than tickets at the attraction.
When you buy online, you can avoid the long queues at the ticket counters.
When you book early, you also get your preferred time slot.
Borghese Gallery sells a limited number of tickets, thus, booking early helps avoid last-minute disappointments.
How do online tickets work
Go to the Borghese Gallery ticket booking page, and select your preferred date, time slot, and number of tickets to buy.
You will receive the ticket confirmation in your email after the booking.
There is no need to get printouts of the ticket.
You can show the e-ticket on your smartphone when you visit the attraction.
Fast Track tickets
The Fast Track tickets are the most popular and cheapest way to experience Borghese Gallery.
With this ticket, you can access the complete Art Gallery and ongoing temporary exhibitions.
Since you won't be with a guide or a group, you will explore the masterpieces at your own pace.
Ticket Price: €27 per person
Guided tour of Borghese Gallery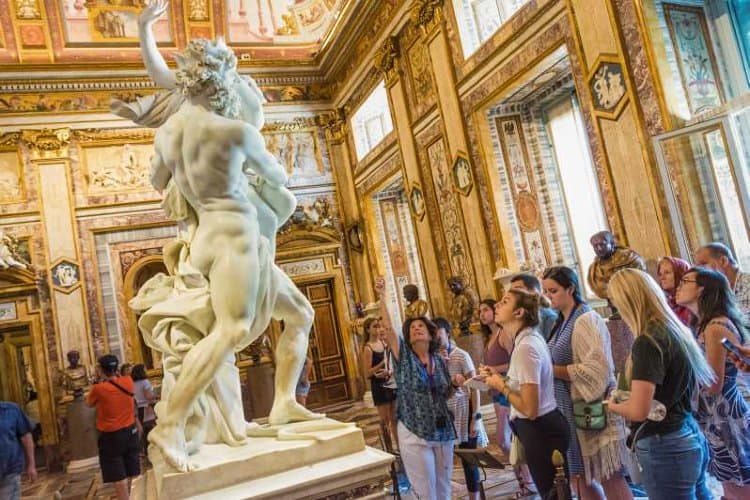 Real art lovers book guided tours at art galleries because that helps them gain better insight.
The local art experts narrate stories and anecdotes about the various art pieces, making the visit more memorable.
The Expert English-speaking guide also ensures you don't miss out on any of the masterpieces on display at the Gallery.
All visitors get audio headsets so that you can always hear the guide.
Once the guide has taken you through Borghese Gallery, they will lead you through the manicured lawns, fountains, lakes, and monuments of the magical Villa Borghese Gardens.
The two-hour guided tour ends with a breathtaking view from the top of the Pincio Terrace.
Ticket Price
Regular Ticket (for all ages): €81
If you want to enjoy the personal attention of a private guide, check out this 2-hour private tour of Borghese Gallery.
---
---
Borghese Gallery with Roma Pass
It is criminal to be in Rome and NOT know about Roma Pass.
Roma Pass is a great tool to save money while holidaying in the city.
With this Roma Pass, you can gain direct and FREE entry to the Colosseum, Capitoline Museums, and Castel Sant'Angelo.
You can also enter the Borghese Gallery for free, but you must book your arrival in advance (by call or email).
Visitors above ten years of age only need to buy a Roma Pass.
Kids under ten can use public transport and visit all museums for free if accompanied by Roma Pass holding adults.
This Pass comes in two flavors –
72 hours: Direct entrance to two museums of your choice, unlimited travel with all public transport (excl. trains) for three days. Price: €55
48 hours: Direct entrance to one museum, unlimited travel with all public transport (excl. trains) for 48 hours. Price: €32
The hours start getting counted from when you first use your card.
---
---
How to reach Borghese Gallery
The Borghese Gallery is on the Pincian Hill, in Villa Borghese.
Address: Piazzale Scipione Borghese, 5, 00197 Roma RM, Italy. Get Directions.
Villa Borghese is the third largest public park in Rome.
You an reach the Borghese Gallery by car or public transportation.
By Metro
Board Line 'A' and get down at the Spagna station, the closest station to the art gallery.
Once you exit the station, you can follow the signage towards the gallery while taking in the Roman air.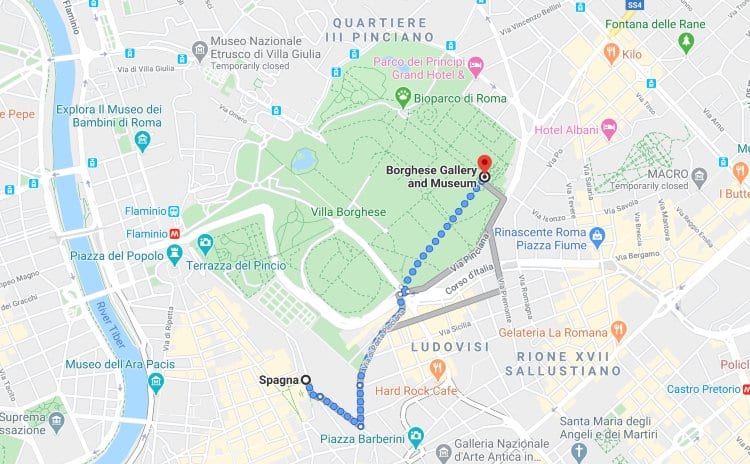 This 1.5 km (almost a mile) long walk to the art museum is a bit of an uphill climb.
The other option is to get down at the Barberini Metro station, 20 minutes by walk from Borghese Gallery.
By Bus
You can get onto any bus that goes up to Via Veneto.
The Borghese Gallery is 1 km (0.6 miles) from Via Vento, and you can walk the distance in seven minutes.
We recommend route numbers 52 or 53.
If you prefer private transport, go for a taxi.
From the city center, Borghese Galleria is just a five-mins ride.
Villa Borghese is a massive park, and visitors tend to get lost. We recommend Google Maps for directions.
Note: Borghese Gallery is 5.2 Kms (3.2 Miles) from the Vatican Museum and 6 Kms (3.7 Miles) from the Colosseum.
By Car
If you're traveling by car, turn on your Google Maps and get started.
There are enough parking garages around the attraction.
---
---
Opening hours
From Tuesday to Sunday, the Borghese Gallery opens at 9 am and closes at 7 pm.
The last entry into the art Gallery is at 5 pm.
Borghese Gallery remains closed on Mondays, 25 December, and 1 January.
---
---
How long does Borghese Gallery take
Borghese Gallery allows visitors to spend up to two hours exploring its galleries, after which they must exit so the next batch can enter the attraction.
This two-hour rule applies to both the self-guided and guided tours.
Since you must be at the Gallery at least 30 minutes before the time mentioned on your ticket, at max, your tour of Borghese Gallery will take two and a half hours.
Depending on the season, many visitors follow up their visit to the art gallery with a quick tour of the Borghese Gardens.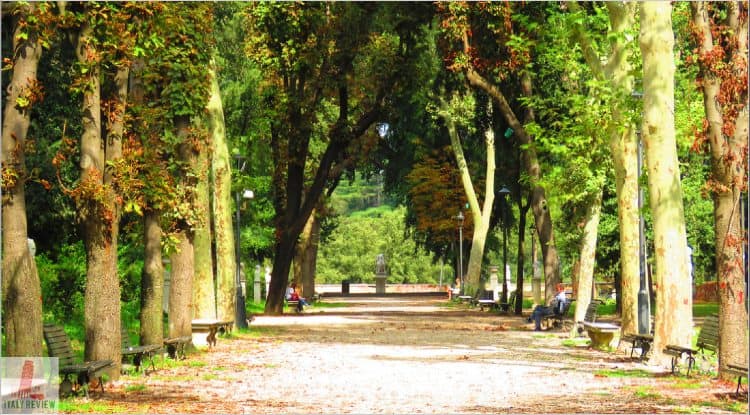 ---
---
Best time to visit Borghese Gallery
The best time to visit Borghese Gallery is 11 am, and since this slot is very much in demand, you must book your tickets at least two weeks in advance.
The next best time is either the 1 pm or the 5 pm slot, and to get these slots, you must book at least a week in advance.
If you don't book your Borghese Gallery tickets a few weeks in advance, you will most likely get the not-so-popular time slots.
---
---
Entry restrictions
Only 360 visitors are admitted into Borghese Gallery at a time for a two-hour visit.
Batches of visitors start entering at 9 am and continue till 5 pm.
The slots are 9 to 11 am, 11 to 1 pm, 1 to 3 pm, 3 to 5 pm, and 5 to 7 pm.
At the end of the two hours, visitors must exit the Gallery.
It would be best if you reached Borghese Gallery 30 minutes before the entry time mentioned on your ticket. Otherwise, you can be denied entry.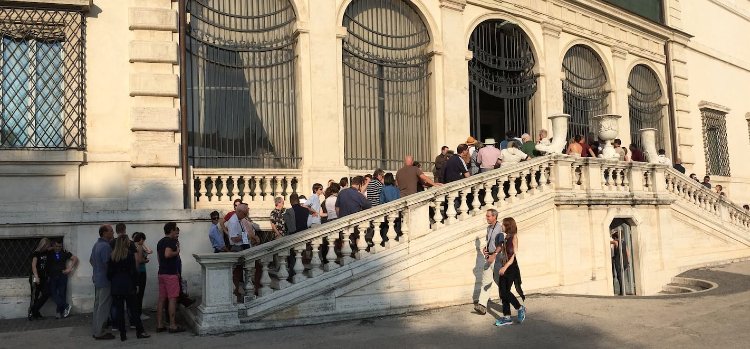 That's why we recommend you book either the self-guided Borghese Gallery ticket or the guided Borghese Gallery tour well in advance.
---
---
Enter Borghese Gallery for free
Borghese Gallery offers free entrance every first Sunday of the month.
You must call the venue (+390632810) beforehand and book your ticket.
However, we don't recommend it because it is the busiest time to visit.
Interested in free entry to the Colosseum, Vatican Museums, St Peter's Basilica, and Sistine Chapel? Buy the Omnia Card
---
---
How to book Borghese Gallery tickets
There are three ways to reserve your visit to Borghese Galleria – by phone, via email, or online.
We recommend booking your tickets online because that's much faster.
By phone
To book Borghese Gallery tickets by phone, you must call +390632810. Here, +39 is the country code of Italy.
You can talk to the operator in Italian or English.
The phone line is open from Monday to Friday from 9 am to 6 pm and on Saturdays from 9 am to 1 pm.
The line remains closed on Sundays.
While booking the tickets, be ready with your mode of payment or Roma Pass details (more on this below).
If you have a Roma Pass, you must mention it while booking your ticket over the phone.
Once your booking is confirmed, you will get a booking code.
This code is needed to pick up your tickets on the day of the visit.
The operator might ask for your email id to send you a confirmation via mail.
By email
Booking your Borghese Gallery tickets by email is much easier than booking them by phone.
You must send an email to info@tosc.it with all the details.
You must mention the date of your visit and preferred time slot, including the number of people and their age.
You must also mention an easier way to contact you if they fail to contact you via mail.
Within 48 hours of your email, you will receive confirmation.
If you don't get any confirmation, call them again.
Booking tickets online
The best way to book Borghese Gallery tickets is to buy them online.
You don't have to talk to an agent on the other end continuously (as in a phone booking) or have multiple email conversations (as in email booking).
To book your Borghese Gallery tickets online, choose the kind of ticket you want and go ahead and book them.
Online tickets get emailed to you.
To gain entry to the Borghese Gallery, you show the email on your smartphone at its entrance.
---
---
Is Borghese Gallery worth it?
Many tourists in Rome have this question: "Is it worth visiting Borghese Gallery?"
They wonder because they have already seen Vatican Museums with masterpieces worldwide and want to know if another art gallery will be worth their time.
Here is our short answer: Yes, Borghese Gallery is worth your effort, time, and money.
For the long answer, continue reading:
1. Best of Bernini is at Borghese Gallery
Bernini's sculptures are scattered all over Rome.
However, his best works – The Rape of Proserpina, Apollo and Daphne, and David are on display at Borghese Gallery.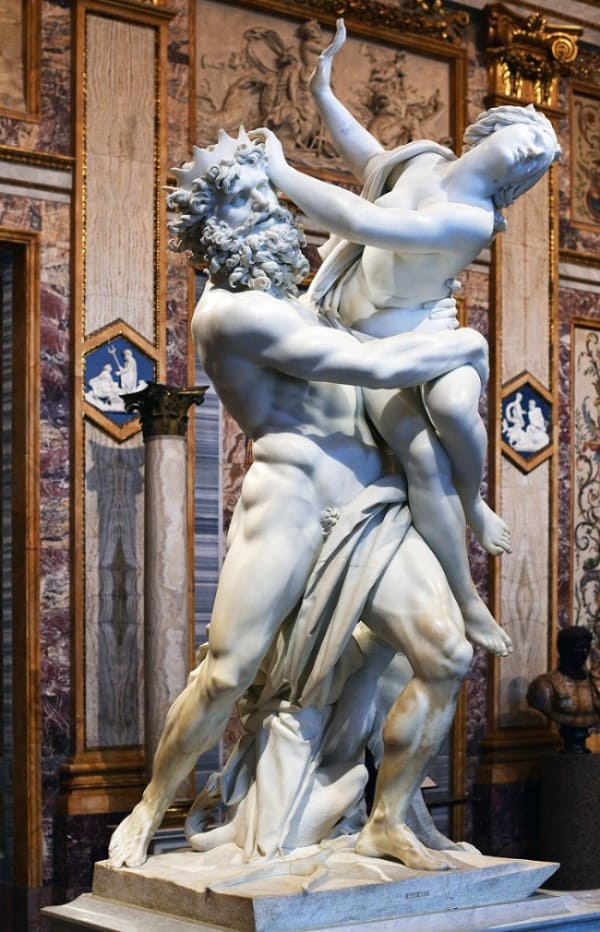 With a limited number of visitors at a time, this is also the only Museum where you can see the master sculptor's work up close.
2. Best of Caravaggio is in Borghese
Caravaggio wasn't a regular painter.
For starters, he has a murder registered against his name.
But he was a brilliant painter and, during his time, was regarded as the best in Rome.
The Borghese Gallery has almost one dozen Caravaggio paintings.
The most famous of them are – 'Boy with a Basket of Fruit,' 'David with the Head of Goliath,' 'Self-portrait as Bacchus, 'Madonna and Child with St Anne' and 'Portrait of Pope Paul V.'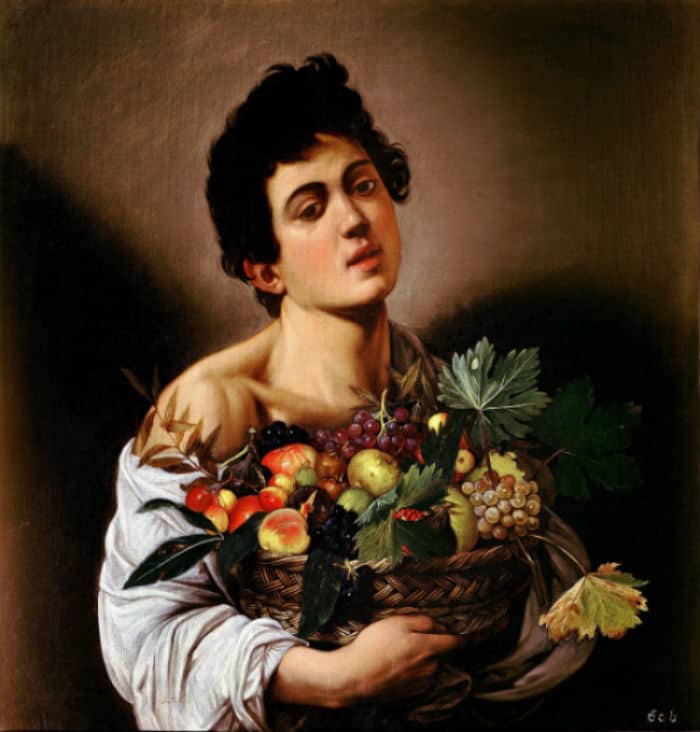 All this is over and above the other painters of the Renaissance and Baroque on display here.
3. Borghese Gallery offers the best art experience
Borghese Gallery is a premium art gallery.
Three things offer the most satisfying 'art experience' at the Borghese Gallery.
It houses the best of art from all over the World
The Museum building itself is an attraction
Since only 360 visitors are allowed inside at a time, you see art you have never seen before – it almost seems like your private collection
Check out the video below to see how stunning the insides of Borghese Gallery can be –
Since Borghese Gallery is relatively small, with only 20 rooms, one doesn't get the feeling of getting lost amongst the art.
4. The Gallery is in a beautiful park
This tourist attraction is in the corner of one of the most beautiful parks in Rome – Villa Borghese Park.
Once you have explored the artwork, you can enjoy the Borghese Gardens.
Away from the city lights, these Gardens offer an opportunity to experience Rome in silence.
---
---
Audio guide
If you don't want to spend the extra money and book a guided tour, the next best thing is to get Borghese Gallery's audio guide.
You can't book the audio guide in advance – you must pick it up on the day of your visit.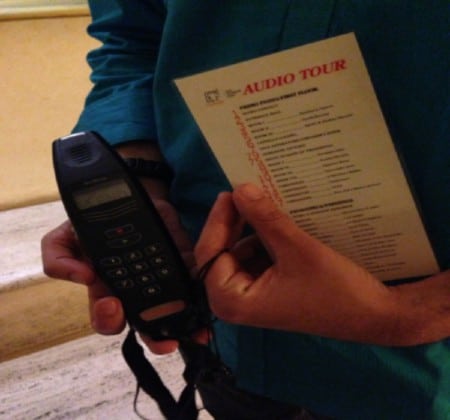 It costs 6 Euros per person and is highly recommended by visitors who have used it.

Image: Etpharm
In this guide, excellent narrators explain the important (and numbered) pieces of art spread all over the Museum.
---
---
Gift shop
After finishing your trip through the Borghese Galleria Museum, you can buy Borghese souvenirs from the gift shop.
Since the gift shop closes at 7 pm, visitors booked for the 5 to 7 pm time slot can visit it before they tour the Gallery.
---
---
FAQs about the Borghese Gallery
Here are a few frequently asked questions about the Borghese Gallery in Rome:
How can I make a reservation to visit the Borghese Gallery?
Reservations are required to visit the Borghese Gallery. You can book your tickets for the Borghese Gallery online and avoid last-minute disappointment. It's advisable to book your tickets well in advance, as the number of visitors is limited for each time slot.
Are there guided tours available at the Borghese Gallery?
Yes, the Borghese Gallery offers guided tours and private tours that provide in-depth insights into the artworks and the history of the collection.
What are the must-see artworks at the Borghese Gallery?

Some of the most famous artworks in the Borghese Gallery include sculptures by Gian Lorenzo Bernini, paintings by Caravaggio and Raphael, and neoclassical sculptures by Antonio Canova.
Is photography allowed in the Borghese Gallery?

Photography is allowed inside the Gallery, provided you do not use flash. The use of tripods, monopods, and self-sticks are prohibited.
Is the Borghese Gallery accessible to individuals with disabilities?

People with disabilities or reduced mobility can access the Borghese Gallery using the stair lift to the left of the external staircase on the front facade.
Can I buy same-day tickets at the Borghese Gallery without a reservation?

While it may be possible to purchase same-day tickets in person at the gallery, it's risky as the number of visitors is limited, and tickets often sell out quickly. It's safer to book your Borghese Gallery tickets online well in advance to secure your visit.
Tourist attractions in Rome
Sources
# Freetoursbyfoot.com
# Tourscanner.com
# Romecolosseumtickets.tours

The travel specialists at TheBetterVacation.com use only high-quality sources while researching & writing their articles. We make every attempt to keep our content current, reliable and trustworthy.