Schonbrunn Palace is a 1,441- room Palace and former Imperial Residence of the Hapsburg Monarchs.
With a history spanning over 300 years, it is one of Vienna's most important historical monuments.
In 1996, UNESCO added Schonbrunn Palace to the World Heritage List.
In this article, we share everything you must know before buying Schonbrunn Palace tickets.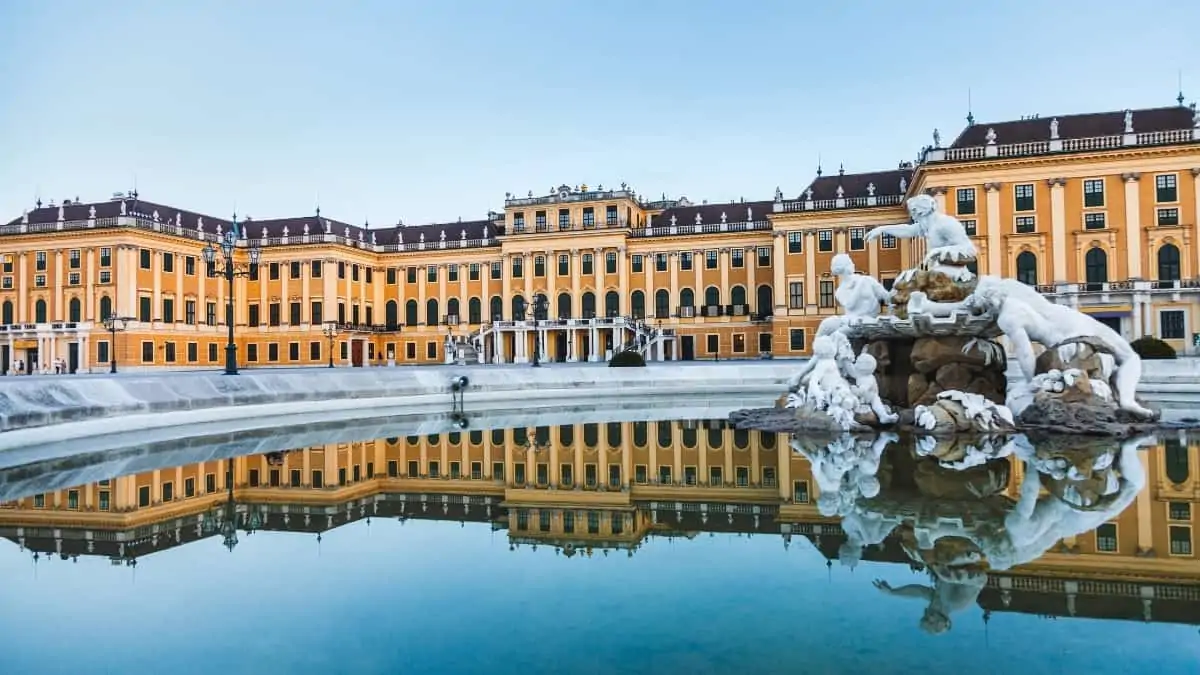 How to get to Schonbrunn Palace
Schonbrunn Palace is in Hietzing, Vienna, in Austria.
Address: Schonbrunner Schlosstrasse 47, 1130 Wien, Austria
We recommend you take public transport to reach Schonbrunn Palace.
Take the Underground U4 (green line) and get off at Schonbrunn station.
Take Tram No 10 or 60 to get off right at the Schonbrunn Palace.
If a bus is your preferred mode of transport, take number 10A to reach Schonbrunn
If you are arriving by car, you can take the A1, A2, or the A4 motorway.
Just fire up Google Maps, identify the fastest route from your location, and follow the signs for the City Centre.
Schonbrunn Palace parking
The Palace has its parking, which is open all through the week.
With 160 cars and 20 bus parking slots, they never run out of space.
Parking your vehicle at Schonbrunn Palace parking will cost you anywhere from 3.90 Euros per hour to 39 Euros per day.
---
---
Schonbrunn Palace hours
Schonbrunn Palace opens at 8 am, all through the year.
During the peak tourist months of July and August, it closes at 6.30 pm, and during the shoulder season months of April, May, June, September, and October, it closes at 5.30 pm.
The rest of the year, the palace closes early – at 5 pm.
The Schonbrunn Palace is open daily, including public holidays.
Schonbrunn Gardens are free to enter from 6.30 am onwards.
---
---
Best time to visit Schonbrunn Palace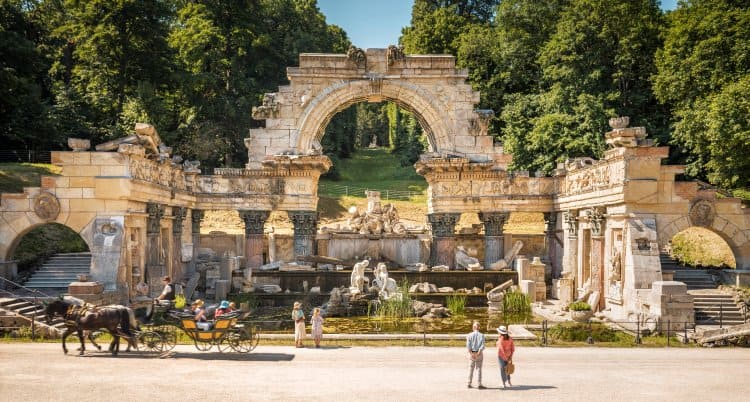 It is best to visit the Schonbrunn Palace as soon as it opens at 8 am.
Starting your visit early in the day helps avoid the crowd and the sun, which can get hot in the summer.
If you can't make it in the morning, the next best time to visit Schonbrunn Palace is after 3 pm, when most tourists are on their way out.
One sure shot way to work around the peak season is to buy Schonbrunn Palace tickets online.
You can then avoid the crowd waiting at the ticketing counter and walk right in.
Schonbrunn Palace rush hour trick
If for some reason, you can only visit during the rush hour (from 10 am to 12 pm), it will be best if you start your visit with the Gardens.
By the time you will be done with the Gardens, the crowd in the Palace would have thinned down, and you can step in.
Best season to visit Schonbrunn Palace
The high season in Vienna is from April to September, with a peak in July and August.
If you want to avoid crowds, it would be best to avoid these two months and the Christmas holidays (the second half of December).
January and February are the best months to visit because they see minimum visitors.
You can also plan a trip in March or November which also has milder crowds.
It would also be good to keep track of any significant events and festivals like the Vienna Festival, Viennale, Vienna Fashion Week, etc.
---
---
Schonbrunn Palace tickets
There are many ways of experiencing the erstwhile residence of the Habsburg Monarchs.
You can decide to tour just the Palace or combine it with a tour of the city.
The choice is unlimited. We have selected the best three Schonbrunn Palace tickets and detailed them below.
All the tickets we have recommended are smartphone tickets. That is, within five minutes of the purchase, the ticket will be emailed to you.
On the day of your visit, you walk past the queue at the ticketing counter, reach the Palace entrance, show the email on your smartphone and walk in.
Cheapest Schönbrunn Palace tickets
These Schönbrunn Palace tickets get you skip-the-line entry into Austria's finest palace.
All visitors get a 10-minute introduction in English and German. However, this ticket doesn't include a guided tour.
Guided tour of Schonbrunn Palace
This 90-minute guided tour gives you skip the line access to the magnificent Schonbrunn Palace.
This ticket also includes access to the palace gardens.
The tour is available in English and German, and you can opt for the preferred language on the ticket booking page.
Ticket Prices
Adult ticket (18+ years): 34 Euros
Youth ticket (7 to 17 years): 28 Euros
Children 6 years or below are free to enter.
Tour of Schonbrunn Palace and gardens
This ticket offers a guided tour of Schonbrunn Palace, the glorious former Imperial Residence of the Hapsburg family, its Orangery, and the Gardens.
A professional guide accompanies you and all visitors get an audio device with headphones to enhance the listening experience.
Ticket Prices
Adult ticket (19+ years): 38 Euros
Kids ticket (6 to 18 years): 29 Euros
Infant ticket: Free entry
If you are not on a budget holiday, we recommend the private tour of Schonbrunn Palace and gardens.
Tickets for Imperial Carriage Museum
The Imperial Carriage Museum at Schönbrunn Palace comprises an outstanding collection of imperial coaches.
Access to this museum is not part of any other ticket and requires a separate entry ticket.
Most visitors enhance their Schönbrunn experience by visiting this museum which displays around 60 historical state coaches, sleds, and sedan chairs.
Ticket Prices
Adult ticket (19 to 64 years): 12 Euros
Seniors ticket (65+ years): 9 Euros
Students ticket (with valid ID): 9 Euros
Schonbrunn Palace & Vienna city tour
This ticket provides you a bus tour of Vienna City's most prized tourist attractions such as – State Opera, Museum of Art History, Habsburg Museum, Hofburg Palace (the Emperors' winter residence), the Austrian Parliament, the City Hall, and the Court Theater.
The tour's highlight is skip-the-line special access to the former imperial residence of Habsburg Monarchs – the Schonbrunn Palace.
A professional guide leads the Palace tour in one of the three languages – English, German, or Spanish.
You must opt for your preferred language on the ticket booking page.
The tour starts at 9.30 am.
Ticket Prices
Adult ticket (13+ years): 54 Euros
Child ticket (2 to 12 years): 19 Euros
---
---
Schönbrunn Panoramabahn
Schonbrunn Palace complex is a vast place (160 hectares), and it isn't easy to explore all on foot.
One way to go around this place is 'Panorama Train', a hop-on and hop-off train with nine different stops.
Visitors can get off or board the train at nine destinations around the park, including the zoo, Gloriette Hill, and Schönbrunn Palace.
The train is the best way to explore the magic of Schönbrunn Palace Garden without getting tired.
Schönbrunn Panoramabahn tickets, which get you unlimited train rides throughout the day, cost €9 for adults (15 years and above) and €5 for younger kids.
Timings
The train operates from 10 am to 6 pm and they depart every hour on the hour and every half an hour from Gloriette Hill and the Schönbrunn Palace.
---
---
Schonbrunn Palace strudel show
If you love cooking or eating, you must not miss this show.
This ticket allows you to witness the art of making the exquisite traditional Viennese delicacy – apple strudel.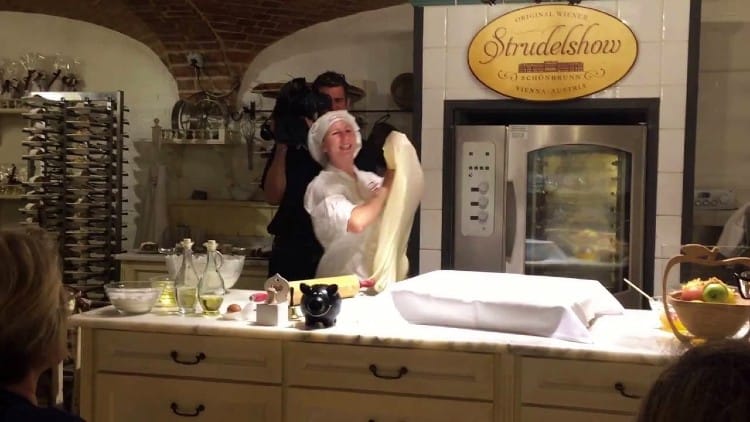 You also get to enjoy a piece of the freshly baked strudel at the end of the show in the court bakery of the Cafe Residenz at the Schonbrunn Palace.
You will also get the original recipe to take home in eight languages.
The show is 20 minutes long and children six years and below can enter for free
Ticket Prices
Adult ticket (13+ years): 12 Euros
Child ticket (0 to 6 years): Free Entry
---
---
Schonbrunn Palace Gardens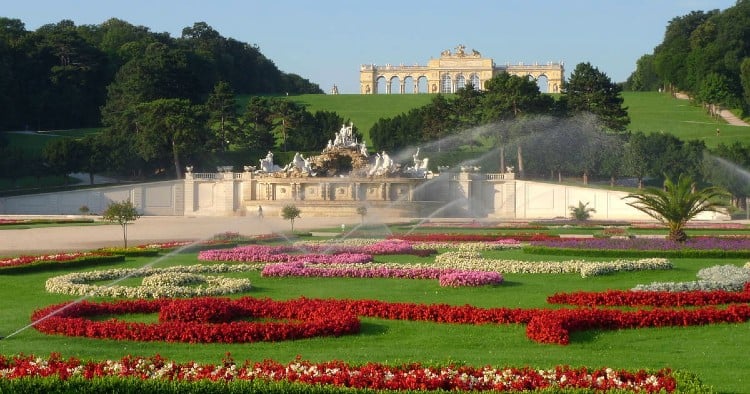 The Park at Schonbrunn Palace is one of the most popular attractions in Vienna because of its beauty and peaceful atmosphere.
Visitors also refer to them as Schonbrunn Palace gardens.
The Gardens were opened to the public in 1779 and became a part of the UNESCO World Heritage list in 1996.
The Palace Gardens open at 6.30 am, and entry is free.
For the best Gardens experience, we recommend the private tour of Schonbrunn Palace and gardens.
If you are on a budget holiday, it is better to book the guided group tour.
---
---
Schonbrunn Palace Zoo
The Schonbrunn Palace Zoo is within the Palace's grounds, and you can reach it using the Park Entrance gate "Hietzinger Tor."
This fantastic collection of wildlife is also known as the Vienna Zoo.
It opens daily from 9 am, but the closing time might vary depending on the seasons.
The ticket prices range from 20 Euros for adults and 10 Euros for children above six years.
Find out more about Vienna Zoo tickets.
---
---
Schonbrunn Palace audio guide
The Schonbrunn Palace provides audio guides to visitors in 16 languages and tour descriptions in 21 languages free of charge.
These are handed out to the visitors for free as they enter the Palace.
However, these are subject to availability.
You can also download the audio files from their website as a zip file or through iTunes or Yasssu.
---
---
Schonbrunn Palace concerts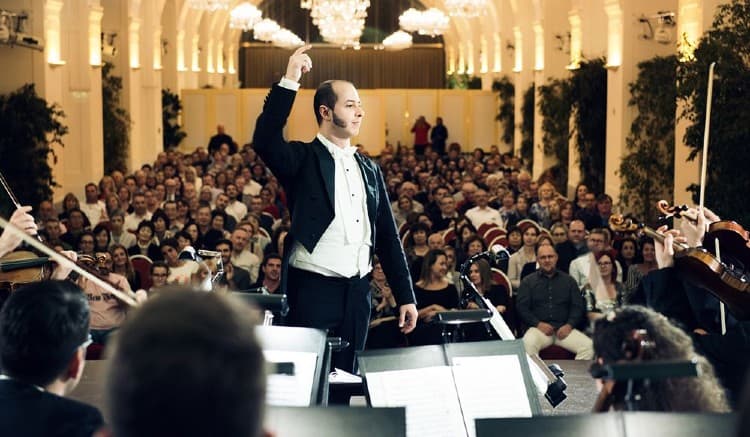 The Schonbrunn Palace organizes a masterful concert every day at 8.30 pm at the Palace Orangery, which the performance of Mozart himself has graced.
The concert plays the finest selection of Mozart's and Strauss's masterful music along with dance and vocal performances.
Here are three of the best Schonbrunn Palace concert tickets.
Schonbrunn Palace Concert ticket
This concert ticket allows you to have a magical experience at the Schonbrunn Palace orchestra with the beautiful music of Mozart and Strauss for two hours in the Palace Orangery.
You can book four categories of tickets – starting with Imperial, which is the cheapest, to the VIP category, which offers the best experience.
Ticket Prices
Imperial tickets: 45 Euros
Grand tickets: 65 Euros
Deluxe tickets: 75 Euros
*VIP tickets: 105 Euros
*VIP concert tickets also include a glass of sparkling wine and a CD.
Evening Concert and Dinner
Evening concert and dinner at the beautiful Viennese palace is the perfect experience to book if you are looking for a romantic evening out.
You start at 6.30 pm with a romantic 3-course dinner at a restaurant in the Schonbrunn area, followed by a musical concert at the Palace Orangery at 8.30 pm.
You can book four categories of tickets, depending on the kind of dining experience you would prefer – the most affordable being Category C and the VIP Category offering the best experience.
Ticket Prices
Category C: 81 Euros
Category B: 99 Euros
Category A: 122 Euros
VIP Category: 139 Euros
Palace tour, Dinner, and Concert
This ticket is a three in one deal and a total value for money. You get –
a) One hour guided tour of the glorious Schonbrunn Palace
b) 3-course meal at the Schonbrunn Palace area
c) Enchanting music concert at Schonbrunn Palace Orangery
This ticket is costly, but if you can afford it, we highly recommend them.
It is ideal for a couple outing together or for a group of friends.
The most affordable is Category C, while the VIP Category offers the best experience.
Ticket Prices
Category C: 99 Euros
Category B: 117 Euros
Category A: 130 Euros
VIP Category: 157 Euros
---
---
Map of Schonbrunn Palace
Schonbrunn Palace is a massive attraction with lots to see and requires a lot of walking.
While trying to get the most out of the Schonbrunn Palace, it is easy to quickly lose track of time and way (and, in the process, miss the exhibits).
That's why we recommend a guided tour, where a local expert shows you the way.
The next best option is to keep a map of Schonbrunn Palace for ready reference during your visit.
Popular attractions in Vienna
Sources

# Schoenbrunn.at
# Wikipedia.org
# Tripadvisor.com
# Wien.info

The travel specialists at TheBetterVacation.com use only high-quality sources while researching & writing their articles. We make every attempt to keep our content current, reliable and trustworthy.