The Vienna Zoo is the oldest existing zoo in the world.
The zoo is part of the Schonbrunn Palace, a UNESCO World Heritage Site, and is locally known as Tiergarten Schonbrunn.
It has been regularly voted Europe's best Zoo and attracts more than two million tourists every year.
In this article, we share everything you must know before buying Vienna Zoo tickets.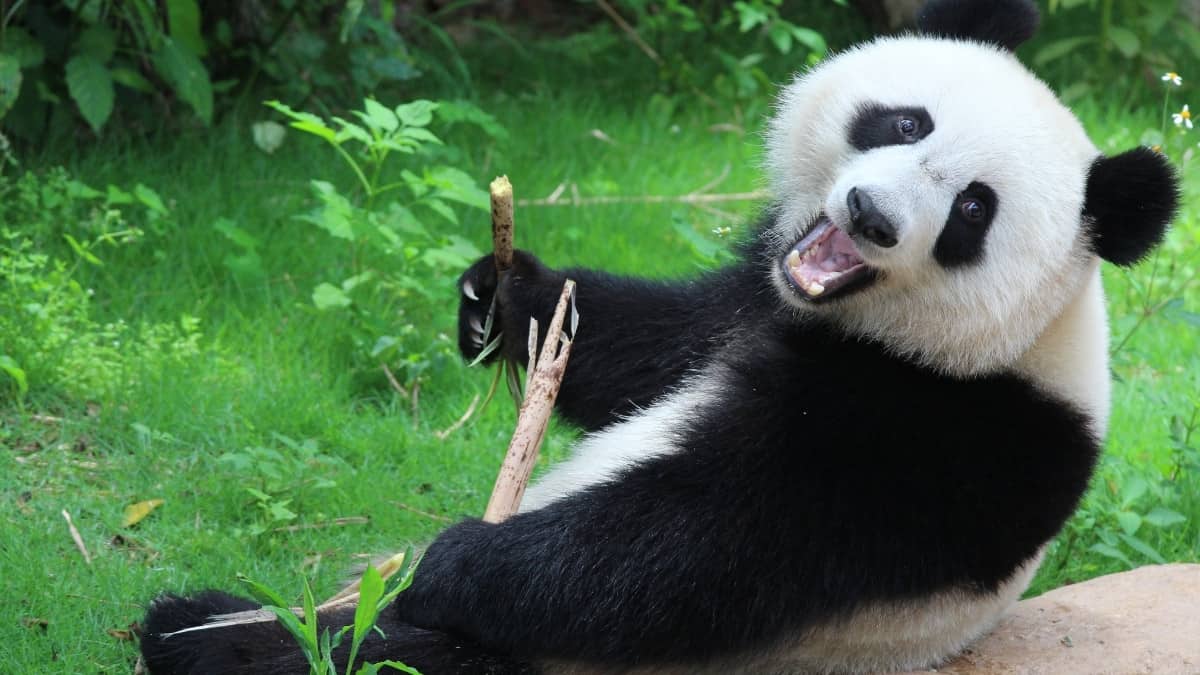 What to expect at Vienna Zoo
It is better to buy the Vienna Zoo ticket online because they are cheaper than the price at the gate, and you can also avoid the queue.
Tickets for visitors 19 years and older cost €22, while kids 6 to 18 years pay €11.
After or before their visit to the zoo, some visitors go around the Schonbrunn Palace on the Panorama train.
Since it is much in demand, it is better to book Panorama train tickets in advance.
---
---
Vienna Zoo tickets
Visitors can purchase tickets to Vienna Zoo online or at the attraction's gate.
When you book the Vienna Zoo ticket in advance, you save a few Euros per person on the ticket cost.
Online tickets are at least 10% cheaper than the tickets available at the zoo.
Purchasing your tickets for Vienna Zoo online will also save you the hassle of standing in a long queue at the counter.
That's why they are also known as skip-the-line Vienna Zoo tickets.
Ticket prices
Vienna Zoo ticket for adults 19 years and older costs €22, while kids 6 to 18 years pay €11.
While buying online tickets, you can book them in advance or buy same-day tickets.
Same-day ticket prices
The same-day online booking price for Vienna Zoo entry costs the same – €22 for adults and €11 for kids aged 6 to 18 years.
Even if you reach the Vienna Zoo, you can still purchase your tickets online and save a few Euros.
Vienna Zoo discount
The Vienna Zoo offers discounted tickets to children up to 18 years of age.
Kids five years and below can enter for free, while children aged 6 to 18 get a 50% discount on the adult ticket price and pay only €11.
Unfortunately, the Zoo doesn't reduce the ticket price for seniors, students, and military folks.
Disabled visitors with disability certificates can claim a reduction at the zoo's ticket counters.
Tip: Vienna Pass gets you into Vienna Zoo for free.
How online tickets work
The tickets get emailed to you as soon as you purchase them.
You don't need to take printouts.
On the day of your visit, show the email you have received (on your smartphone) at the Zoo entrance and walk in.
When you book this ticket online, you can avoid standing in the queue at the ticketing counter, hence the name.
Since it is not a timed ticket, you can reach the zoo whenever convenient.
Ticket price
Adult ticket (19+ years): 22 Euros
Child ticket (6 to 18 years, with valid ID): 11 Euros
Some visitors to the Vienna Zoo check out the Imperial Carriage Museum, which is also inside the Schönbrunn Palace. Book both the tickets together, and get a 5% discount.
After exploring the Vienna Zoo, some visitors prefer to board the Schönbrunn Panoramabahn (the Panorama train). It is a great way to relax your legs even as you see 160 hectares of Schönbrunn. Find out more
Visual Story: 12 must-know tips before visiting Vienna Zoo
---
---
How to get to the Vienna Zoo
Vienna Zoo is located on the ground of the famous Schönbrunn Palace in Vienna, Austria.
Vienna Zoo's address: Maxingstrabe 13b, 1130 Wien, Austria
To get to the main entrance of Vienna Zoo, you must use the park entrance gate Hietznger Tor.
You can take U4 Underground and get down at the Hietzing Metro Station.
Hietznger Tor gate is only 350 meters from Hietzing Metro Station, and the walk takes less than five minutes.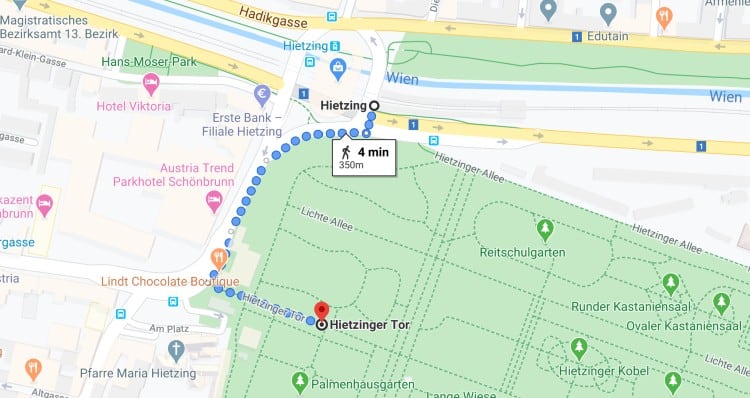 If you plan to take the tram, opt for tram numbers 10, 58, and 60.
If a bus is your preferred mode of transport, hop on bus numbers 51A, 56A, 56B, or 58A to get to Vienna Zoo.
Parking is available at one of the Park & Ride garages, a few Underground stations from the Zoo.
We recommend Hütteldorf on Line U4 and Siebenhirten on Line U6.
---
---
Vienna Zoo hours
Vienna Zoo opens at 9 am, every day of the year.
During the peak season of April to September, the zoo closes at 6.30 pm, and during the shoulder months of March and October, the wildlife attraction closes at 5.30 pm.
During the lean season of November to February, Vienna Zoo closes at 4.30 pm.
The Aquarium House and the Tyrolean farmhouse close at the end of visiting hours, the Bird House closes an hour before, and all other animal houses close half an hour before.
Desert House opening hours
Desert House is a botanical garden in Vienna Zoo and its hours are different from the zoo's timings.
From January to September, Desert House opens at 9 am and closes at 5 pm, and from October to December, it opens at 9 am and closes at 5.30 pm.
---
---
Best time to visit Vienna Zoo
The best time to visit the Vienna Zoo is as soon as they open at 9 am.
Since the animals are most active in the morning, they are more visible and may recede to shaded areas as the day gets hotter.
The temperatures are still moderate, which helps in exploring the mostly outdoors zoo.
The crowd is also yet to get in, which means you don't need to stand in any queue.
When you start early, you can explore for a few hours, stop by for lunch at one of the restaurants and then resume your tour of the wildlife attraction.
Weekends and school holidays can get crowded.
---
---
How long does Vienna Zoo take
If you visit with kids and plan to see all animal exhibits, attend keeper talks, feeding sessions, etc., you will need four to five hours to explore Vienna Zoo.
However, if you are a bunch of adults and want to wrap up soon, you can cover most animal exhibits in two hours.
Tip: When you buy Vienna Zoo tickets, you can skip the long lines at the ticket office and save time.
---
---
Panorama train in Vienna Zoo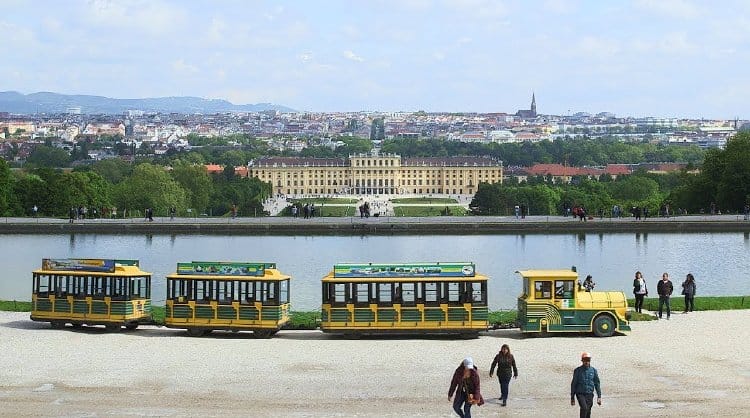 Vienna Zoo is on the grounds of Schonbrunn Palace, spread over 160 hectares of land.
Schonbrunn Panorama train is a great way to explore this massive park.
From 10 am to 6 pm, the diesel-powered train shuttles through the Palace park at a speed of 10 to 15 km/h.
Panorama train's one tour around the palace, which has nine stops, lasts 50 minutes.
It passes through the zoo between the Emperor's Breakfast Pavillion, the Elephant House, and the Tirolerhof, and each interval lasts around 45 minutes.
If you want to explore only the zoo on this train, you can buy tickets at the Vienna Zoo. They cost 2 Euros for adults and 1 Euro for kids.
If you want to sit through the whole route and explore the Schönbrunn Palace park, you must buy Panorama train tickets, which cost €9 for all visitors 15 years and above. Tickets for kids 3 to 14 years old cost €5.
---
---
Vienna Zoo's Desert House tickets
The Desert House is a botanical house within the Vienna Zoo that showcases the desert's habitat, plants, and animals.
The highlight of Desert House is a 70-meter glass tube labyrinth with desert mole rats.
Among the plants, the must-see attraction is 'Fockea', an offspring of the oldest succulent potted plant in the world.
This ticket is also valid for the whole day.
Ticket price
Adult ticket (19+ years): 6 Euros
Youth ticket (6 to 18 years): 4.5 Euros
Child ticket (5 years and less): Free entry
Our recommendation: We suggest you explore the Zoo as much as you want and if you still have energy left, buy the Desert House tickets at the venue. If you prefer, you can book in advance, as well.
---
---
Vienna Zoo and Vienna Pass
The Vienna Pass is an excellent way to save money and time while exploring the city of Vienna.
It provides free entry not just to the Vienna Zoo but 60 of Vienna's other attractions.
Some of the top tourist attractions where this Pass can help you gain free entry are – Schönbrunn Palace, Giant Ferris Wheel, Spanish Riding School, Albertina Museum, etc.
The best part is that you won't even have to wait in any lines – you can walk right in.
Vienna Pass is available for one day, two days, three days and six days.
Tourists 19 years and older are considered adults, while kids aged 6 to 18 years need to buy the child pass. Kids five years and below can join in for free.
---
---
Vienna Zoo map
There is a lot to see and do at the zoo, which is why it makes sense to have the map of Vienna Zoo handy at the time of your visit.
The map helps locate facilities such as restrooms, parking, restaurant, first aid center and navigate the various zones, enclosures, and activities efficiently.
Carrying the Tiergarten Schonbrunn's layout is highly recommended if you are traveling with kids because you won't waste time finding the various exhibits, and in the process, get exhausted.
---
---
Vienna Zoo in winter
Planning a visit to the Vienna Zoo in winter, but not sure?
Don't worry. Summer is the best time to visit any Zoo, but winter at Vienna Zoo isn't bad either.
Winter visits are more fun as there is less crowd and you can get a closer look at the animals.
You will be amazed at how active the animals are in their warm indoor enclosures.
The cooler temperatures do not bother many animals, especially those from Africa or South America.
Many exotic animals are likely to be seen outside in the winter playing between their indoor and outdoor enclosures, depending on their mood.
---
---
Vienna Zoo animals – what to see
The Vienna zoo showcases various animals, birds, mammals, reptiles, fishes, and more.
The wildlife attraction is home to around 8,500 animals of more than 700 different species.
The must-see attractions of Vienna Zoo are –
Regenwaldhaus
Regenwaldhaus is the German word for Rainforest house.
It is a giant glassed enclosure, giving the visitor the vibe of a jungle.
The artificial thunderstorms, the floor, and canopy, etc., depict a natural tropical forest.
Inside this forest, animals, birds, bats, etc., live free, giving it a feeling of authenticity.
MUST: To look at the 'flying foxes', you must go to the top-level of this forest house.
Elephant House
Elephant House is dedicated to keeping and caring for the elephants.
The elephant shower routine is an exciting attraction in the Zoo.
If you are traveling with kids, we suggest you find out the timings of the cleaning and feeding sessions and plan accordingly.
Younger visitors love the cleaning and feeding sessions in this part of the Vienna Zoo.
Big Cat House
The cat family – Tigers, Cheetahs, and Leopards – occupy rooms and outdoor areas in the big cat house.
Kids also get very excited in this section.
Rhino House
The Vienna Zoo has a nice big house for an Indian pair of rhinoceros.
This rhino is said to be a gift from the Kingdom of Nepal.
Polarium
This area features Penguins in their natural habitat and an extended pool for the sea lions.
It's always a treat to watch the large sea animals jump about and shower the visitors.
Tirolerhof
Tirolerhof is a farmhouse from the mountainous Tyrolean region of Austria and is located just behind the Elephant House.
At Tirolerhof, one can see rare breeds of farm animals such as horses, sheep, goats, etc.
It also doubles up as an excellent place to get some food and drinks.
Other Animals
Apart from these main centers, there are other animals like Giraffes, Zebra, Antelope, and Birds.
There's even a children's zoo where you can stroke and play with the animals.
The other attractions include an Insect house, a Koala house, Polar Bears, a Monkey and Ape house, a Gibbon island, Meerkats, Reindeer, Camels, Giant Pandas, etc.
Aquarium
Vienna Zoo's aquarium consists of three sections.
The first section features crocodiles, fish, and free-living birds and butterflies.
You will also spot the butterfly breeding station in this section.
The highlight of the second section is a sizeable 80,000-liter reef aquarium filled with fish, anemones, and corals.
The third part is the Terrarium – a 7.5 meters (24.5 feet) long glass tunnel resembling a flooded Amazon forest floor.
This section showcases snakes, frogs, lizards, scorpions, the odd spider, ants, and a darkened area where you can see bats and scorpions.
Sources
# Tripadvisor.com
# Wikipedia.org
# Holidify.com

The travel specialists at TheBetterVacation.com use only high-quality sources while researching & writing their articles. We make every attempt to keep our content current, reliable and trustworthy.
Popular attractions in Vienna