The renowned Giant Ferris Wheel is an iconic sight in Vienna that serves as the Wurstelprater's emblem.
Every year, thousands of visitors from around the world gather here to see its distant silhouette.
The Giant Ferris Wheel was built in 1896 by Englishmen Basset and Hitchins to celebrate the 50th jubilee of Emperor Franz Joseph.
The Vienna Giant Ferris Wheel is a must-see for all visitors to the Danube capital.
This article provides everything you should know before booking Giant Ferris Wheel tickets.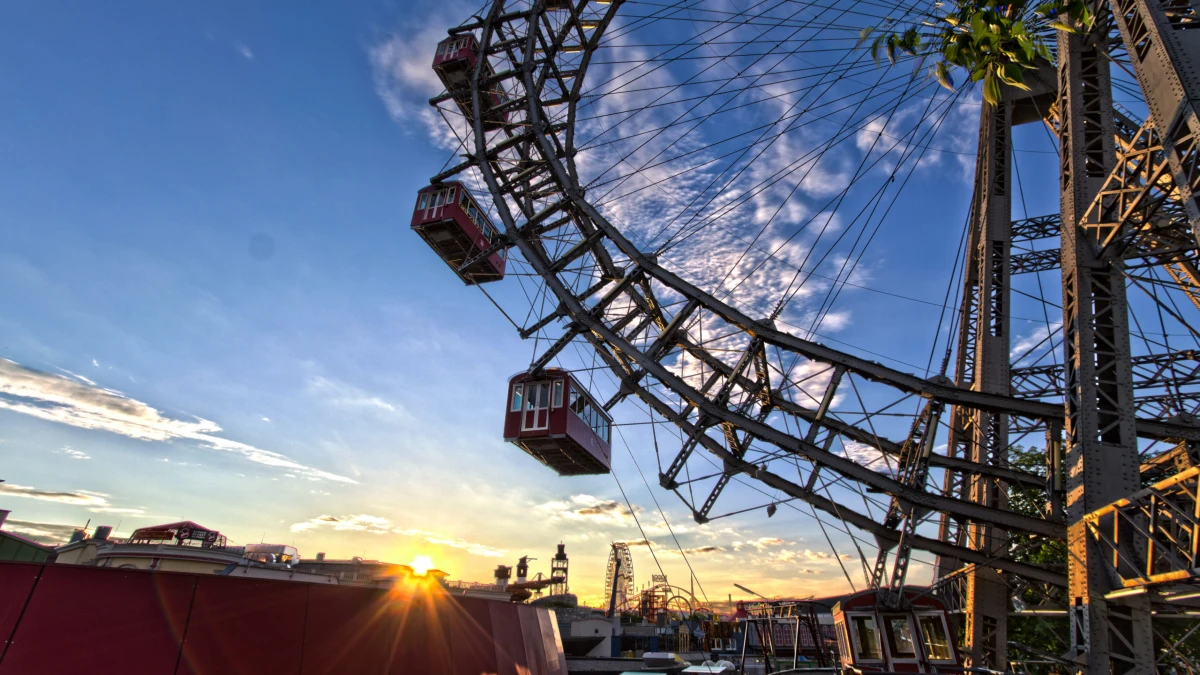 What to expect at Vienna's Giant Ferris Wheel
The Wiener Riesenrad is a great place to go out and have fun!
You can see the Pannonian Basin, the Danube, the Marchfeld, and the Vienna Woods' hills from your special vantage point.
The Giant Ferris Wheel is ideal for any celebration, whether it be brunch, lunch, a birthday or children's party, a marriage proposal, or a bachelor party.
Tickets for Giant Ferris Wheel
This ticket includes one ride on the Giant Ferris Wheel which lasts about 10 to 15 minutes.
During the ride, you'll get a bird's eye view of the city.
Where to buy Giant Ferris Wheel tickets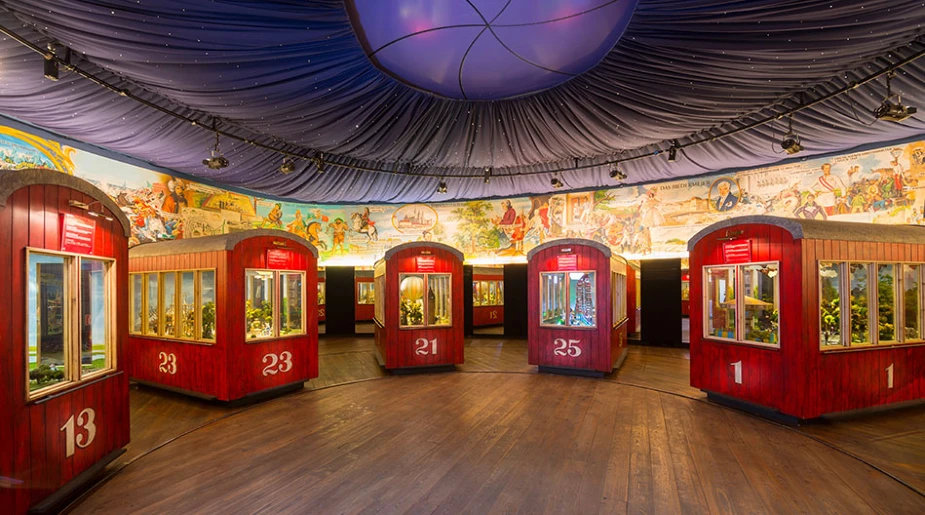 You can buy your ticket to the Giant Ferris Wheel either at the cash desk or in advance online.
However, we suggest you book your tickets online as online tickets possess several advantages, including:
– You can save money by buying tickets online since you receive a discount.
– There is no need to travel to the attraction to purchase tickets and endure long lines.
– You can schedule your tour and purchase your tickets in advance.
– The tickets occasionally get sold out quickly. However, you can prevent last-minute disappointments if you purchase tickets online.
Ticket price
Adult Ticket (15+ years): €13.50
Child Ticket (3 to 14 years): €6.50
Infant ticket (up to 3 years): Free
---
---
How online ticket works
Visit the Giant Ferris Wheel booking page, select the date, time slot and number of tickets and buy them immediately.
When you book, you'll receive an email with the tickets.
On the day of your visit, proceed directly to the entry and scan the barcode of your smartphone ticket at the checkout.
You can enter Vienna's Giant Ferris Wheel using your smartphone ticket without waiting in line.
You don't need to bring printed tickets because the museum accepts smartphone tickets.
If you have a Vienna Pass, you don't need a ticket.
Ticket Combos
Combo tickets are the best way to explore Vienna as they let you discover two attractions located closer to each other on the same day.
You can buy Vienna Giant Ferris Wheel tickets in combination with Belvedere Palace and Tiergarten Schonbrunn.
On these tickets you get up to a 5% discount.
Belvedere Palace + Vienna Giant Ferris Wheel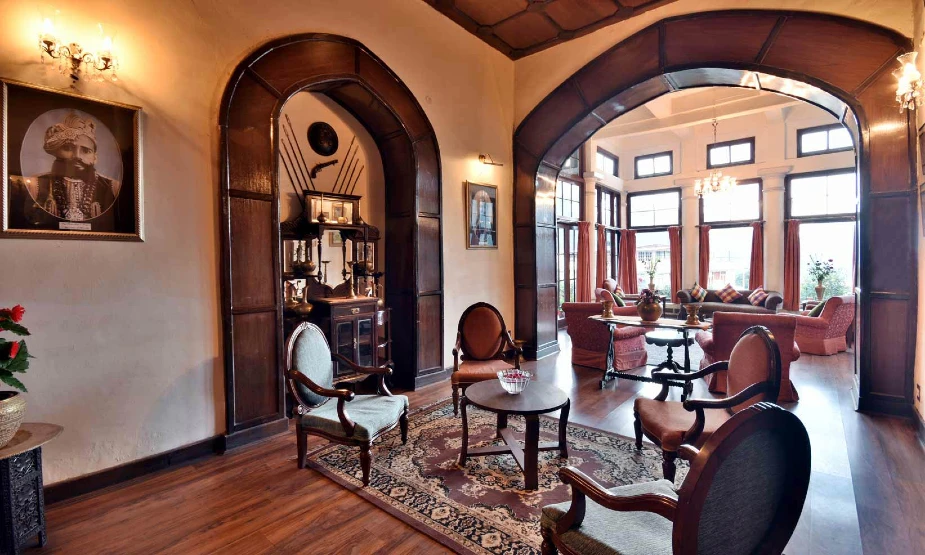 Short over time? But want to explore Vienna city to the fullest?
Then, purchase a combo ticket to Belvedere Palace and Vienna Giant Ferris Wheel, where you can immerse yourself in the world of Baroque beauty.
This combo ticket can help you get admission to the Upper Belvedere, which houses an amazing collection of Gustav Klimt paintings.
Ticket Cost: €27.93
---
---
Tiergarten Schönbrunn + Vienna Giant Ferris Wheel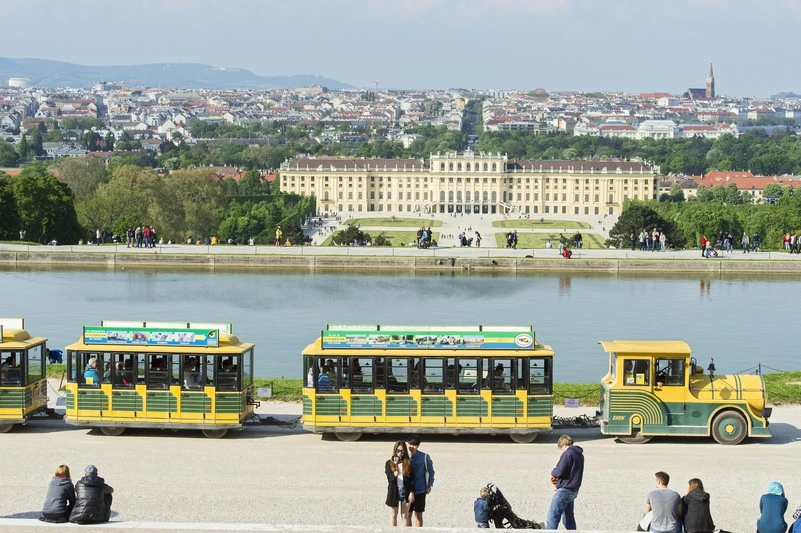 Wiener Riesenrad and Tiergarten Schonbrunn are only 30 minutes away by car, so why not go to both on the same day?
Visit the Giant Ferris Wheel and the oldest zoo in Vienna, together and enjoy to the fullest.
Ticket Cost: €37.52
Giant Ferris Wheel timings
On most days, the Giant Ferris Wheel is typically open from 9 am to 11.45 pm.
However, in lean season Vienna's Giant Ferris Wheel is open from 10 am to 7.45 pm.
To know more about the opening hours, check the official website.
How to reach Giant Ferris Wheel
Giant Ferris Wheel of Vienna is located at the entrance of the Prater amusement park in Leopoldstadt.
Address: Gaudeegasse 1, 1020 Wien, Austria. Get Directions
You can go to Vienna's Giant Ferris Wheel via public transit or personal vehicle.
By Subway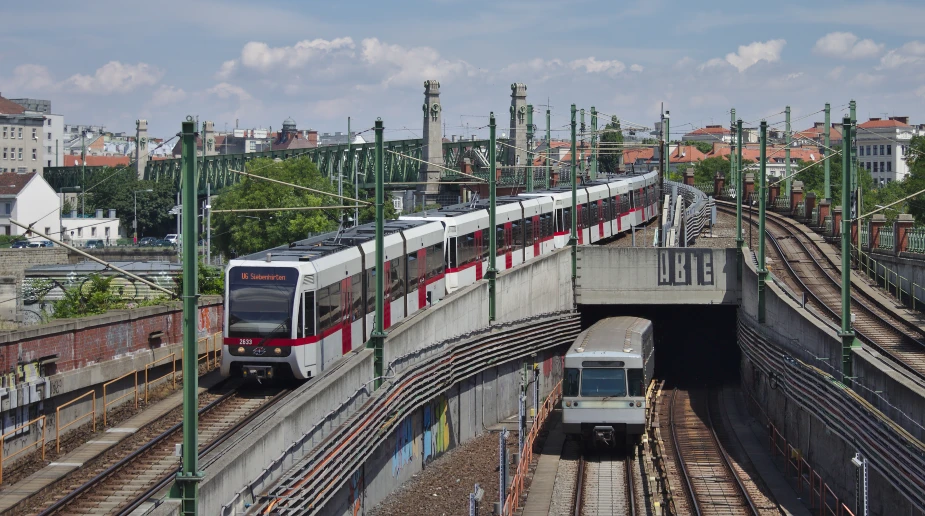 You can take the U1 or U2 line to Praterstern subway station, which is at a distance of 750 meters from the Giant Ferris Wheel.
---
---
By Train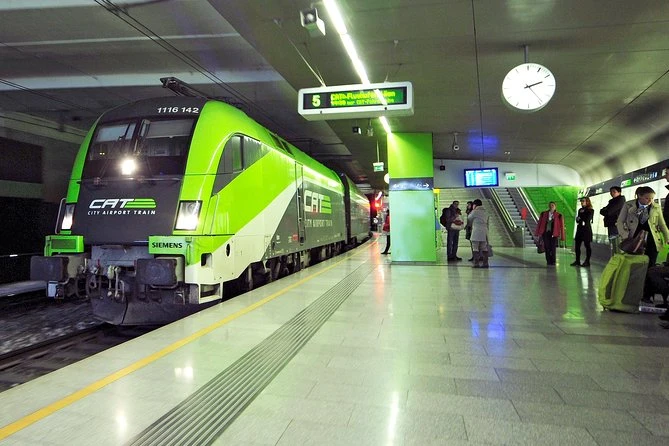 If you are looking for a train, you can also board it from Praterstern train station.
If you miss any metro, you can easily take the train from this station which is just 1 minute walk from the subway station.
By Tram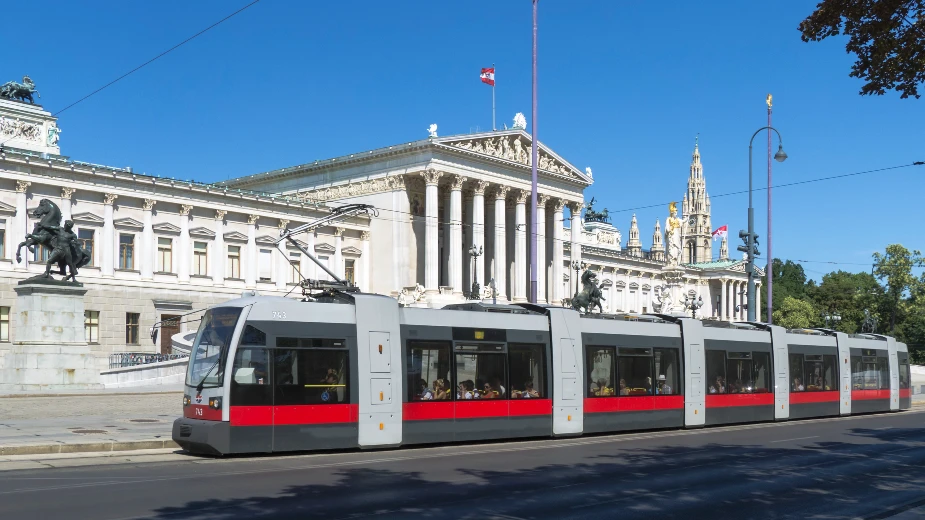 The best way to get to the Giant Ferris Wheel is via tram because Vienna has one of the largest tram networks in the world.
So you can take tram line 5 to Wien Praterstern tram stop, a 7-minutes walk from the attraction.
By Bus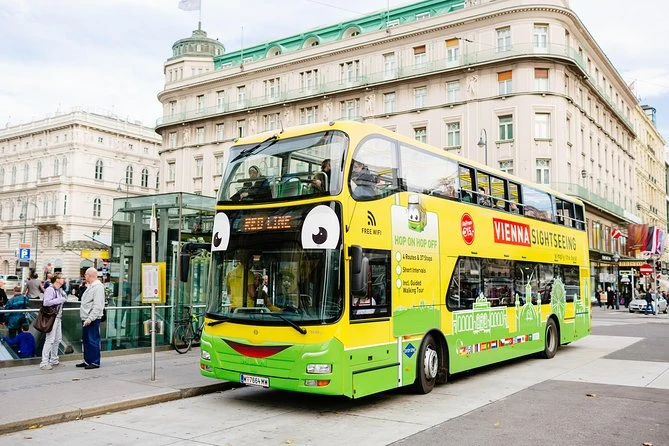 Buses can be a great alternative to reach the Giant Ferris Wheel in Vienna if you are not near the subway, train station, or tram stop.
You can take a bus from Venediger Au, just 160 meters from the attraction.
You can board buses 80A and 5B from Praterstern S+U, a 7-minutes walk from Giant Ferris Wheel.
If you are near Wien Praterstern Bf (Ostseite), you can easily take bus 175, which will take only 10 minutes to reach Wiener Riesenrad.
From the Praterstern bus stop, you can board buses N25 and N81.
By Car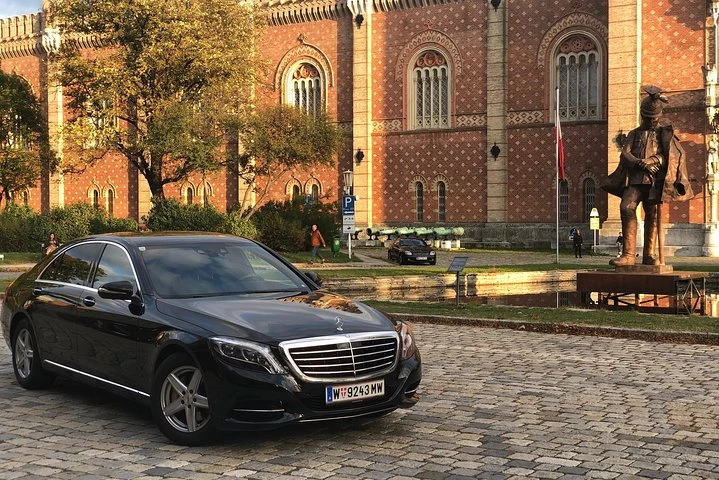 If you want to reach the Giant Ferris Wheel by car, you must switch on your Google Maps.
Car Parking
There are several parking lots close to Vienna's Giant Ferris Wheel.
These are readily available throughout the day, and the hourly fees are fair.
---
---
How long does Giant Ferris Wheel take
The Ferris Wheel trip lasts 10 to 15 minutes.
With this ticket, you get to ride only once.
However, if you are planning to have a romantic date or candlelight dinner in a wagon, then it will take more time.
Best time to visit Giant Ferris Wheel
The best time to visit Vienna Giant Ferris Wheel is either early morning or evening when the sun makes Vienna shine.
It is also recommended to visit the Giant Ferris Wheel on the weekdays to avoid crowds.
Due to the wonderful weather and moderate crowds, September and October are the ideal months to visit.
Food and drinks at Giant Ferris Wheel
Gourmet Wagons
If you plan any special events, you can reserve your seat at Gourmet Wagons (a culinary tour in your private wagon).
The café-restaurant offers traditional cuisine and specialties from Vienna in a modern atmosphere. You can stay in the festive turmoil of the Prater while peering through the window at the Ferris wheel in the attractive Schanigarten.
Salettl
If you are scared of heights but still want to enjoy your food, then Salettl is the ideal place.
The old Prater trees that surround the pavilion at the base of the Wiener Riesenrad provide a beautiful setting for wonderful celebrations.
The Salettl is great for standing receptions, intimate evenings with a seated meal, and private or professional festivities.
Sources

# Wikipedia.org
# Wien.info
# Austria.info
# Visitingvienna.com

The travel specialists at TheBetterVacation.com use only high-quality sources while researching & writing their articles. We make every attempt to keep our content current, reliable and trustworthy.
Popular attractions in Vienna
# Belvedere Palace
# Schonbrunn Palace
# Vienna Zoo
# Albertina Museum
# Spanish Riding School
# Kunsthistorisches Museum