Danube Tower is Austria's tallest building and an iconic landmark in Vienna.
The 826 feet (252 meters) tall tower offers a 360-degree panoramic view of the city, such as the old city, Danube Park, and Vienna Woods.
Locally known as the Donauturm, the tower is located near the north bank of the Danube River and offers in the district of Donaustadt.
This article shares everything you need to know before buying Danube Tower tickets.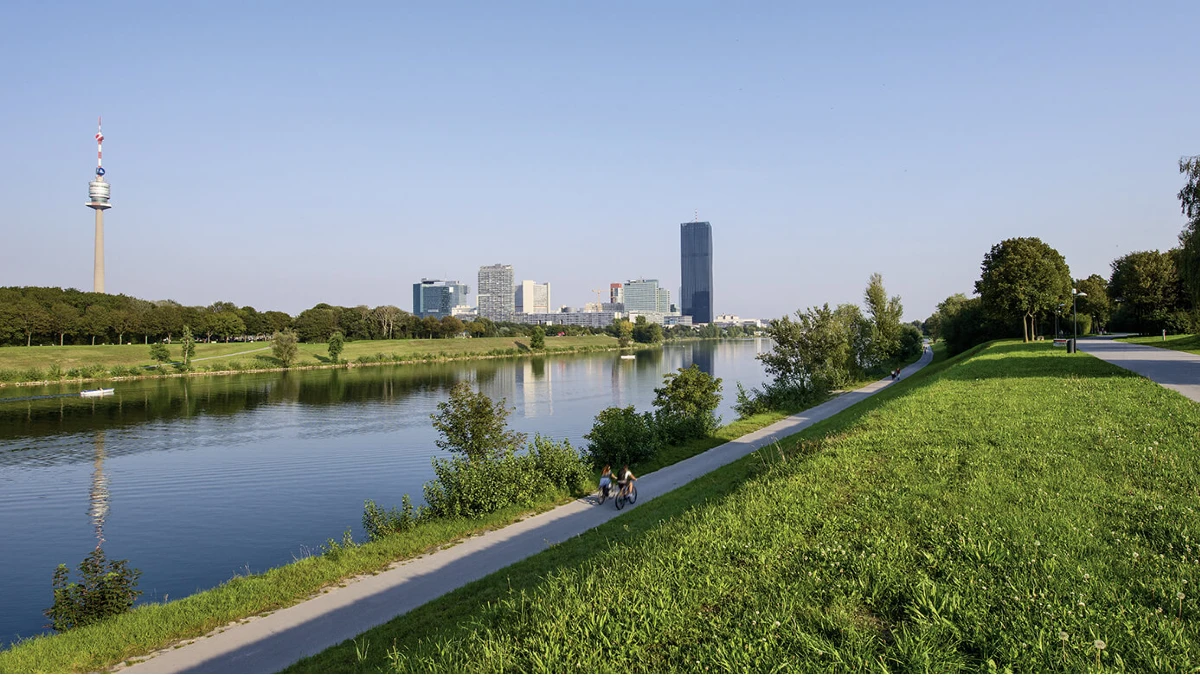 What to expect at Danube Tower
At Danube Tower, you can expect an incredible 360° view.
The lift will carry you in 35 seconds to the 150 meter (492 feet) high viewing deck, where you will be greeted with Vienna's most beautiful panoramic vista.
You can enjoy Vienna's skyline from the indoor and outdoor viewing platforms.
In the newly adapted entrance area, guests learn the history of the tower and the city of Vienna through more than 60 multimedia touch screens.
Aside from the magnificent view, there is also first-class culinary cuisine.
Three gastronomic levels – the Tower Café at 160 meters, the Revolving Tower Restaurant at 170 meters, and Donaubräu at the Tower's base – reward the taste with a varied menu.
---
---
Where to buy tickets for Danube Tower
You can buy Danube tower tickets at the attraction or online.
However, we suggest you book your tickets online as it offers you a few benefits like:
– You get a discount on booking tickets online, which means you can save money.
– You don't have to travel to the attraction to buy tickets and sweat yourself standing in long queues.
– Sometimes, the tickets get sold out quickly. However, if you purchase tickets online, you can avoid last-minute disappointments.
How online tickets work
On the Danube tower ticket booking page, you must select a preferred date and number of tickets, and make the payment.
Within minutes the tickets will be emailed to you. No need to take printouts.
On the day of your visit, go directly to the entrance, scan the barcode of your smartphone ticket and enter.
Danube Tower tickets
To experience the panoramic view of Vienna woods, the old city, and the Danube park from above, you need to buy tickets for Danube Tower observation deck.
To avoid waiting in the long queues and last minute disappointment, it is better to book your tickets early.
Ticket price
Adult ticket (15+ years): €18.00
Senior ticket (60+ years, with valid ID): €14.40
Youth ticket (15 to 19 years): €14.40
Child ticket (6 to 14 years): €10.80
Small child ticket (3 to 5 years): €5.40
Infant ticket (up to 3 years): Free
Disabled visitors ticket: Free
If you want to save money, Vienna Flexipass is the best option. You can visit 2, 3, 4 or 5 of Vienna's most famous attractions by paying once.
---
---
Danube Tower combo tickets
Tourists opt for combo tickets when two tourist attractions are close by, so they can visit them one after the other.
Combo tickets are also popular because they are a fantastic way to score discounts.
Danube Tower + Tiergarten Schönbrunn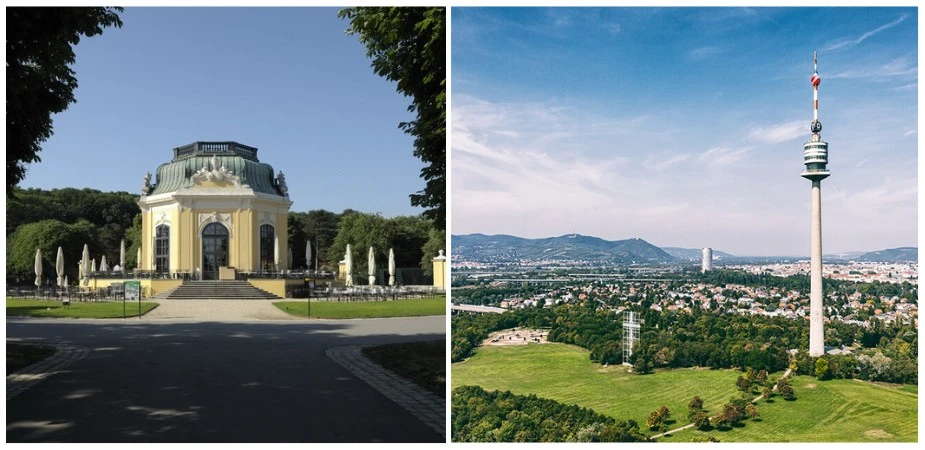 Tiergarten Schonbrunn is just half an hour away by car from Danube Tower, so why not visit both on the same day?
Families with kids love to visit the world's oldest zoo in an atmospheric UNESCO-listed setting along with Danube Tower.
Cost of ticket: €41.80
Savings: €5
Danube Tower + Vienna's Ferris Wheel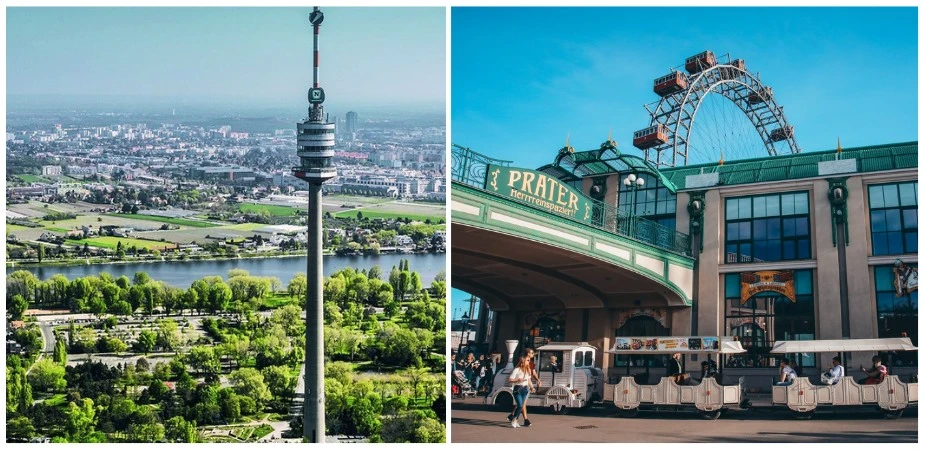 One more exciting place you can visit along with the Danube Tower is Vienna's Giant Ferris Wheel, which is 10 minutes away by car.
Cost of ticket: €29.92
Savings: €4
---
---
Danube Tower timings
All through the week, Danube Tower opens at 10 am.
It closes at 10 pm on Monday and Tuesday, and from Wednesday to Sunday, it closes at 11 pm.
The last lift goes up at 10.30 pm and the final descent at 10.45 pm.
On special occasions like Christmas and New Year's Eve, the Danube Tower is open for a short period.
On 24 December, it opens at 10 am and closes by 3 pm, with the last ascent at 2.30 pm and the final descent at 3 pm.
On 31 December, it opens at 10 am and closes by 4 pm, with the last ascent at 3.30 pm and the final descent at 3.45 pm.
---
---
Best time to visit Danube Tower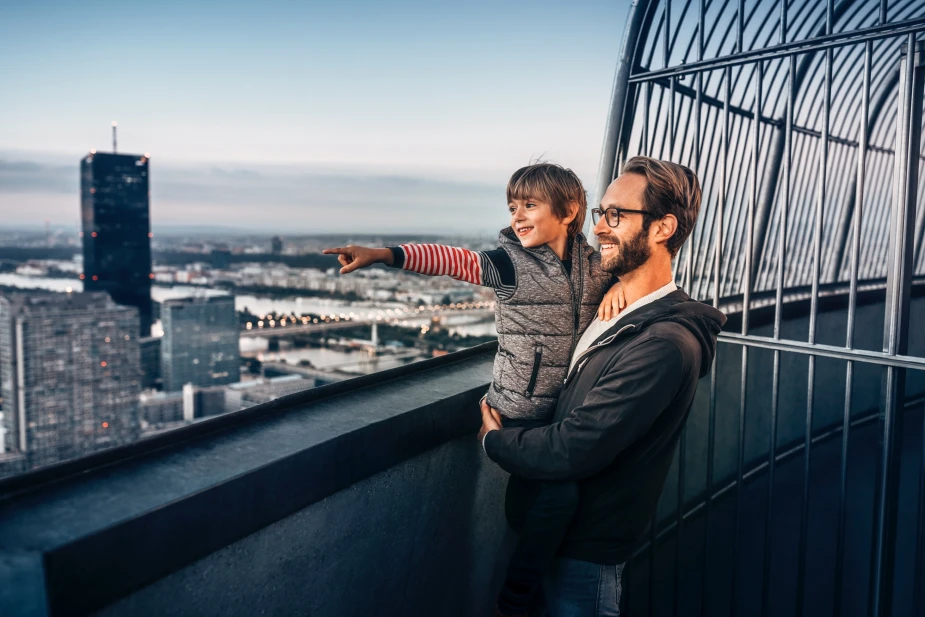 The best time to visit the Danube Tower is right when it opens at 10 am.
Fewer people are around early in the day, so you can spend more time exploring the attraction and taking in the views.
If you want to avoid the Danube Tower crowd, the perfect time for you is January to May.
How long does Danube Tower take
Most tourists spend 90 minutes exploring the Danube Tower and taking in the fantastic views of Vienna city.
If you plan to enjoy your favorite delicacies at the rotating restaurant in Danube Tower, you may need an hour more.
---
---
How to reach Danube Tower
Address: Donauturmplatz 1, Wien, AT 1220. Get Directions
Subway
You can take the U1 line to Alte Donau station, which is a 15-minute walk from Danube Tower.
Or board U6 line to Neue Donau Station, which is a 12-minute walk from the Vienna attraction.
Another option is to take the U1 line to Kaisermühlen VIC, Alte Donau station, or the U6 line to Neue Donau Station.
Bus line 20A is available from both these stations to Donauturm station.
By Sightseeing Bus
If you want a hassle-free visit to the Tower, you can also take the sightseeing bus.
Vienna Sightseeing HOP ON HOP OFF tourist bus drops off passengers at the Danube Tower on the Blue line, at the stop Donauturm.
By Car
If you plan to visit the attraction by car, you can turn on your Google Maps.
There are a limited number of parking spaces available at Donauturm. The parking spaces are open 24 hours.
---
---
Food and drinks at Danube Tower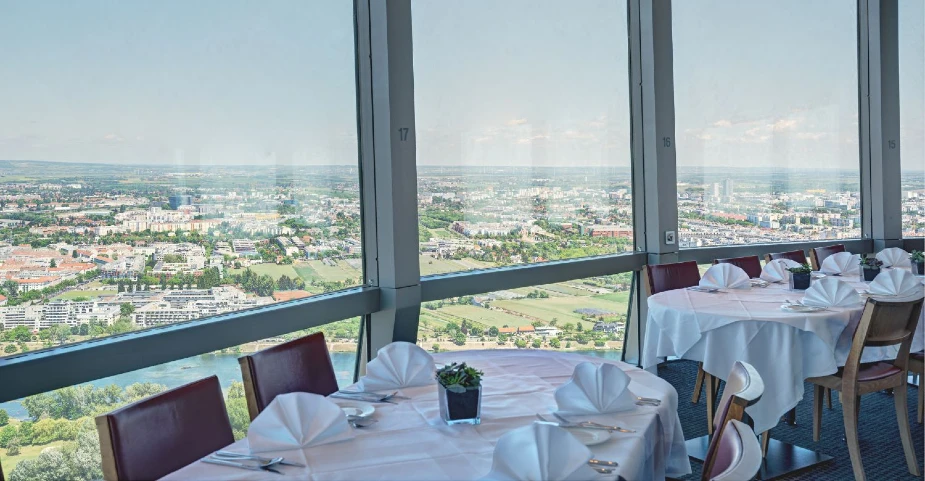 Your excursion becomes more happening if you get your favorite food.
A 360-degree panoramic view of Vienna is available while dining at the highest level possible in the Turm Restaurant (rotating tower restaurant), which is 170 meters high.
The Danube Tower offers the best Austrian cuisine, using local ingredients.
The Turm café is styled in 1960s aesthetic and offers a sweeping panorama of Vienna, similar to the Tower Restaurant.
Visitors may expect the 160-meter-high Viennese coffee house atmosphere, complete with classic sweets and an excellent coffee menu.
There is also food and drink on the ground floor of the Danube Tower.
Donaubräu specializes in Austrian cuisine and features an outdoor dining area accommodating approximately 430 people. The Tower Beer is a specialty of Donaubrau.
Sources

# Donauturm.at
# Wien.info
# Tripadvisor.com
# Visitingvienna.com

The travel specialists at TheBetterVacation.com use only high-quality sources while researching & writing their articles. We make every attempt to keep our content current, reliable and trustworthy.