A honeymoon is a once-in-a-lifetime thing – for most of us. A romantic honeymoon destination is important to have a great time with your partner.
Did you know Africa offers some of the best honeymoon holidays?
Some of the finest destinations for romantic safari honeymoons exist in Africa.
This huge continent has amazing forests, wildlife retreats, African safaris, age-old cultures, epic landscapes, exotic cuisine.
While arriving at this list of the best honeymoon destinations in Africa, we considered a lot of parameters.
It was most important for the destination to be romantic.
Other important deciding factors include the number of activities for newly-wed couples.
Wildlife safari options available in the African country, quality of the all-inclusive honeymoon packages being offered and the budget-friendliness of the destination.
From our suggestion of ten locations, you can choose the best location for honeymoon in Africa.
Once your preferred romantic destination in Africa has been selected, start looking for all inclusive packages on offer in that country.
Once you have negotiated and closed your African all inclusive package, you are ready for the time of your life!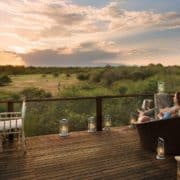 1. Tanzania – best African honeymoon in the wild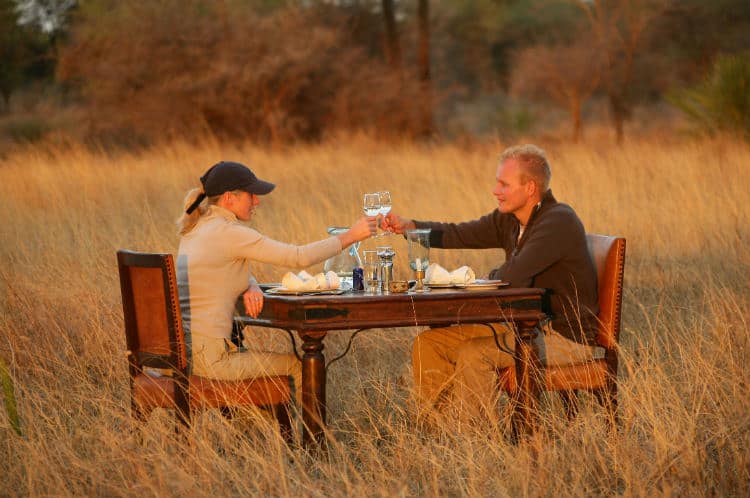 Tanzania is a romantic place for a honeymoon that is both affordable and beautiful.
Millions of wildebeests and Zebras take part in the Serengeti wildebeest migration here. And, photos cannot capture the brilliance of this.
The world's biggest migration takes place during January, which also happens to be the best time to go.
You can create the most adventurous memories with your partner in Tanzania honeymoon.
The miracles of nature here will make your immediate days after your marriage memorable.
If you love wildlife this is perhaps the best location in Africa for a honeymoon. More about Tanzania
Things to do in Tanzania
• Beautiful nature treks in the wild with your partner
• Romantic dinner under the stars
• Adventurous jungle safari with your spouse
• Walking hand in hand along the beautiful and magical tropical beach of Tanzania
• A trek on Mount Kilimanjaro
Best time to visit Tanzania for a honeymoon
Tanzania is perfect throughout the year.
The best time to visit Tanzania is from November to February.
The great Serengeti wildebeest migration takes place in this period.
During these months, the temperature is also modest and there is a welcoming fragrance in the air.
Best budget hotels in Tanzania
The best budget hotels for honeymoon are Harbour View Suites, Hotel White Sands – The Beach Resort and Michamvi Sunset Bay Resort.
2. South Africa – best safari honeymoon holidays in Africa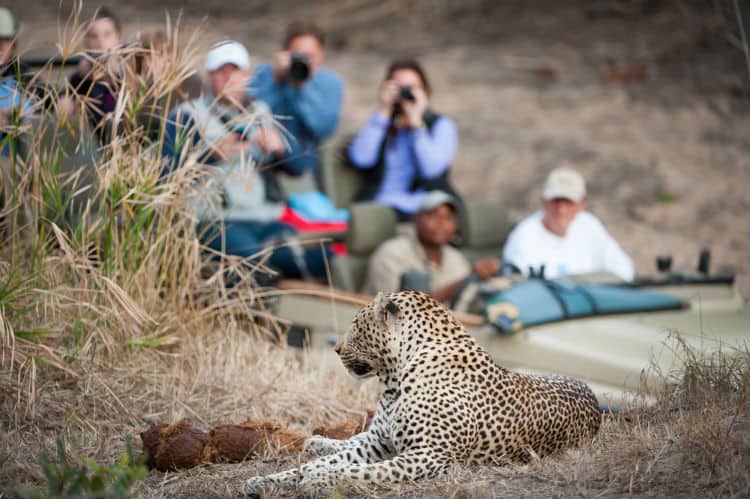 South Africa is one of the most romantic destinations in Africa.
Small and exciting, South Africa is at the southernmost tip of African continent.
South Africa has exciting cities, majestic mountains, hills and tropical coastlines.
Thrilling safari destinations are a must-visit here.
South Africa has a vibrant nightlife and world-class dining facilities too.
You can shift between the wilderness and a vibrant life while on a South African honeymoon.
And, you can share romantic experiences and create memories to cherish here.
This is one of the African locations where you can include both Safaris and beach in your honeymoon. More about South Africa
Things to do in South Africa
• Romantic cable car rides with your husband or wife to the top of the Mesa. Enjoy the breathtaking view and the beautiful sunrise from the top
• Hiking and diving from the table mountain national park and enjoying the sea beach in the area.
• Enjoy the mesmerizing beauty of Cape Town with your partner
• Experience the blissful country air of Cape Winelands
• A safari inside the Kruger National park and other wildlife destinations is a must
Best time to visit South Africa for a honeymoon
May to September is the best time to visit South Africa for this is when the animal sightings are best.
Due to water scarcity, animals come out and meet at the watering holes at Kruger and other wildlife parks.
Note that this is the low season for regular tourists because of the high temperature.
Not a big fan of wildlife sightings?
The next best time to be in South Africa is from April to May. September to October is good too because of the pleasant weather.
Best budget hotels in South Africa
Idwala Boutique Hotel Johannesburg and The Oyster Box, Tintswalo Atlantic are affordable. Travelers rate them high often.
3. Morocco – best luxury honeymoon in Africa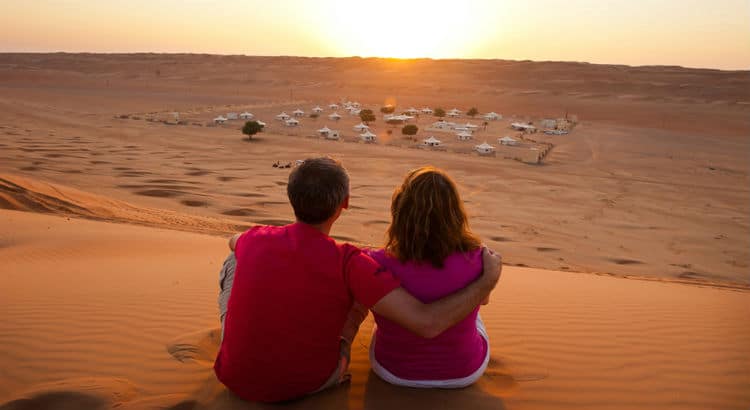 The spectacular Atlas Mountains and the Ouzoud Falls will mesmerize your newly-wedded partner.
Djmaa el Fna is the most exciting town square in the heart of the city of Marrakech.
You and your spouse can take lazy strolls in the market and enjoy the lovely atmosphere.
Morocco offers amazing luxury honeymoon options for couples willing to spend.
If you want to keep it affordable, Morocco also offers cheap all inclusive honeymoon packages.
This is one of the best location for honeymoon in Africa for young couples. More about Morocco
Things to do Morocco
• Are you both the adventurous kind? If yes, mountaineering in the Toubkal Mountain is the perfect way to enjoy your honeymoon.
• Enjoy the bustling courtyard and the marketplace of the Jemaa el-Fnna
• Walk hand in hand within the canyon of Todgha Gorge
• Try the famous Tanjia of the Moroccan cuisine
• Visit Marrakech and enjoy the shop filled Medina along with the Koutoubia Mosque
• Visit the mesmerizing Mosque buildings in Casablanca
• The beautiful Marrakech situated at the foot of the Atlas Mountains
• Fun camel rides and away from the hustle of cities in Essaouira
• Do include a visit to the miraculous town of Chefchaouen in your itinerary
• Jebel Toubkal in the High Atlas Mountains, is the perfect place for a romantic trek with your partner
Best time to visit Morocco for a honeymoon
The best time to visit Morocco depends on what you plan to do.
The best time for a romantic honeymoon in this African country is between April – May and September – November.
The weather is good and there are fewer tourists in the country during this period.
Best budget hotels in Morocco
If you plan to indulge in most authentic Morocco experience check out the all inclusive honeymoon packages offered by – Karawan Riad, Movenpick Hotel Casablanca, Riad Zolah, Paradis Plage Surf Yoga & Spa Resort.
4. Rwanda – best adventure honeymoon in Africa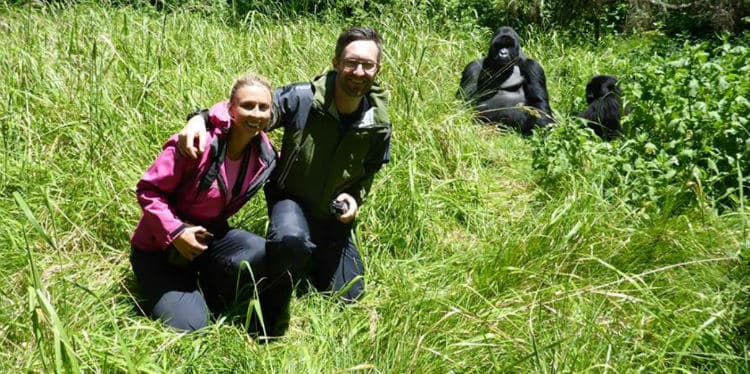 This small country has the potential to give all other romantic locations in Africa a run for their money.
It isn't without reason that Rwanda is known as the land of thousand hills and million smiles.
While on honeymoon holiday, do you want to add a little bit of adventure? You can have an encounter with the endangered mountain gorilla in Rwanda.
Don't miss out on the cultural dances called 'Dance of the Fiancés', the ancient 'Courting Dance'. Especially when you are with your partner.
Travel agents in Rwanda offer tailor-made honeymoon itineraries for you. Such packages ensure you get the dream honeymoon holiday you always wanted.
If you and your husband or wife love your privacy Rwanda can be one of the best romantic destinations in Africa. More about Rwanda
Things to do Rwanda
• Visit the Volcanoes National Park and have a romantic hiking experience
• Lake Kivu will give you the opportunity to fish with your partner and have an exciting safari
• There are many forests and national park that are famous for the mountain Gorillas
• If your husband or wife loves art, do visit Inema Art Center
Best time to visit Rwanda for a honeymoon
Gorilla trek is a fun activity you must add to your itinerary during your African honeymoon in Rwanda.
The best time for a Gorilla trek as a couple is from mid-December to early February or June to September.
Hiking up the mountains is easy and you can spot Gorillas without much searching.
Best budget hotels in Rawanda
It is best to go for the most popular hotels in Rwanda. The Holiday hotel, Lake Kivu Serena Hotel and 2000 Hotel get good reviews.
Heaven Restaurant, Boutique Hotel, Kigali Serena Hotel and Kigali Marriott Hotel are popular.
5. Zimbabwe – best romantic honeymoon in Africa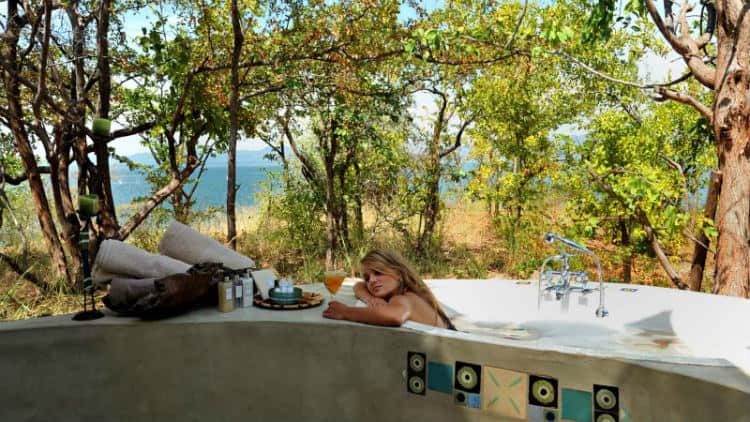 Zimbabwe is one of the world's most visited places as it is home to the majestic Victoria waterfalls.
The iconic formations on the Zimbabwean night sky is so blissful and peaceful.
It will leave you with amazing memories of the initial days of your married life.
Zimbabwe is between two great rivers- the mighty Zambezi in the North and Limpopo in the south.
Zimbabwe has granite hills, majestic mountains, lush green forests and beautiful rivers.
Zimbabwe is a good quality honeymoon holiday – one of the best locations for a honeymoon in Africa. More about Zimbabwe
Things to do Zimbabwe
Stay close to your partner while you raft your way through the rivers of Zambezi.
The open sky safari in national parks and the reserved forests will keep you both hooked.
Cave camping and scuba diving in the Chinhoyi caves are recommended for couples in love.
Most honeymooning couples indulge in two romantic activities in Zimbabwe –the view from Nayang and the natural structures formed in Matobo National Park.
Do request your resort to include these visits in your all inclusive package's itinerary.
Best time to visit Zimbabwe for a honeymoon
May to October is the best time to visit Zimbabwe wildlife.
It is winter season with mild temperatures and no rain, and hence low malaria risk.
But, the Victoria Falls is in best shape between April and May.
It gets flooded in May and thus is in best shape. We can say that May is the safest month to experience both wildlife and the falls.
Best budget hotels in Zimbabwe
Here is a list of hotels which have affordable all inclusive honeymoon packages – Cresta Sprayview Hotel, Monomotapa Hotel- Legacy and Rainbow Hotel Victoria Falls.
Holiday Inn Harare and Holiday Inn Bulawayo get great reviews too.
Recommended Reading: Most romantic honeymoon destinations

6. Egypt – best honeymoon holidays in Africa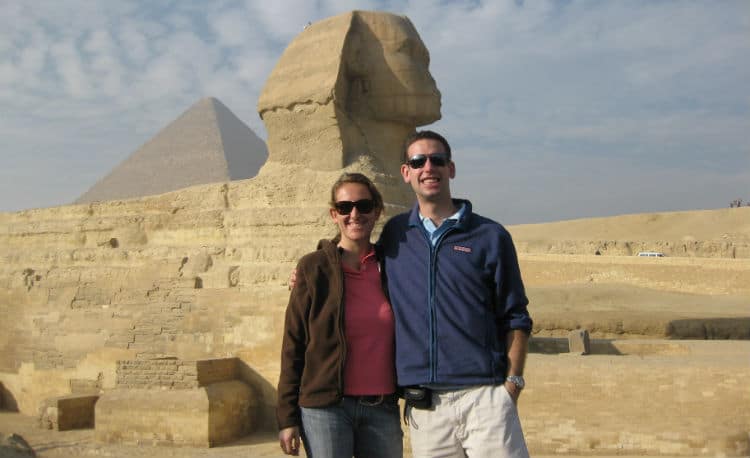 Egypt is the ancient land of wonder.
If you love history, you may want to have your romantic African honeymoon holiday here.
Egypt is full of archaeological sites, busy cities and shopping destinations. Local cuisine here is famous too.
All these together create a memorable African honeymoon destination for visiting couples.
When in Egypt you can stare at the awe-inspiring Sphinx or gape at the pyramids at Giza in awe.
You can wet your feet in the cool blue Mediterranean Sea, or witness the nightlife of Alexandria.
Your honeymoon in Egypt can be as relaxing or as hectic as you want it to be. More about Egypt
Things to do Egypt
• Discover the secrets of the Pyramids with your partner. Bring home souvenirs that you can cherish for the rest of your life
• Take a stroll by the beautiful Nasser Lake and the temples that surround it
• Visit the medieval Cairo Cathedral that is a landmark of Islamic fortresses
• The Naama Beach will freshen you up
• If you and your spouse love history, check out the Nubian and Luxor museums
• Do include a visit to the Cairo opera house to your itinerary
Best time to visit Egypt for a honeymoon
The best time to visit Egypt on a honeymoon is from October to April.
This is the time the weather is best suited for honeymooning couples.
There are fewer tourists and the flight and accommodation costs are low.
All these make Egypt an affordable honeymoon in Africa.
Best budget hotels in Egypt
The Oberoi Sahl Hasheesh, Four Seasons Resort Sharm El Sheikh, Rixos Seagate Sharm, Stella Di Mare Beach Hotel; Spa etc. are popular hotels. All hotels and resorts offer African safari packages – don't miss them.
7. Malawi – best beach and safari honeymoon in Africa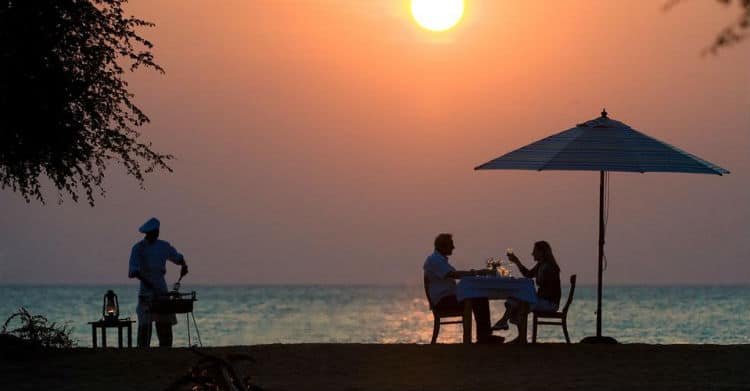 Malawi might not be the first option that comes to mind for a romantic African honeymoon getaway but that's why it is private, exotic and above all else affordable.
Once you decide to take the route less traveled, you will realize that Malawi has all the ingredients that make it a perfect romantic honeymoon location in Africa.
In Malawi you can alternate between safaris and beaches.
Do plan half of your African honeymoon by the sparkling waters of Lake Malawi, also known as the "lake of stars." More about Malawi
Things to do Malawi
• Lovely romantic beaches where you can relax with your lover, and enjoy the magical night under the stars
• Like all other African destinations, Malawi has several safari parks to quench your thirst for wildlife
Best time to visit Malawi for a honeymoon
Early May to late October are the drier months in Malawi and hence the best time to visit the country.
During this period, you can expect Lake Malawi to be warm and sunny – just the right kind of beach weather for folks on their honeymoon.
Good thing is, this is also the best time to be in Malawi for viewing wildlife.
In short, Malawi ends up as the cheap and best African honeymoon option.
Best budget hotels in Malawi
Blue Waters by Serendib, Bridgeview Hotel & Conference Centre, Kaya Mawa, Crossroads Hotel, President Walmont Hotel in Malawi are popular among honeymooners looking for all inclusive packages they offer.
8. Kenya – best wildlife honeymoon in Africa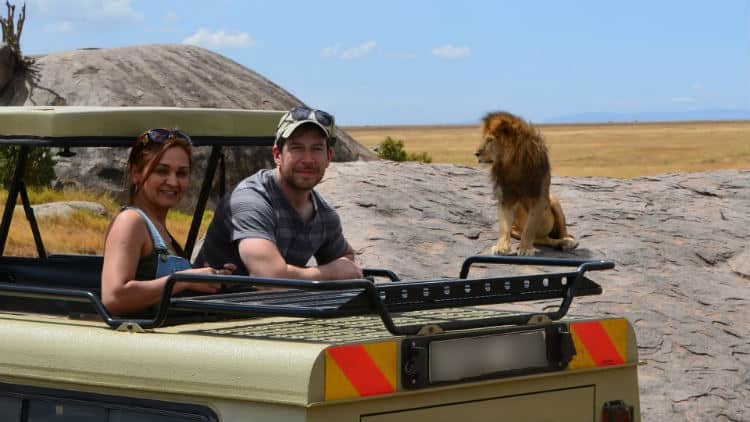 You don't need to travel to the far end of the world to enjoy a romantic holiday.
Kenya has some of the most idyllic romantic places.
The beautiful sandy beaches and picturesque views are breathtaking.
Kenya is one of the best countries in Africa for game views, safari holidays and holidays inside the forest.
Kenya also offers a lot of luxury safari holiday packages. More about Kenya
Things to do Kenya
• Visit the Watamu Marine National park for an experience of a lifetime
• Walk hand in hand with your partner through the history of Gedi
• The Maza Mari National park offers unforgettable views
• Spending time at the Manda Islands will bring you some peace after your hectic wedding
• Ensure a visit to Lake Naivasha in Kenya's Great Rift Valley is included in your itinerary. It is one of the most spectacular in the country in terms of natural abundance.
• Include lots of African safari trips in your itinerary because nobody offers safaris as well as the Kenyans do.
Best time to visit Kenya for a honeymoon
If you are visiting Kenya on your honeymoon you must plan it during the best wildlife viewing months – late June to October.
Tourist activity is nominal at this period.
Best budget hotels in Kenya
Some of the most popular hotels are President Walmont Hotel, The Maji Beach Boutique Hotel and Four Points By Sheraton Nairobi Hurlingham.
Sarova Lion Hill Game Lodge, Hotel Kizingo, Lion in the Sun Resort and The Sands at Nomad are also most popular amongst honeymooning couples.
9. Mozambique – best Safari honeymoon in Africa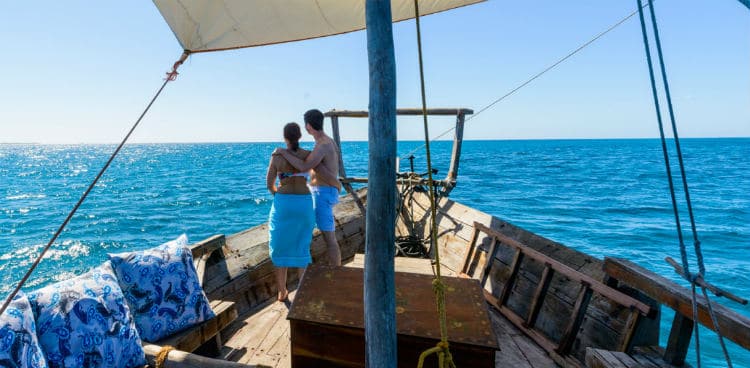 Mozambique in Africa is also about beaches and safaris. This country is one of the best locations for a honeymoon in Africa.
It has excellent attractions for couples, and has romance written over everything. The popularity of this country as a honeymoon destination has been on the rise over time.
Its mangrove-covered Ibo Islands and awe-inspiring stretch of coral islands contribute to this.
You can look for special resorts offering amazing Mozambique honeymoon packages.
Focus on packages that other honeymooners recommend often. More about Mozambique
Things to do Mozambique
Fishing, honeymoon snorkeling and scuba diving are some of the things you can do here.
The coral reefs are one of the most spectacular sites – do include it in your couple's itinerary.
People from all over the world come to treat their eyes with its beauty.
Best time to visit Mozambique for a honeymoon
If you want African safaris to be a major part of your honeymoon, the best time to visit is August and September.
The best game views happen in Mozambique in this period.
This is when the bushes and trees dry out and the wildlife is seen around rivers and waterholes.
If you are not too keen on Mozambique's wildlife opt for the May to November window.
Best budget hotels in Mozambique
Sentidos Beach Retreat, Bahia Mar Boutique Hotel, Radisson Blu Hotel and Residence, Maputo, Casa Cabana Beach, Catembe Gallery Hotel and Park Inn by Radisson Tete are some of the best hotels to stay in Mozambique.
Do call up their reception to check the all inclusive safari honeymoon packages on offer.
10. Botswana – best all inclusive honeymoon packages in Africa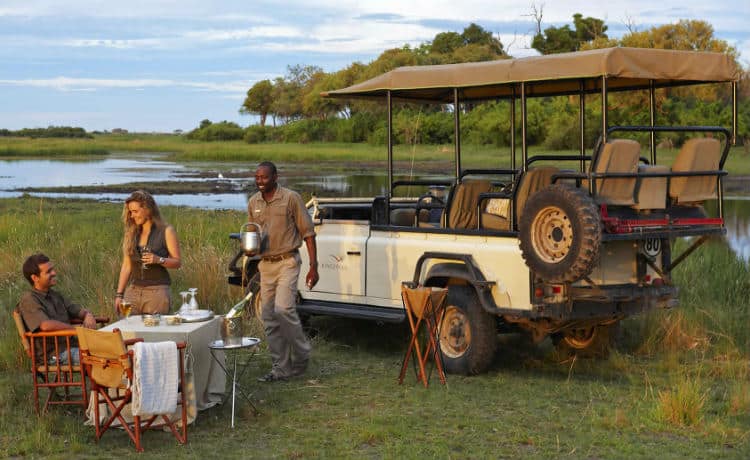 Botswana is one of the best location in Africa for a peaceful and romantic honeymoon. It is the epitome of exclusivity.
It is away from rest of the chaotic places. You can be sure that no one will disturb you or interrupt your romantic moments together.
The motto of Botswana government's is to promote "high value, low volume tourism".
This applies to the whole travel industry in Botswana.
Which means, whatever you do in Botswana will be an exclusive experience. More about Botswana
Things to do Botswana
• Visit the Gaborone national museum with your partner
• Your itinerary should include camping trips at Mahalapye
• Check out the exciting safaris with your spouse in tow
Best time to visit Botswana
The best time to visit the three most popular safari parks in Botswana – The Okavango Delta, Moremi and Chobe – is from May to September.
Many people plan their wedding to time with the best season in Botswana since it is one of the best honeymoon destination in Africa.
Best budget hotels in Botswana
Chobe Safari Lodge, Cresta Mowana Safari Resort and Spa, Cresta President Hotel and the Masa Square Hotel are some of the best and the best hotels in this country for newlywed couples.
Recommended Reading
1. Best European honeymoons
2. Best honeymoon destinations in Asia
4. Best all inclusive honeymoon packages