For most of us, a honeymoon is once in a lifetime thing, and that's why it must be perfect.
After spending months in planning and shopping for your marriage you both deserve a nice romantic break.
There is no better way to wash off the months of chaotic wedding preparations than to relax in a cozy, warm honeymoon.
And the affordable honeymoon places in Asia offer just that.
In our recommended list of Asian countries for budget honeymoons, you own your itinerary.
You make your honeymoon with your spouse as relaxing as you want or as hectic as you prefer.
If you don't want to do the thinking and want to leave everything to the experts you can always book an all-inclusive honeymoon package.
The all-inclusive resort will plan everything for you – after discussing with you, of course.
But before you negotiate the best honeymoon packages you need to decide on the honeymoon location. What will it be?
Once you and your spouse agree on the budget honeymoon destination in Asia, identify the resort(s) in the city/country where you will spend your days.
All the top resorts in these affordable Asian countries already offer cheap and best honeymoon packages.
Don't go with whatever is being offered first. You can negotiate on the first offered price and bring down the cost.
Or better still include an extra dinner, local transport or a spa session in the all inclusive package.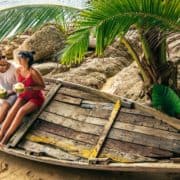 Best honeymoon destinations in Asia
Here is what we recommend: Go through our list of the most affordable honeymoon destinations in Asia and pick your country.
You can then plan your Asian honeymoon however you want – expensive, inexpensive, offbeat, normal, adventurous, exotic etc.

1. Vietnam – best honeymoon destination in Asia for nature lovers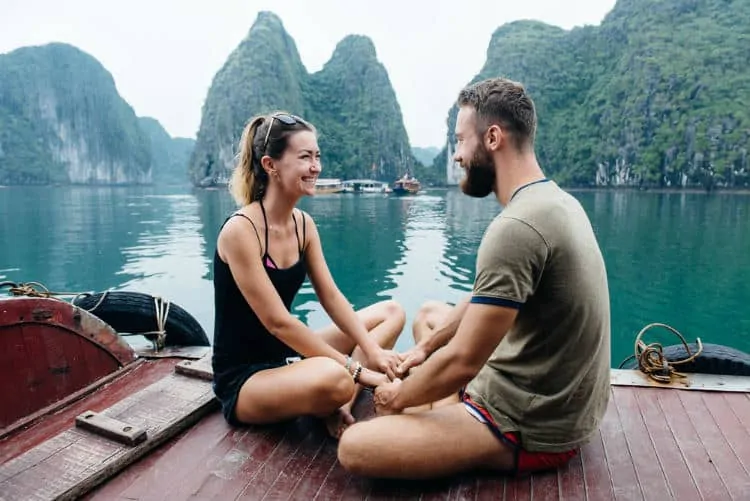 Vietnam, a small, beautiful country of Southeast Asia is one of the top honeymoon destinations in Asia.
Vietnam has so many things to offer to its newly wedded guests. In fact, this country wows every couple on their honeymoon.
Blessed with natural beauty in plenty, Vietnam has everything in stores that one expects from a honeymoon destination.
Vietnam offers an amazing array of sights, tastes, and activities to ensure you and your spouse have your best moments together.
We are sure that in Vietnam, you will create memories worth cherishing for a lifetime.
If you are into nature and wildlife, this can be a very cheap romantic honeymoon getaway. More about Vietnam.
Things to do
Walk hand-in-hand with your partner at wonderful tranquil beaches of Vietnam
Savor world's best seafood at one of many authentic restaurants
Vietnam's street food is to die for. Don't miss
Vietnam has many amazing spas. Don't forget to visit them
Some hotels in Vietnam offer free unlimited spa treatment. If you love spa, identify and opt for such resorts
Take a cruise trip in Halong Bay from Hanoi. You can also explore it from the sky
If you love music, visit the Binh Minh's Jazz Club
Take romantic walks in Hanoi (or you can also ride the bicycle)
Explore the Cu Chi tunnels in Ho Chi Minh city with your beloved
Visit Thanh Da, the secret Island in Ho Chi Minh city
Popular destinations in Vietnam: Hoi An, Hanoi, Ho Chi Minh City, Dong Hoi, Hue, Da Nang
Best time to visit: The best time to visit Vietnam is between the months of Feb to Apr, which is the spring and between months of Aug to Oct, which is the autumn. During these months, temperatures are moderate and thus friendly for couples on their honeymoon.
Best place to stay: JW Marriott Hotel, Hanoi
2. Sri Lanka – Top honeymoon destination in Asia for beach lovers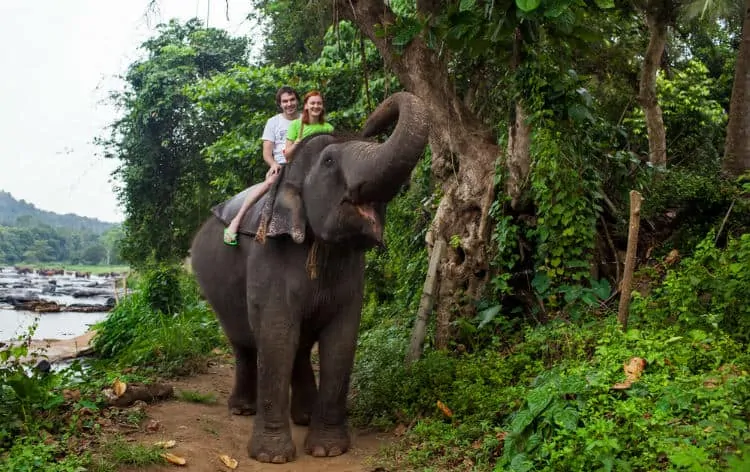 Sri Lanka is small but a very popular and romantic budget honeymoon destination in Asia.
Sri Lanka offers awesome beaches full of water sports all through the year.
It boasts of 2000-plus years of culture and eight UNESCO World Heritage sites – what more do you need in a budget honeymoon destination.
Its chilled-out atmosphere and friendly people attract more and more honeymoon couples every year.
After spending your honeymoon in Sri Lanka, you will realize how underrated this tiny place is.
Some of the best beaches to honeymoon in, are found in Sri Lanka.
Colombo, Kandy, Negombo, Hikkaduwa, Galle and Unawatuna are popular honeymoon destinations here. More about Sri Lanka.
Things to do
Go to Pinnawela Elephant Orphanage
Take romantic strolls on beaches and watch the sunset with your spouse
Walk hand in hand down the Turtle beach
Enjoy a never-before candle light dinner on the beach
Take a sail boat to the Indian ocean
Get the best of Sri Lanka from a hot air balloon
Explore the Madu river on a boat
Snorkel in Pigeon island with your newly-wedded spouse
Popular destinations in Sri Lanka: Colombo, Kandy, Negombo, Hikkaduwa, Galle
Best time to visit: Since this island country is close to the Equator, the weather is constant all through the year.
But the best time to visit the west and south coasts and the hill country is from December to March.
If you intend to plan your honeymoon on the east coast, the best weather will be from April/May to September.
Best place to stay: Dubu Suite, Kahanda Kanda, Sri Lanka
3. Cambodia – Top honeymoon destination in Asia for luxury at affordable costs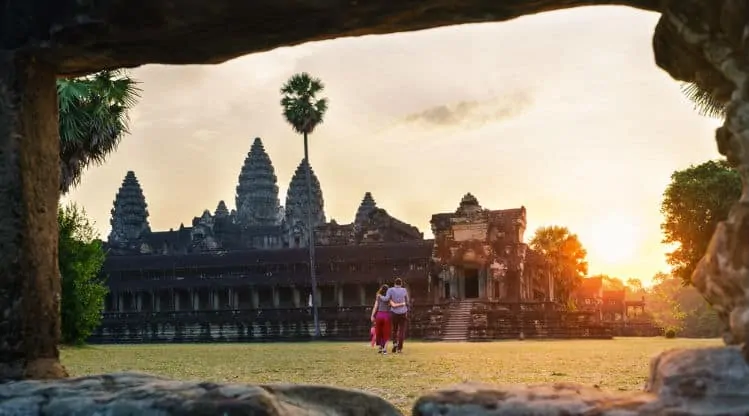 Cambodia is a wonderful budget honeymoon destination, which leaves the couples mesmerized. Some so much that they keep coming back again and again.
Cambodia's still unexploited nature is a bliss, hard to get anywhere else.
Cambodia's charismatic capital Phnom Penh is a lavish city with gorgeous locations.
If you want a sizzling nightlife and world-class dining options during honeymoon holidays, Cambodia is your best option.
Cambodia also offers luxurious accommodations at affordable prices. Do explore them. More about Cambodia.
Things to do
Try Khmer cuisine, which has languished in the shadows of Thai, Vietnamese and Chinese cuisines for some time now
Watch the traditional Apsara show
Visit Ankor Wat temple and Bayon temple. Watching the sun rise over Ankor Wat is a favourite pastime of visiting couples
Visit the Great Lake Tonle Sap and Floating Village
Visit Kulen Waterfall, which is two hours drive from Siem Reap
Watch Phare, the Cambodian Circus
Popular destinations in Cambodia: Siem Reap, Phnom Penh, Sihanoukville, Kampot, Battambang
Best time to visit: Cambodia is warm all through the year. The best time to visit this country is from November to March when the temperature dips. Yet, without much of a compromise, you can have a much cheaper honeymoon if you decide to travel between May and October.
Best place to stay: Song Saa Privale Island, Cambodia
Recommended Reading: Best African honeymoon destinations
4. Thailand – Best honeymoon destination in Asia for street food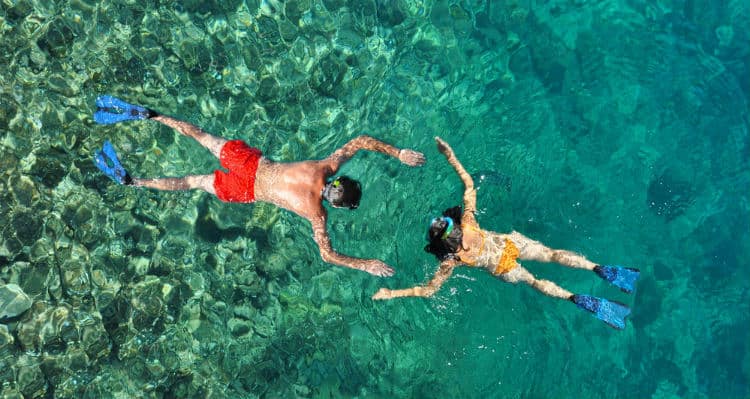 Thailand is fun. From exotic location to authentic food everything in this place is worth experiencing once at least in a lifetime.
What works even better is the fact that the Thai experience comes cheap and doesn't burn a hole in your pocket.
It is one of the top honeymoon destinations in Asia and succeeds in leaving the honeymooning couples awestruck.
Surrounded by palm trees and sapphire water, Koh Samui is a romantic destination for romantic couples who love beaches.
If you are not a beach person you can always go to Chiang Mai at the foothills of Doi Inthanon mountains.
Thailand is the best place for a relaxed and comfortable honeymoon at a much lower cost. More about Thailand.
Things to do
Visit the Grand Palace at the heart of Bangkok
Check out bars in Koh Samui for popular local beer
Enjoy water sports in all Thai beaches
Indulge in mountain biking in Chaing Mai
Don't miss the local Thai food
Try out the Vertigo Too High Tea – the highest spot where you would ever have a cup of tea
Stroll around the Ananta Samakhom Throne Hall
Try the Onsen bath with your spouse
Visit Siam Niramit for am up-close view of Thailand's arts & culture
Take a romantic dinner cruise
Popular destinations in Thailand: Phuket, Ko Samui, Bangkok, Chiang Mai, Koh Tao
Best time to visit: Months between November and February are popular with tourists because they are cooler. If you don't prefer rainfall, avoid the period between June to October when it pours all over this Asian country.
Best place to stay: The Four Seasons Tented Camp, Chiang Rai, Thailand
5. Maldives – Top romantic honeymoon destination in Asia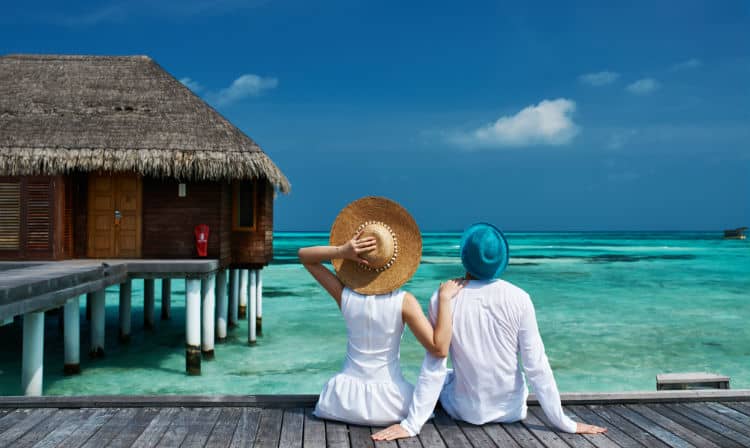 If you want to see the sunny side of life, the best honeymoon place for you is the Maldives.
This honeymoon country is paradise on earth with white sand beaches and crystal blue water.
Hotels and resorts in the Maldives are so beautiful that you will not want to get back home.
It will not be surprising if you will want to continue your romantic honeymoon getaway forever.
The Maldives is a place of where the weather is always nice and people always smiling.
It will feel as if the whole country was waiting for you to land for your honeymoon. More about Maldives.
Things to do
Visit Hukuru Miskiiy to witness the culture of Maldives
Spend a day on a hammock with your spouse
Try underwater adventure
Go snorkel among the Gazillion reefs
Get a romantic couple massage
Visit the bioluminescent beach – the glow in the dark beach
Experience the whale submarine ride
Popular destinations in Maldives: Male, Hulhumale, Maafushi Island, Thulusdhoo Island
Best time to visit: The best honeymoon weather in the Maldives is between November and April. But, you will experience the real crowd between December and March. Between May to October, the all inclusive honeymoon package deals are cheaper. That's because during these months it rains and the honeymooners have to stay indoors – drinking, gyming or scuba diving.
Best place to stay: Naladhu, Maldives
Recommended Reading: Best all-inclusive honeymoon packages
6. Singapore – best honeymoon spot in Asia for couples who love shopping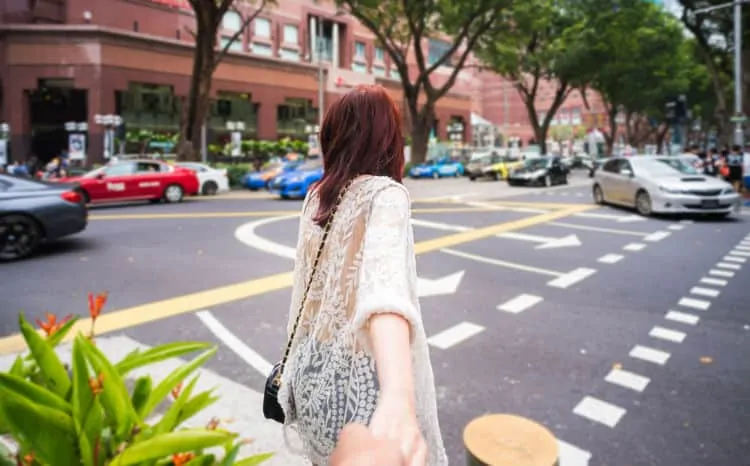 Singapore is one of the cleanest and safest cities in the world, which makes it a special honeymoon destination in Asia.
Newlywed couples from across the world visit Singapore for a romantic holiday before starting off their married life.
You will find the perfect mixture of natural beauty and modern architecture in Singapore, which is rare elsewhere in Asia.
Beaches, manmade wonders, historic sites, and dazzling nightlife make it a perfect honeymoon destination.
If you love shopping, we recommend visiting the superlative shopping malls in Singapore. More about Singapore.
Things to do
Picnic tour of the Gardens by the Bay, which is a must see
Try the romantic Singapore river cruise
Walk hand in hand with your spouse at Fort Canning Hill
Have a romantic dinner on the luxury Singapore Cable Car between Mt. Faber and Sentosa
Dine with friendly Orangutans at the Singapore Zoo, perhaps the only place in the world where this is possible
The Universal Studio is a must visit if you love crazy rides
Popular destinations in Singapore: Orchard Road, ChinaTown, Marina Bay, Geylang, Joo Chiat
Best time to visit: Singapore is wet from November to January which is why the cheapest honeymoon packages are available during these months. Once the rain stops and the sun comes out in February, the weather becomes right for honeymooners. This cool phase doesn't last long for come May, the summer begins.
Best place to stay: Four Seasons Hotel, Singapore
Check out the best couple activities in Singapore
7. Malaysia – Top honeymoon destination in Asia for adventure lovers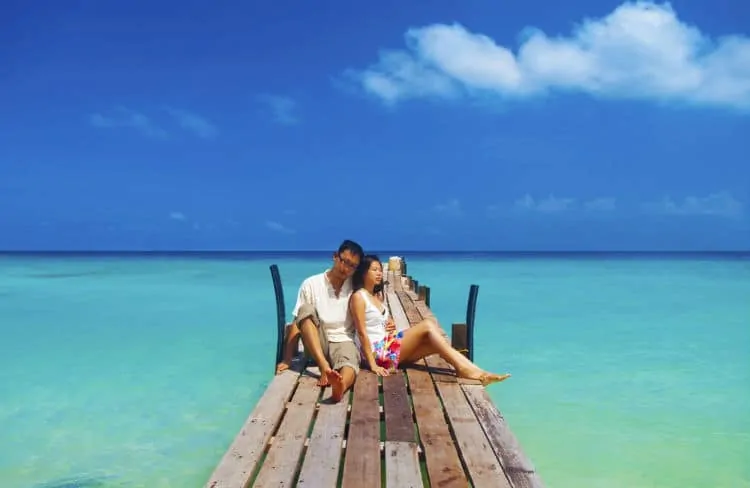 Though it is a budget destination, Malaysia is a romantic country for young couples on honeymoon.
This affordable honeymoon destination has islands, beaches, wilderness, and rainforest treks.
You'll also get great dining options, dreamy resorts, and fabulous shopping places. What else does one need for a dreamy honeymoon?
This place is ideal for couples who prefer some adventure during their honeymoon.
In fact, many see it as two countries in one, divided in half by the South China Sea. More about Malaysia.
Things to do
Pulau Langkawi which is truly tropical paradise
Imbi Market for breakfast
Kinabalu and Kinabalu National Park
Sepilok Orangutan Rehabilitation Centre
Jonker Walk Night Market for shopping
Watch the sunset from the peak of Broga Hill
Dine at Marini's on 57, the highest rooftop bar and restaurant
Skydive with your partner in Langkawi
Zipline over the ocean of Borneo
Explore the Clearwater Cave (perhaps, Asia's longest) with your spouse
Visit Malaysia's French and Japanese villages for a country-within-a-country experience
Popular destinations in Malaysia: Pulau Tioman, Langkawi, Kuala Lumpur, Penang Island
Best time to visit: The weather in Malaysia is same all through the year – hot and humid. There are tropical rain showers at regular intervals which bring relief to the tourists and the locals alike. In the East, it rains between November & February, while the western part of Malaysia gets its sunny weather during the said months.
Best place to stay: Seven Terraces, Malaysia
8. Bali – Best honeymoon destination Asia for luxury honeymoons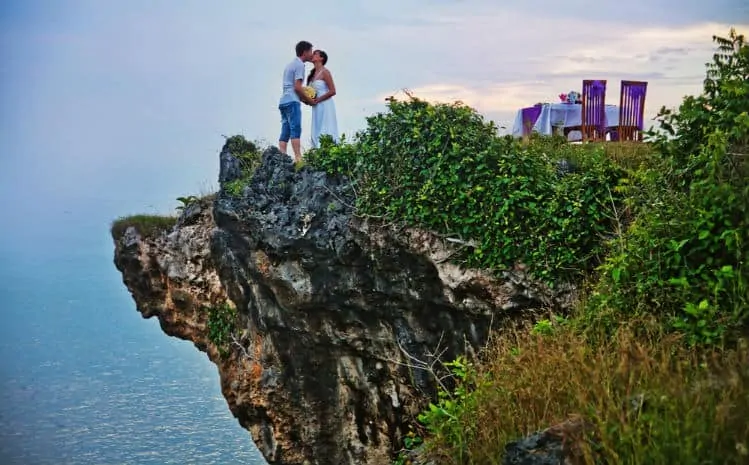 Bali has become one of the top honeymoon destinations in Asia in recent times.
Exotic private beaches and beach villas of Bali are great places to plan a romantic honeymoon.
This small island in Indonesia has everything to offer that is essential to make your honeymoon memorable for the rest of your life.
Ancient temples, museums, water sports and many more exciting things make Bali a dream honeymoon destination. More about Bali.
Things to do
Visit Kuta, a small beach village at the end of Bali
Trekking in volcanoes of Bali
Swimming at Jimbaran Bay
Visit Ubud for museums and artworks
Check out the Dolphins around Lovina
If you are into horse riding, check out riding in the forest at Munduk Langki
Popular destinations in Bali: Seminyak, Ubud, Kuta, Denpasar, Sanur,
Best time to visit: If you are a honeymooner and a surfer you should visit Bali during the dry season – May to October. During this period, cheap honeymoon packages are on offer. If you are a surfer, you will love this period for the western side of the peninsula creates surfer-friendly waves. If you are not a surfer we recommend the three months of May, June, and July for your cheap and best honeymoon.
Best place to stay: Four seasons resort, Bali
9. Japan – Best honeymoon destination in Asia for culture loving couples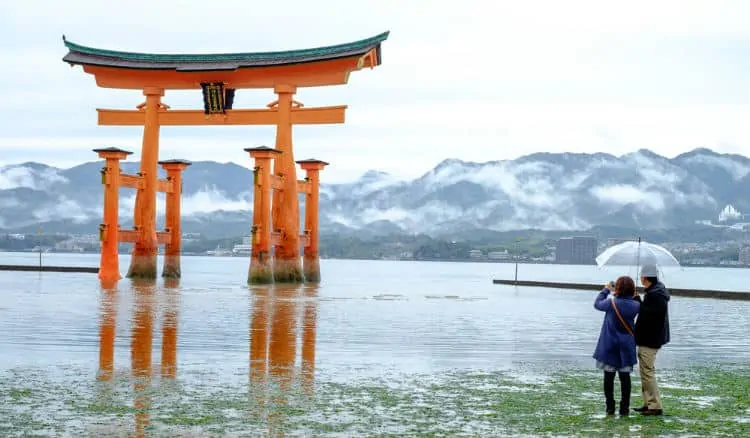 Honeymoon in Japan is expensive in comparison to other honeymoon destinations in Asia but every single penny spent will be worth it.
If you love peaceful, romantic getaways you are sure to love Japan.
Japan is a world apart. It is a country deep-rooted in tradition but one that also lives at the cutting age of technology and growth.
Japan is so beautiful and soothing that there are chances of you forgetting to go back.
Food and culture of Japan are amazing and spending your honeymoon in this country will be a life-changing experience for both of you. More about Japan.
Things to do
Savor the delightful cuisine of Japan
Don't miss hiking when you are in Japan
Take a stroll with your spouse through the Arashiyama Bamboo grove
Take the Tokyo Bay night cruise for a romantic experience
Try out night cruising over Tokyo in a helicopter
Visit Tokyo's best Sakura, also known as the cherry blossoms spots
Take your wedding photographs in a Kimono
Popular destinations in Japan: Tokyo, Kyoto, Kutchan-Cho, Osaka, Nara
Best time to visit: The best time to visit Japan is between March to May and between September to November. During these two seasons, the clouds burst a little for regular romantic drizzles, the skies then clear off for nice long walks. Since you are a couple in love, you will love the cherry blossom of spring. Not to mention the multi-colored autumn leaves, which will make your walks memorable for life.
Best place to stay: Palace Hotel, Tokyo
10. Laos – best budget honeymoon destination in Asia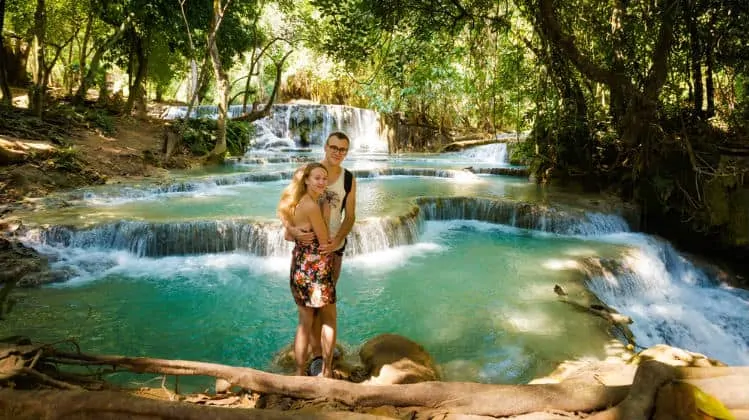 Picturesque landscapes, wilderness everywhere, French architecture and a fairyland like an experience – that's Laos.
Laos is a colorful honeymoon country in Asia, which attracts thousands of nature, and adventure loving couples every year.
Laos is refreshingly simple and adorable place and we can guarantee you that you both will keep coming back again and again.
Especially for the romance, it will bring into your marriage on a very cheap budget. More about Laos.
Top things to do
Visit handicraft market for ultimate shopping experience
Visit temples which exist all over Laos
Visit Luang Prabang
Take a day tour away from cities and end up in the countryside
Popular destinations in Laos: Vientiane, Luang Prabang, Vang Vieng, Pakse, Savannakhet
Best time to visit: Best time for a cheap honeymoon getaway in Laos is between October and April, when the weather's warm and dry. For a holistic honeymoon, you can also plan your trip between the months of November and January, when it rains and it is easy to cruise on the Mekong River.
Best place to stay: The River Resort
Know any honeymoon destination in Asia which could have figured in our top ten cheap and best honeymoon destinations in Asia list? If yes, please leave a comment.
Recommended Reading:
1. Most romantic honeymoon spots
2. Best European honeymoons
3. Best honeymoons in Africa
4. Best all inclusive honeymoon packages