Santiago Bernabeu Stadium is the home of Real Madrid, the most fantastic football club of the 20th century.
Stars such as Zidane, Beckham, Ronaldo, Sanchez, Ramos, Kaká, Cristiano, etc., have created some of the most beautiful footballing memories at this stadium.
More than one million tourists take a tour of Santiago Bernabeu in Madrid every year.
In this article, we share everything you must know before booking your Bernabeu Tour ticket.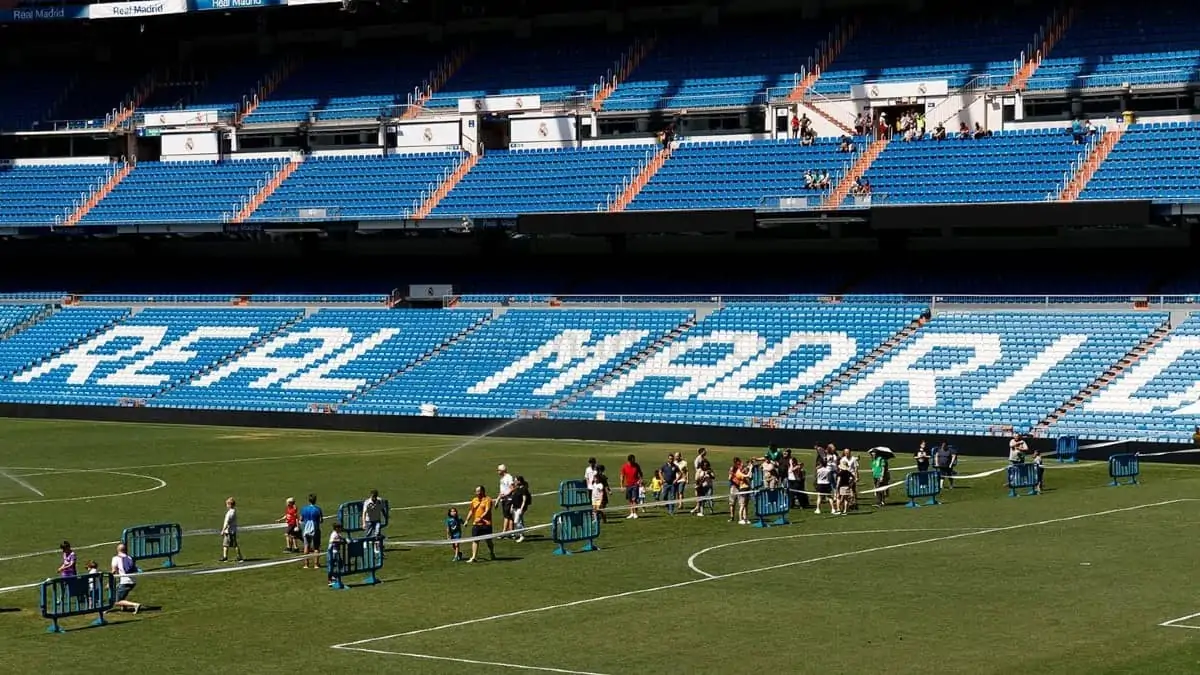 What to expect on Bernabeu Tour
The Bernabeu Tour begins at the highest part of the Santiago Bernabeu Stadium, with stunning panoramic views of the field from the second stand.
You get a sense of the massive Stadium that can seat more than 80,000 spectators.
You then continue the tour to the 'Best Club Ever Room' to see the collection of objects and trophies won by Real Madrid over the years.
After seeing the silverware, you will understand why Real Madrid is known as the 'Best club of the 20th century'.
You learn about Real Madrid's history at the Sensations Room through its past legends and titles won.
In this room, you can see the current first team's skills and goals and see them interacting in an audiovisual presentation projected on an 11-meter (36 feet) screen.
After taking photographs and selfies with your idols, you move to the 'Kings of Europe' room to see the 13 European Cups won by Real Madrid.
Santiago Bernabeu Tour then takes you to the team benches, where you can try being in the Real Madrid coach's difficult shoes.
From near the benches, you also get a privileged view of the play area, which usually only the players experience.
Next, it is time for the dressing room, which is the most important place for any soccer team, for it is here that they receive instructions from the coach and prepare for the match.
Finally, you head to the press room, where the team's coach handles the media's questions.
You get out of the Tour del Bernabeu feeling like a Real Madrid player.
---
---
Santiago Bernabeu tour entrance
All Real Madrid stadium tour participants must enter from the Tower B entrance on Concha Espina Avenue.
Tower B is located where the Paseo de la Castellana meets Calle Concha Espina. Get Directions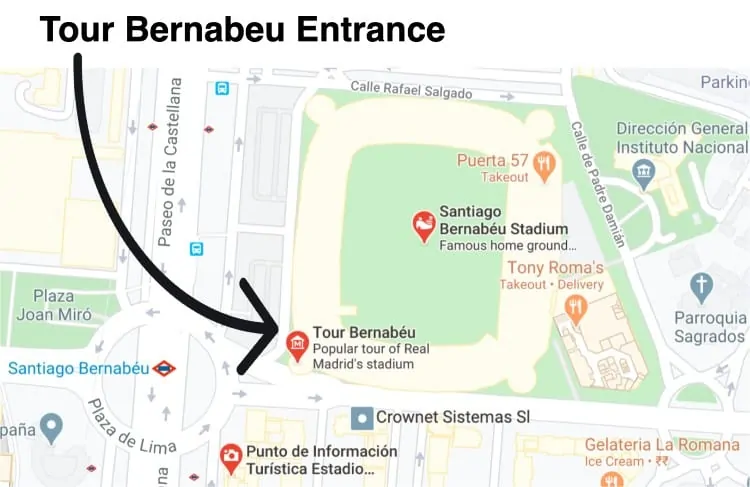 If you have booked your Santiago Bernabeu tickets online, you can show them on your mobile, at the Tower B entrance and walk in.
If you don't have a ticket, you can purchase one from Box Office 3, beside Gate 34 at Tower B.
However, we recommend booking in advance for two reasons:
You get to avoid long lines at the ticket counters
Online tickets are 3 Euros cheaper than at the venue
Madrid Football Lovers combo is perfect for soccer fans who want to visit the home stadiums of Real Madrid and Atlético Madrid. When you buy this football lovers combo, you also get a 10% discount code, which you can use (five times!) to get discounts on future purchases.
---
---
Bernabeu tour hours
From Monday to Saturday, the Bernabeu tour at the Santiago Bernabeu Stadium starts at 9.30 am and closes at 8.30 pm.
On Sundays and holidays, the Tour of the World's best soccer stadium and Museum opens at 10 am and goes on till 8 pm.
The last entry is 90 minutes before closure.
The Santiago Bernabeu tour is open all through the year, except for 25 December and 1 January.
Bernabeu tour's matchday timings
On the day of the match, you can join Tour del Bernabeu for up to 5 hours before the game starts.
The changing rooms are closed from the day before at 1 pm, which means you can't visit the team dressing room on match days.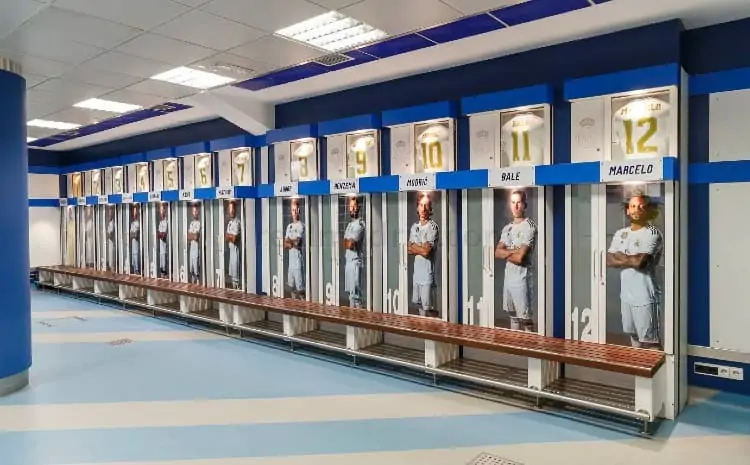 Once the changing room closes, you can only visit the 'Best Club in History' room, the 'Sensations' room, and enjoy the Stadium's panoramic view.
When it is four hours to go for the match, all Bernabeu tour participants are requested to leave.
---
---
Best time to visit Bernabeu Stadium
The best time to visit Bernabeu Stadium for the Real Madrid Stadium and Museum tour is as soon as they open at 9.30 am.
Large group tours start arriving around 11 am, crowding the experience.
Santiago Bernabeu also receives many visitors from schools around Spain and Europe, all of whom tend to arrive at the same time.
The dressing rooms are closed from 1 pm, the day before a matchday. When you start early, you get to see these rooms even if the next day were a match day.
---
---
How long does Bernabeu tour take
Real Madrid fans are known to spend at least three to four hours on the Santiago Bernabeu tour.
That's because fans spend a lot of time taking pictures, taking official pictures 'with' the players, sit in the club seats on the field to soak in the experience, spend time in the shop looking at souvenirs, etc.
Tourists in a hurry are known to finish their Real Madrid stadium tour in 90 minutes or so.
The guided tour of Santiago Bernabeu Stadium, where an official Real Madrid CF guide takes you around, also lasts 90 minutes. However guided tours are not highly rated.
---
---
Bernabeu tour tickets
There are two kinds of Bernabeu Stadium Tour experience you can book – the Self-Guided Tour or the Guided Tour.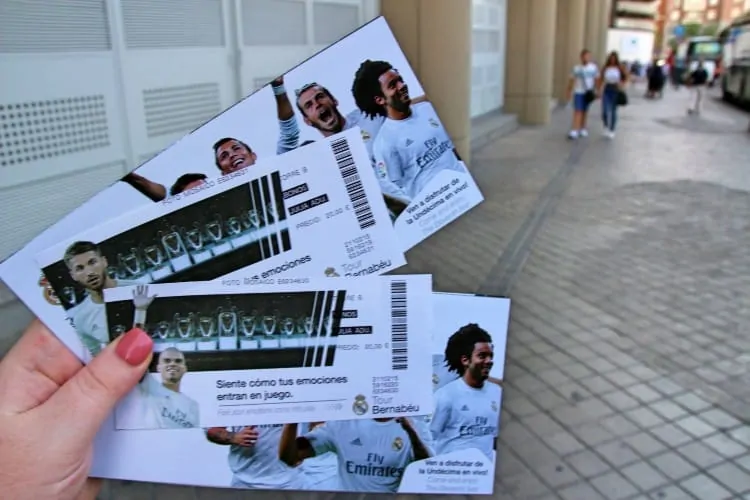 You can either purchase the tickets in advance or get them from Box Office 3 (at Tower B), at the venue.
In this section, we explain everything about Santiago Bernabeu Tour tickets.
Online tickets are better
Booking in advance is better because you get to avoid wasting 20-30 minutes in the ticket counter queue.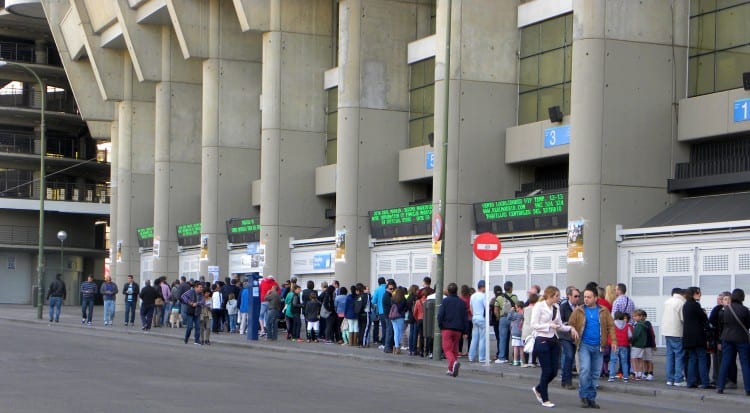 Online tickets also help you save 3 Euros on the box-office ticket price.
Timed tour tickets
When you book your Santiago Bernabeu tickets, you must select a timeslot.
The slots start from 10 am (when the tour begins) and are available every 30 minutes.
You must enter within 30 minutes of the time selected during booking.
No need for ticket printouts
Once you make the purchase, you get a confirmation email with Tour Bernabéu tickets for the selected date and time of your visit.
On the day of your visit, you must enter the Stadium via Tower B, walk up the stairs, and scan your smartphone ticket at one of the turnstiles.
There is no need to take a printout.
Bernabeu tour price
Santiago Bernabeu tour ticket costs 19 Euros for a full adult. If you opt for a guided tour, it will cost you 32 Euros per adult.
All visitors above the age of 15 years pay the full adult price.
Ticket discounts
At the Bernabeu Stadium, there are no discounts for seniors.
However, kids between 5 to 14 years of age get a 5 Euro discount on the self-guided tour ticket and a 9 Euro reduction on the guided tour ticket.
Kids below five years get the maximum discount of 100 percent, and they can walk in for free.
Discount for wheelchair users: Bernabeu Tour's route is not fully accessible. However, wheelchair users can enter for free along with a companion.
Self-guided Bernabeu tour tickets
This is the cheapest Bernabeu tour ticket and hence the most popular as well.
With this skip-the-line ticket, you ignore the ticket counter's lines and walk into the Stadium straight away.
You also get an audio guide (to be collected at the entrance), available in English, Arabic, Chinese, French, German, Hebrew, Italian, Portuguese, Russian, and Spanish.
Ticket price
Adult ticket (15+ years): 19 Euros
Child ticket (5 to 14 years): 14 Euros
Guided tour of Bernabeu stadium
If you book the Santiago Bernabeu Guided Tour, an official Real Madrid CF guide takes you on a 90 minute Real Madrid extravaganza.
There is nothing better than learning about the most exceptional football club from an expert.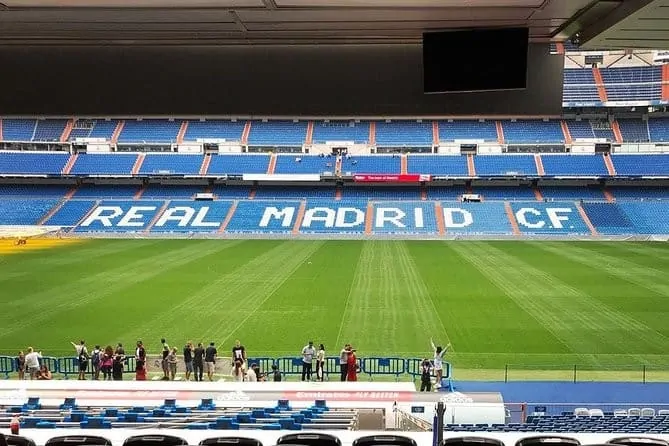 The club's official guide answers all your questions about the history, facilities, players, matches, etc., of Real Madrid.
Each group has not more than 30 participants.
Tour price
Adult ticket (15+ years): 32 Euros
Child ticket (5 to 14 years): 23 Euros
Madrid Football Lovers combo is perfect for soccer fans who want to visit the home stadiums of Real Madrid and Atlético Madrid. When you buy this football lovers combo, you also get a 10% discount code, which you can use (five times!) to get discounts on future purchases.
---
---
Self-guided vs. Guided Bernabeu Tour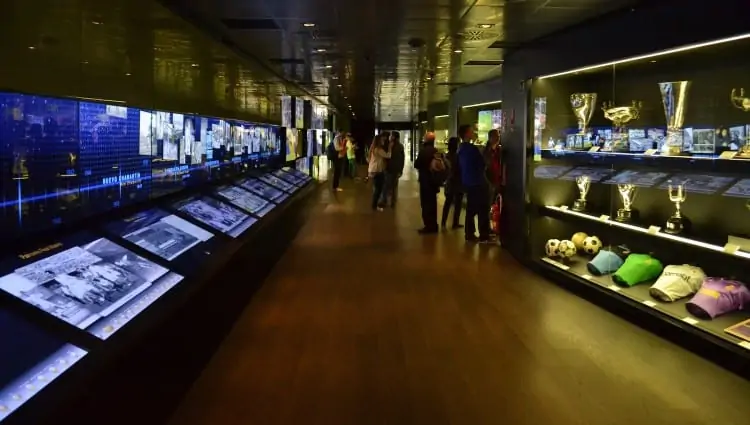 Both the tours follow the same route, and visitors can see the same places of interest within Stadium Santiago Bernabeu.
All visitors on a Santiago Bernabeu Tour get to see and experience the following –
Panoramic view of the Stadium
The 'Best Club in History' room
'Sensations' room
Video and photo-montages with players
Walk around the perimeter of the playing field.
Virtual reality area
The Presidential Box
First team dressing room
Players' tunnel
The pressroom
Official souvenir shop
However, on a guided tour, Real Madrid's official guides make the visit far more memorable by sharing history, narrating anecdotes, etc.
They also ensure that you don't miss any of the important exhibits and experiences.
On a self-guided tour, the Bernabeu Tour audio guide available in ten languages helps you through.
Another difference is the timing of your visit – self-guided tickets are available all through the day while the guided tours are available only during four times a day.
From Monday to Saturday, Guided Bernabeu Tours start at 10.30 am, 12.30 pm, 3.30 pm, and 5.30 pm, and on Sundays (and holidays), the tours begin at 11 am, 1 pm, 3 pm, and 5 pm.
---
---
Bernabeu tour audio guide
Real Madrid and Microsoft have joined hands together to create the Bernabeu tour's audio guide.
It incorporates the most advanced technological features to make your visit to the Santiago Bernabeu Stadium and the Real Madrid Museum a fun experience.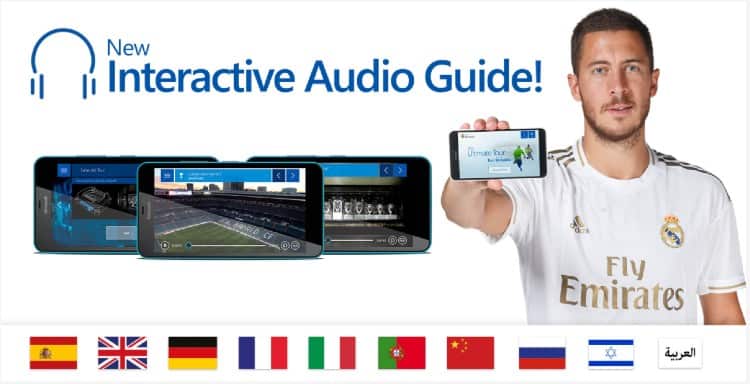 The interactive audio guide allows visitors to enjoy a personalized experience by choosing one of the three different tours available based on their preference.
If you have booked a Bernabeu Tour ticket with an audio guide, you can pick it up from the Tower B entrance.
---
---
Combo tours that include Bernabeu Stadium
Combo tours are popular with tourists who want to save money.
They are up to 20% cheaper than if you bought the tickets individually.
Tourists on a short visit to Madrid also prefer combo tours because they get to see more in less time.
We list three of our favorite tours, which also include a visit to Santiago Bernabeu Stadium.
Madrid Bus tour + Bernabeu Stadium Tour
This tour starts at 9 am on a sightseeing bus tour of Madrid.
You see important buildings, monuments, avenues, and squares of the city and listen to the guide's commentary about Madrid's history.
Later you go on the Bernabeu Tour to understand and appreciate Real Madrid's history.
Tour price
Adult ticket (15 to 64 years): 51 Euros
Seniors ticket (65+ years): 48 Euros
Child ticket (5 to 14 years): 33 Euros
Infant ticket (up to 4 years): Free entry
If you want to spend more time touring the city, check out this combo tour.
Hop-On Hop-Off Bus + Bernabeu Tour
If you want flexibility for your Madrid City tour, we recommend this combo, which includes a HOHO Bus ticket and a Bernabeu Stadium entry.
With this ticket, you can hop on and off the buses as often as you want and explore Madrid at your own pace. It also includes a visit to the Real Madrid Stadium.
You have the option of booking the HOHO Bus for a day or two days.
Tour price
Adult ticket (15 to 64 years): 47 Euros
Seniors ticket (65+ years): 35 Euros
Child ticket (5 to 14 years): 28 Euros
Infant ticket (up to 4 years): Free entry
---
---
Getting to Santiago Bernabeu Stadium
Santiago Bernabéu is located in central Madrid on the Paseo de la Castellana, one of Madrid's principal avenues.
Address: Av. de Concha Espina 1, 28036 Madrid. Get Directions
By Underground
It is best to get to the Santiago Bernabeu Stadium by Metro (also known as the Underground).
Santiago Bernabéu Station serviced by Line 10, is right next to the Stadium.
From the Station, the Stadium's Bernabeu tour entrance is a 2 to 3 minutes walk.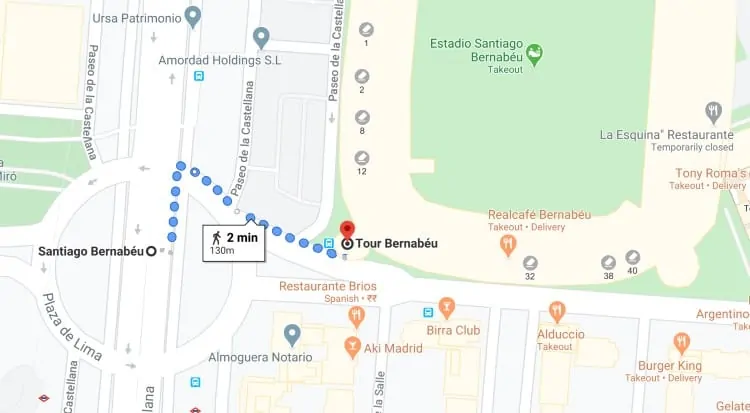 If you can't directly board Line 10, you can first get to either Plaza de España or Tribunal Station, both of which fall on the Line 10 route.
By Bus
On weekdays Madrid's buses start at 6 am and continue till 11.30 pm with a frequency of 4 to 15 minutes (which depends on the line and the time of day).
On weekends and public holidays, buses start at 7 am and return to the shed at 11 pm.
To get to the Bernabeu Stadium, you can board bus numbers 14, 27, 40, 43, 120, 126, 147 y 150.
Note: If you have booked a hop-on-hop-off Madrid tour bus, you can get off at Stop 7 (Santiago Bernabéu) of Route 2 (Modern Madrid).
By Train
If you are getting to the Real Madrid Stadium from outside Madrid city, you can take a train to Nuevos Ministerios.
Nuevos Ministerios train station is 800 meters (half a mile) from the Bernabeu Tour entrance, and you can walk the distance in about 10-12 minutes.
For timings and tickets, check out Renfe, the company that manages trains in Spain.
Popular attractions in Madrid
Sources

# Realmadrid.com
# Tripadvisor.com
# Headout.com

The travel specialists at TheBetterVacation.com use only high-quality sources while researching & writing their articles. We make every attempt to keep our content current, reliable and trustworthy.
Popular attractions in Madrid
# Royal Palace of Madrid
# Prado Museum
# Reina Sofia-Museum
# Thyssen Museum