Prado Museum is Spain's answer to world-class art Museums such as The Louvre, the Vatican Museums, The Met, etc.
Locally known as Museo Nacional del Prado, it is home to some of the most iconic artworks in human history.
Established in 1819, Prado Madrid exhibits the best Spanish, French, Flemish, and Italian paintings, besides thousands of drawings, prints, and sculptures.
In this article, we share everything you need to know before you buy your Prado Museum tickets.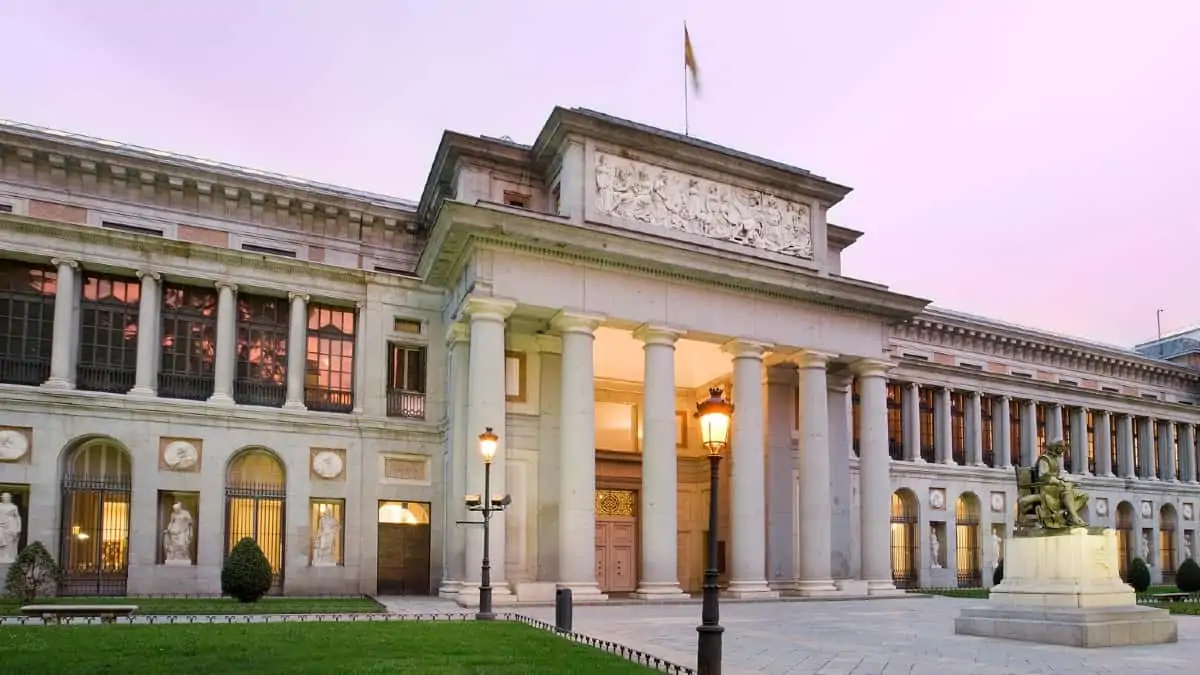 What to expect at Prado Museum
At Prado Museum, you get to marvel at art from Spanish master painters such as Velázquez and Goya, and internationals such as Rembrandt, El Greco, Titian, Rubens, Bruegel, Van Dyck, Bosch, etc.
This Madrid Museum is home to over twenty thousand pieces of art, out of which only 1500 are on display at a time.
Check out the video below to get an idea of what to expect –
---
---
Prado Museum tickets
There are two ways to experience the Prado Museum – you can book a self-guided tour or a guided tour.
In this section, we explain everything about Prado Museum tickets.
Prado Museo tickets are timed
When you book your tickets, you must select a timeslot.
The slots start from 10 am (when the Museum opens) and are available every 15 minutes.
You must be in the line at least 15 minutes before the time mentioned on your ticket.
Buying tickets online is better
When you visit the most exquisite art Museum of Spain, you must stand in two lines – at the ticket counter to purchase your tickets and the security check.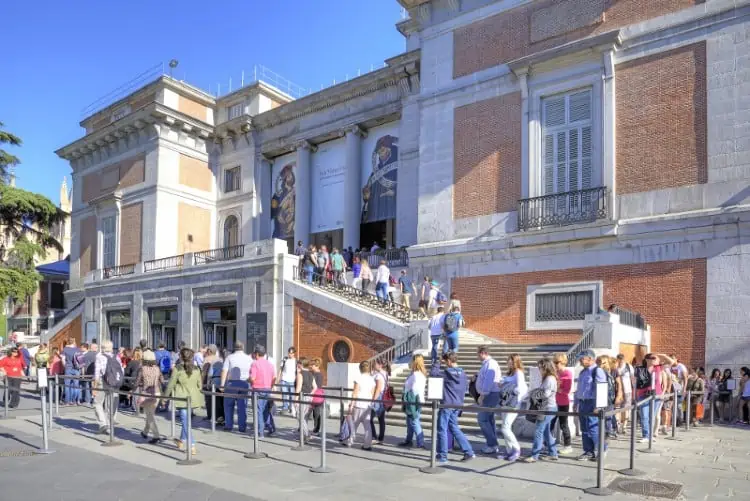 If you buy your Prado art Museum tickets online, much in advance, you can skip the long lines at the ticket counter and quickly go through the security.
Depending on the time of the day and season, this saves you 15 to 45 minutes of waiting time.
No need to take printouts
All Prado Museum tickets are smartphone tickets, and as soon as you make the purchase, they get emailed to you.
There is no need to take a printout. On the day of your visit, you can show the ticket in your email, on your smartphone, and walk in.
Skip-the-line Prado Museum ticket
This self-guided tour ticket gets you to access both the permanent collection and the regularly rotating temporary exhibitions.
It is the most popular ticket amongst visitors who want to explore Spanish and Flemish art's fascinating history at Spain's premier art museum.
You need to enter through the Jerónimos entrance.
Prado Museum price
Adult ticket: 15.40 Euros
Tip: At the entrance, don't forget to pick up the Visitor's Guide booklet, which has photos and descriptions of 50 of the Museum's most famous exhibits and their location.
---
---
Prado Museum guided tours
Before we recommend our favorite, allow us to explain why it is better to book a guided tour while exploring art.
Why a guided tour of the Prado Museum is better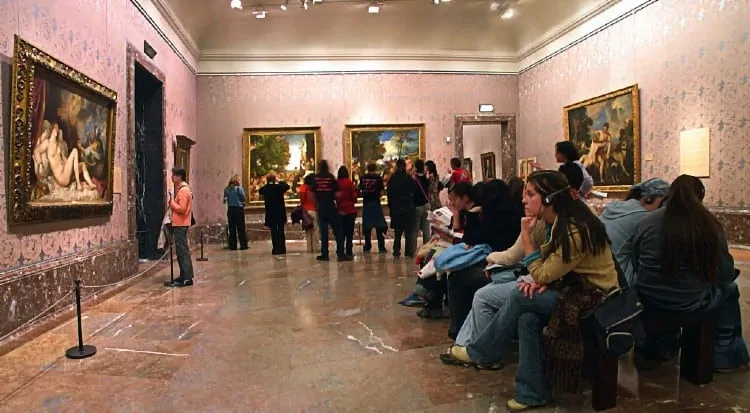 A guided tour is the best way to experience an art Museum as massive as Prado in Madrid.
When an art expert takes you around, you…
Don't waste time trying to find the exhibits
Don't miss out on any of the masterpieces
Gain in-depth knowledge and hear exciting stories, anecdotes, etc. about the artwork
Best guided tour of Prado Museum
If you book this Prado Museum tour, you skip the lines and avoid all the crowd.
In 90 minutes, the guide takes you on a smart route and shows you the masterpieces at Prada Madrid.
Cost of a guided tour
Adult ticket (13+ years): 39 Euros
Child ticket (6 to 11 years): 21 Euros
Infant ticket (up to 5 years): 1 Euros
We share a few more interesting Prado Museum guided tours –
Some visitors don't want to be part of large tourist groups. If you are one of them, you can opt for a small group tour of Prado (up to ten visitors).
If money isn't an issue but the experience matters, we recommend a private guided tour.
If you are a food lover, check out this Prado Museum visit + Tapas tasting combo.
---
---
Paseo del Arte ticket
Madrid has three of the finest art Museums – Prado Museum, the Thyssen-Bornemisza National Museum, and the Reina Sofía Museum making it an art lover's paradise.
They are next to each other, and within 20 minutes, you can walk the distances between what is known as the 'Golden Triangle of Art'.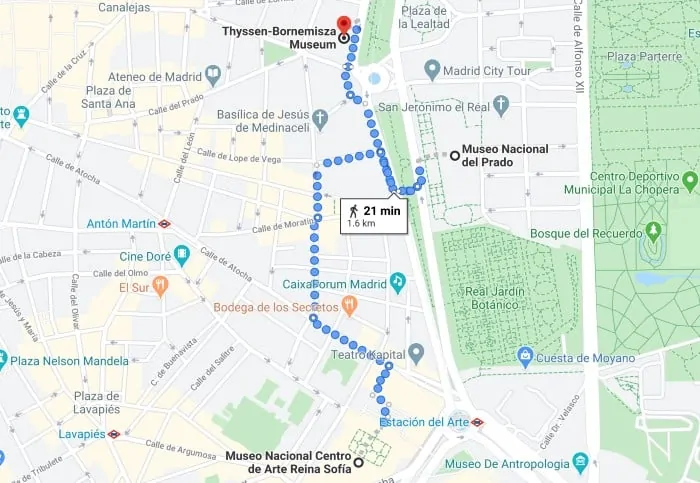 Paseo del Arte pass is one ticket for entry into all three Museums, and it is valid for one year from the date selected during your purchase.
With this pass, you save 20% on entrance tickets and skip the lines too!
Each of the museums is unique, and visitors who have used this pass have left positive reviews.
It costs around 30 Euros per person.
Visual Story: 13 must-know tips before visiting Prado Museum
---
---
Where is Prado Museum
Address: Calle de Ruiz de Alarcón, 23, 28014 Madrid, Spain. Get Directions
It is best to take public transport to the Prado Museum of Art.
Prado Museum by Metro
Atocha Station serviced by Blue Line (L1) and Banco de Espana station serviced by Red Line (L2) are closest to the Prado Museum.
Atocha Railway Station is 1 Km (.6 mile) from the Prado Museum, and you can walk the distance in 15 minutes or less.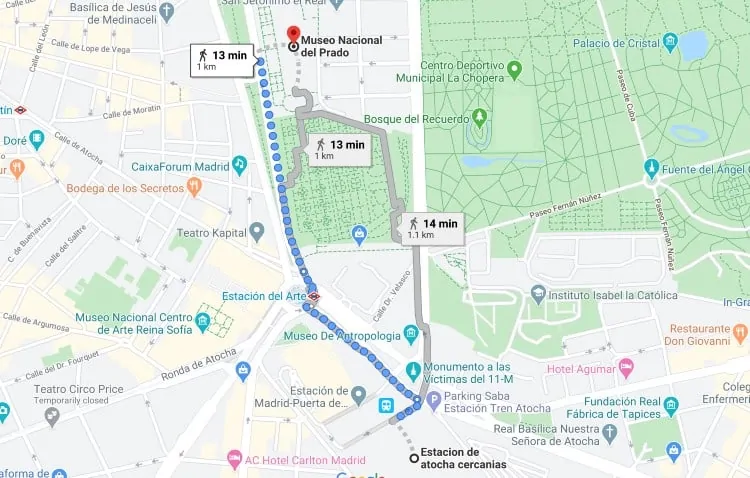 Banco de Espana station is 750 meters (half a mile) from the art museum, and you can walk the distance in less than ten minutes.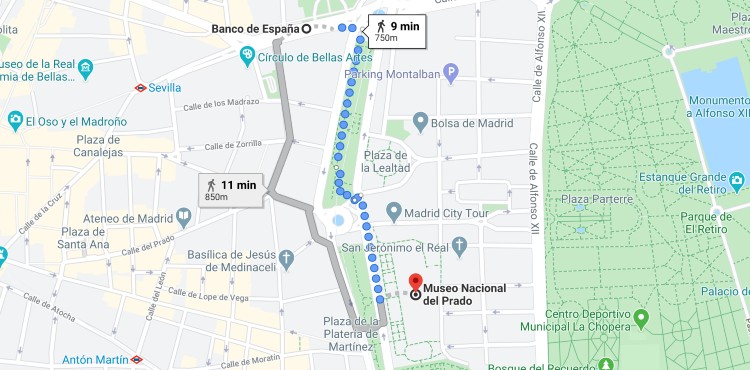 If you are coming from outside the city, you must take a train to Madrid Atocha railway station.
Bus to Prado Museum
Madrid's bus service is evolved and offers a pleasant experience.
On weekdays, buses run from 6 am till 11.30 pm with a frequency of 4 to 15 minutes (frequency depends on the line and the time of day).
On weekends and public holidays, buses start at 7 am and hit the shed at 11 pm.
To get to the Prado Art Museum, you can board bus numbers 9, 10, 14, 19, 27, 34, 37, or 45.
Plaza de Neptuno, Plaza de Cibeles, Puerta de Alcala, Casson del Buen Retiro, etc., are nearby landmarks where you can get down from your bus and walk to the Museum.
Prado Museum parking
Since Prado Madrid doesn't have parking, we recommend public transport.
If you insist on driving to the Museum, you can use EMT Montalbán and EMT Recoletos, two of the parking garages nearby.
EMT Montalbán: Calle de Montalbán, 5, 28014 Madrid. 500 meters (one-third of a mile) from Prado Museum.
EMT Recoletos: Paseo de Recoletos 4, 28001 Madrid. 900 meters (half a mile) from Prado Museum
---
---
Prado Museum entrances
Prado Museum has four entrances –
Goya Entrance
Pueroto de Velasquez
Puerta de los Jerónimos
Puerto de Murillo
The Goya entrance on Felipe IV Street has two parts – Puerta de Goya Baja (or lower Goya entrance) and Puerta de Goya Alta (or upper Goya entrance).
The lower Goya entrance has ticket counters with humans and thus also handles all kinds of discounts and concessions, etc., while the upper Goya entrance has automated ticket machines.
If you haven't already bought tickets online (which we recommend), you can buy them at the Goya Entrances. But be ready for long lines.
It is not possible to purchase Prada Museum tickets at the other entrances.
If you plan to reach by the Metro, the closest Museum entrances are Jerónimos Entrance or Goya Entrance on Felipe IV Street.
It is better if people with reduced mobility or baby carriages enter through the Jerónimos entrance.
Puerto de Murillo is the entrance for pre-booked, large educational and cultural groups.
---
---
Prado Museum hours
The Prado Museum in Madrid opens at 10 am all through the week.
From Monday to Saturday, they close at 8 pm, and on Sundays and holidays, they close at 5 pm.
The last entry into the art museum is half an hour before the day's closing.
Limited hours
Prado Museum is open for limited hours on 6 January, 24 December, and 31 December.
On these three days, the Museum opens at 10 am and closes at 2 pm.
When is the Prado Museum closed?
Every year, the Prado Art Museum remains closed on 1 January, 1 May, and 25 December.
---
---
Prado Museum free hours
At Prado Museum, the last two hours of the day are free entry.
Monday to Saturday, visitors can walk in for free from 6 pm to 7.30 pm and on Sundays and holidays, from 3 pm to 4.30 pm.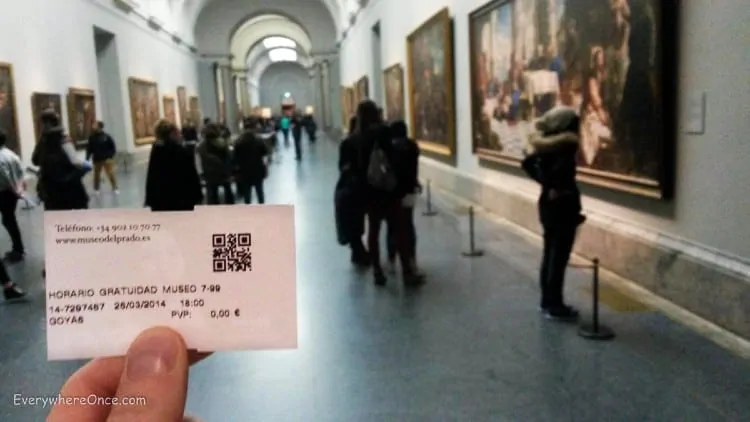 Since it's a tempting proposition, these free hours attract many budget travelers resulting in long lines.
If you plan to enter the art Museum for free, it is better to start lining up 45 minutes before the free hours kick in.
Note: On 19 November (the Museum's anniversary) and 18 May (International Museum Day), the Prado Museo is free all through the day.
---
---
Best time to visit Prado Museum
The best time to visit the Prado Museum is at 10 am, as soon as they open.
If you purchase Prado Museum tickets in advance, arriving early can help you avoid the long lines at the ticket counters and the security check.
Large tour groups start arriving from 11 am and end up crowding the art Museum till 2 pm.
The second best option is to grab an early lunch and visit the Prado Museum after 2 pm, once the crowd has thinned down.
---
---
How long does Prado Museum take
If you want to focus only on the masterpieces at the Prado art Museum, you can finish your tour in 90 minutes.
If you plan to stretch beyond the must-sees, you will need three to four hours.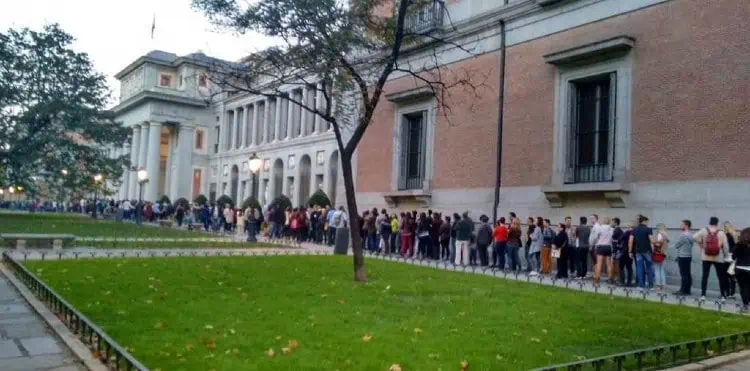 Staying longer at Prado Madrid
Tourists who visit art Museums often say that after approximately 2 hours of roaming around, art fatigue sets in.
However, here are a few simple tips to stretch your visit:
Be well rested and well fed before you head out to see the art Museum in Madrid
Buy the Prado Museum ticket online so that you don't waste your time and energy waiting in the long lines
Take regular breaks in between. For instance, you can visit Cafe Prado after two hours of exploration.
---
---
Prado Museum highlights
The Prado Museum has an extensive collection of artwork from around the world, dating back from the 16th to the 19th century.
It is always challenging to pick the best out of Prado Museum's collection, but we will give it a shot.
Even though the Madrid Museum has all kinds of exhibits, because of many Spanish masterpieces by artists such as El Greco, Murillo, Zurbarán, and Diego Velázquez, paintings get the maximum attention.
The Annunciation
Artist: Fra Angelico
Year: 1426
Painting type: Tempera on panel
Location: Room 024
This altarpiece was painted for the monastery of Santo Domenico in Fiesole, near Florence.
In the center of the painting, one can see Archangel Gabriel's Annunciation to Mary under a porch. On the left, Adam and Eve are getting expelled from paradise.
The Descent from the Cross
Artist: Rogier Van Der Weyden
Year: Before 1443
Painting type: Oil on panel
Location: Room 024
The Descent from the Cross was painted for the Chapel of Our Lady Outside the Walls at Leuven, Belgium.
In the painting, Christ's body is being lowered from the Cross by three men.
He is still wearing the Crown of Thorns, and interestingly he doesn't have a beard.
Self-portrait
Artist: Albrecht Durer
Year: Before 1498
Painting type: Oil on panel
Location: Room 025
Dürer painted himself as a gentleman, dressed in light-toned clothes.
In the portrait, Dürer has sheathed his hands in grey kidskin gloves, making art experts believe that he was trying to elevate his social status from craftsman to an artist.
The Garden of Earthly Delights Triptych
Artist: Hieronymus Bosch
Year: 1490 to 1500
Painting type: Oil on oak panel
Location: Room 056
The Garden of Earthly Delights is a triptych.
Triptych is a picture or relief carving on three panels, typically hinged vertically and used as an altarpiece.
In this stunning piece, Bosch has tried to depict humanity's fate, as mentioned in the Bible.
Since the art historians don't know much about Bosch's life, they are unsure if he wanted to sound a moral warning or was missing the 'sinful' paradise.
The Crucifixion
Artist: Juan de Flandes
Year: 1509 – 1519
Painting type: Oil on panel
Location: Room 025
On 19 December 1509, Bishop Fonseca signed a contract with Juan de Flandes to make eleven paintings, and The Crucifixion was one of them.
Flandes painted Christ lifeless, with a crown of thorns and blood flowing from his wounds.
This painting was the central panel of Palencia Cathedral's main altarpiece.
The Cardinal
Artist: Raphael (Raffaello Sanzio)
Year: 1510 – 1511
Painting type: Oil on panel
Location: Room 025
The portrait depicts a young cardinal wearing a red cape and cap with a white shirt against a dark background, looking calmly towards the viewer.
Thie portrait is a classic demonstration of Raphael's realism – he had the uncanny ability to "paint people as more real than they really are."
Emperor Charles V at Mühlberg
Artist: Titian (Tiziano Vecellio)
Year: 1548
Painting type: Oil on Canvas
Location: Room 027
This portrait commemorates Charles V's victory over the Schmalkaldic League at Mühlberg on 24 April 1547.
The Emperor is on a black horse holding a half pike and also has a wheel-lock pistol.
The Nobleman with his Hand on his Chest
Artist: El Greco (Domenikos Theotokopoulos)|
Year: 1580
Painting type: Oil on panel
Location: Room 009B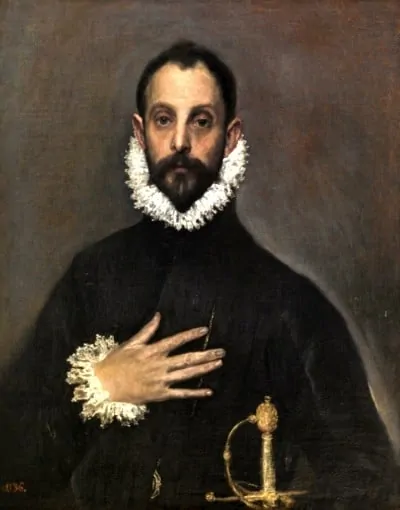 This is the most popular of the six El Greco's portraits on display at the Prado Museum.

In this portrait, the sitter is dressed according to the Spanish fashion of the late 1570s, with a narrow, white ruff around his neck.

His right hand is resting on his breast, while his sword's gilded hilt is also visible on the left. Image: Museodelprado.es
The Three Graces
Artist: Peter Paul Rubens
Year: 1630-1635
Painting type: Oil on oak panel
Location: Room 029
This painting depicts the three graces according to Hesiod's Theogony – Aglaia, Euphrosine, and Thalia.
The three virgins were supposed to have been born from one of the Greek God Zeus' affairs.
Judith at the Banquet of Holofernes
Artist: Rembrandt
Year: 1634
Painting type: Oil on canvas
Location: Room 076
This painting is the figure of a woman richly attired in an embroidered dress wearing a gold chain encrusted with rubies and sapphires.
She has long golden hair, which tumbles over her shoulders.
A servant girl is kneeling before and offering her a goblet of wine.
During your visit to the Prado Museum, don't miss out on how the artist has made dramatic use of light and shadow to structure the composition.
Las Meninas
Artist: Velázquez
Year: 1656
Painting type: Oil on canvas
Location: Room 012
Translated in English, 'Las Meninas' means 'Ladies in waiting.'
This is one of Velazquez's largest paintings and also his most popular masterpiece.
In the painting, Infanta Margarita is surrounded by court servants, including the painter himself.
The artist has creatively shown that the child's parents are watching the scene by showing their reflection in a mirror.
The 3 May 1808 in Madrid
Artist: Francisco Goya
Year: 1814
Painting type: Oil on canvas
Location: Room 032
The 3 May 1808 in Madrid by Spanish painter Francisco Goya is also known as 'The Executions.'
The painting depicts the execution of Spanish patriots by the Napoleon army's firing squad as a retaliation for their uprising against the French occupation a day before.
Orestes and Pylades
Artist: Pupil of Pasiteles
Year: 1st century AD
Made of: White Carrara marble
Location: Room 032
This marble sculpture is also known as The San Ildefonso Group.
It depicts Orestes and Pylades, legendary models of friendship, offering a sacrifice after returning to Tauris.
To their right is the smaller image of Artemis. This act purified Orestes, freeing him from his divine punishment.
Some of the art experts have identified these statues as brothers Castor and Pollux.
---
---
Prado Museum map
The Prado Museum is massive, and there is a lot to see.
It is important not to get lost and not miss out on the masterpieces.
If you have booked a guided tour of the Prado Museum, you don't need its map.
But if you are going to be on your own, we suggest you pick up the free map and Museum layout plan as soon as you enter the Museum.
Besides the layout, you also get a handy guide to the masterpieces inside and where to find them.
Besides helping you with the location of the exhibits, Prado Museum's map will also help you spot visitor services such as restrooms, cafe, souvenir shops, visitor assistance booths, etc.
Download Floor Layout of Prado Museum
Sources

# Museodelprado.es
# Wikipedia.org
# Britannica.com
# Esmadrid.com

The travel specialists at TheBetterVacation.com use only high-quality sources while researching & writing their articles. We make every attempt to keep our content current, reliable and trustworthy.
Popular attractions in Madrid
# Royal Palace of Madrid
# Bernabeu tour
# Reina Sofia-Museum
# Thyssen Museum