The Metropolitan Museum of Art (The Met) is the largest art museum in the United States.
Over 5,000 years' worth of art from various cultures and periods is displayed at The Met.
The Met's collection consists of more than 2 million works of art, including paintings, sculptures, decorative arts, textiles, photographs, and artifacts from various civilizations.
The collection encompasses art from ancient Egypt, classical antiquity, European masters, Islamic art, Asian art, African art, and American art.
MET Museum opened to the public in 1880 and has grown to cover more than two million square feet.
This article shares everything you must know before purchasing MET Museum tickets.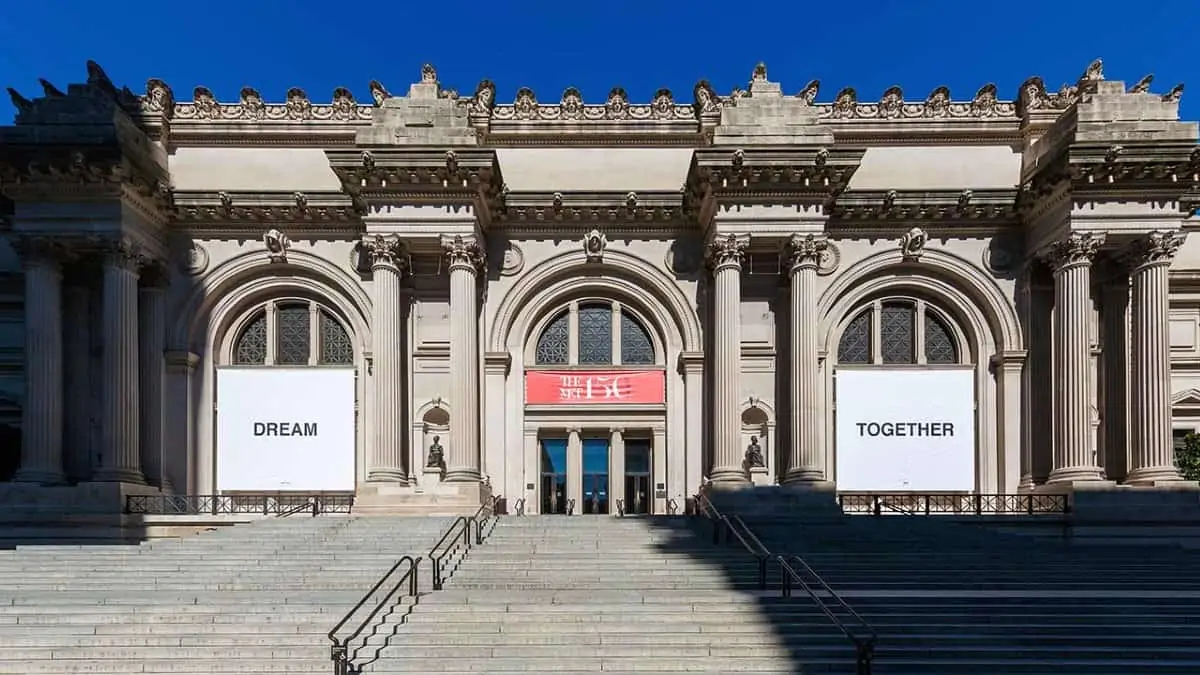 What to expect at The Met
---
---
MET Museum's ticket price
The MET admission price is different for New Yorkers and non-New Yorkers.
Ticket price for visitors from New York
For New York State residents and New York, New Jersey, and Connecticut students, your admission fee is up to you.
The locals can buy tickets for the Met Museum online or at the Museum admissions desk with a valid ID.
At entry, you must submit one of the following documents as valid ID proof of being a local.
– New York State driver's license
– New York State identification card
– IDNYC
– Current bill or statement with a New York State address
– Student ID
– New York library card
Price for non-New Yorkers
Metropolitan Museum's ticket price for general admission is US$ 25 for all visitors 13 years and above and US$ 20 for seniors above 65 years of age.
Kids 12 years and under enter the Met Museum for free.
These tickets are valid for three consecutive days and give you access to the MET Museum and its branches, The Met Breuer and The Met Cloisters.
With these general admission tickets, one can access all ongoing temporary exhibitions at The MET.
MET Museum tickets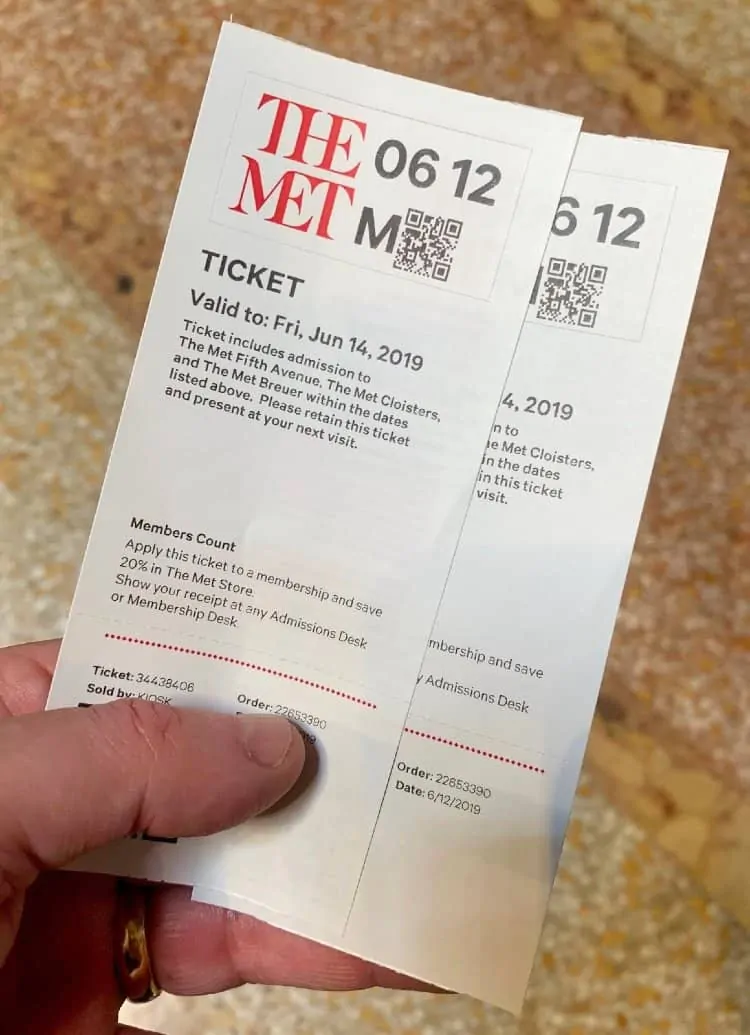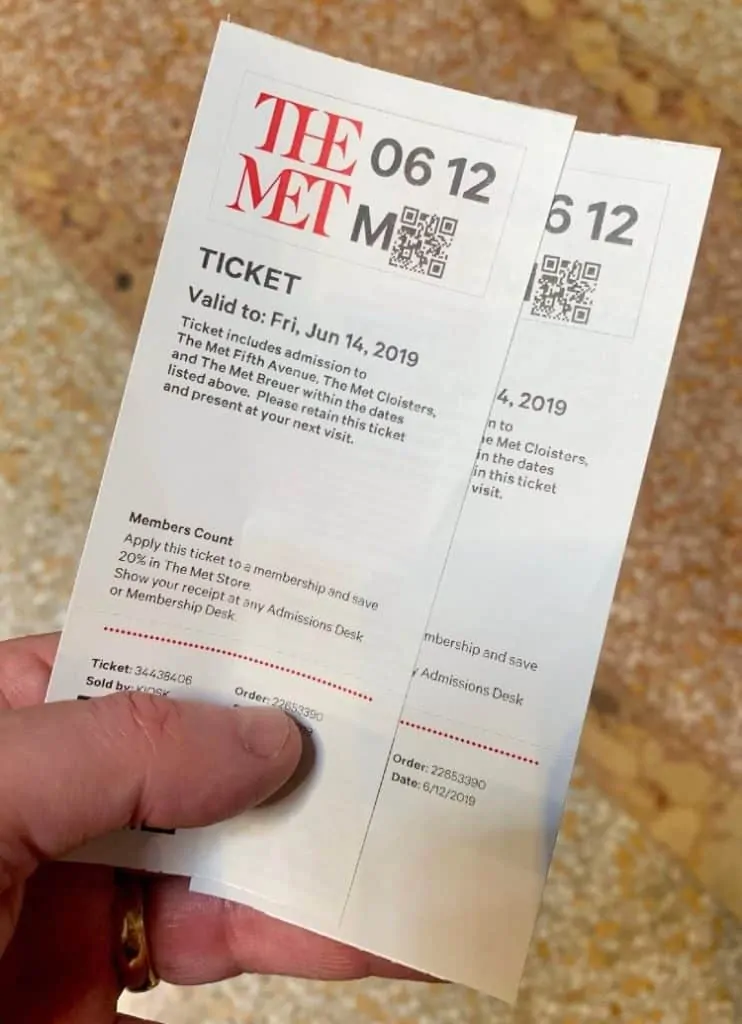 All Metropolitan Museum of Art tickets helps you skip the line and walk right into the Museum.
These are also smartphone tickets, which means the moment you make the purchase, they get emailed to you.
On the day of your visit, show the ticket in your email and walk into the Museum.
Important: Besides The Met, this ticket also gets you access to The Met Breuer and The Met Cloisters.
Adult ticket (13 to 64 years): US$ 25
Seniors ticket (65+ years): US$ 20
Kids 12 years and below enter the museum for free.
---
---
Met Museum guided tours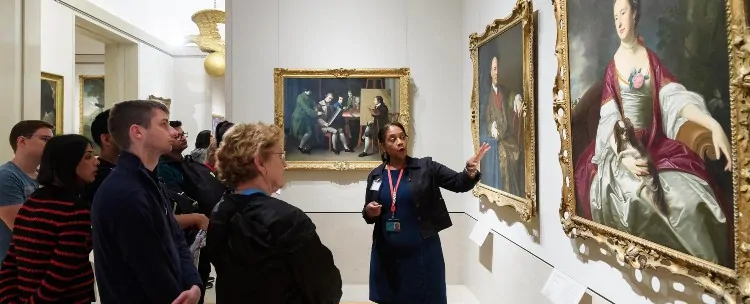 You have two options if you prefer a guide to take you around the Metropolitan Museum of Art.
Met Museum highlights tour
The highlights guided tour is a skip-the-line, two-hour-long tour hosted by an English-speaking guide.
If you are the kind that tends to get lost in Museums or prefers to see only the main attractions of a Museum, this tour is perfect for you.
In two hours, the expert guide takes you around the must-sees of the MET Museum.
Ticket price
Adult ticket (15+ years): US$ 62
Child ticket (2 to 14 years): US$ 52
Kids up to one and younger can enter the museum for free.
For those who love art more than others, expert guides also offer three-hour long guided tours.
Semi-private Guided tour
During this two and a half hours long English tour, a local guide helps you explore the best attractions in The Met.
Since the group size is only 6-8 tourists, this is called the semi-private guided tour.
This tour needs a minimum of two tourists to start.
After the guide has done its bit, you can continue to hang around for as long as you want.
Tip: If budget is not an issue, you can opt for the 'Private Tour' on the ticket booking page and keep the guide to yourself.
---
---
How to reach Met Museum
The official address of the MET Museum is – 1000 5th Avenue, New York, NY 10028, USA.
Because of its location, The Met is also often referred to as Met Fifth Avenue. Get Directions
Public transport is the best way to get to The MET.
From East of Manhattan
Take the 4, 5, or 6 subway to 86th Street station on the Second Avenue Line.
From 86th Street Station, the Met Museum is four blocks west of Fifth Avenue, and you can walk the distance in around 15 minutes.
If you prefer buses, opt for M1, M2, M3, or M4 buses, which go along Fifth Avenue – from Uptown to 82nd Street.
If you are coming from downtown locations, take the buses along Madison Avenue to 83rd Street.
From West of Manhattan
Board 1 train, get down at the 86th Street station, and then walk the four blocks west to Fifth Avenue Museum.
Or take the M86 crosstown bus, which travels across Central Park to Fifth Avenue.
From Penn Station
You can get on the C local train and reach 81st Street Station.
You can get on the M79 crosstown bus to reach Fifth Avenue (where the Met Museum is located) from just outside the station.
From The Met Cloisters
The best option is to take the M4 bus to 82nd Street and Fifth Avenue.
The next best public transport option is to take the A train to 125th Street Station, get onto a B or C local train, and get off at 81st Street Station.
From just outside 81st Street Station, you can transfer to the M79 crosstown bus across Central Park to Fifth Avenue.
Parking at The MET
The Met Museum's parking garage on Fifth Avenue and 80th Street is open throughout the year.
For up to three hours, the parking costs US$ 39, and for up to five hours US$ 45.
---
---
Metropolitan Museum of Art hours
From Sunday to Thursday, the Metropolitan Museum of Art opens at 10 am and closes at 5 pm.
The museum opens at 10 am and closes at 9 pm on Friday and Saturday to accommodate the weekend crowd.
When is MET Museum closed
This New York Museum is closed on –
Thanksgiving Day
Christmas (25 Dec)
New Year (1 Jan)
First Monday of May
Every Wednesday
---
---
Best time to visit MET Museum
The best time to visit the Metropolitan Museum of Art is between 4 pm to 5 pm on Friday or Saturday.
Most visitors are getting out by then, and since the Museum remains open till 9 pm on Friday and Saturday, you get 4 to 5 hours to explore.
If you can't plan your visit on a Friday or Saturday, the next best time to be at the MET Museum is as soon as they open their doors at 10 am.
The MET Museum is one of the few attractions Worldwide to have a Tripadvisor rating of five, because of which it gets more than six million visitors annually.
Buying Met Museum tickets in advance, whichever time you visit, makes sense.
When NOT to visit the MET
New York parents visit MET Museum with their kids during school and public holidays.
As a result, The Met welcomes almost double the number of holiday visitors.
Best months to visit MET Museum
The best months for visiting the Metropolitan Museum of Art are from May to late October.
The weather around this time is pleasant, allowing you to visit the Roof Garden Café and Martini Bar, located on the 5th floor of the MET Museum.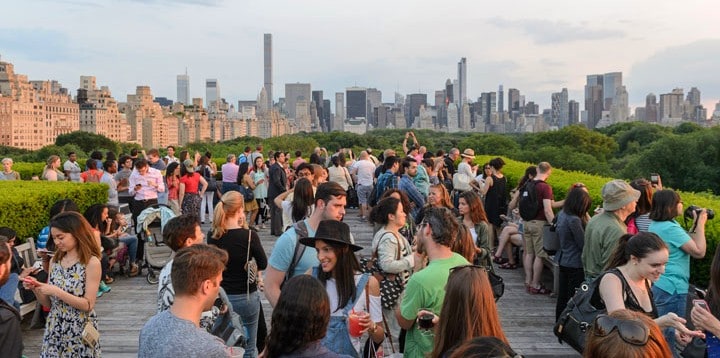 The top floor provides an astonishing view overlooking Manhattan and its star tourist spot, Central Park.
Tip: Depending on the time and day, the wait at the ticketing counter can range from 20 minutes to an hour. That's why buying Skip the Line tickets in advance is a smart thing to do.
The Big Apple Pass includes tickets to a 60-minute Statue of Liberty cruise, the Empire State Building, and the Metropolitan Museum of Art. You also get a 10% discount code, which you can use (five times!) to get discounts on future purchases.
---
---
How long does MET Museum take
If you love art and prefer to get into the details, you will need three to five hours to explore what's on display at the Metropolitan Museum of Art.
Some visitors are known to complete their tour in 90 minutes.
Tourists who have been to art museums multiple times say that art fatigue sets in after approximately 2 hours of roaming around.
Regular breaks help make it a memorable visit.
---
---
Visiting The Met for free
The Metropolitan Museum of Art currently does not offer a free day or free night to its visitors.
However, there are a few ways to explore the Met Museum without paying admission fees.
Teens Take The Met!
The Met Museum offers free admission to teenagers (aged 13 to 18) at its Teens Take The Met events.
On the event day, the Met Museum is free for teenagers – all they have to do is show up with a middle or high school ID.
Museum Mile Festival
The Museum Mile Festival is yet another free opportunity to enter the Metropolitan Museum of Art.
One day every year, entry to eight fantastic Museums spread over the 30-block stretch of Fifth Avenue is free.
The eight institutes participating in the annual Museum Mile Festival are The Africa Center, El Museo del Barrio, Guggenheim Museum, Smithsonian Design Museum, Jewish Museum, Neue Galerie, Museum of the City of New York, and the Metropolitan Museum of Art.
The free entry timings are usually from 6 pm to 9 pm.
The Museum Mile Festival dates get announced here.
Free entry with City passes
Buying a Discount Card is the best way to gain free entry into The Metropolitan Museum of Art.
When you buy discount cards such as NYC Explorer Pass and New York Pass you pay once and then access a pre-determined number of attractions for free.
All the discount cards mentioned above include free access to The Met Museum.
Need help with which art museum to visit? Check out which is better, Met Museum or MOMA.
---
---
Met Museum's audio guide
Met Museum's audio guide includes over 3,000 recordings and is a great tool for exploring the 5,000 years of art on display.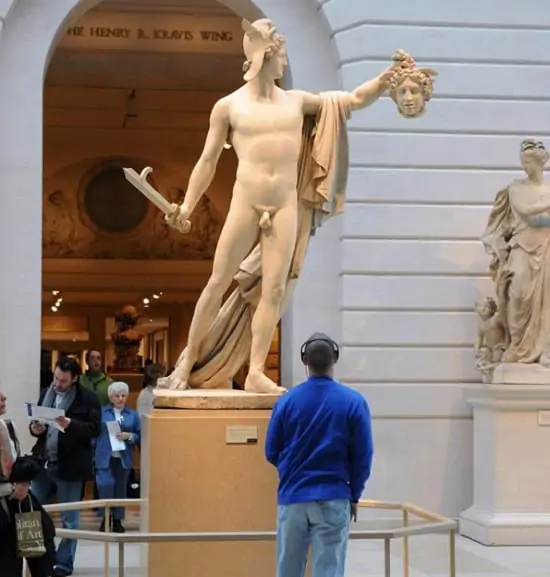 Visitors can use the audio guide to explore highlights of The Met collection in ten languages – English, French, German, Italian, Japanese, Korean, Mandarin, Portuguese, Russian, and Spanish.
Audio players come with volume control and headsets. Neck loops for hearing aids with T – switches are also available on request.
Audio guide players are available for rent at the Met Museum entrance.
Image: Metmuseum.org
They are also available at the entrances of its two other sister Museums – The Met Cloisters and The Met Breuer.
Cost of Met Museum's audio guide
The per-person fee for this audio guide is – US$ 7 for adults and US$ 5 for children under 12.
Audio Guide players are US$ 5 for all visitors after 5 pm on Friday and Saturday evenings.
The Central Park Pass includes tickets to Central Park Zoo, the Metropolitan Museum of Art, and the American Museum of Natural History. You also get a 10% discount code, which you can use (five times!) to get discounts on future purchases.
---
---
What to see at MET Museum of Art
With so many extraordinary artifacts on display at MET Museum in New York, it is challenging to handpick a few.
We list out ten of the most popular exhibits of the art museum.
Washington Crossing the Delaware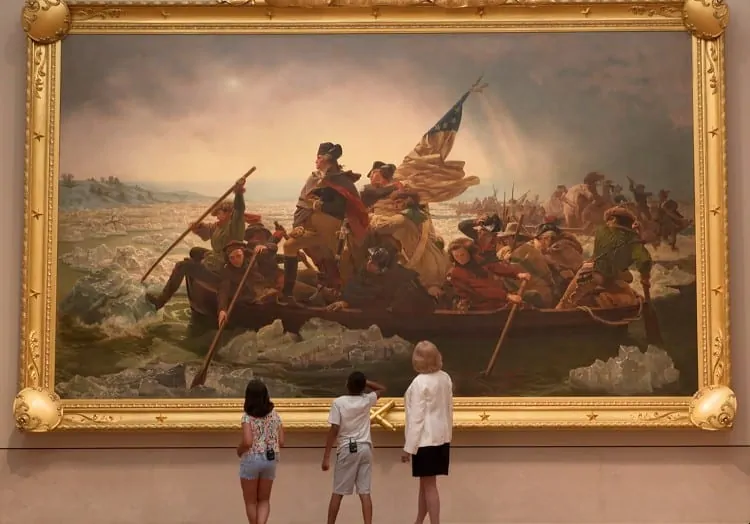 Year: 1851
This piece of art is considered a patriotic statement, just like its subject matter.
Emanuel Leutze depicted George Washington and the Continental Army on Christmas Eve in 1776.
Self–portrait with a Straw Hat
Year: 1887
This painting is one of the earliest Van Gogh self-portraits, where he uses lighter colors and pointillist techniques.
Madonna and Child
Year: ca. 1290 – 1300
Duccio di Buoninsegna's Madonna and Child, or Stoclet Madonna, has only been widely acknowledged as his work for the past century and accessible to scholars for only half a century.
The Dance Class
Year: 1874
Edgar Degas spent precious time observing the ballerinas in their proper form at the Paris Opera House during the 1870s.
The painting displays a group of ballerinas getting ready for a class with ballet master Jules Perrot.
Aristotle with a Bust of Homer
Year: 1653
Rembrandt van Rijn displays the ancient Greek philosopher Aristotle wearing exotic clothes and a gold chain, a present from his pupil.
In the painting, he has his hand resting on a bust of Homer.
Ugolino and His Sons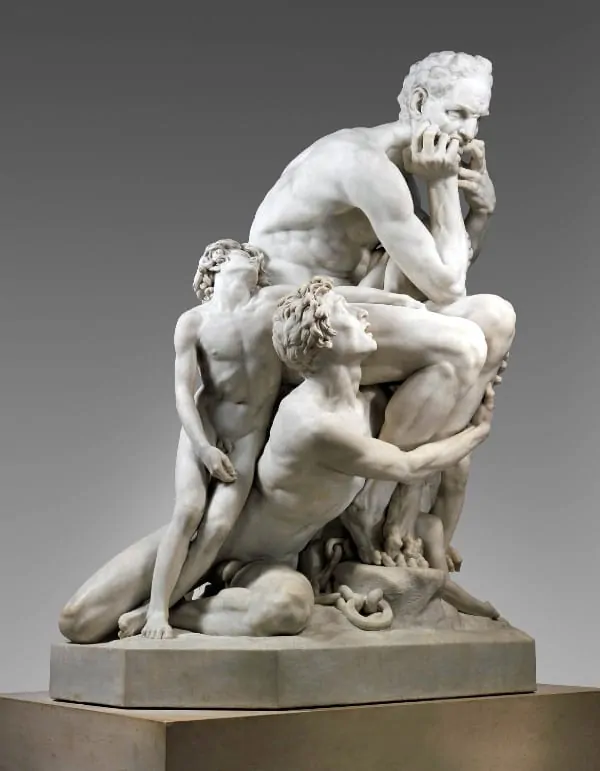 Year: 1865–67
Jean – Baptiste Carpeaux's sculpture displays an incident from Canto XXXIII of Dante's Inferno, where Count Ugolino, with his sons and grandsons, is left to starve in the tower of Pisa.
Relief Panel
Year: ca. 883–859 BC
This massive stone slab was part of a wall panel from the Northwest Palace at Nimrud.
The handcrafted lower half lists the military accomplishments of Assyrian King Ashurnasirpal II.
The Attitudes of Animals in Motion
Year: 1881
Eadweard Muybridge wanted to record a galloping horse while wishing to determine whether all four hooves could be off the ground at one point in time.
While doing so, he created this piece of stop–action photography.
Madonna and Child Enthroned with Saints
Year: ca. 1504
The Madonna and Child Enthroned with Saints are also known as Colonna Altarpiece and are currently the only altarpiece by Raphael in the United States.
The Temple of Dendur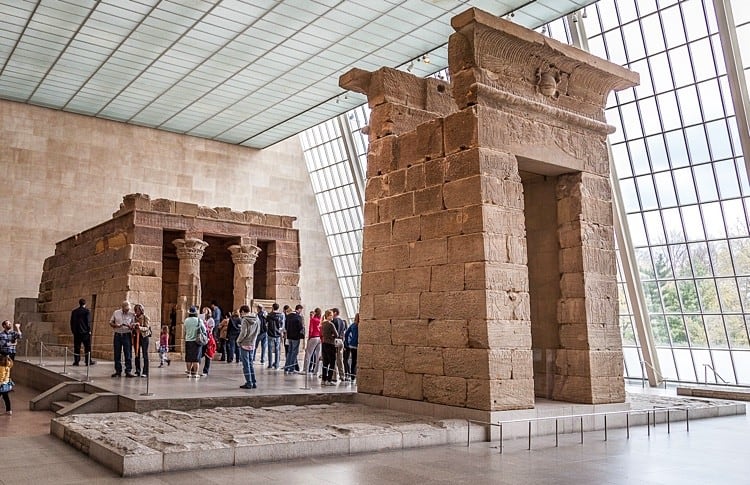 Year: 10 BC
This Egyptian temple was presented to the United States in 1965 after the Army Corps of Engineers saved it from the rising waters of the Nile.
The museum has a custom-built gallery to display the temple.
---
---
MET for kids
The MET has lots of activities planned for families and kids.
The MetKids special has been made for, with, and by kids.
Activities for kids and families
Kids can discover fun facts about various masterpieces at MET.
They can also get into the Met Fifth Avenue's time machine, watch behind-the-scenes archived videos, and work on their creative projects.
1. Nolen Library
Nolen Library welcomes readers of all ages to consult various materials about The Met's collection, exhibitions, and art history.
2. Audio Guide for Kids
The Audio Guide for Kids features thirteen tours, perfect for kids 6 to 12.
Artworks throughout all of the major areas of the Museum are included in these kids' tours.
3. Children's Classes
For kids, MET organizes classes by professional educators and artists who use the whole Met Museum (from studios to galleries) as an expanded classroom.
4. Kids concert at $1
The Metropolitan Museum of Art offers annual concerts with a US$ 1 ticket for kids (6 – 16).
Kids can avail of this offer when they are accompanied by an adult purchasing a full-price ticket.
Only three children are allowed to accompany one paying adult.
---
---
The Met Breuer
The Met Breuer is the Metropolitan Museum of Art's branch dedicated to modern and contemporary art.
It is in a separate building (designed by architect Marcel Breuer), approximately ten minutes from the main Met Museum.
The Met Breuer helps visitors explore art from the 20th and 21st centuries.
Entry to The Met Breuer is included in tickets for The Met.
The Met Breuer's location
945 Madison Ave
At 75th Street
New York, NY 10021
The Met Museum to The Met Breuer
Step out of the Metropolitan Museum of Art and turn right on 5th Avenue Road (the Museum Mile road).
You will be heading in the SouthWest direction towards E 81st Street.
After walking half a kilometer (0.3 Mile), turn left onto E 75th Street, and after walking approximately 150 meters (0.1 Mile), you must turn right onto Madison Avenue.
Continue walking till you spot The Met Breuer on your left. Get Directions
Parking at Met Breuer
The Met Breuer does not have a parking lot of its own.
Visitors to this Museum can park in the nearby iPark on 75th Street.
Since iPark has limited parking, most tourists prefer parking at The Met Fifth Avenue and walking to The Met Breuer.
The Met Breuer's hours
The Met Breuer doesn't open on Mondays.
Here are the open timings for other days:
Tuesday to Thursday: 10 am to 5:30 pm
Friday and Saturday: 10 am to 9 pm
Sunday: 10 am to 5:30 pm
Important: The Met Breuer is closed permanently for now. Keep checking the website for updates.
---
---
The Met Cloisters
Inaugurated in 1938, The Met Cloisters is a much older branch of The Met Museum.
The Met Cloisters specializes in the art and architecture of medieval Europe.
Entry to The Met Cloisters is included in tickets for The Met.
Met Cloisters' location
99 Margaret Corbin Drive
Fort Tryon Park
New York, NY 10040
The Met Cloisters is approximately 13 Km (8 Miles) from The Met Museum, so it is not advisable to walk it.
If you have your car or hire a taxi, a quick 15-minutes ride can take you from The Met Museum to Met Cloisters.
If you opt for public transport, it may take you 45 to 60 minutes.
Parking at The Met Cloisters
Free city parking is available in Fort Tryon Park, seven minutes from The Met Cloisters.
The public parking area in front of The Met Cloisters has slots for visitors with disabilities.
Met Cloisters hours
The Met Cloisters is open from 10 am to 5 pm, Thursday to Tuesday.
It remains closed on Wednesday, Thanksgiving Day, 25 December, and 1 January.
Sources

# Metmuseum.org
# Wikipedia.org
# Britannica.com
# Tripadvisor.com

The travel specialists at TheBetterVacation.com use only high-quality sources while researching & writing their articles. We make every attempt to keep our content current, reliable and trustworthy.
Popular attractions in New York