The Museum of Modern Art (MoMA) is a world-renowned art museum in New York City.
It was founded in 1929 and is located in Midtown Manhattan, just a short walk from Central Park.
MoMA's collection includes over 200,000 works of art, including paintings, sculptures, drawings, prints, photographs, film, and design objects.
The museum is particularly well-known for its modern and contemporary art collection, including works by Pablo Picasso, Vincent van Gogh, Salvador Dalí, Andy Warhol, and Jackson Pollock.
This article covers everything you must know before booking tickets for the Museum of Modern Art in New York.
Top Museum of Modern Art Tickets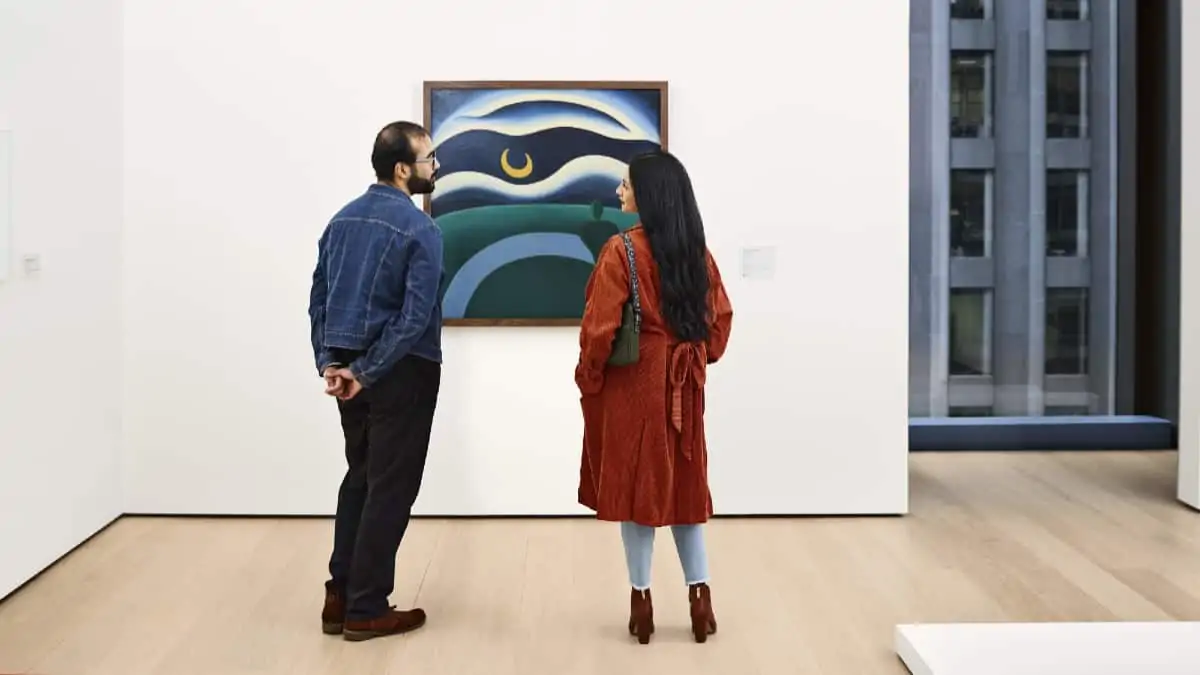 Snapshot
Hours: 10.30 am to 5.30 pm
On Saturday: 10.30 am to 7 pm
Time needed: 3 to 4 hours
Best time to visit: 11.30 am
Ticket cost: $25
Location
Museum of Modern Art is in Midtown Manhattan at 11 West 53 Street, New York, NY 10019.
Address: 11 West 53 Street, Manhattan. Directions
MoMA tickets
There are two ways to experience the MoMA New York – you can book a self-guided tour or a before hours tour with an art expert.
In this section, we explain everything about MoMA tickets.
MoMA tickets are timed
When you book your tickets, you must select a timeslot.
The slots start from 10.30 am (when the Museum opens) and are available every 30 minutes, till 4.30 pm.
You must be in the line at least 15 minutes before the time mentioned on your ticket.
Buying tickets online is better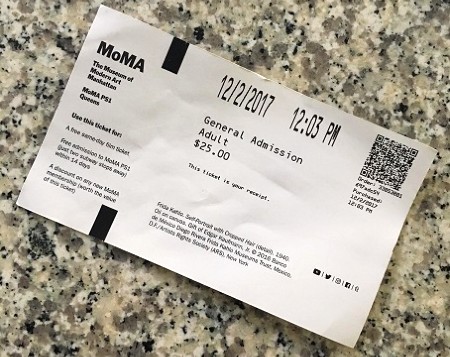 When you visit the most exquisite art museum in the world, you must stand in two lines – at the ticket counter to purchase your tickets and the security check.
If you buy your Modern Art Museum tickets online, much in advance, you can skip the long lines at the ticket counter and quickly go through the security.

Image: Makeupmuseum.org
Depending on the day and season, this saves you 15 to 45 minutes of waiting time.
No need to take printouts
All MoMA tickets are smartphone tickets, and as soon as you make the purchase, they get emailed to you.
On the day of your visit, you can show the ticket on your smartphone, and walk in.
MoMA discounts
At the Museum of Modern Art in NYC, kids below 16 years get the most significant discount – they get in for free.
Students with a valid student ID get an $11 reduction on the adult ticket price of $25 and pay only $14 for entry.
Seniors aged 65 years and above get a $7 discount on the adult ticket price and pay only $18.
To score a discount at MoMA, visitors can also check out the New York Pass, New York Explorer Pass, The Sightseeing Pass, etc.
These discount passes help you save more than 45% of your attraction ticket cost during your New York holiday.
Skip-the-line MoMA ticket
This self-guided tour ticket lets you access both the permanent collection and the regularly rotating temporary exhibitions.
With this ticket, you also get two things for free – MoMA's audio guide and access to MoMA PS1.
Ticket price
Adult ticket (17 to 64 years): $25
Seniors ticket (65+ years): $18
Student ticket (with student ID): $14
Child ticket (up to 16 years): Free entry
---
---
Before Hours Guided tour of MoMA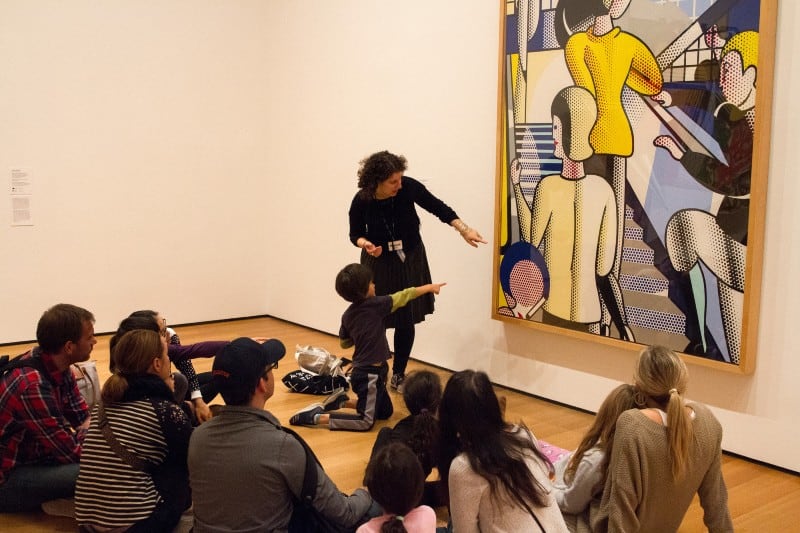 Join a professional art historian for an exclusive tour of MoMA's galleries.
Access the galleries via a private entrance and explore MoMA free of crowds.
See a variety of renowned works, including those by Monet, Van Gogh, and Picasso and discover contemporary pieces by Elizabeth Murray, Cindy Sherman, and Andy Warhol.
You may also benefit from additional access to the MoMA PS1 contemporary art center.
Cost of ticket: $99 per person
---
---
MoMA audio guide
The Museum of Modern Art offers a free audio guide to all visitors.
The audio guide is available in English, French, German, Italian, Spanish, Portuguese, Chinese, Japanese, and Korean.
You can choose numerous tours, each following a different path within the museum.
Some are kid-friendly, while others are for visitors with less time on their hands.
With around 100 tour options, visitors almost always find what they want.
---
---
MoMA opening hours
From Sunday to Friday, the Museum of Modern Art opens at 10.30 am and closes at 5:30 pm.
On Saturdays, MoMA opens at 10.30 am and remains open till 7 pm to accommodate the crowd.
MoMA is closed on Thanksgiving and Christmas.
---
---
Best time to visit MoMA
MoMA gets almost 3 Million visitors annually and an average of 8000 visitors every day.
The best time to visit the Museum of Modern Art is between 11.30 am and 1 pm and from 3 pm to 5.30 pm.
Both the crowd and the waiting period are minimum during these two time intervals.
Unlike other Museums, MoMA remains busy throughout the week and doesn't get a surge of visitors on weekends.
The best way to avoid the crowd at MoMA's ticket counters is by buying 'Skip The Line' tickets online.
Mondays are for members only.
Many tourists in New York end up asking, 'MOMA or The Met'? Check out this article on MOMA vs The Met and decide for yourself.
---
---
How long does MoMA take?
If you love art and prefer to get into the details, you will need three to four hours to explore what's on display at MoMA, New York.
Visitors in a hurry can complete their tour in 45 to 60 minutes.
Tourists who have been to art museums multiple times say that art fatigue sets in after approximately two hours of roaming around.
To get over the art fatigue and extend your stay, you can take a break at one of the three restaurants in the NYC Museum.
---
---
MoMA Free Friday
MoMA offers free admission for New York City residents on the first Friday evening of every month, from 4 pm to 8 pm.
However, it isn't easy to get into MoMA for free – you may have to wait in a queue for 30-45 mins before you get a chance to enter the Museum.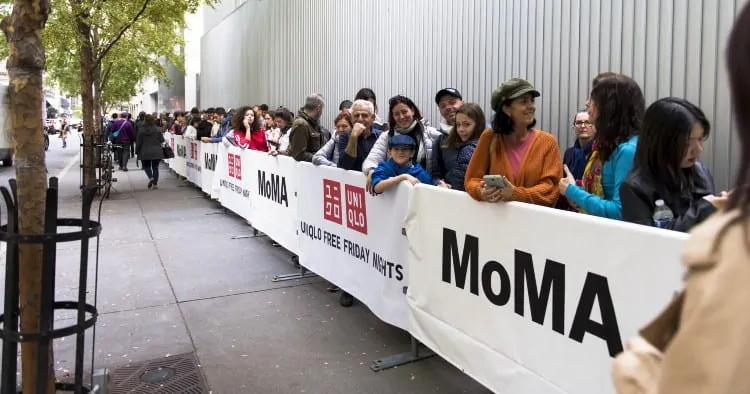 If you arrive at the Museum on a Friday after 6 pm, you can avoid some waiting.
But then, you will only have two hours to explore the whole Museum.
UNIQLO Free Friday tickets queue begins at the museum's 54 Street entrance.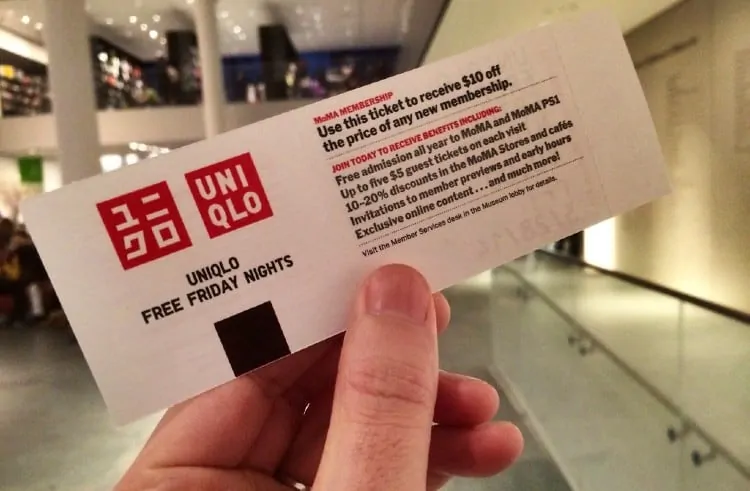 Apart from the Free Friday nights, the Museum of Modern Art offers free entry to children under 16.
---
---
MoMA map
Spread over six floors and divided into various zones, the Museum of Modern Art in New York is as intricate as the artworks it hosts.
It is important not to get lost and not miss out on the masterpieces.
If you have booked a guided tour of MoMA, you don't need to know the museum's layout.
But if you are going to be on your own, we suggest you pick up the free map and layout plan as soon as you enter the museum.
Besides the layout, you also get a handy guide to the masterpieces inside and where to find them.
Besides the exhibits, MoMA's map will also help you spot visitor services such as restrooms, cafes, souvenir shops, visitor assistance booths, etc.
---
---
MoMA restaurants
If you take regular breaks, you can see more of MoMA.
If visitors want to stop for food and drinks, they have three options –
The Modern
The Modern is a two-Michelin-starred restaurant that offers excellent lunch and dinner.
The Bar Room serves lunch from 11.30 am to 2.30 pm, daily.
From Monday to Saturday, they serve dinner from 5 pm to 9 pm.
The Modern restaurant serves lunch from 12 pm am to 2 pm Monday to Saturday, and serves dinner from Monday to Saturday where the seating begins at 5 pm.
The Modern is located on the ground floor of the Museum of Modern Art, with a street-level entrance at 9 West 53rd Street between the 5th and 6th Avenues.
Café 2
The newly renovated cafe offers a family-friendly environment with Italian dishes, wine, and beer with a casual Espresso Bar.
Cafe 2 is open from 11 am to 5 pm, daily.
Terrace 5
Terrace 5 is on the sixth floor of the Jerry Speyer and Katherine Farley Building and serves a seasonal menu with desserts and drinks.
From Saturday to Thursday, Terrace 5 is open from 11 am to 5 pm, and on Friday, it stays open till 7.30 pm.
---
---
How to get to MoMA
Museum of Modern Art is in Midtown Manhattan at 11 West 53 Street, New York, NY 10019.
MoMA has a smaller branch almost 5 Km (3 Miles) away in Queens called MoMA PS1, which does not have permanent exhibits.
If you are already in midtown Manhattan, fire up Google Map and walk towards MoMA.
The art museum is a short distance from many of the tourist attractions in Manhattan.
Top of the Rock to MoMA: 6 mins walk
Grand Central terminal to MoMA: 6 mins walk
St Patrick's Cathedral: 4 mins walk
If you are further away, we recommend taking one of the public transport options to get to MoMA.
The best mode of transport in New York's traffic is the subway.
You can ride E or M line to Fifth Avenue and 53rd street station from where MoMA is a quick four-minute walk.
Train B/D/F/M stop at 47-50 streets Rockefeller Center station from where the art museum is only a five-minute walk.
B/D/E trains to 7 Avenue Station also connect to MoMA, just 0.3 Km (0.2 Miles) away from the station.
F train to 57th Street Station gets you within a five-minute walk to the Museum of Modern Art, New York.
Parking near MoMA
If you plan to drive to MoMA, you can park your car in one of the two parking lots near the Museum.
ICON Parking is on 1330 Sixth Avenue with entrances between Fifth and Sixth avenues. It costs $35 for up to four hours.
The 1345 Garage is at 101-41 W. 54 St. between Sixth and Seventh Avenues and costs $24 for up to four hours.
You must validate the parking tickets in the Museum lobby.
---
---
What to see in Museum of Modern Art
Museum of Modern Art, New York holds some of the most famous art by artists such as Picasso, Cezanne, Dali, Gauguin, Monet, Van Gogh, and more.
MoMA's collection covers six floors. And it is quite a daunting task for a visitor to explore all of it during a single visit.
Worry not, for we present below MoMA's highlights –
The Starry Night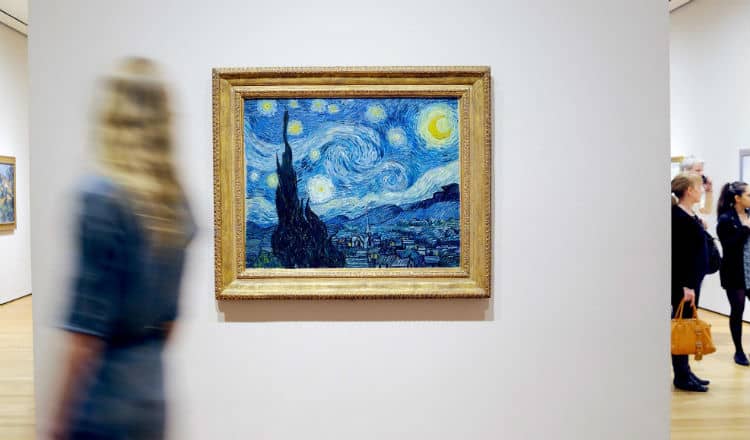 The Starry Night by Vincent Van Gogh is one of the stars of MoMA's collection.
Van Gogh painted this from his single room in a mental asylum.
The turbulent sky in the painting is supposed to depict his internal turmoil.
He painted this scene from his East-facing window 21 times, and that's why there are many versions of 'Starry Night.'
Drowning Girl
Drowning Girl by Roy Lichtenstein speaks for itself and takes you back to your comic-loving days.
Thick lines, bold colors, and dots with speech bubble gives the painting a printed look.
This painting is as modern as modern art gets.
The Persistence of Memory
The Persistence of Memory by Salvador Dali is a classic work of Surrealism based on time.
The landscape shows melting watches, ants, and fleshy objects depicting decay.
Les Demoiselles d'Avignon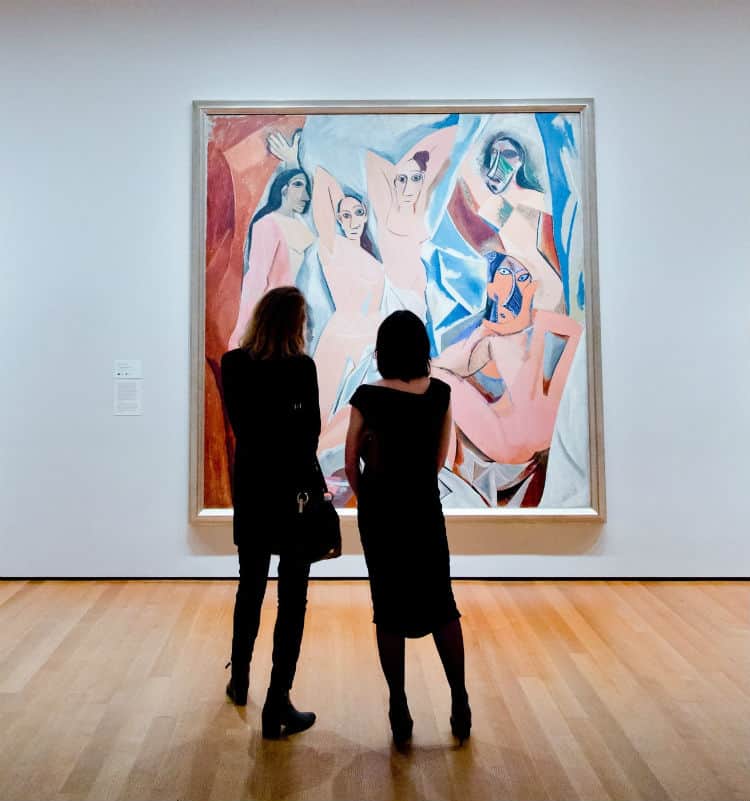 Les Demoiselles d'Avignon by Pablo Picasso was originally named 'Brothel of Avignon', and depicts five nude female prostitutes in Barcelona.
This painting didn't create waves during Picasso's time but is now a significant hit at MoMA.
Campbell's soup cans
Campbell's soup cans by Andy Warhol is one of the most excellent examples of Pop Art.
Warhol believed that art should be for everyone, and that's what this piece of art aims to do.
The exhibit includes images of 32 varieties of soup offered by the Campbell's, a must-have in all American households.
One, Number 31, 1950
One, Number 31, 1950 by Jackson Pollock is a 'drip' technique masterpiece and one of the artist's largest paintings.
The painting depicts streams of energy in tan, blue, and grey lashed through black and white.
Dance
Dance by Henri Matisse captures the joy and rhythm of dance presented by mythical dancers in a timeless landscape.
The liveliness which the painting radiates is hard to miss.
Gold Marilyn Monroe
Andy Warhol painted Gold Marilyn Monroe in 1962 when the world-famous actress died.
The painting shows Warhol's glamorous side and is an altarpiece in Andy's Pop Art church of celebrity.
The Sleeping Gypsy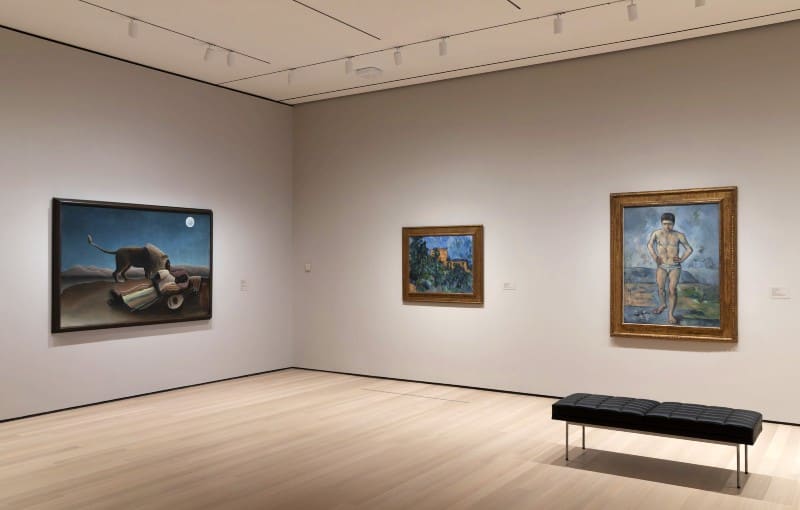 In The Sleeping Gypsy by Henri Rousseau, a gypsy sleeps even as a lion tries to smell her.
Henri is known as an outsider who impressed the insiders with his talent, which is visible in this painting.
Henri had tried to sell the painting to the Mayor of his hometown, Laval, but failed.
Self-portrait with cropped hair
Self-portrait with Cropped hair by Frida Kahlo is known for its gender-bending quality.
The painting shows Frida challenging the stereotype surrounding women and at the same time filling her ex-husband's position.
Grandcamp, Evening
When Grandcamp, Evening by Georges-Pierre Seurat is viewed from a distance, the dots appear as a seamlessly blended scene.
However, on close observation, one notices that the artist has used lots of dots of different colors to make this painting.
This artwork is an example of Seurat's expertise in the pointillism technique.
Outdoor Sculpture Garden
Abby Aldrich Rockefeller designed this sculpture garden as a tribute to the founders of the MoMA.
It is the perfect spot to stop for a break, even as you explore the rest of the Museum.
It holds artworks by Picasso, Anthony Caro, and many others, while marble slabs, fountains and flower beds, etc., provide relief.
Sources

# Moma.org
# Wikipedia.org
# Britannica.com
# Tripadvisor.com

The travel specialists at TheBetterVacation.com use only high-quality sources while researching & writing their articles. We make every attempt to keep our content current, reliable and trustworthy.
Popular attractions in New York