New York is famous for landmarks like Central Park, Statue of Liberty, Times Square, etc., and is a mouth-watering sanctuary for food lovers and a treasure trove for art enthusiasts.
The city, also known as The Big Apple, is a melting pot of cultures, making it an appealing destination for young couples.
New York is a famous Valentine's Day destination for young and old couples, visitors, and locals.
If you adore your sweetheart (and we don't doubt it!), you will have to spoil them with all the romantic surprises New York has to offer.
Plan ahead of time, for many lovers will be flocking to New York to celebrate the most romantic day of the year – 14 February 2024.
Check out our pick for the most romantic Valentine's Day itinerary in the city, also known as the City That Never Sleeps.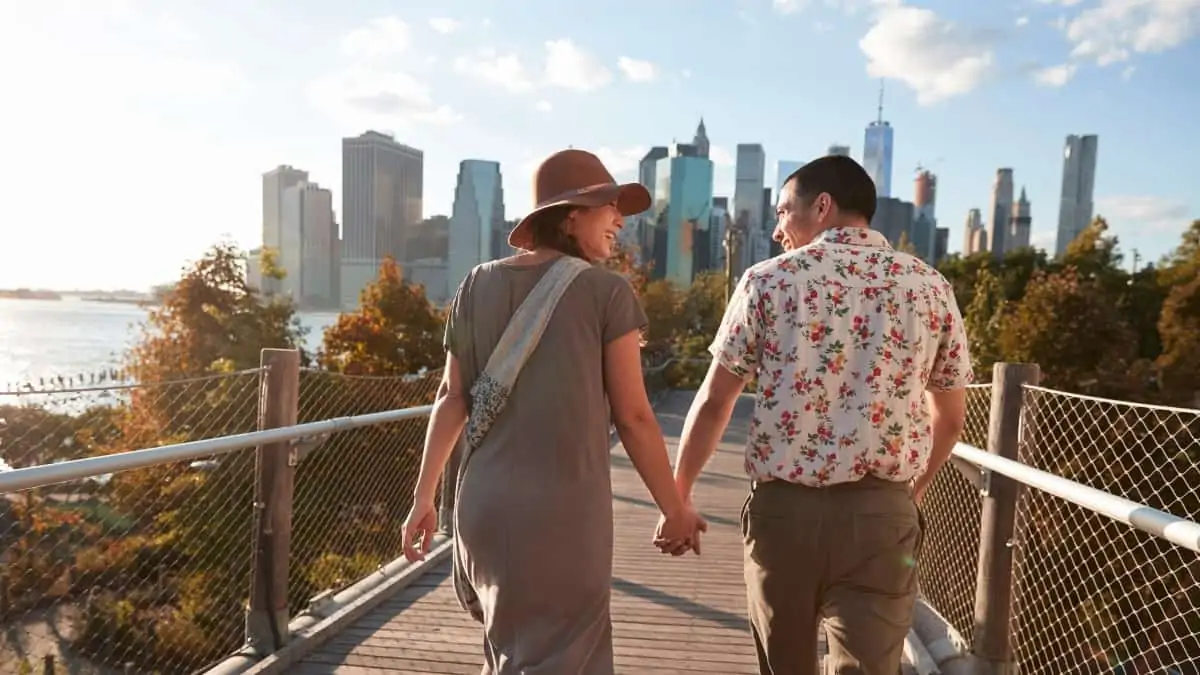 Things to do on Valentine's Day in New York
Here are our recommended fourteen romantic things to do during your Valentine's Day week in New York
You only need to bring your partner along.
Go up to an observatory for fascinating views
New York has many observation decks – Empire State Building, Top of the Rock, One World Observatory, Edge at Hudson Yards, and many more.
Locals and tourists go up on these observation decks to take in fascinating 360-degree views of the city.
The views are magical during sunset (and sunrise) and make for a romantic evening.
Empire State Building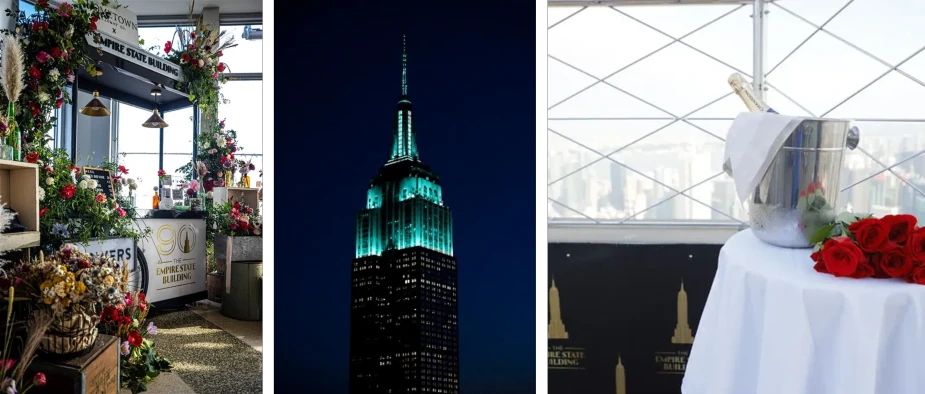 The Empire State Building (ESB) is an 88-years-old skyscraper in 5th Avenue, Midtown Manhattan, New York City.
Tourists love to go up the observatories on the 86th and 102nd floor of ESB and look at the New York skyline.
Named after NYC's nickname, The Empire State, it is an American cultural icon featuring more than 250 TV shows and movies.
Top of the Rock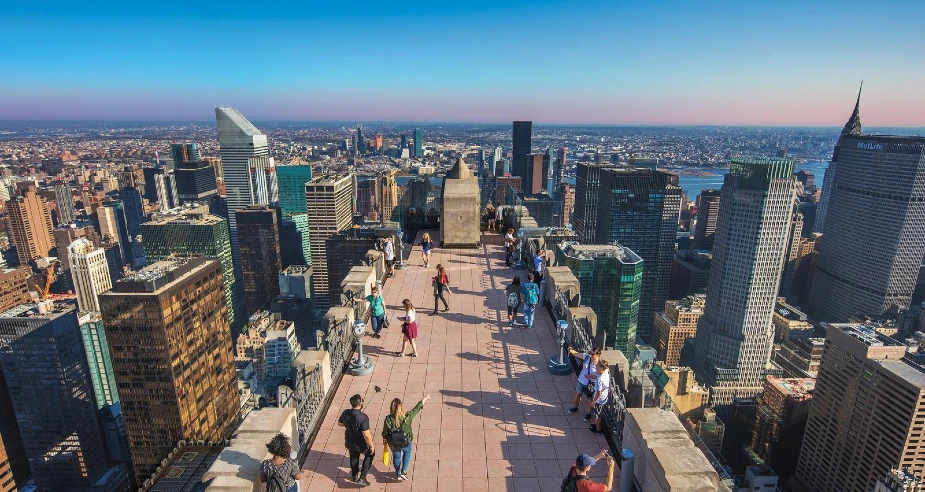 Top of the Rock is an outstanding observation deck attracting 2.5 million visitors annually.
Guests can visit three floors of indoor and outdoor observation decks and see famous New York landmarks such as the Empire State Building, One World Trade Center, Chrysler Building, the Brooklyn Bridge, Statue of Liberty, and more.
One World Observatory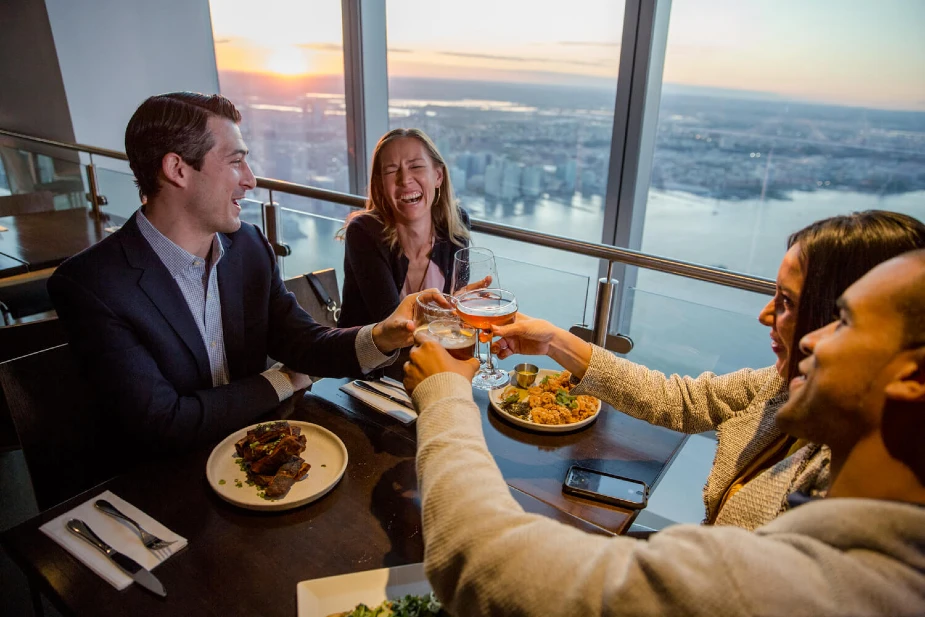 One World Observatory is an observational deck on the 100th floor of the One World Trade Centre, also known as the Freedom Tower.
Visitors who go up on the One World observation deck also visit the 9/11 Memorial and Museum nearby.
If you want to keep the time of your visit flexible, opt for flexible tickets.
Edge at Hudson Yards

The Edge at Hudson Yards is New York's latest observation deck of NYC.
It is on the 100th floor of the 30 Hudson Yards building, and at the height of 345 meters (1,131 feet), Edge is the highest outdoor observation deck in the Western Hemisphere.
Edge Hudson Yards' unique design gives visitors the feeling of being suspended in the air.
---
---
Visit Statue of Liberty with your partner
The Statue of Liberty symbolizes freedom, inspiration, and hope and is one of the most recognizable figures in the world.
On Valentine's Day 2024, you and your partner can board the Statue of Liberty ferry to reach Liberty Island and see the iconic figure from up close.
In the second part of their trip, you will visit Ellis Island to learn about the intriguing history of immigration to America.
---
---
Relive history at 9/11 Memorial & Museum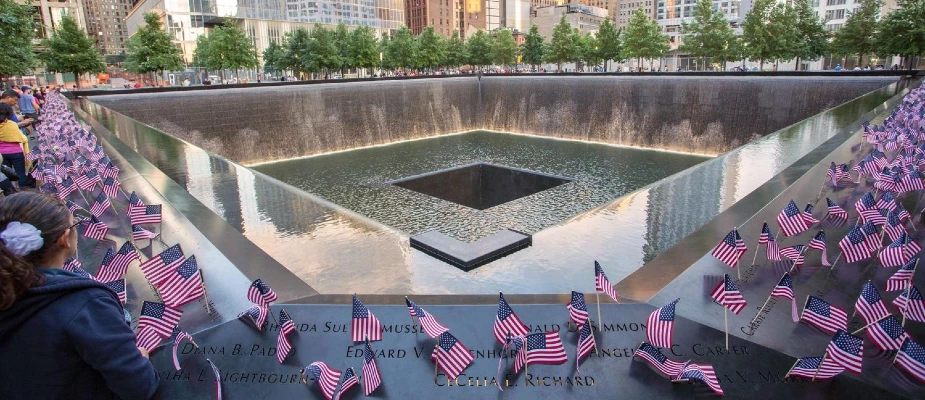 The 9/11 Memorial and Museum is a tribute to the lives lost on 11 September 2001 and 26 February 1993 (World Trade Center bombing).
Tourists visit this New York attraction to pay their respects and learn more about the event.
The Memorial & Museum may not be an ideal Valentine's Day attraction, but it will get you emotional and bring both of you closer.
---
---
Marvel at Intrepid Museum's exhibits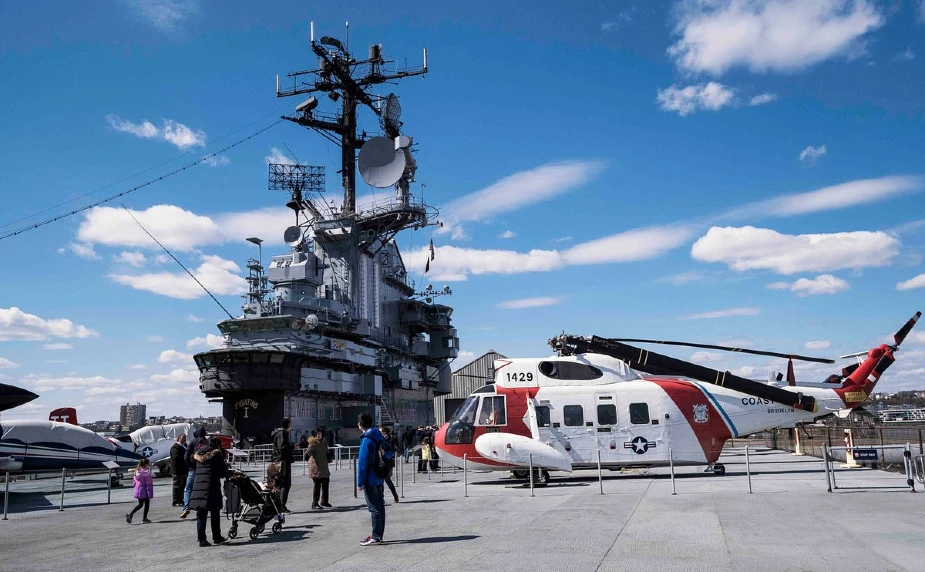 The Intrepid Sea, Air & Space Museum is a military and maritime museum.
It is dedicated to the history of the US Naval Aircraft carrier called USS Intrepid, which was in active service from 1943 to 1974.
Besides the Aircraft Carrier USS Intrepid, at the Intrepid Museum, you will also see the Space Shuttle Pavilion, the submarine Growler, and British Airways Concorde.
It is a great way to spend your Valentine's Day if your spouse is interested in history, aviation, weapons, or defence.
---
---
Fall in love with art in New York
With major art museums, galleries, auction houses, art fairs, etc., New York City has been a world-renowned destination for art.
If you love art, it would be criminal not to visit art museums such as The Met, Museum of Modern Art, or Guggenheim Museum.
These art galleries are ideal for couples in love to spend a quiet time together.
Metropolitan Museum of Art
The Metropolitan Museum of Art (The Met) is the largest art museum in the United States.
Over 5,000 years' worth of art from various cultures and periods is displayed at The Met.
MET Museum opened to the public in 1880 and since then has grown to cover a space of more than two million square feet.
Museum of Modern Art
The Museum of Modern Art (also known as MoMA) is the world's foremost modern and contemporary art collection.
Located in New York, MoMA is filled with paintings by Van Goghs, Warhols, and Picassos, which are sure to turn you into an art fan.
Guggenheim Museum
The Guggenheim Museum in New York exhibits modern and contemporary art.
It boasts of one of the most beautiful European and American paintings collections throughout the 20th century.
Also known as the Solomon R. Guggenheim Museum, this instantly recognizable landmark of NYC is sure to leave you spellbound.
---
---
Get romantic at New York Botanical Gardens
New York Botanical Garden in the Bronx has beautifully curated indoor and outdoor gardens, plants, trees, rolling hills, sculptures, and water bodies spread over 250 acres.
The manicured flower gardens, lush fields, and winding trails of NYBG are a perfect break from the concrete skyscrapers of New York City.
If you want to pack a picnic and spend time together this Valentine's Day, look no further than the botanical gardens.
---
---
Chill out with your partner at the Ice Museum
Museum of Ice Cream in New York is a unique museum that appeals to kids and adults alike.
At this museum dedicated to ice creams, visitors explore 13 immersive and innovative multi-sensory installations spread over three floors and 20,000 square feet.
And along the way, you also keep getting ice creams and sweet treats.
The Museum of Ice Cream takes only 90 minutes, so plan yet another activity to celebrate your love on 14 February.
---
---
Hold hands on a helicopter tour
Take a helicopter tour with your spouse on Valentine's Day and see the sights, including Central Park, the Brooklyn Bridge, the Hudson River, the Statue of Liberty, the Intrepid Air and Space Museum, and more.
With a tour commentary from a highly-trained pilot, discover the best of New York City.
Hold each other's hands and enjoy incredible views from above.
There is no better way to take in the stunning and ever-changing New York City cityscape than from this vantage point.
This tour is a great way to spend quality time with your significant other.
---
---
Book a romantic cruise with entertainment
On Valentine's Day 2024, take the Bateaux New York for a two- or three-hour sightseeing cruise.
Enjoy fine dining with your spouse even as the live musical entertainment plays in the background.
Then dance with your sweetheart while listening to the sounds of the onboard jazz pianist.
The Empire State Building, Brooklyn Bridge, Statue of Liberty, and One World Trade Centre are just a few of the sights to admire from your cruise.
The romantic indulgence is sure to bring both of you even closer, so don't miss it!
---
---
Go around Central Park in a horse-drawn carriage
For a ride across Central Park, climb into a beautifully decorated carriage with luxurious seating.
You and your spouse will explore the cascading Angel of the Waters Sculpture and many other famous locations in the park while listening to the clip-clop of the horses' hooves in the background.
A horse-drawn carriage will take you both around several of Central Park's historical landmarks.
Before driving to Cherry Hill, take some memorable photos with your partner.
This activity is perfect for a romantic date on 14 February 2024.
---
---
Visit Niagara Falls with your partner
On Valentine's Day 2024, visit Niagara Falls, USA, a place of adventure, beauty, and natural wonder.
With your spouse, take in the breathtaking views of the Falls from the American Observation Tower.
On the Maid of the Mist boat ride and Cave of the Winds tour, get up close and personal with the majestic Falls.
Hear the thundering roar and feel the mist on your face.
Visit the American Falls, the Bridal Veil Falls, and a section of the Horseshoe Falls and hear the thundering roar and feel the mist on your face.
This Niagara Falls tour is a fantastic adventure and one of the most romantic things to do in New York with your loved one.
---
---
Marvel at the city's lights on a night cruise
Grab your partner and go out on a fantastic harbour cruise with "Lady Liberty" on the lookout!
Admire New York at sunset, and take in all the sights and lights of Manhattan from the comfort of a climate-controlled boat.
After nightfall, cruise within 100 feet of the Statue of Liberty for spectacular vistas of Lower Manhattan.
The romance will be unparalleled when with a drink in your hand, you and your boyfriend or girlfriend will feel the breeze on your face and be mesmerized by the shimmering skyline.
---
---
Take in the wildlife attractions
If both of you love wildlife, dedicate Lover's Day to the creatures at the Bronx Zoo or the Central Park Zoo.
Bronx Zoo
Bronx Zoo within the Bronx Park in Bronx, New York, is a popular choice for a day outing for locals and visitors.
With 4000 animals on display spread over 265 acres, it is one of the largest zoos in the United States. Buy Tickets
Central Park Zoo
The Central Park Zoo is a popular tourist destination tucked inside the lush Central Park in New York City.
It is spread across 6.5 acres in the heart of Manhattan and is an apt choice for a quick outing, especially for families with children and young adults. Buy Tickets
---
---
Explore American Museum of Natural History
The American Museum of Natural History is one of the world's top scientific and cultural institutions.
This is why if your boyfriend or girlfriend loves science, it makes for the perfect outing on Valentine's Day 2024.
More than 5 million visitors explore its scientific collections and exhibitions every year.
Tyrannosaurus Rex, Titanosaur, Easter Island head, Blue Whale, Mammoth, etc., are some of the highlights of this science museum that inspired the movie 'Night At The Museum.'