The Central Park Zoo is a popular tourist destination tucked inside the lush Central Park in New York City, New York.
It is spread across 6.5 acres in the heart of Manhattan and an apt choice for a quick outing, especially for families with children.
The Central Park Zoo may be small, but it is big on entertainment and gets more than one million visitors annually.
In this article, we share everything you must know before buying Central Park Zoo tickets.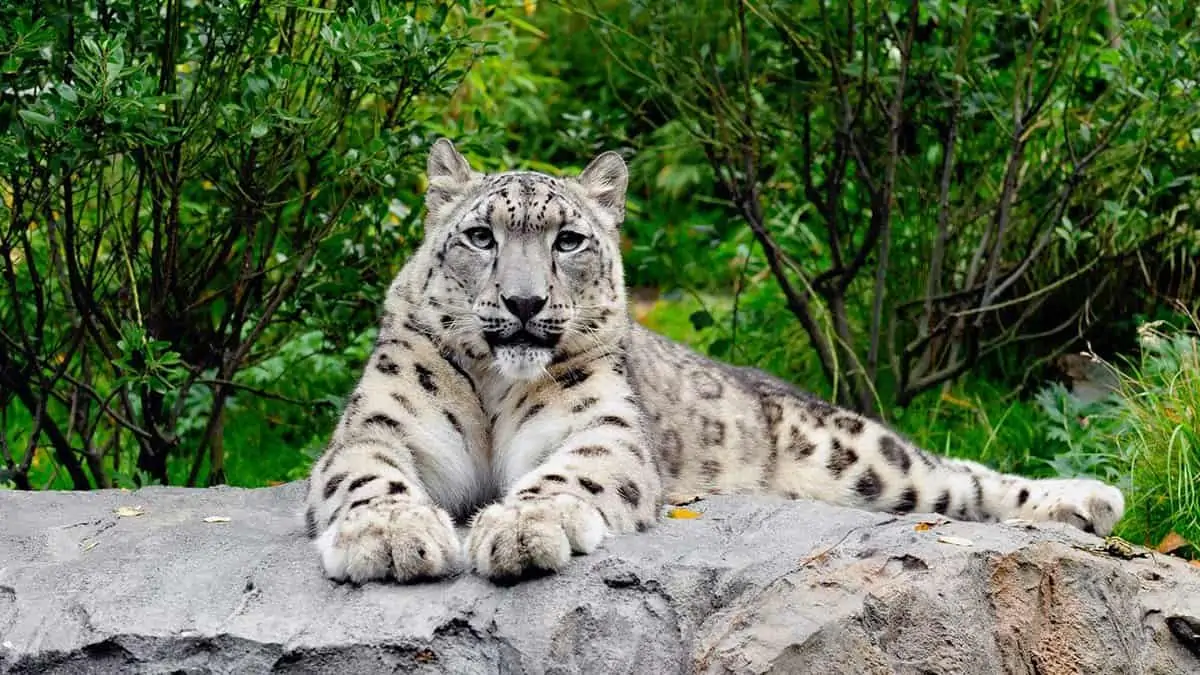 How to reach Central Park Zoo
The Central Park Zoo is near the southeast corner of Central Park at 64th Street & 5th Avenue New York, NY 10065. It is easily accessible by mass transit. Get Directions
By Subway
If you want to take a subway to reach the Central Park Zoo, travel on N, R, or W Trains to the Fifth Avenue station on 59th Street in Manhattan.
After getting off, walk four blocks north towards 64th street and in approximately 10 minutes you will reach Central Park Zoo.
Another option is to take the Lexington Avenue No 6 train to the 68th Street-Hunter College station.
From the station, it is an 11-minute walk to the zoo.
By Bus
There are quite a few public transport buses that can take you closest to Central Park Zoo in New York.
The bus route numbers that stop on Fifth Avenue between 59th Street and 65th Street are M1, M2, M3, M4, M5, M66, Q32.
Central Park Zoo parking
No parking is available at the Central Park Zoo.
If you decide to drive down, reserve your parking spot near the destination through SpotHero.
The service gives you parking options nearby with the applicable charges for the day.
Madagascar, the 2005 animated movie where four animals escape a zoo and get shipwrecked on Madagascar island, is set in Central Park Zoo.
---
---
Central Park Zoo price
Central Park Zoo tickets cost $13.95 for adults aged 13+ years and $8.95 for children aged 3 to 12 years.
Ticket discount
Children under three years of age can enter Central Park Zoo for free – they don't need to buy tickets.
The zoo offers discounts for visitors over 65 years, but the elderly can get these reductions only at the venue.
Active military personnel and veterans are eligible for free entry to the Central Park Zoo.
They also get 50% off on general admission tickets for up to three guests.
Tip: Many visitors want to know if they can visit Central Park Zoo for free. Unfortunately, Central Park Zoo does not offer a free admission day.
---
---
Tickets for Central Park Zoo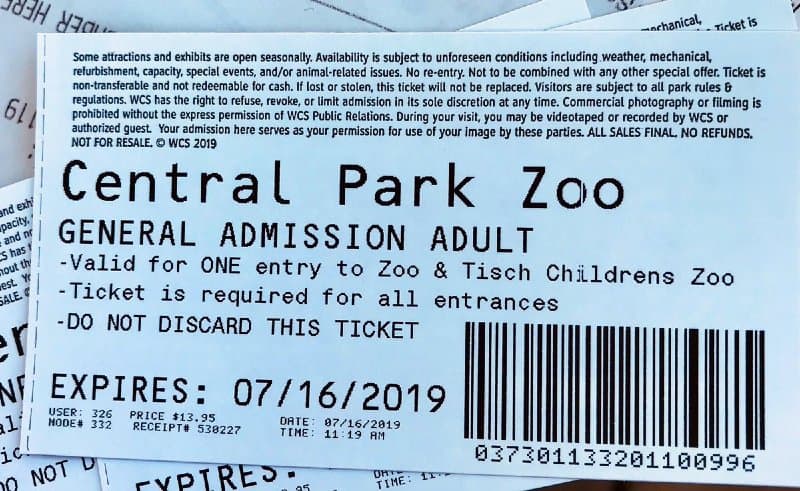 Purchasing your tickets for Central Park Zoo online is a better experience for three reasons:
Online tickets are cheaper because there is no 'ticketing window surcharge.'
You don't wait in the ticket counter queue and waste your time and energy.
Tickets on-site get sold on a 'first-come, first-served basis. Booking your tickets online (and in advance) ensures a guaranteed entry.
The tickets get emailed to you.
On the day of the visit, you can Skip the line at admissions and proceed directly to the check-in booth to scan your smartphone ticket.
Ticket price
Adult ticket (13+ years): $13.95
Child ticket (3 to 12 years): $8.95
Families with kids love this Central Park Zoo + American Museum of Natural History combo ticket, which gets you a 10% discount.
Yet to decide? Check out the best wildlife attractions in New York.
---
---
Central Park Zoo hours
From April to October, Central Park Zoo opens at 10 am and closes at 5 pm.
During these peak season months, on weekends and holidays, it closes at 5.30 pm.
From November to March, the New York zoo opens at 10 am and closes early at 4.30 pm.
The last entry is 1 hour before closing, and the animal exhibits close 30 minutes before closing.
---
---
Best time to visit Central Park Zoo
The Central Park and Central Park Zoo in New York are popular destinations amongst locals and tourists.
The best time to visit Central Park Zoo is as soon as they open at 10 am.
The animals are most active in the morning, and the crowds and queues are smaller.
As the day progresses and gets hotter, the animals may recede to shaded areas.
Also, if you start early, you can cover the zoo before lunch.
On weekends and public holidays, the Central Park Zoo draws a larger crowd than on weekdays.
Central Park Zoo in New York is comparatively less crowded in the winters.
It is worth a visit even when it snows as the zoo is home to several species that are native to cold habitats.
---
---
How long does Central Park Zoo take
If you are visiting with children, you will need around two hours to explore the Central Park Zoo.
Children tend to linger longer around their favorite animal enclosures, attend feeding sessions, keeper talks and try out numerous experiences.
It may take longer in case there are frequent stops for pictures or food.
Adults can explore the zoo in an hour, if they keep a good pace.
The Central Park Pass includes tickets to Central Park Zoo, Metropolitan Museum of Art, and American Museum of Natural History. You also get a 10% discount code, which you can use (five times!) to get discounts on future purchases.
---
---
Animals at Central Park Zoo
Central Park Zoo offers exciting experiences along with animal viewing.
It has three significant habitats – the Polar Circle, Temperate Territory, and Tropical Rainforests.
Polar Circle
The Polar Circle exhibit is similar to the natural conditions penguins experience in the wild.
The habitat's temperature is maintained between 0 to 1 degree Celcius (32 to 34 degrees Fahrenheit), and the water temperature remains at 5.5 degrees Celcius (42 degrees Fahrenheit).
Five penguins species on display at Polar Circle are Tufted Penguin, Gentoo Penguin, King Penguin, Chinstrap Penguins, and Macaroni Penguins.
Penguin feeding happens twice a day – at 10.30 am and 2.30 pm.
It is one of the most popular exhibits at the Central Park Zoo in New York.
Tropic Zone – the Rainforest
The Tropic Zone in the Central Park Zoo is a sky-lit enclosure containing dense vegetation, a waterfall, lots of primates, and tropical birds flying freely about an open aviary.
It houses an incredible variety of species, including magnificent birds with brilliant colors.
The African Pygmy Goose and the Scarlet-Chest Parrot amongst them are crowd favorites.
You can also see lots of frogs, lizards, snakes, toads, Black and White Ruffed Lemurs, Tamarins in this habitat.
Temperate Territory
The Temperate Territory in the Central Park Zoo has several species from Asia.
This habitat is home to yet another visitor favorite – Sea Lion Pool.
When you spot the row of columns, take the landscaped path to its West to see the island that is home to a clan of Japanese snow monkeys.
Paths further West takes you to Asian Red Pandas, North American River Otters, Mandarin Ducks, Red Swans, etc.
Snow Leopards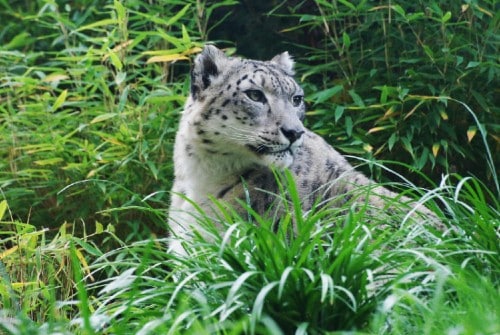 The Allison Maher Stern Snow Leopard exhibit is like the scrubby evergreen forests in Central Asia's mountainous region, where the highly endangered snow leopard lives.
They are in the top-most portion of the temperate zone, north of the Red Pandas.

Image: Centralpark.com
The exciting part is that you can go nose-to-nose with these felines and see them perched on rocks and boulders.
Central Park Zoo in New York is home to male and female Snow Leopard twins River and Summit (born 2 June, 2013).
They live in one habitat along with their mother's other younger cub Malala (born in 2014).
It is a delight to watch these impressive animals navigate steep terrain with grace.
Sea Lion Pool
The massive Sea Lion Pool in the Temperate Zone in the Central Garden is home to three female California Sea Lions – April, Charlotte, and Margaretta.
The sea lions sunning on rocks against the Manhattan skyline cut quite a picture in the Central Park Zoo in New York.
The exhibit features both above and below water viewing.
If you go around feeding times – 11.30 am, 1.30 pm, and 3.30 pm – you can see these creatures devour enormous amounts of fish.
Grizzly Bear & Treena's Overlook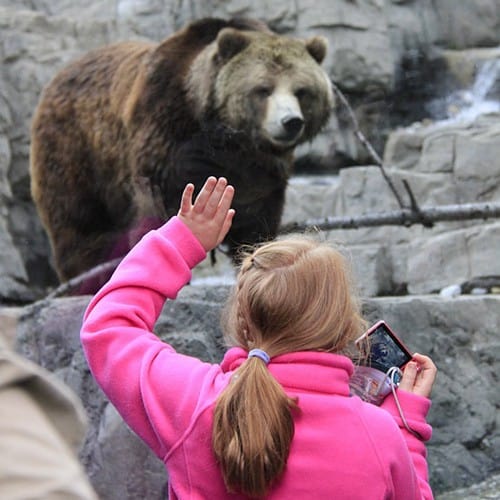 Betty and Veronica are the two grizzly bears that live in Central Park Zoo.
The two female grizzlies came from the Bronx Zoo after being rescued in 1995 from Montana and Yellowstone National Park.
Space they now live in was previously home to the late polar bears Gus and Ida.
Image: Centralparkzoo.com
Treena's Overlook also offers visitors an opportunity to learn how people can better co-exist with bears in the wild.
Tisch Children's Zoo
The Tisch Children's Zoo is just across 65th Street from the Central Park Zoo.
Central Park Zoo ticket includes entry to the children's zoo even though it is outside the main premises.
Tisch Children's Zoo has farm animals such as sheep, goats, pigs, zebu, rabbits, turtles, waterfowl.
Visitors can avail food from the food dispensers and feed them between 10 am and 2 pm.
Next to the animal pens, the bronze statues replicate the animal's sound on touch, thereby entertaining and educating the young visitors.
The Tisch Children's Zoo is home to the only cow in Manhattan.
---
---
Animal feeding at Central Park Zoo
Animal Feeding sessions can be fun as well as insightful.
The Central Park Zoo has two animal feeding experiences worth viewing: sea lions and penguins.
The regular Central Park Zoo entry ticket to the zoo includes animal feeding sessions.
Sea Lion feeding
Sea Lions are active and at their playful best during feeding sessions at the Central Park Zoo.
Adult California Sea Lions can eat 15-40 lbs. of fish and marine life a day.
The animals are fed Capelin, Herring, Vitamin E, and salt supplements at the Central Park Zoo.
Sea Lion feeding coincide with behavioral enrichment and training three times a day at 11.30 am, 1.30 pm, and 3.30 pm.
Penguin feeding
Penguins at the Central Park Zoo are out and about when it is feeding time.
In the wild, Penguins eat fish and krill, a shrimp-like crustacean.
At the Central Park Zoo in New York, their diet consists of Capelin (a type of smelt) and Herring.
The King Penguin prefers feeding on fish and squid than the crustaceans.
The Penguins are hand-fed by keepers twice a day – at 10.30 am and 2.30 pm.
---
---
4-D Theatre at Central Park Zoo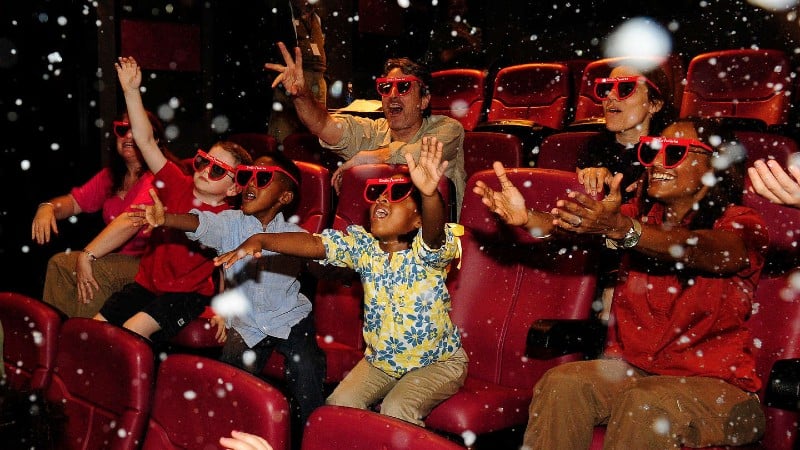 Central Park Zoo ticket includes admission to the 4-D theatre experience inside the zoo.
It is an immersive exhibit featuring the visual drama of a 3-D film with a variety of built-in sensory effects like mist, air blasts, bubbles, leg ticklers, scents.
All visitors get clean 3-D glasses before every show.
Visitors six years and above can enter and watch 'Ice Age – No time for Nuts' which is being screened currently. The movie keeps changing.
---
---
Map of Central Park Zoo
Even though it is a small zoo, it is wiser to have a copy of the Central Park Zoo's map to navigate the various exhibits.
A map can help you locate the animal enclosures and visitor facilities such as restrooms, restaurants, baby changing facilities, medical rooms, souvenir shops, etc.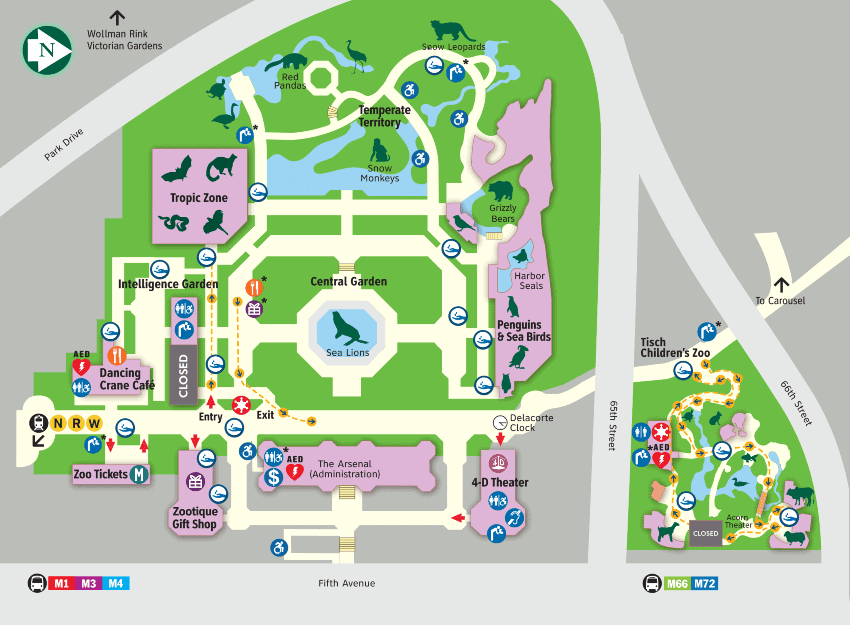 Carrying the Central Park Zoo's layout is highly recommended if you are traveling with kids because you won't waste time finding the various exhibits, and in the process, get exhausted.
You can download and print the zoo map here.
---
---
Food at Central Park Zoo
The Central Park Zoo's Dancing Crane Café serves a wide variety of high-quality meals, snacks, beverages, and desserts.
The café prides itself on its carefully prepared, fresh, and healthy meal choices.
There are food and drink vendors located throughout the zoo if you want a quick bite or beverage.
If you are carrying food from home, benches outside the Central Park zoo make ideal picnic spots.
---
---
Visiting Central Park Zoo in winter
The Central Park Zoo in New York is open 365 days a year, with animals on exhibit all year-round.
Spring and Summer are popular seasons to visit.
Still, Fall and Winter can be an equally exciting time to explore the Central Park Zoo.
For one, the crowds are comparatively fewer.
Sometimes it is an experience to watch animals adapting to their habitats when it snows.
Many animals are more active during the winter months, including the Snow Leopards, Grizzly Bears, Red Pandas, and Sea Lions.
Other interesting species are the Japanese Macaques. Their habitat includes winter hot tubs that reach the same temperature as their body temperature – 104 degrees, for their bathing pleasure.
Then there are Snow Monkeys- native to parts of Japan where it snows.
These monkeys are thought to have inspired the famous saying – see no evil, hear no evil, and speak no evil.
Sources
# Centralpark.com
# Wikipedia.org
# Nytimes.com

The travel specialists at TheBetterVacation.com use only high-quality sources while researching & writing their articles. We make every attempt to keep our content current, reliable and trustworthy.
Other Zoos in New York
# Bronx Zoo
# Queens Zoo
# Prospect Park Zoo
Popular attractions in New York
# Empire State Building
# One World Observatory
# Top of the Rock
# Statue of Liberty
# Metropolitan Museum of Art
# 9/11 Memorial and Museum
# Museum of Modern Art
# Intrepid Museum
# Guggenheim Museum
# New York Botanical Garden
# American Museum of Natural History
# Edge Hudson Yards
# Vessel Hudson Yards
# Museum of Ice Cream
# BlueMan Group NYC
# New York Dinner Cruise
# New York Helicopter tour