Prospect Park Zoo is a 12-acre wildlife extravaganza off Flatbush Avenue in Prospect Park, Brooklyn, New York City.
It is a relatively smaller zoo, but with more than 850 animals representing 176 species, it packs quite a punch.
In this article, we share everything you must know before buying your Prospect Park Zoo tickets.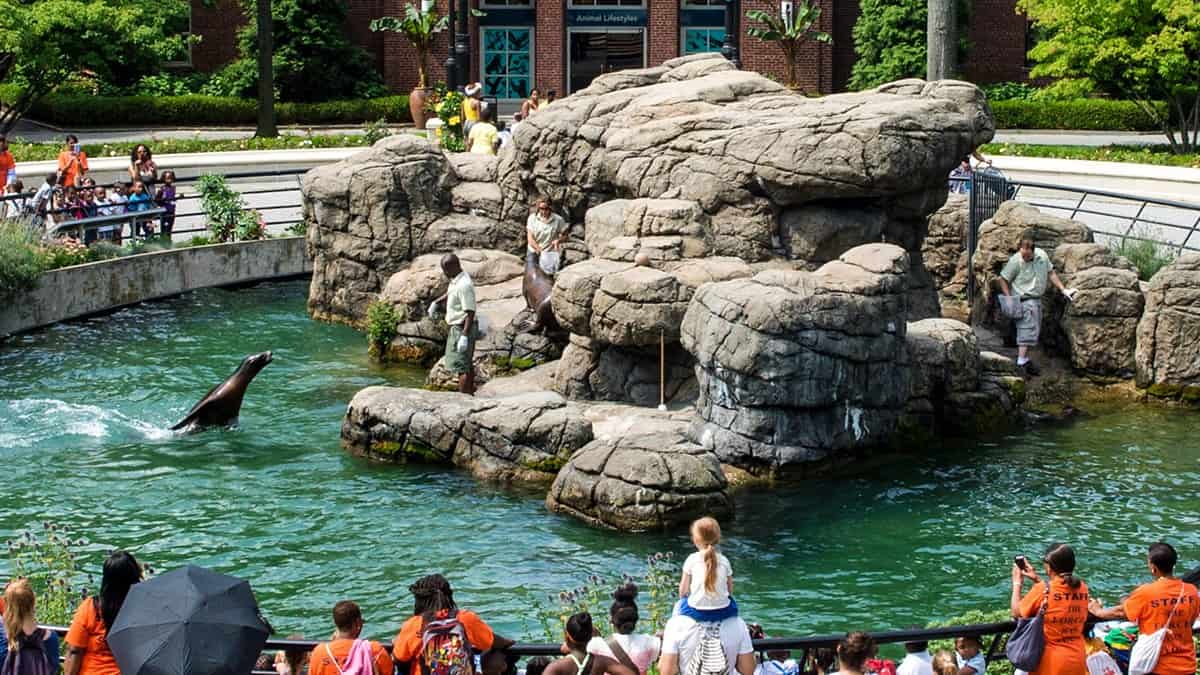 How to reach Prospect Park Zoo
The Prospect Park Zoo is on 450 Flatbush Avenue in Brooklyn, New York 11225.
It is on the Eastern side of Prospect Park, Brooklyn, New York City. Get Directions
Zoo entrance
Visitors must enter the Prospect Park Zoo from the Prospect Park Children's Corner entrance at Flatbush Avenue and Empire Boulevard.
The entrance on Flatbush Avenue is closed at this time.
By Subway
Take the B train or Q train (local or express) or the local Franklin Avenue Shuttle (S) to Prospect Park Station.
You must exit at Flatbush Avenue/Ocean Avenue and walk north on Flatbush Ave. to the zoo.
The zoo is .65 km (.4 miles), and the walking time is approximately 10 minutes.
By Bus
Take the B41 local to Flatbush Avenue or the B47 to the intersection of Flatbush Avenue and Empire Boulevard.
Once you get down at the designated bus stop, walk north on Flatbush Avenue to get to the zoo.
Car parking
Prospect Park Zoo has no parking garage of its own.
However, there is a limited number of street parking on Flatbush Avenue.
---
---
Prospect Park Zoo hours
The Prospect Park Zoo opens at 10 am, all through the year.
During the summer, the Prospect Park Zoo remains open till 5 pm on weekdays and till 5.30 pm on weekends and holidays.
During winter, the Zoo is open till 4.30 pm on all days.
The animal exhibits close half an hour before the closing time of the day.
The last entry to the Zoo is 30 minutes before closing time.
The Prospect Park Zoo business hours are as follows:
| Dates | Opening hours |
| --- | --- |
| 27 Mar to 6 Nov, Mon to Fri | 10 am to 5 pm |
| 27 Mar to 6 Nov, Sat & Sun, holidays | 10 am to 5.30 pm |
| 7 Nov to 26 Mar, Daily | 10 am to 4.30 pm |
---
---
Best time to visit Prospect Park Zoo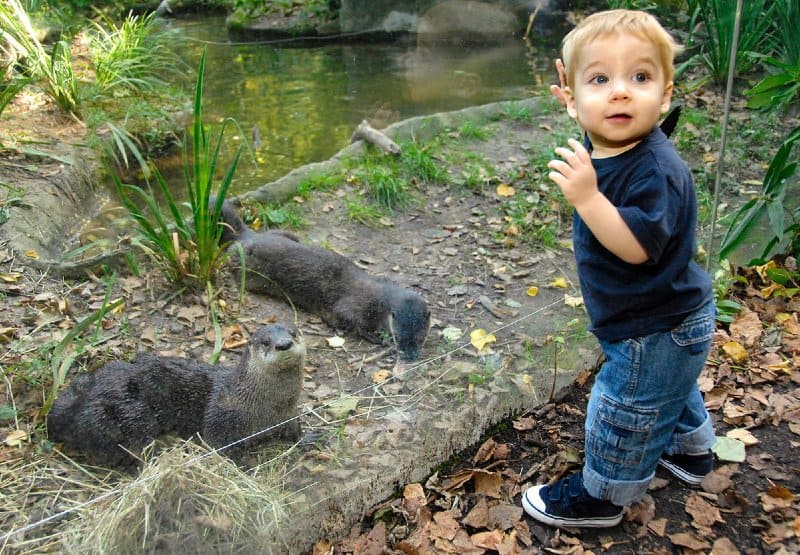 The best time to visit Prospect Park Zoo is as soon as they open at 10 am.
Early in the morning, the animals are most active, and crowds are just about getting in.
As the day progresses and the temperature goes up, animals get lethargic and get into the shaded areas.
We recommend weekdays for a peaceful visit because it gets crowded on weekends and school holidays.
---
---
How long does Prospect Park Zoo take
If you are visiting with children, you will need two hours to explore Prospect Park Zoo.
Children tend to linger longer around their favorite animal enclosures, attend feeding sessions, keeper talks and try out numerous experiences.
If you are a group of adults in a hurry, you can walk past all the exhibits at Prospect Park Zoo in an hour.
---
---
Prospect Park Zoo discounts
At the Prospect Park Zoo, active US military and veterans qualify for a complimentary General Admission ticket for themselves and 50% off for up to three guests.
While booking the tickets, you must use promotional code MILITARYCITY for active personnel and VETERANCITY for Veterans.
The Military member must bring along a valid ID during their visit.
---
---
Prospect Park Zoo tickets
Prospect Park Zoo recommends that you purchase your tickets online and in advance.
The daily capacity is limited, and tickets get sold on a 'first-come, first-served basis.
Booking your Prospect Park Zoo tickets online (and in advance) ensures a guaranteed entry.
All tickets are timed, which means while booking, you must select the time of your visit.
You don't need to purchase tickets for infants two years and below.
Prospect Park Zoo price
Adult ticket (13 to 64 years): $9.95
Senior ticket (65+ years): $7.95
Child ticket (3 to 12 years): $6.95
Find out everything about the four fantastic zoos in New York.
---
---
Animals in Prospect Park Zoo
Prospect Park Zoo has lots of animals to see. After all, it houses more than 850 animals representing about 175 species.
The zoo is a great way to get your wildlife fix alongside the beautiful Brooklyn Botanic Garden.
Discovery Trail
At Discovery Trail, visitors can see animals from diverse corners of the world in settings similar to their natural habitats.
In this part of the zoo, you will spot the Red Pandas.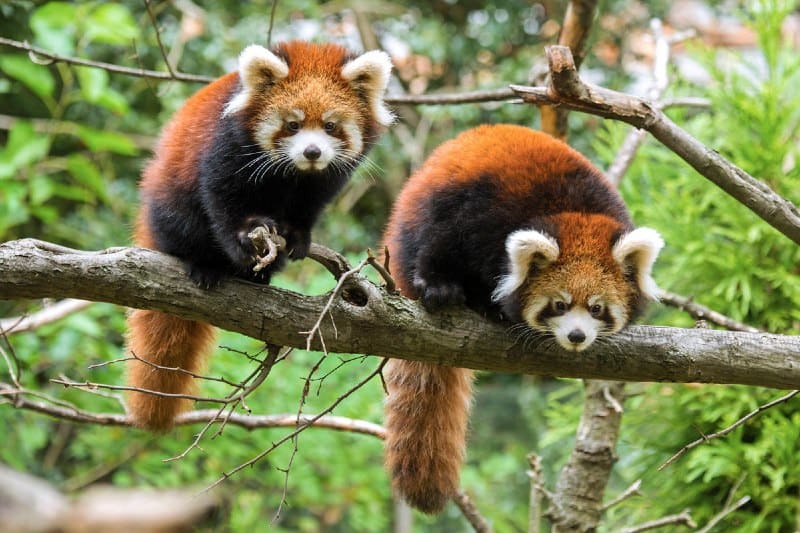 Some of the other highlights are Tufted Deer, Dingo, Black-Tailed Prairie Dog, Emu, North American River Otter, etc.
Hall of Animals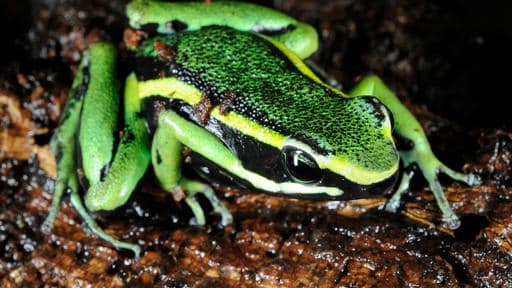 In Prospect Park Zoo's Hall of Animals, visitors get to see some of the smallest faces in the animal world.
The highlights of this part of the wildlife attraction are the Dwarf Mongoose, Poison Dart Frog, Red-Crested Turaco, Fly River Turtle, Fennec Fox, etc.
Image: Prospectparkzoo.com
Animal Lifestyles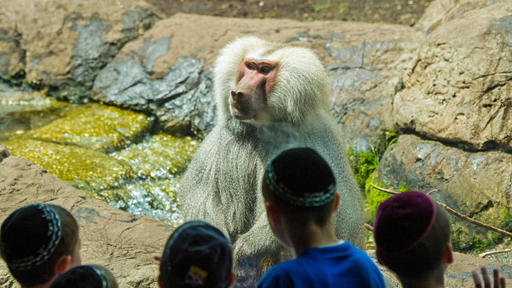 At Animal Lifestyles, visitors see numerous animal exhibits showcasing life in water, air, and land.
Each exhibit holds a carefully controlled environment that features select animals.
Image: Prospectparkzoo.com
In here, you also see a troop of Hamadryas Baboons and the visitor's favorite Pallas cat.
Other animals to watch out for are Golden Lion Tamarin, Geoffrey's Marmoset, Wreathed Hornbills, Lettered Aracari, etc.
Barn & Garden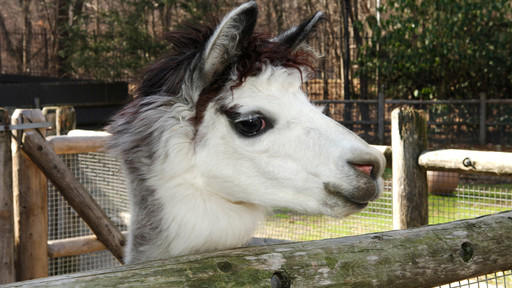 The Barn & Gardens is Prospect Park Zoo's equivalent of a children's zoo.
At this working barn, kids love interacting with the Sheep, Cows, Goats, Ducks, Geese, Alpaca, Pigs, etc.
Image: Prospectparkzoo.com
They can also feed the animals a handful of grain.
Sea Lion Court
The Sea Lion Court forms the heart of the zoo, and the Sea Lions tend to be the most popular residents.
Every day, zookeepers train these curious and intelligent animals, and visitors can witness the sessions.
During these training sessions, the sea lions get noisy and naughty, and there is a lot of laughter around.
From Monday to Friday, the Sea Lion training and feeding at Prospect Park Zoo happens at 11.30 am and 3.30 pm.
On weekends it happens three times – 11.30 am, 2 pm and 3.30 pm.
---
---
Map of Prospect Park Zoo
If you are visiting with kids, a map helps you stay on course and not get lost.
Besides helping you locate the exhibits, Prospect Park Zoo's map can also help you figure out where the restaurants, playgrounds, restrooms, stroller/wheelchair rentals, gift shops, etc., are.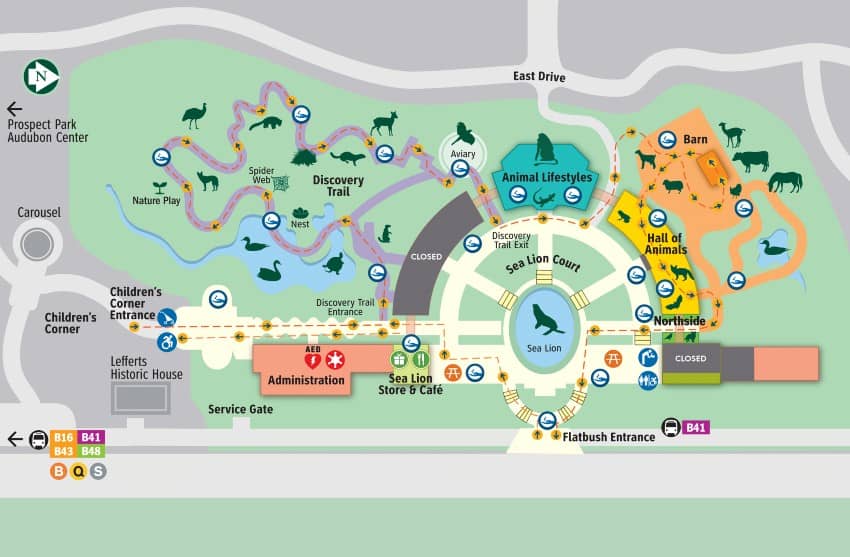 You can download the map of Prospect Zoo now or bookmark this page for later.
---
---
Restaurants in the zoo
Guests who want to re-energize can stop by at the Sea Lion Store and Café, located in Sea Lion Court, for some food and drinks.
The Cafe offers freshly prepared sandwiches, salads, and lots of healthy snacks.
They also serve ice cream, Dippin' Dots, candy, and Birds and Beans coffee.
Families who brought lunch from home can use the numerous outdoor picnic tables in the zoo.
Sources
# Prospectparkzoo.com
# Wikipedia.org
# Tripadvisor.com

The travel specialists at TheBetterVacation.com use only high-quality sources while researching & writing their articles. We make every attempt to keep our content current, reliable and trustworthy.
Other Zoos in New York
# Bronx Zoo
# Central Park Zoo
# Queens Zoo
Popular attractions in New York