The Blue Man Group NYC is a popular multi-sensory experience everyone must see at least once in their lifetime.
It is a dynamic combination of art, music, comedy, and technology, which appeals to a broad range of age groups and cultural backgrounds.
In all Blue Man Group shows, three bald blue men perform with the help of music, explicit comical actions, and great miming techniques.
This musical-comedy show has a circus-like appeal and is sure to leave you spellbound.
No wonder they have been running to packed houses for almost three decades now.
Blue Man Group has theatrical productions in Berlin, Boston, Chicago, Las Vegas, Orlando, and New York City.
Top Blue Man Group New York Tickets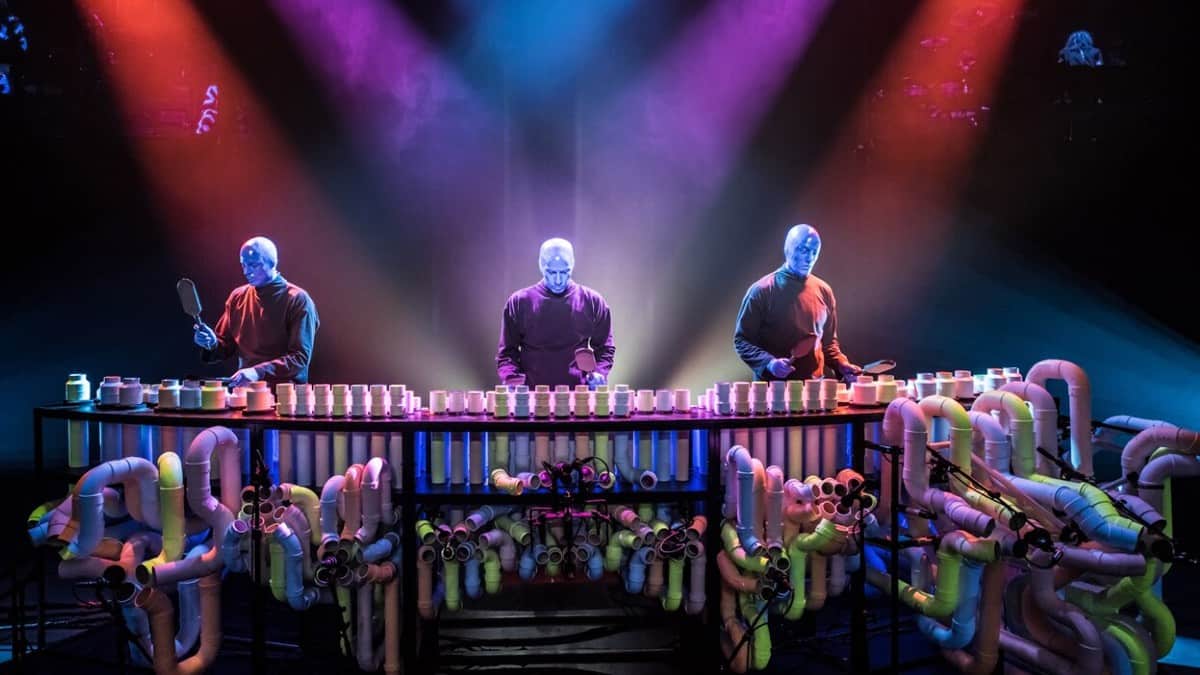 What to expect at Blue Man Group Show
Old fashion comical activities and displays backed by high-tech stage effects sum up the Blue Man show in New York.
It is an experience unlike any other – difficult to put in words.
The Blueman Group continually refresh the show with new music, newer stories, custom-made instruments which make all kinds of music and noise.
They also continuously update the technology they use for the show, which has kept it relevant even after three decades.
The event never gets mundane, and it involves the audience in more than one way.
The Blue Men throw food items, plastic bags, water, and other harmless items at the audience. All this 'action' is why the audience in the front row gets a poncho as protection.
You will laugh, get overwhelmed, and eventually become a part of the show itself.
The show has been operative since 1991, and over the years, more than 35 million people have seen their shows.
Expect the unexpected as the Blue Man show will engross you in a kind of juvenile frivolity that we secretly desire but cannot express as adults.
How long is Blue Man Group Show?
Blue Man Group is a comedy, musical, theater, rock concert and dance party all rolled into one.
The whole show runs from approximately 90 minutes to 105 minutes.
Since there is no intermission, it is recommended that you bring in kids old enough to sit through the entire duration of the Blue Man Group's show.
Is Blue Man Group NYC suitable for kids?
Even though the Blue Man Show is outlandish and zany, there is no profanity or vulgar gestures. It is very much suitable for all kinds of audiences.
This bizarre performance art is known to cast a hypnotic effect on children. Parents have claimed that their kids don't stop talking about the show.
The children can also get new ideas on how to express their creativity.
The Blue Man show also teaches the kids that there are no boundaries as far as art is concerned.
It is not just during the show when the Blue Man Group is kid-friendly.
They make every attempt to keep all interactions with kids entertaining.
For instance, the theatre lounge has a light and sound installation called the Lounge-U-Lum, keeping the children glued for hours.
The snack bars at the Blue Man show keep kid-friendly snacks and even give booster seats so that kids don't miss out on any part of the show.
However, kids below five years of age aren't allowed in the Blue Men's show.
Blue Man Group without makeup
Blue Man Group was formed in 1991 by close friends Matt Goldman, Phil Stanton, and Chris Wink.
To differentiate themselves from the other performers, they wore a wet-looking blue mask which even covered their ears.
As a result, very few people have seen the Blue Man Group without makeup or unmasked.
Check out the Blue Man Group video to see how the entertainment group started and see the Blue Man Group founders without any blue paint.
Blue Man Group NYC tickets
The Blue Man Show is a massive hit with people living in the USA and those visiting the country.
While the Blue Man tickets range from $56 to $260, we recommend you don't go for the extremes.
We recommend Blue Man Group New York tickets for around $90, which gives you the best experience in the theatre.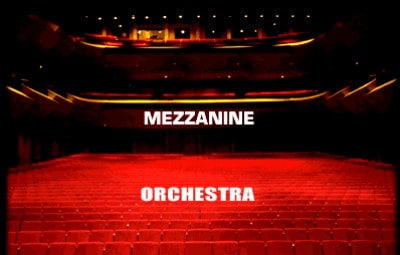 There are two kinds of seating options you can choose from while buying your tickets – the Orchestra seating and the Mezzanine seating.
Orchestra Seating
The seats right in front of the stage – the theater's main floor – is called the Orchestra seating.
This seating helps you see the actors and the stage at eye level.
Mezzanine Seating
The Mezzanine seating is in the air – just above the Orchestra seating but below the balcony seating. This seating is known to provide the best view of the stage.
Blue Man show tickets for both of these seating arrangements are $90.
Blue Man Group ticket discounts
When it comes to the Blue Man Group team, there are two kinds of discounts.
Discounts available on the Blue Man Group NYC tickets and deals you can get on other tickets using the 'BlueMan' code.
To encourage young audience discounts are given to the college students. The students must show their college ID cards to avail the deal.
These discounted tickets are sold just one hour before the start of the show, right at the venue.
The heavy discount allows the students to purchase the tickets for almost half the price.
These tickets are always subjected to availability and given on a first-come-first-serve basis.
It is recommended that you call (212) 387-9415 ahead of time to check on availability because some blackout dates may apply.
These tickets are also known as College Student Rush tickets.
Discounts using 'BlueMan' coupon code
If you are booking a New York historical walking tour, using the 'BlueMan' code at the checkout gets you 5 USD off.
If you intend to use SuperShuttle, USA's leading shuttle service, you can use the coupon code 'BlueM' to get 10% discount on the final bill for airport drop.
Blue Man Group customers can avail of a 5 USD discount on New York Water Taxi Hop-On Hop-Off tickets. All you have to do is use the promo code Blueman during checkout.
After enjoying the Blue Man Group's show, show your ticket stub at Agozar, a nearby restaurant, for a 15 percent discount on your bill.
If you fancy liquor, we also suggest using your Blue Man ticket stub at the nearby Bahr Che wine bar for a 10% discount.
Blue Man Parking discount
It is not easy to find a parking spot in New York. And if you are lucky enough to find a parking spot, it is bound to be costly.
However, if you have booked a Blue Man Show ticket, you can claim a parking discount.
Just print this Blue Man Show parking coupon and show it at the two garages located near the Astor Place Theatre at 403 and 410 Lafayette Street.
Recommended Reading: Best cruises from New York
Blue Man Group New York's location
The Astor Palace Theatre in New York is the original home to the Blue Man Group.
The venue is designed in Greek revival style architecture, and the marble columns give it a theatrical appeal.
The more than 150 years old theatre is in the famous Colonnade Row in New York's NoHo neighborhood.
It was built in 1847, and since then, has been the spot for many historical performances.
Due to its immense historical significance, the theatre got recognized as a New York landmark in 1963.
For almost two decades now, this Astor Palace has been the home theatre of the Blue Man Group.
In the latter half of the 1980s, the venue gained even more recognition with the help of the Blue Man Group.
How to get to Blue Man Group, New York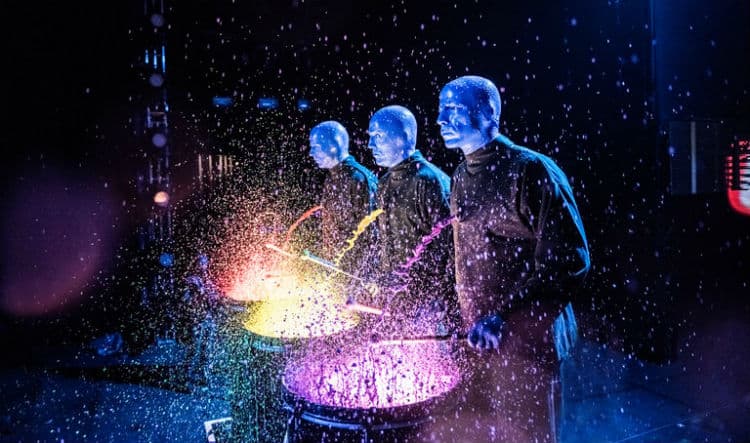 The venue of Blue Man Group, New York, is located at Lafayette Street.
If you fancy riding a New York yellow taxi, tell the driver to drop you off at Lafayette between the 4th and the Astor.
If you are coming by subway, take Subway routes B, D, F, M, N, R, and 6.
Buses like M101, M102, M2, M3, M5, and M13 will all make a stop in front of the Astor Palace Theatre.
If you don't mind driving through Manhattan traffic, you can make use of the parking facilities in the theatre.
There are parking garages available at 403 and 410 Lafayette Street. However, like your tickets, you need to pre-book your parking slots.
Important: Strobe lights are used during the show. If guests with medical conditions can get aggravated by strobe lights, you must inform the Blue Man group in advance. For high sound levels, you can request complimentary earplugs.
Popular attractions in New York