ARTECHOUSE New York is an immersive digital art space in the heart of Chelsea, Manhattan.
The space is dedicated to showcasing innovative and interactive digital art exhibitions that blur the line between art and technology.
ARTECHOUSE NYC features a 6,000-square-foot gallery space that allows visitors to immerse themselves in a world of digital art.
The space features state-of-the-art projection technology and a 270-degree projection screen that covers the walls and the floor.
Combining cutting-edge technology and creative art installations creates a unique and mesmerizing experience for visitors.
This article shares everything you should know before booking ARTECHOUSE New York tickets.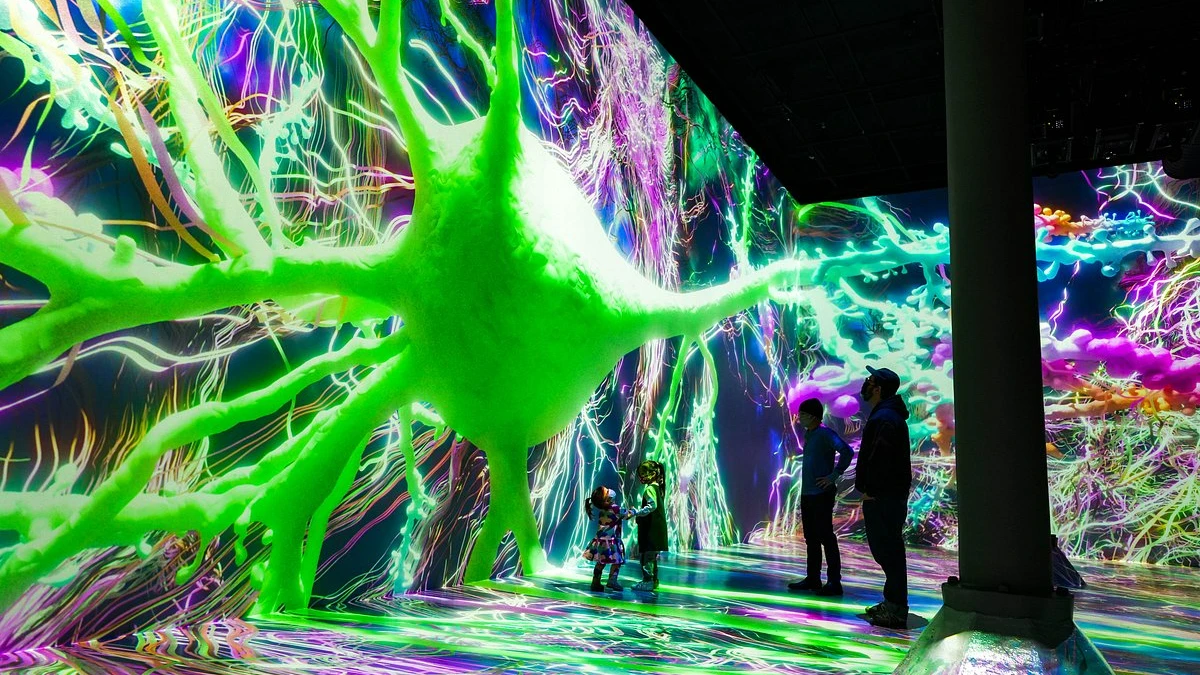 What to expect at ARTECHOUSE New York
The exhibitions at ARTECHOUSE New York change regularly and are designed by leading digital artists worldwide.
Each exhibition is carefully curated to tell a story and to create a unique sensory experience for visitors.
Some of the past exhibitions have included "Submerge" by Pantone, "XYZT: Abstract Landscapes" by Adrien M and Claire B, and "Infinite Space" by Refik Anadol.
Right now, ARTECHOUSE is hosting MAGENTAVERSE NYC Exhibition till May 29.
MAGENTAVERSE immerses you in the Pantone Color of the Year 2023, Viva Magenta.
The exhibition offers a breathtaking cinematic experience that takes visitors through a world of euphoric colors.
Explore a range of installations inspired by nature and space, from the ground beneath your feet to the depths of the universe.
The exhibition offers a unique opportunity to submerge yourself in creative energies and galvanize your spirit.
ARTECHOUSE New York is committed to providing an inclusive and accessible experience for all visitors.
The space is wheelchair accessible and has assistive listening devices available for those who are hard of hearing.
New York ARTECHOUSE also offers sensory-friendly hours for visitors with autism or sensory sensitivities.
In addition to its exhibitions, ARTECHOUSE New York hosts various events and workshops that explore the intersection of art and technology.
These events provide opportunities for visitors to learn from experts in the field and engage with the art more meaningfully.
Overall, ARTECHOUSE New York offers art lovers and technology enthusiasts a unique and cutting-edge experience.
Its innovative exhibitions and commitment to accessibility make it a must-visit destination in the heart of New York City's art scene.
---
---
Where to buy ARTECHOUSE tickets
You can purchase your ARTECHOUSE New York entry tickets at the attraction or online in advance.
If you land at the venue to buy tickets, you'll have to line up at the ticket counter.
During peak times, these lines can get long, and you will end up wasting your time.
Online tickets for ARTECHOUSE NYC are cheaper than those sold at the venue.
Online tickets also help you avoid last-minute disappointments when tickets get sold out.
How online ticket works
Go to the ARTECHOUSE NYC ticket booking page, select your preferred date, time slot, and number of tickets, and buy the tickets instantly.
After the purchase, you will receive the tickets in your email.
You don't need to take any printouts.
Show your smartphone ticket at the front desk on the day of your visit and walk into New York ARTECHOUSE right away.
Cost of New York ARTECHOUSE entry tickets
ARTECHOUSE NYC entry tickets cost US$23 for all visitors from 15 to 64 years of age.
For seniors above 65 years of age and students (with valid ID), the tickets cost US$18.
For ​​Military and First Responders, the tickets cost US$18.
ARTECHOUSE New York tickets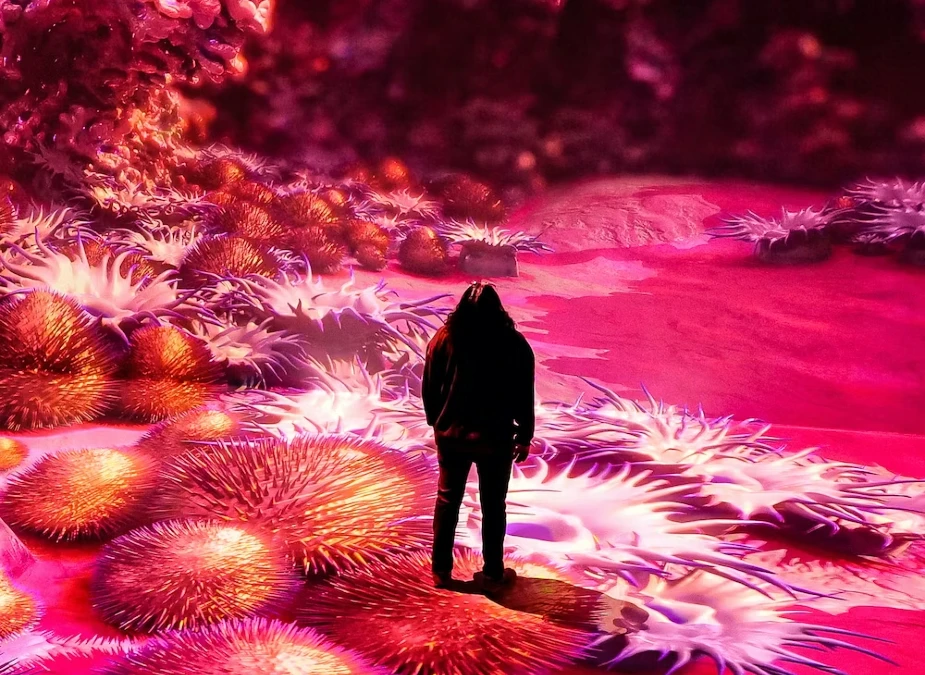 Tickets for ARTECHOUSE New York include admission to the current exhibition, MAGENTAVERSE NYC.
MAGENTAVERSE is inspired by the Pantone Color of the Year 2023, Viva Magenta.
The exhibit offers a one-of-a-kind sensory experience that explores the boundless sights, sounds, feelings, and inspirations of the color.
From the depths of space to the earth beneath our feet, the installations offer a unique perspective on the color and its connection to our world.
You can explore the installations and interact with the artwork.
Ticket Prices
Adult Ticket (15 to 65 years): US$23
Senior Ticket (65+ years): US$18
Student Ticket: US$18
Military & First Responders Ticket: US$18
Combo tickets
Combo tickets are the best way to explore New York as they let you explore two attractions, usually located closer.
You can buy ARTECHOUSE New York tickets in combination with the Whitney Museum Of American Art, Edge Hudson Yards, and Fotografiska New York.
On these tickets, you get a whopping discount of up to 10%, making this a steal deal!
Whitney Museum Of American Art + ARTECHOUSE New York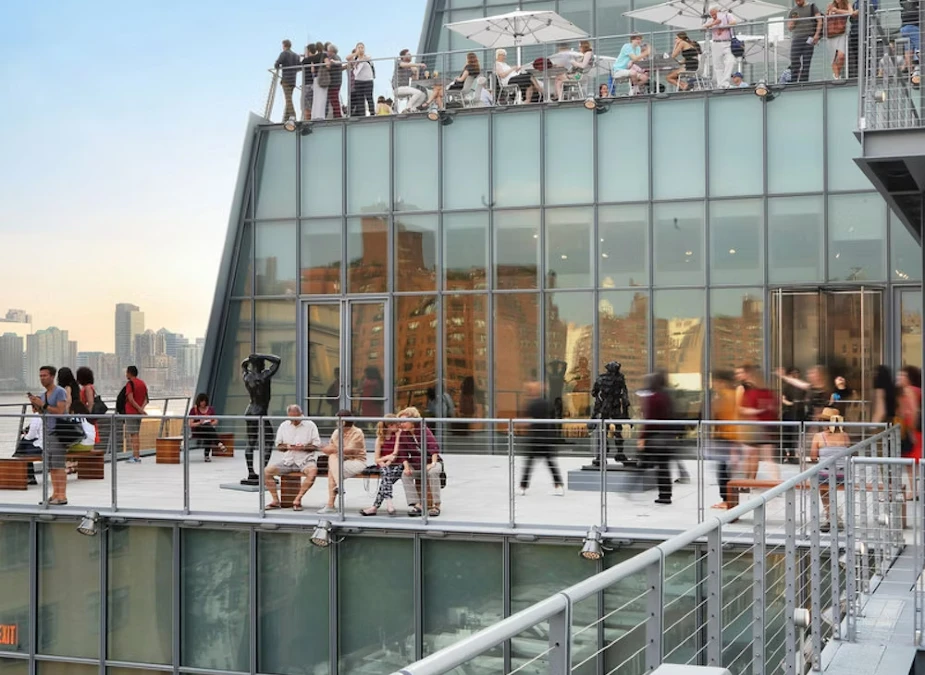 The Whitney Museum Of American Art is located just 600 m (0.4 miles) from the ARTECHOUSE NYC and can be reached in seven minutes by walking.
So why not book a combo ticket, and elevate your travel experience?
MAGENTAVERSE is a unique and mesmerizing experience that provides a fresh perspective on the power of color and its ability to inspire and energize us.
The Whitney Museum of American Art is a must-visit destination for anyone interested in modern and contemporary American art.
Ticket Cost: US$44
ARTECHOUSE New York + Edge Hudson Yards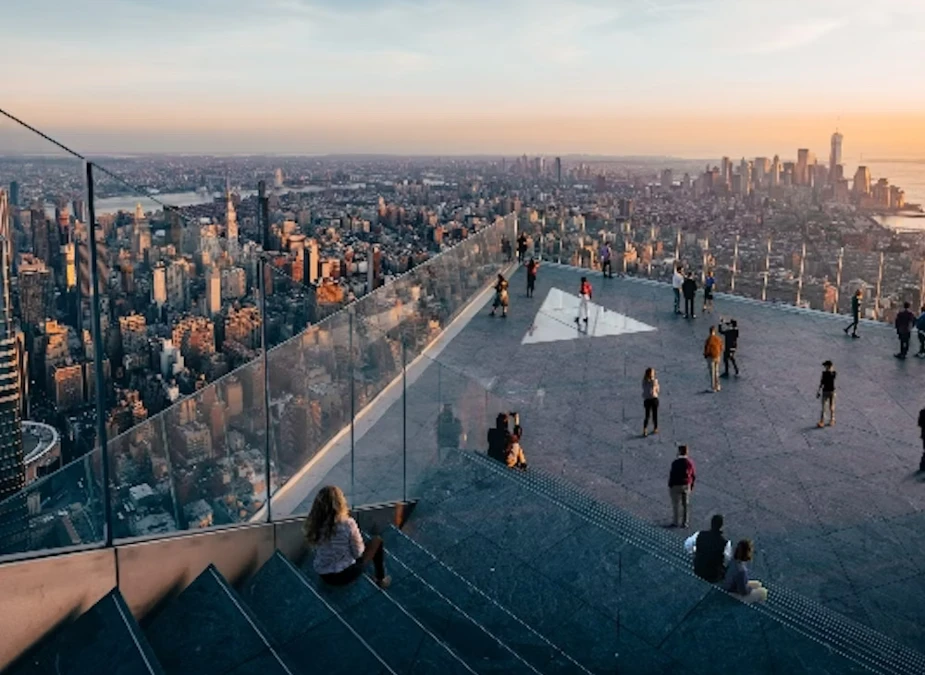 After visiting ARTECHOUSE NYC, consider stopping by Edge Hudson Yards.
It is located just 1.6 km (1 mile) away and can be reached in 20 minutes by walking.
The Edge is an observation deck at the top of the Hudson Yards skyscraper, providing stunning panoramic city views.
ARTECHOUSE New York, on the other hand, offers visitors an immersive digital art experience that merges art and technology in a unique and innovative way.
With a combo ticket, you can conveniently visit New York ARTECHOUSE and Edge Hudson Yards on the same day.
Ticket Cost: US$61
ARTECHOUSE New York + Fotografiska New York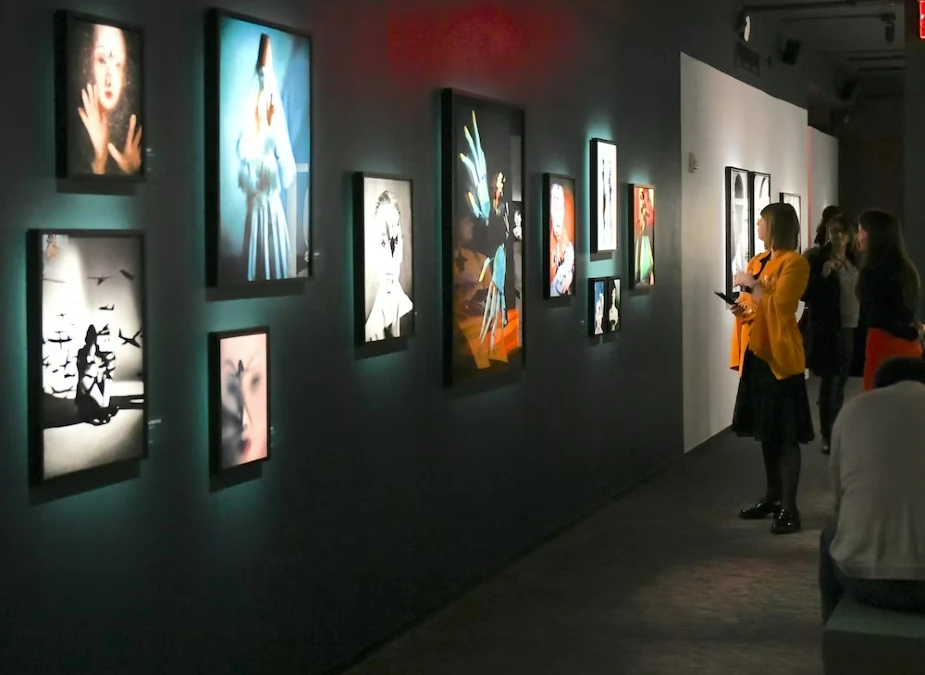 The ARTECHOUSE New York is just 2.2 km (1.4 miles) away from Fotografiska, New York, and can be reached within nine minutes by car.
Fotografiska New York is a world-renowned museum dedicated to contemporary photography.
The museum features rotating exhibitions of work by some of the world's most celebrated photographers, as well as lectures, workshops, and events.
ARTECHOUSE New York, on the other hand, is a cutting-edge museum that showcases immersive digital art experiences.
You can explore two worlds of contemporary art by purchasing a combo ticket that includes admission to both Fotografiska New York and ARTECHOUSE New York.
Ticket Cost: US$44
Save time & money! Buy New York CityPass and visit 5 iconic attractions of NY like the Empire State Building, 9/11 Memorial and Museum, Guggenheim Museum, and many more. Book now and get up to 40% discount!
---
---
How to reach ARTECHOUSE NYC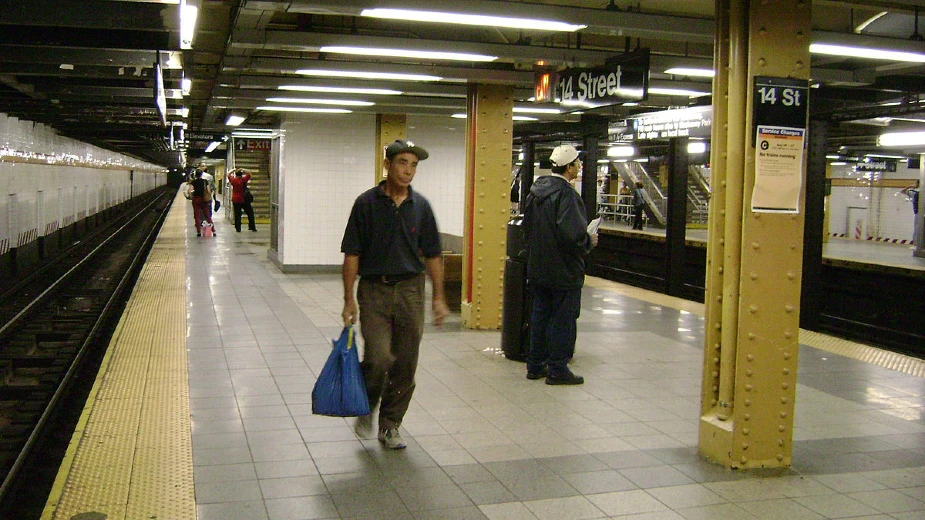 New York ARTECHOUSE can be found below the Chelsea Market building, situated on West 15th Street, between 9th and 10th Avenue.
Address: 439 W 15th St, New York, NY 10011, United States. Get Directions!
You can reach ARTECHOUSE NYC by both public and private transportation.
We recommend using public transport to reach the attraction.
By Bus
You can board bus numbers M11, M12, and M14D-SBS to reach the W 14 St/10 Ave Bus Stop, a 3-minute walk from the ARTECHOUSE.
By Subway
You can take the A, C, E, and L Subway Lines to reach 14 St / 8 Av Subway Station, a 6-minute walk from ARTECHOUSE, New York.
By Car
The easiest way to reach ARTECHOUSE, New York, is by car, so turn on Google Maps on your smartphone and get started.
ARTECHOUSE New York does not have its own parking lot.
However, there are several public parking garages located nearby that you can use.
Click here to check nearby car parking lots.
ARTECHOUSE New York timings
The ARTECHOUSE NYC opens at 10 am and closes at 10 pm daily.
The last admission is at 9 pm.
Best time to visit
The best time to visit New York ARTECHOUSE is as soon as it opens at 10 am.
You will get ample time to stroll inside the ARTECHOUSE as it is usually less crowded in the morning.
It's best to avoid peak hours, such as early evenings and weekends, when the museum is likely to be busiest.
Weekdays are generally less crowded than weekends.
Visiting during the week may provide a more relaxed and intimate experience.
How long does ARTECHOUSE New York take
Tickets for ARTECHOUSE New York are sold for individual hour-long sessions.
If you wish to stay longer than the allotted session time, you should check with the front desk to see if it is possible.
Popular attractions in New York
Sources
# Artechouse.com
# Wikipedia.org
# Tripadvisor.com

The travel specialists at TheBetterVacation.com use only high-quality sources while researching & writing their articles. We make every attempt to keep our content current, reliable and trustworthy.