Ellis Island and the Statue of Liberty symbolized hope for more than 12 million immigrants who came to the USA between 1892 and 1954.
Ellis Island was a documentation center where all immigrants reached before getting dispersed to different parts of the country.
More than 100 million Americans can trace their ancestry to the immigrants who crossed Ellis Island.
No wonder the Immigration Museum on Ellis Island gets more than 2 million visitors annually.
This article explains everything you must know before buying your Ellis Island tickets.
Where is Ellis Island located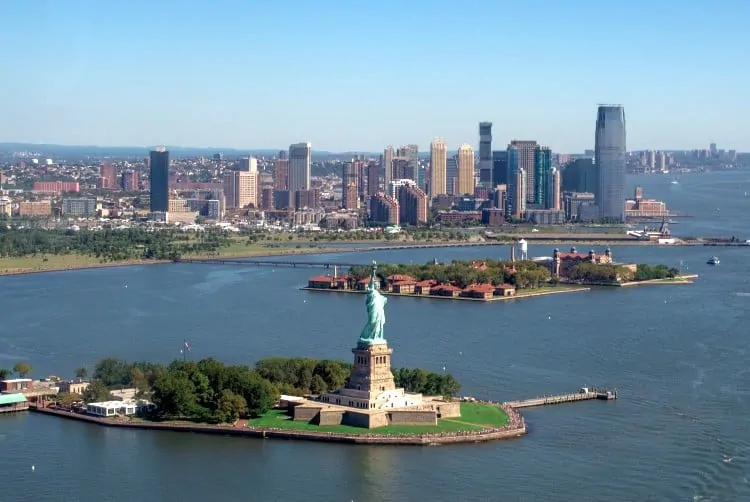 Ellis Island is at the mouth of the Hudson River between New York and New Jersey, and visitors can only reach it by boat.
Ellis Island is right next to Liberty Island, which is why every ferry that departs for Statue of Liberty also goes to Ellis Island.
Statue City Cruises operate ferries and depart from Battery Park in Lower Manhattan and Liberty State Park in New Jersey.
The confusion
Many visitors get confused between the two islands – Liberty Island and Ellis Island – and ask if the Statue of Liberty is in Ellis Island.
The Statue of Liberty and the Liberty Museum are on Liberty Island, which is 1.2 km (.75 miles or .66 nautical miles) from Ellis Island, which has the Immigration Museum.
Usually, it takes 12 to 15 minutes for the ferry from Liberty Island to reach Ellis Island.
Ferry to Ellis Island
You can board a ferry to Ellis Island either from Battery Park, New York, or Liberty State Park, New Jersey.
All Statue of Liberty Cruises, which sail from Battery Park in New York, first go to Liberty Island, and then they sail to Ellis Island and finally back to Battery Park.
All Statue of Liberty boats sailing from Liberty State Park in New Jersey first go to Ellis Island, which has the Immigration Museum.
Then they sail to Liberty Island, which has Lady Liberty's statue, and finally back to Liberty State Park.
During the mid-March to mid-October high season, the first ferry to Ellis Island and Liberty Island start sailing by 8.30 am.
During the lean season, they start at 9 am.
Ellis Island tickets
Visitors can access Ellis island by purchasing a ferry ticket that also includes a visit to the Statue of Liberty.
Most visitors refer to these as the Statue of Liberty tickets, while some refer to them as the Ellis Island tickets.
There are no separate Ellis Island tickets.
The most popular Ellis Island ticket cost $25 for all adults older than 13 years.
Kids 4 to 12 years pay $15, while seniors aged 62+ years can get their tickets for $20. Buy Now
See all Statue of Liberty tour tickets
Ellis Island tour
Ellis Island may be a small island, but its impact on United States history is enormous.
Having welcomed 12 million immigrants, Ellis Island is now a poetic symbol of the American Dream.
During the Ellis Island tour, you will step into the Immigration Museum and learn about the history of this immigration.
You will follow the route of the immigrants as they took every step, not knowing if they would be allowed access to the United States.
You will cross the baggage hall, the waiting room, and finally, the registration hall, where immigration inspectors subjected people from all over the world to strict medical and legal checks.
Many tourists visit the American Family Immigration History Center, located on the first floor, to go through Ellis Island's immigration records and discover their connections to the island.
There are two ways to tour Ellis Island – you can try the museum's audio tour or book a guided tour.
The Ellis Island Museum's audio tour is 45 to 60 minutes long and designed for both adults and kids.
It is available in English, Arabic, French, German, Italian, Japanese, Mandarin, Russian and Spanish.
For a more personal and memorable tour, we recommend you book a guided tour of the Statue of Liberty and Ellis Island.
Ellis Island map
Exploring Ellis Island is pretty straightforward – you get off the ferry, head straight to the Immigration Museum, and then see well-signposted attractions nearby.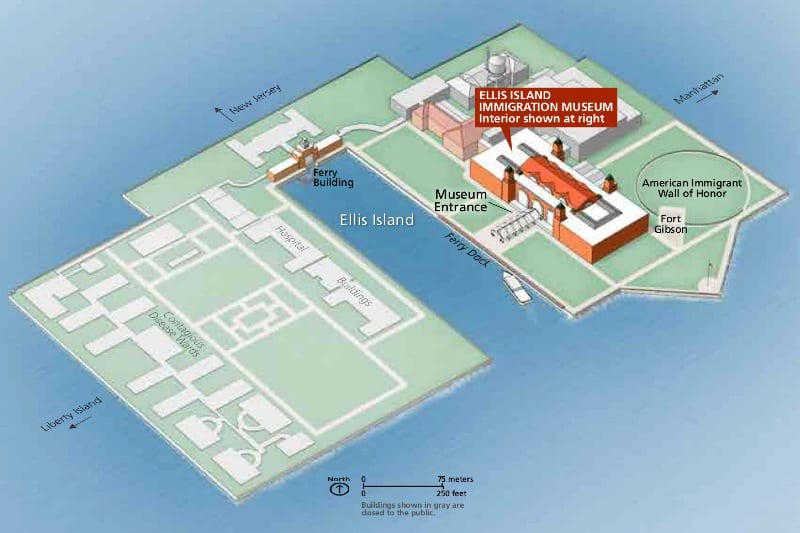 More about Statue of Liberty
# Boarding Liberty ferry from New Jersey
# Statue of Liberty facts
# Statue of Liberty free tour
# Statue of Liberty ferry
# How long does Statue of Liberty take
# Last minute Statue of Liberty Crown tickets
# Why Reserve tickets are better than Crown tickets
Popular attractions in New York
# Statue of Liberty
# Empire State Building
# Top of the Rock
# Metropolitan Museum of Art
# One World Observatory
# 9/11 Memorial and Museum
# Museum of Modern Art
# Intrepid Museum
# Guggenheim Museum
# Bronx Zoo
# Central Park Zoo
# Queens Zoo
# Prospect Park Zoo
# New York Botanical Garden
# American Museum of Natural History
# Edge Hudson Yards
# Vessel Hudson Yards
# Museum of Ice Cream
# BlueMan Group NYC
# Spirit of New York Dinner Cruise
# New York Helicopter tour