If you are planning a visit to the Statue of Liberty, don't get caught up in all the talk about the Statue of Liberty's Crown Reserve ticket.
We don't think the Crown access ticket is what it is made out to be.
Before we share our reasons why Crown tickets aren't worth all the trouble, let's take a quick look at the three ticket options you have and how far you can go with them.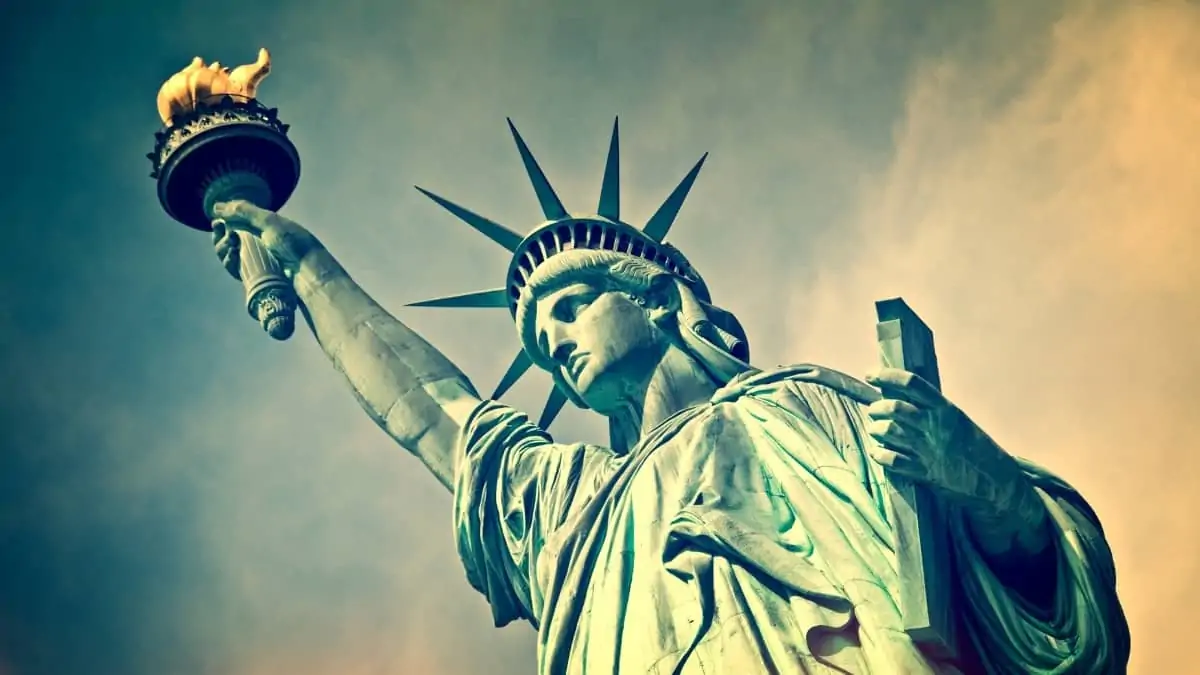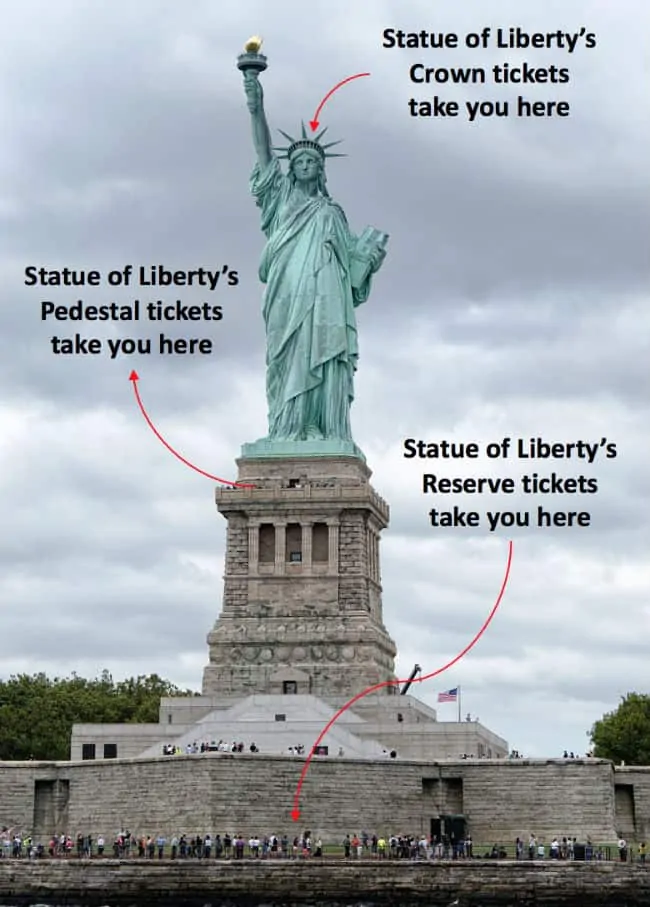 All these tickets come with transportation from Battery Park (in New York) or Liberty State Park (in New Jersey) to the Statue of Liberty on Liberty Island.
These tickets also include access to the Immigration Museum in Ellis Island and a ferry back to Battery Park or Liberty State Park.
If we have already convinced you that Crown tickets are overhyped, check out the other types of Statue of Liberty tickets.
Else, continue to read –
Are Crown Reserve tickets worth it
Here are the six reasons why we think the Statue of Liberty Crown tickets are not worth all the trouble one has to go through.
1. Only 0.4% of the tickets sold are Crown tickets
For safety reasons, no more than ten people can visit the Statue of Liberty's Crown at a time, and around six groups can see the Crown per hour.
This means, approximately 500 people climb up to the Statue of Liberty's Crown every day.
That is, around 180,000 Crown tickets get sold annually.
Since we know that the Statue of Liberty gets 5 Million visitors every year, this means only 0.4% of the Statue of Liberty tickets sold are Crown tickets. More such Statue of Liberty Facts
2. Crown tickets get sold out soon
Since only a limited number of Crown tickets are available, they get sold out soon.
During the peak months of April to September, they get sold out around 90 to 120 days in advance.
And during the non-peak months of October to March, Crown tickets get booked around 75 to 90 days in advance.
Visitors need to book their Statue of Liberty Crown tickets so much in advance that they have to change their travel plans to accommodate the availability of Crown tickets.
Agree it is an exclusive experience but is it worth changing your plans?
We feel this is unnecessary.
If you want to go up to the Crown of Statue of Liberty to soak in the views of the fantastic city that New York is, we recommend Top of the Rock, One World Observatory, or Empire State Building instead.
3. Statue of Liberty is best admired from outside
The Statue of Liberty is enormous, and that is its selling point.
The grandeur of this statue (or any statue!) is from the outside.
You get some of the best of views of the Statue of Liberty when you in the ferry on your way to Liberty Island.
Once on the island, a nice leisurely walk around Liberty Island helps you see the Lady with the Torch from all sides.
4. Climbing up Lady Liberty can be difficult
You can't take a lift to Statue of Liberty's Crown.
You must walk up 354 steps which are equivalent to 20 stories.
The Statue of Liberty crown tickets is recommended only for people in good physical health.
According to National Park Service, even if you are healthy but are susceptible to Acrophobia (fear of heights), Claustrophobia (fear of confined spaces), and Vertigo (dizziness), the Crown tickets are not for you.
Besides, during the peak season (summer), it is much warmer inside the statue than outside because there is no climate control.
Official figures put the inside temperature at about 20°F (11°C) higher than outside.
Visiting attractions during holidays must be fun and not torturous.
That's why we recommend a more leisurely Reserve ticket, which is also known as a Ground access ticket.
5. "There is nothing to see in Statue of Liberty's crown"
One of the best parts about climbing the 350+ stairs to reach the Statue of Liberty's Crown is that you can see the statue's interior during the climb. But that's about it.
The Crown at the top of the statue is a cramped space – and that's why only ten tourists go up at a time.
Once you are at the top, you will notice 25 small windows from where visitors can see outside.
Unfortunately, these windows aren't good spots to take photographs.
Check out the short video below to know what to expect –
Most visitors spend only a few minutes before they start climbing down the stairs.
Many tourists who have been up to the Crown are known to have said, 'There is nothing up there!"
Suggested Reading: Best cruises from New York City
6. You may miss Immigration Museum in Ellis Island
Your visit to the Statue's Crown and back can take anywhere from 3.5 hours to 5 hours, depending on the month.
Since you can't use ticket printouts from home for Crown Reserve tickets, you must collect your tickets at the ticket offices in Liberty State Park (NJ) or Battery Park (NY).
Only the person who bought them can pick up these tickets from the Statue Cruises box office.
Then you must stand in the line for the primary security check to board the ferry.
This wait can sometimes take two hours.
Once you clear the primary security check, you take a 15-minute ferry to Liberty Island.
Since Crown tickets are timed, you will have to wait for your slot to arrive and then line up for the secondary security check.
This check could also take upwards of 15-20 minutes, depending on how many are ahead of you.
Once all is clear, you start climbing the 350+ stairs, which can take anywhere from 20 to 30 minutes depending on how healthy you are and how many are ahead.
After you spend ten minutes in the Crown, you take about 15 minutes to walk down.
How can you be done with Liberty island without seeing the Statue of Liberty from all sides?
So, you lose an hour there.
Then you wait in the queue for the 15-minute ferry which will take you to Ellis Island, which hosts the Immigration Museum.
The waiting time for the ferry will depend on the time and day of the week.
Because of all this, there is a high chance that you may miss seeing the Immigration Museum in Ellis Island.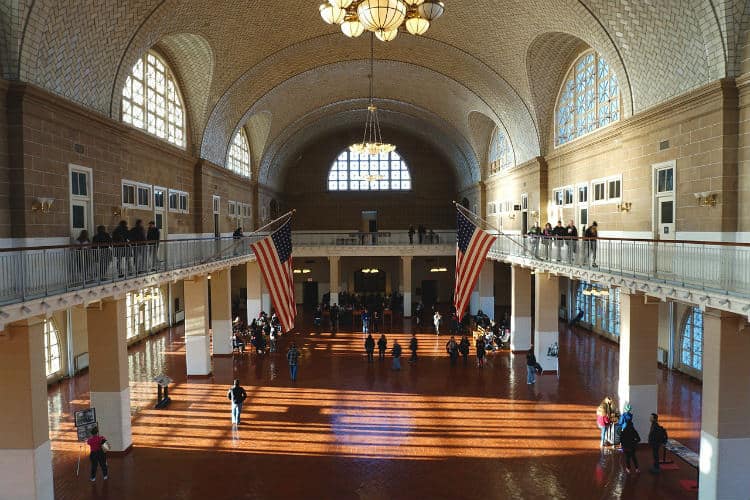 At Ellis Island National Museum of Immigration, you get to see the ships' passenger records that landed more than 65 million immigrants at the Port of New York and Ellis Island from 1820 to 1957.
We think the Immigration Museum is a far more important attraction than the Statue of Liberty's Crown.
That's why we feel from an effort and return perspective, the Reserve Ticket is a much better option than the Crown Reserve tickets.
If you only want to climb the Liberty's Crown check out some tips for last minute Statue of Liberty Crown tickets.
Sources

# Cityexperiences.com
# Nps.gov
# Statueoflibertytour.com
# Freetoursbyfoot.com

The travel specialists at TheBetterVacation.com use only high-quality sources while researching & writing their articles. We make every attempt to keep our content current, reliable and trustworthy.
More about Statue of Liberty
# Statue of Liberty facts
# Statue of Liberty tickets
# Statue of Liberty ferry
# How long does Statue of Liberty take
# Immigration Museum tickets
# Staten Island Ferry's free Liberty tour
# Statue of Liberty ferry from New Jersey
Popular attractions in New York
# Statue of Liberty
# Metropolitan Museum of Art
# 9/11 Memorial and Museum
# Museum of Modern Art
# Intrepid Museum
# Guggenheim Museum
# Bronx Zoo
# Central Park Zoo
# Queens Zoo
# Prospect Park Zoo
# New York Botanical Garden
# American Museum of Natural History
# Vessel Hudson Yards
# Museum of Ice Cream
# BlueMan Group NYC
# Spirit of New York Dinner Cruise
Observatories in USA
# One World Observatory
# Top of the Rock
# Chicago Skydeck
# 360 Chicago
# Edge Hudson Yards