The Circle Line Speedboat Tour provided by Circle Line Cruises in New York City is an adrenaline-pumping adventure in the middle of NYC.
With over 80 million passengers having hopped on its cruises since 1945, the Circle Line Cruises are considered one of the best boat rides in the world.
The Speedboat ride is a quick, exhilarating ride of the New York Harbor on board the Beast, a 70-foot custom-built power boat.
This article shares everything you need to know before booking tickets for the Circle Line Speedboat Tour.

Top Speedboat Tour Tickets
What to expect
Get ready for a speedy ride while enjoying stunning views of the New York City skyline.
The boat ride is the definition of pumping energy with loud, rocking music and playful narration on board.
The Speedboat ride, led by comic captains Mad Dog and Wild Thing, takes you along the coast of midtown and lower Manhattan at super speeds.
The Circle Line Harbor Lights Cruise circles the Southern end of Manhattan, taking you through some of New York's most famous sights.
---
---

Where to buy tickets
Tickets for the NYC: Circle Line Speedboat are available at the attraction or online in advance.
To avoid the hassle of queuing up at the counter and wasting time, we recommend booking your tickets in advance.
Not only can you save time, but you can also get exclusive discounts and offers by booking online.
Booking beforehand can prevent any last-minute disappointment or delays.
How do online tickets work?
Go to the NYC: Circle Line Speedboat booking page, select your preferred date and the number of tickets, and buy the tickets right away.
After the purchase, you will receive the tickets in your email.
You can walk onto the boat by showing the ticket at the gate on the day of your visit.
Speedboat Tour ticket price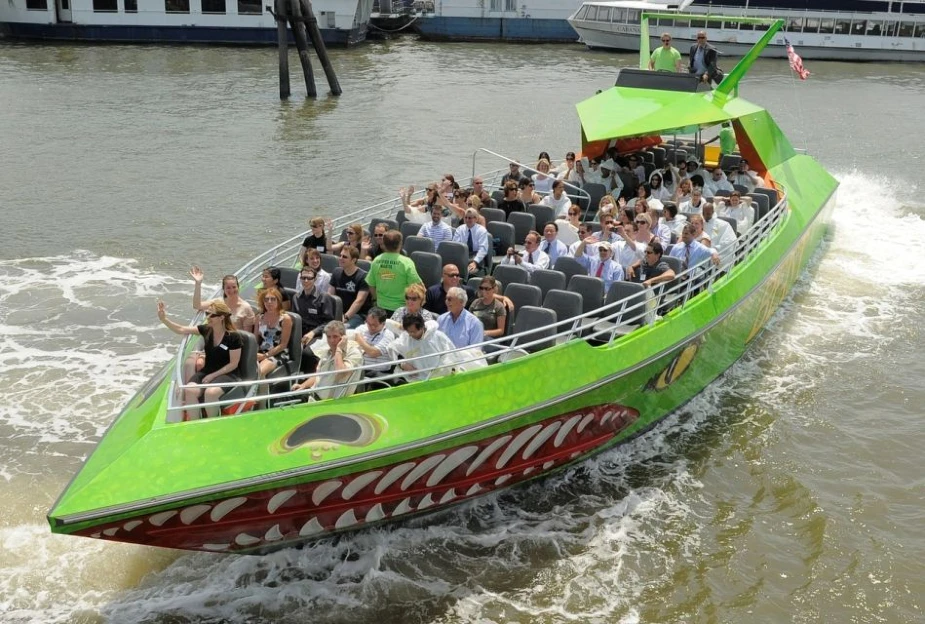 The tickets for the Circle Line Speedboat Tour can be bought for US$32 for all aged above 13.
Tickets for children between three and 12 can be bought at a reduced price of US$25.
However, passengers need to be at least 3.9 feet (120 cm) tall to ride.
Pregnant women are not allowed on this tour.
Ticket Prices
Adult Ticket (above 13 years): US$32
Child Ticket (3 to 12 years): US$25
Infant Ticket (Below 3 years): Free
Save time & money! Buy New York CityPass and visit 5 iconic attractions of NY like the Empire State Building, 9/11 Memorial and Museum, Guggenheim Museum, and many more. Book now and get up to 40% discount!
---
---
Five reasons to book the Circle Line Speedboat Tour tickets
You can get priority skip-the-line access while booking tickets for the Speedboat ride here.
Circle Line Cruises provide different experiences at different times throughout the day.
Each ride comes with its own unique and memorable experience.
Here are five things that make the Circle Line Speedboat Tour a preferable option.
The Beast!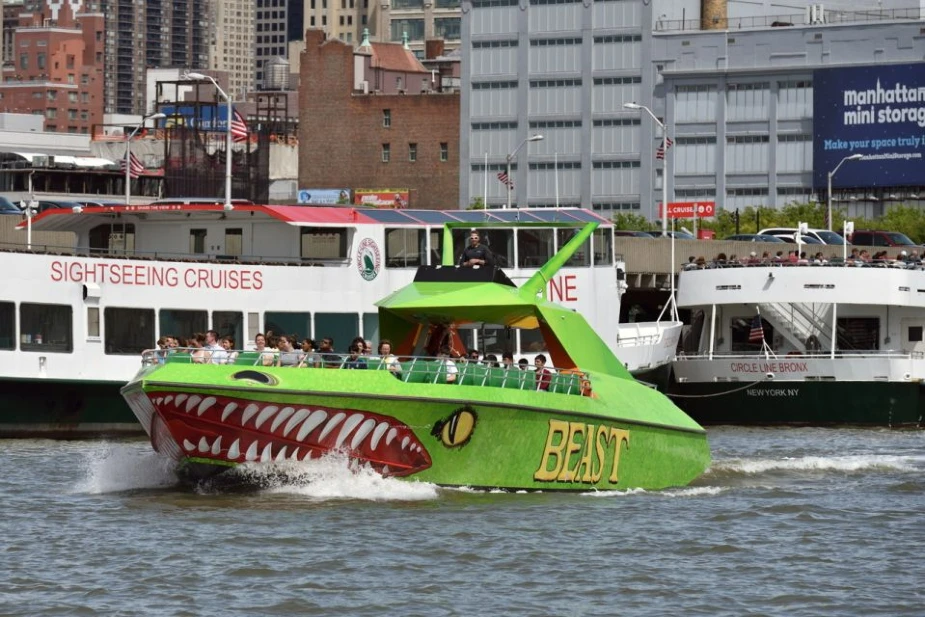 As the name signifies, the Beast is a humongous class-apart off-shore racing boat.
With its catchy green color and expansive 70-foot frame, the Beast is sure to catch everyone's attention.
Coupling adventure and safety, the Beast comes equipped with seatbelts and handrail access to give you a safe experience.
Super speed adventure
What can feel nicer than a super-speed adventure in the middle of New York City?
Hit the New York Harbor at rousing speeds of up to 75 mph and feel the thrill take over you.
Experience the thrill of speeding through New York's iconic skyline and towering skyscrapers.
Incredible vibes
Experience a wonderful ride packed with laughter, fun, and music on the Speedboat Tour.
Let Captains Mad Dog and Wild Thing lead you on a loud, rocking adventure.
Groove along with pumping music and enjoy playful narration while you zoom down the Hudson.
Statue of Liberty and more
Let the Beast take you within 100 feet of the soaring Statue of Liberty.
Take a breather and click memorable pictures as the boat stops for a photo-op before speeding away again.
Enjoy beautiful panoramic views of midtown and lower Manhattan as you speed by.
Quick and exciting
The Speedboat ride gives you a perfect opportunity for a quick trip to see Lady Liberty and back.
For those seeking a riveting adventure that can be completed in just 30 minutes, the Speedboat ride is the best choice.
It speeds up your adventure and gives you ample time to explore other New York attractions.
Circle Line Speedboat Tour hours
The Circle Line Speedboat Tour is available from 11 am.
You can choose between a host of options throughout the day until the last ride at 6 pm.
The ride takes you on a 30-minute adventure giving you an exciting and action-packed experience.
Recommended Reading
# Circle Line Statue of Liberty Cruise
# Circle Line Landmarks Cruise
The Best of NYC Cruise is the only sightseeing cruise that completely circles Manhattan on a two-and-a-half-hour ride.
Circle Line Speedboat Tour location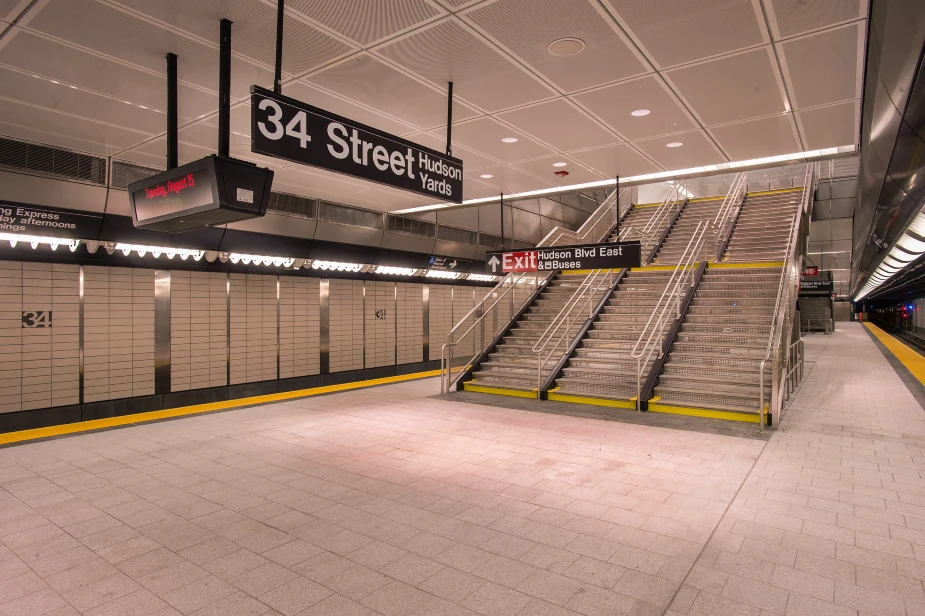 The meeting point for Circle Line Speedboat Tour NYC is located at Circle Line Sightseeing Cruises on the Hudson River Greenway.
Address: Pier 83, West 42nd Street, New York, NY10036, USA. Get Directions
You can reach the meeting point by public transport or car.
By Bus
Get down at the 12 Av/42 St Bus Stop, serviceable by the M42 and M50, to reach the meeting point.
By Ferry
You can reach the Circle Line Sightseeing Cruises meeting point by getting down at Midtown / W. 39th St. station.
You can board multiple ferries to get there, including the St. George route ferry.
By Subway
The nearest subway stop to the meeting point for Speedboat Tour is 34 Street-Hudson Yards Subway Station, which Line 7 can reach.
By Car
If you're driving by car, turn on Google Maps and get started!
You can park at the MPG Parking Javits Center or the Dyer Ave Parking nearby.
Dress code at Circle Line Speedboat Tour
When going on a Circle Line Speedboat Tour, it's best to wear light and breathable clothing.
Bringing a light jacket is recommended when on board the Beast.
It is advisable to wear sunglasses and a hat when going on the Speedboat Tour.
Additionally, using sunscreen and carrying a portable battery pack can help make your experience delightful and seamless.
Popular attractions in New York