The Guggenheim Museum is a renowned New York City art museum.
It is one of the most iconic museums in the world and is known for its unique architecture and impressive collection of modern and contemporary art.
It boasts one of the most beautiful collections of European and American paintings throughout the 20th century.
The museum's collection includes works by renowned artists such as Pablo Picasso, Vincent van Gogh, Wassily Kandinsky, Jackson Pollock, and many others.
Also known as the Solomon R. Guggenheim Museum, this instantly recognizable NYC landmark will leave you spellbound.
The Guggenheim Museum significantly impacts the art world, attracting visitors from around the globe who come to experience its unique architecture, view its diverse collection, and engage with its innovative exhibitions and programs.
It is a must-visit destination for art lovers and tourists alike.
This article explains everything you need to know before buying your Guggenheim Museum tickets.
Opening hours
Guggenheim Museum opens at 11 am daily and closes at 6 pm Sunday to Friday, and on Saturday, the Museum closes at 8 pm.
Members-only hours on select Mondays are 6 pm to 8 pm.
| Day of the Week | Opening Time | Closing Time |
| --- | --- | --- |
| Monday | 11 am | 6 pm |
| Tuesday | 11 am | 6 pm |
| Wednesday | 11 am | 6 pm |
| Thursday | 11 am | 6 pm |
| Friday | 11 am | 6 pm |
| Saturday | 11 am | 8 pm |
| Sunday | 11 am | 6 pm |
The last ticket is issued 30 minutes before the day's closing time.
The Museum's store follows a different schedule.
The Museum Store opens daily at 11 am, closes at 6 pm Sunday to Friday, and closes at 7 pm on Saturday.
---
---
Guggenheim Museum tickets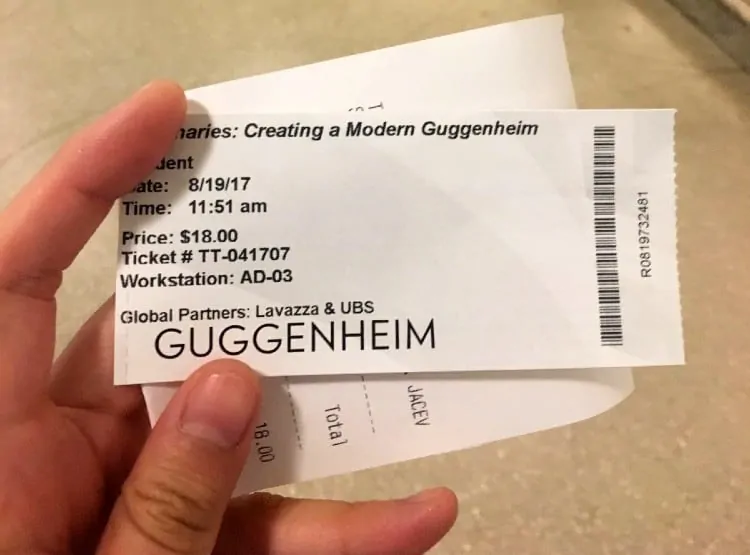 This ticket allows you to access the Museum's famous permanent collections and temporary exhibitions.
It is a 'skip the line ticket, thus saving you considerable waiting time.
These are also smartphone tickets – there is no need to take printouts.
On the day of your visit, show the ticket in your email and walk in.
With this ticket, you get a free multimedia guide to help you explore the Museum.
If you want something more than the multimedia guide, opt for the Docent-led guided tour at 2 pm.
Kids under 12 get in for free, but you must book a free ticket.
Guggenheim Museum ticket price
Adult ticket (12 to 64 years): $25
Student ticket (with valid ID): $18
Seniors ticket (65+ years): $18
Child ticket (up to 11 years): Free entry
---
---
Guggenheim ticket discounts
There are two ways to get a discounted entry into Guggenheim Museum New York.
Pay As You Wish
Every Saturday from 6 pm to 8 pm, you can enter the Museum at a highly discounted rate.
You can 'Pay as You Wish' during this two-hour window and get in.
The suggested admission is $10, minimum is $1.
The last 'Pay as You Wish' ticket is issued at 7.30 pm.
New York Pass
New York PASS is another great way to save money while visiting the Guggenheim Museum.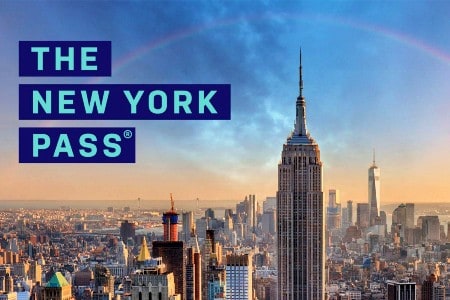 Besides the discount, the New York Pass also helps you skip the regular admissions line at the Guggenheim and go directly to the Membership Desk. Image: Nycgo.com
To skip the line and save up to 41% on top New York attractions, buy New York Pass.
Free entry
Children 10 years and below can enter Guggenheim Museum for free.
---
---
How to reach Guggenheim Museum
Address: Solomon R. Guggenheim Museum, 1071 5th Ave, New York, New York.
It is located between 88th and 89th Street. Get Directions
Try to reach the Guggenheim Museum by public transport.
SUBWAY: Take up the 4, 5, 6, and Q subway lines to reach the Museum.
BUS: Take the M1, M2, M3, or M4 bus lines on Madison or 5th Avenue.
Car parking
Since there is a lot of parking space nearby, driving to the Museum is a good idea.
We recommend Impark Parking at 40 East 89th Street and Champion Parking at 60 East 90th Street.
Both parking lots offer a discount for tourists visiting the Guggenheim Museum.
You will have to validate your parking ticket at the Membership desk.
Click here to know more about the nearby parking lots.
---
---
Best time to visit Guggenheim Museum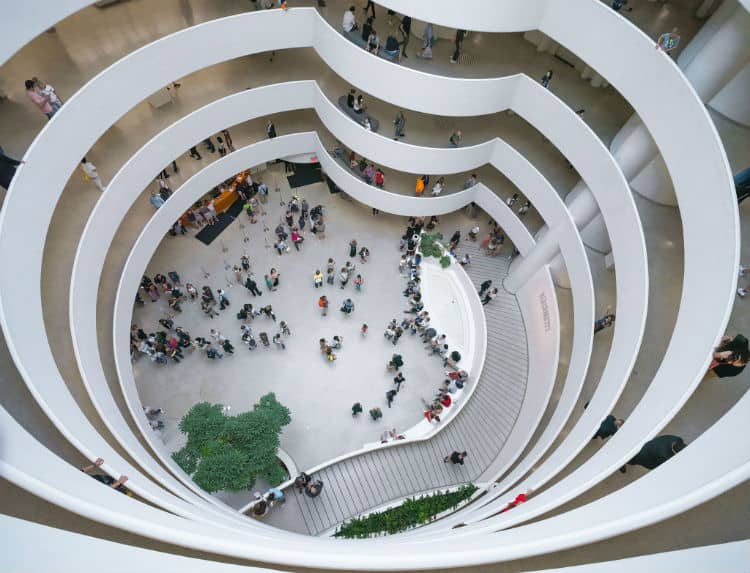 The best time to visit Guggenheim Museum is at 11 am on a weekday because you can avoid the crowd and enjoy the exhibits peacefully.
The second best time to visit is around 4 pm.
There is no crowd; you get around two hours to explore what's on display.
If you book your tickets in advance, you can save waiting time in the ticketing counter lines.
When NOT to visit the museum
Guggenheim Museum is crowded during weekday school hours because many groups land up.
On Monday, the most prominent Museums in New York are closed, but since the Solomon R. Guggenheim Museum is open, it attracts crowds.
Saturday evenings also see long lines because, from 5 pm to 8 pm, visitors can 'pay what they wish' and enter. Book your tickets now!
---
---
How long does Guggenheim take
If you love art and prefer to get into the details, you will need at least three hours to explore what's on display at Guggenheim Museum New York.
Some visitors are known to complete their tour in less than an hour.
---
---
Exhibits in Guggenheim Museum
New York is home to the best Museums in the world, and Guggenheim certainly does not disappoint.
It features both permanent and temporary collections of art to leave you inspired.
Permanent collections
The most popular permanent collection is the Thannhauser collection.
It showcases French Impressionist, Post-Impressionist, and Italian Futurist artwork.
The collection includes over 30 Picassos and works by Degas, Gaugin, and more.
The permanent collection also showcases works by Brancusi, the pioneer of non-objective sculptures.
Temporary collections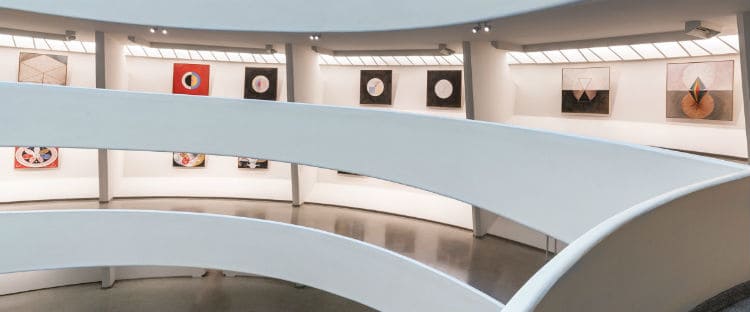 Some of the artworks showcased in the Guggenheim Museum are temporary.
These temporary exhibitions generally last three to six months and can include multiple artists or focus on one individual.
Some of the prominent temporary displays have been the artwork of Jackson Pollack and the experimental works of China post-1989.
To get a sense of what to expect, you can look at the ongoing exhibitions of the Guggenheim Museum.
---
---
Guggenheim Museum audio guide
The Guggenheim Museum audio guide is quite comprehensive and informative.
It is free at the Museum but you must ask for it at the entrance.
Both adults and kids love Guggenheim Museum's guide, which is available in English, Spanish, French, German, and Italian.
You can also download the Guggenheim Museum's digital guide to your Android phone or iPhone before your visit.
Buy one discount Pass and save up to 40% on ticket costs during your New York holiday. Buy New York Explorer Pass
---
---
Museum's floor plan
Guggenheim Museum is spread over seven stories, with a lot to see and do.
Thanks to architect Frank Lloyd Wright's innovative design, all visitors go up the elevator to the top floor and ramp down.
Like all Museums, Guggenheim also comprises various floors, zones, and sections separated to showcase different paintings and artworks.
With the help of a floor plan, you will save time trying to find what you want to see.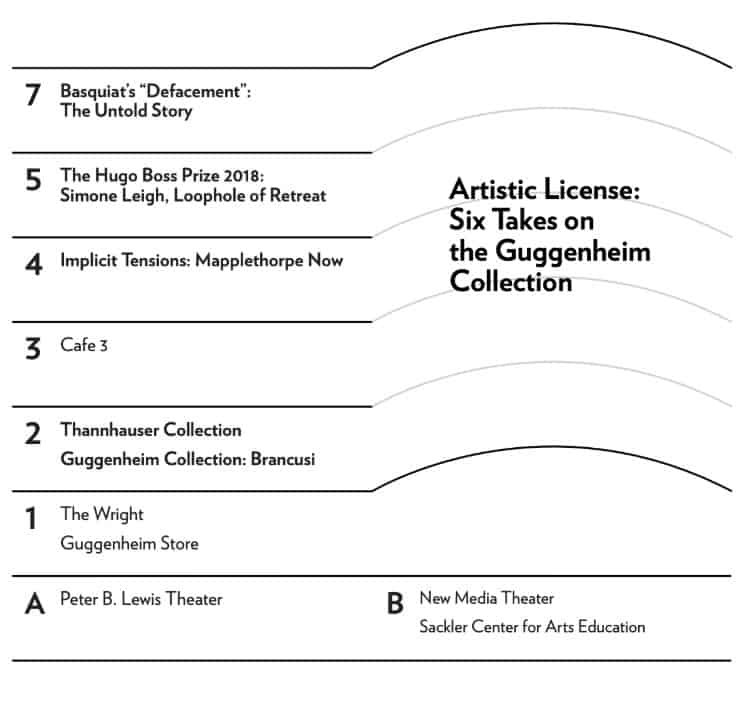 ---
---
Guggenheim Museum review
According to Tripadvisor, Guggenheim Museum is one of the top attractions of New York.
Check out two Tripadvisor reviews on what's best about the Museum.
You get Art+ a really nice building
Even if you don't like art, go for the building. It's impressive and quite lovely. Easy to reach.
If you do like art, make sure you explore all the floors. When we visited last, they had Giacometti and Brancusi. Indeed a lovely experience. It is a bit pricy but definitely a must-see. – CDI_review
Must visit attraction
I absolutely love the architecture of the building, the spiral floors, and the exhibition of Hilma Af Klimt, + the resident pieces from the Impressionism movement. I love the emotions that are evoked by the paintings, esp from Af Klint. An excellent museum to go to when you are in NYC! – Cpwee
---
---
Restaurants in Guggenheim
There are two places to eat and drink at the Guggenheim Museum.
Café 3
It is Café 3 because it is on the 3rd floor.
It is ideally placed for a mid-tour break and serves refreshments such as tea, coffee, wine, beer, pastries, chocolates, sandwiches, salads, etc.
Take a break here while enjoying the spectacular view of Central Park.
Cafe 3 opens at 10.30 am every day.
The Wright
The Wright is a beautifully created space designed by artist Sarah Crowner.
On weekdays The Wright opens at 11.30 am, and on weekends it begins a bit early – at 11 am.
The colorful ambiance makes it the perfect spot to take a break from art exploration.
---
---
Architect of Guggenheim Museum
Ace architect Frank Lloyd Wright designed and built the Guggenheim Museum.
Since its inauguration on October 21, 1959, the architectural marvel has inspired countless visitors with its beauty.
No wonder it is considered Frank Lloyd Wright's masterpiece.
Unlike traditional Museums, this building spirals upward and outward in smoothly sculptured white concrete.
You will notice the construction widen as it rises.
Check out the video below to understand this better –
When it came to the visitors' experience, architect Wright decided to do away with the traditional Museum approach.
When the visitors enter the Museum, they are taken to the top of the building via an elevator.
They then explore the Museum and keep walking downward on the gentle slope of a continuous ramp.
Sources

# Guggenheim.org
# Wikipedia.org
# Britannica.com
# Nyc-arts.org

The travel specialists at TheBetterVacation.com use only high-quality sources while researching & writing their articles. We make every attempt to keep our content current, reliable and trustworthy.
Popular attractions in New York