Bronx Zoo within the Bronx Park in Bronx, New York, is a popular choice for a day outing for locals and visitors.
With 4000 animals on display spread over 265 acres, it is one of the largest zoos in the United States.
Every year more than two million people visit the Bronx Zoo.
In this article, we share everything you must know before buying the Bronz Zoo ticket.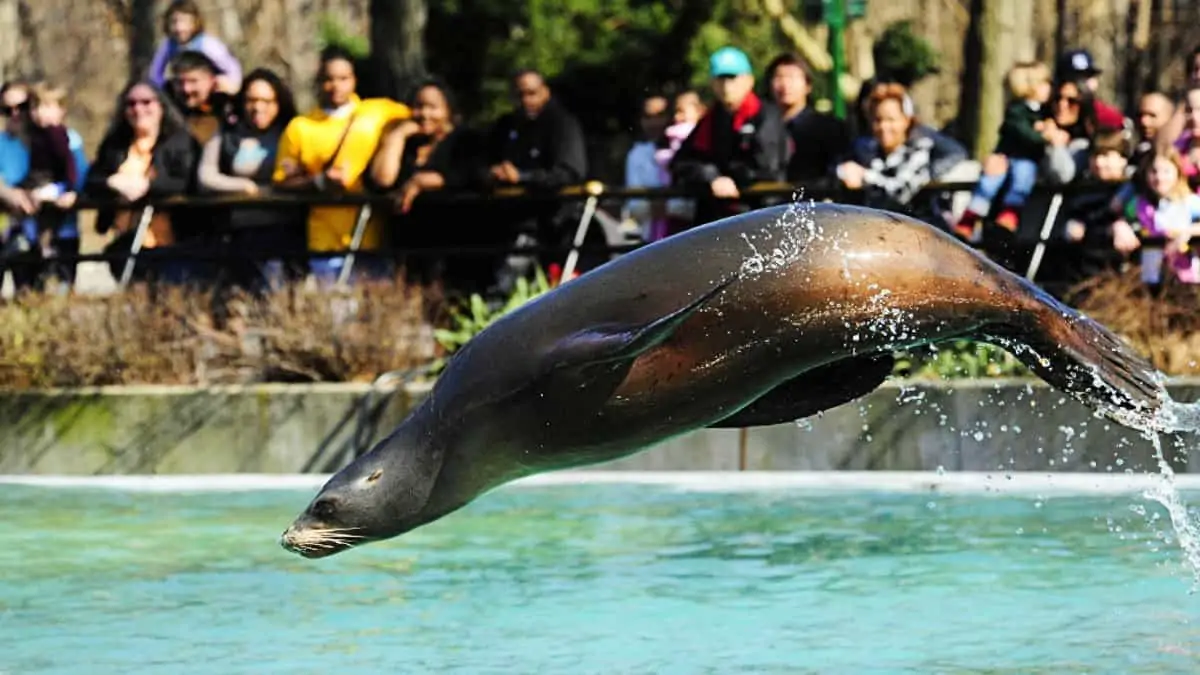 What to expect at Bronx Zoo
---
---
Bronx Zoo tickets
There are two ways to experience the Bronx Zoo – you can book only the Bronx Zoo tickets or opt for the Bronx Zoo + New York Botanical Garden combo.
Bronx Zoo tickets are timed
When you book your tickets, you must select a timeslot.
The slots start from 10 am (when the zoo opens) and are available every hour till one hour before the zoo closes.
You can arrive at the zoo within one hour of the entry time you select.
For example, a 10 am time spot means you must enter between 10 and 11 am.
Buying tickets online is better
During peak seasons and weekends, there is a long line at the zoo's ticket counter.
If you buy your Bronx Zoo tickets online, much in advance, you can skip the queue and quickly get in.
Depending on the day and season, this saves you 15 to 45 minutes of waiting time.
No need to take printouts
All Bronx Zoo tickets are smartphone tickets, and as soon as you make the purchase, they get emailed to you.
On the day of your visit, you can show the ticket in your email, on your smartphone, and walk in.
The online ticket gets accepted at all three entrances of the zoo.
Skip-the-line Bronx Zoo ticket
The ticket gives you a single entry to the Bronx Zoo.
The ticket includes access to animal feedings, encounters, Zoo Shuttle, Butterfly Garden, Children's petting Zoo, Wild Asia Monorail, and other rides and attractions.
Children aged two and under can enter for free.
Ticket price
Adult ticket (13+ years): $39.95
Child ticket (3 to 12 years): $29.96
*Wheelchairs available free of charge at the entrance on a first-come, first-served basis.
*Strollers available for a fee
With four world-class zoos filled with animals from all over the world, New York is a wildlife lover's paradise. Read about the best zoos in New York.
Visual Story: 14 must-know tips before visiting Bronx Zoo
---
---
Bronx Zoo entrance
The Bronx Zoo has three main entrances:
Asia Gate: located at Boston Road & Bronx Park South. This gate is for pedestrian access only.
Bronx River Gate: You can take Exit 6 off Bronx River Parkway to reach it. It has both pedestrian and vehicle entry.
Southern Boulevard Gate: People can enter at S. Blvd and 185th Street, and vehicles can access through S. Blvd & 183rd Street. This gate is close to the main exhibits, Electric Convenience Vehicle rentals, and the zoo shuttle stop.
---
---
Bronx Zoo hours
The Bronx Zoo opens at 10 am, all through the year.
During the summer, the Bronx Zoo NYC is open till 5 pm on weekdays and till 5.30 pm on weekends and holidays.
During winter, the zoo is open till 4.30 pm on all days.
The animal exhibits close half an hour before the closing time of the day.
Bug Carousel and Nature Trek close at the same time as the Bronx zoo.
The last entry to the zoo is 45 minutes before closing time.
The Bronx Zoo's opening hours are as follows:
When is the Bronx Zoo closed?
Bronx Zoo is closed on Thanksgiving Day, Christmas Day, New Year's Day, and Martin Luther King Jr.
---
---
Best time to visit Bronx Zoo
The Bronx Zoo in New York is amongst the oldest, largest, and most popular zoos in the United States.
It tends to draw large crowds, especially during peak season.
The best time to reach Bronx Zoo is as soon as they open for the day at 10 am.
When you start early, you can beat the crowds and queues at the exhibits.
The animals are more visible during the early morning and may recede to shaded areas as the day gets hotter.
Weekends and Public holidays tend to draw a larger crowd to the Bronx Zoo since it is easily accessible from the tri-state area.
Buying the tickets in advance helps avoid the crowd.
Bronx Zoo in winter
Spring or summer is a popular time for a visit to the Bronx Zoo, but fall and winter have their charm too.
Some of the animals at the Bronx Zoo are more active during fall and winter.
It is fascinating to see animals adapt to the cooler weather.
The Bronx Zoo is relatively less crowded in winter.
---
---
How long does Bronx Zoo take?
If you are visiting with children, you may need four hours to explore the Bronx Zoo.
Children tend to linger longer around their favorite animal enclosures, attend feeding sessions, keeper talks and try out numerous experiences.
Families that break for lunch tend to take more time.
If you want, you can also turn it into a full-day outing because Bronx Zoo entry tickets don't have a time limit.
If you are in a hurry, you can walk past all exhibits and experiences in 90 minutes.
---
---
Bronx Zoo's free day
Every Wednesday, the Bronx Zoo offers a limited number of free tickets.
These free Bronx Zoo tickets are made available on Monday at 5 pm for the following Wednesday's reservations.
A max of four Bronx Zoo Wednesday tickets per order is allowed, and every visitor aged three and up is required to book the free ticket in advance.
These Bronx Zoo free entry tickets only get you entry to the zoo.
For premium exhibits such as JungleWorld, Bug Carousel, Monorail, Nature Trek, Congo Gorilla Forest, Children's Zoo, Butterfly Garden, and Zoo Shuttle, etc., you must pay extra.
If you plan to try out the premium exhibits, it is better to book regular Bronx Zoo ticket.
---
---
Bronx Zoo prices
Bronx Zoo ticket price for adults 13 years and above is $39.95, and for children aged 3 to 12 years is $29.96.
Children aged two and under get a free entry to the Bronx Zoo.
Bronx Zoo discounts
Apart from free access to infants, the Bronx Zoo has complimentary admission and discounted tickets for active military personnel and veterans.
They can get a free ticket at the zoo's ticket counter and claim a 50% discount on tickets for up to three of their guests.
The eligible military member needs to show a valid id on entry.
---
---
Bronx Zoo animals
Bronx Zoo and its animals regularly feature on 'The Zoo' show on Animal Planet.'
We tell you more about this famous zoo and its' celebrity' inhabitants living in exhibits that resemble their natural habitats.
All these exhibits are included in the regular Bronx Zoo ticket.
African Plains
African Plains exhibit is one of the oldest in the Bronx Zoo, and as the name suggests, it houses animal species from Africa.
The big cats are here, and so are African Wild Dog, Zebras, Nyalas.
On hot afternoons, you may catch the Bronx Zoo Lions drinking water together, sleeping, or playfully interacting with each other.
The Carter Giraffe Building is also in the African Plains at the Bronx Zoo.
You can see the giraffes here in both indoor and outdoor enclosures.
Congo Gorilla Forest
Congo Gorilla Forest is one of the four most popular zones in the Bronx Zoo because of the 20 Western Lowland Gorillas that live here.
In here, you can see Ernie, the silver-backed gorilla, the star of the exhibit.
Other species in this exhibit are Mandrill, Okapi, Red-river hogs, WoWolf'suenon, Pygmy Marmosets.
Visitors to Congo Gorilla Forest can view animals from a walk-through area and even from the treetop lookouts.
Baboon Reserve
Baboon Reserve, created like the Ethiopian highlands, spans over a two-acre area.
It resembles the native habitat of Nubian Ibex, Rock Hyrax, Waterfowl, and two harems of Gelada Baboons.
The exhibit has a significant slope- created by excavating the earth- to display the animals.
Visitors can enjoy a panoramic view of the wildlife.
This part of the Bronx Zoo also a quaint African village-themed café overlooking the animal exhibit.
Tiger Mountain
Tiger Mountain is spread over three acres and has two main tiger viewing areas –
You can see the Bronx Zoo Tigers, mostly Amur ones and occasionally Malayan ones, at this exhibit.
The Malayan tigers are usually off-exhibit.
Bison Range
In the early days of its existence, the zoo created the Bison Range to conserve and breed Plains Bison.
Back then, the species was on the verge of extinction in the United States.
This Bronx Zoo exhibit boasts of holding one of the few large herds of bison in American zoos.
Sea-bird Aviary
The Bronx Zoo's Sea-Bird Aviary resembles the Patagonian coast.
Visitors can walk through it while viewing the 100+ birds, most of which are Inca Terns.
The aviary is 18 meters (60 feet) high, which is a lot of room for the birds to fly around.
Butterfly Garden
The Monarch Butterfly is the highlight of this exhibit.
Big Bears
The Bronx Zoo's Brown bear exhibit, better known as Big Bears, has four bears – one male grizzly bear and three rescued ABC Islands bears.
This exhibit was previously home to Tundra, a male polar bear.
Zoo authorities had to put him down in 2017 due to old age.
Now his enclosure houses the Dholes or Asiatic Wild Dogs.
Big Bears is a crowd favorite as visitors enjoy seeing the bears splashing around in the shallow water.
Birds of Prey
As the name suggests, these birds use their keen eyesight, muscular legs, and curved beaks to prey on vertebrates.
Cages in this exhibit are home to birds like Bald Eagles, Rüppell's griffon vultures, Lappet-Faced Vultures, Burrowing Owls, etc.
Children's Zoo
Himalayan Highlands
Himalayan Highlands is similar to the Asian-Himalayan region.
The elusive Snow Leopards and Western Red Pandas are the highlights of this exhibit.
Madagascar!
Madagascar! gives you a feel of various habitats typical to Madagascar.
It has several species native to the island like Lemurs, Lesser Hedgehog Tenrecs, Fossas, Nile Crocodiles, Radiated Tortoises, and the highly endangered Cichlids.
Bronx Zoo's Madagascar is the only place in the United States that houses two Ring-tailed Vontsiras.
The exhibit also has over 100000 hissing Cockroaches, a commonly found species in Madagascar.
Jungle World
Bronx Zoo's Jungle World is the largest exhibit with 800 different species of animals.
This indoor tropical jungle-like area is a combination of habitats like volcanic shrub forest, a mangrove swamp, a lowland evergreen rain forest, and a mountain rain forest.
Mouse House
With its day area and nocturnal night area, the Mouse House is home to various species of small mammals, particularly rodents.
Be as quiet as possible to catch the maximum action in this area.
Sea Lion Pool
The Sea Lion Pool in Astor Court is one of the oldest areas of the zoo and home to California Sea Lions since its opening in 1899.
It is fun to watch these playful animals basking in the sun, barking, and swimming in their pool.
Aquatic Bird House
The Aquatic Bird House has species such as Scarlet Ibises, Roseate Spoonbills, Madagascar Crested Ibis, Giant Wood Rail, etc.
You can view these birds from many open-fronted enclosures resembling their coastal and wetland habitats.
The massive aviary also houses Greater and Lesser Adjutant Storks.
World of Reptiles
The long hall with terrariums on both sides in World of Reptiles houses several species – Cuban Crocs, Green Tree Monitors, Poison Dart Frogs, and Tiny Turtles.
You can also view the newborn reptiles in the nursery area of this section.
Zoo Center
The Zoo Center in the Astor Court is a one-story Beaux-Arts building that holds Monitors, Komodo Dragons, Aldabra Giant Tortoises, and Southern White Rhinoceros.
It is near the Children's Zoo.
---
---
Experiences at Bronx Zoo
The Bronx Zoo has many unique and exciting experiences.
We tell you all about those so you can pack more fun during your visit.
Wild Asia Monorail
The monorail is open only from May to October and unavailable during winter from November to April.
Bug Carousel
It works as a refreshing stop even in winters as the sliding glass doors enclose the carousel to keep out the cold.
Bug Carousel costs $6 per person over and above the regular Bronx Zoo ticket.
Treetop Adventure
The Bronx Zoo Treetop Adventure (TTA) is a separate park area on the zoo grounds consisting of aerial adventure climbing elements and a dual zipline experience.
Besides, there is the Bronx Zoo zip line that races over and back across the Bronx River.
The Bronx Zoo Tree Top adventure is not included in the general admission ticket to the zoo.
Nature Trek
Nature Trek is one of the latest experiences at the Bronx Zoo that allows both children and adults to climb and crawl to new heights.
Visitors to the village in the trees can enjoy the view from a human-sized bird nest along with crossing wavy bridges, crawling through elevated tunnels, and balancing wiggly surfaces.
This Bronx Zoo experience costs an additional $6 per person.
A chaperone of 14 years and up must accompany children aged 3 to 8 years throughout the climbing structure.
Wild Encounters
The Wild Encounters at the Bronx Zoo need to be booked over and above the regular zoo admission ticket.
Each of these encounters costs between $300-$350 and lasts for 30-45 minutes.
Zoo Shuttle
On the route, the shuttle also stops by Tiger Mountain.
The Zoo entry ticket includes access to the shuttle.
The Zoo Shuttle is available during summer from April to October and remains closed from November to March.
---
---
Bronx Zoo map
There is a lot to see and do at the zoo, which is why it makes sense to have the map of Bronx Zoo handy at the time of your visit.
The map helps locate facilities such as restrooms, parking, restaurant, first aid center and navigate the various zones, enclosures and activities efficiently.
With access to the zoo map, you can create an itinerary prioritizing your favorite animal enclosures, encounters, attractions and experiences.
---
---
Food at Bronx Zoo
The Bronx Zoo's Dancing Crane Cafe is open throughout the year, from 10 am till closing time.
Their menu has hot and cold dishes as well as snacks and beverages.
The massive restaurant has both indoor and outdoor seating options overlooking a natural marsh.
If you are carrying your lunch or boxed meal, you can eat at the picnic areas or tables provided near the café.
There are other locations throughout the park where you can enjoy a picnic.
There are other food and drink kiosks throughout the park that are open subject to weather/seasonally and serve quick bites and beverages.
---
---
Directions to Bronx Zoo
Bronx Zoo is at 2300, Southern Boulevard, Bronx, New York. Get Directions
The Bronx Zoo in New York is easily accessible from any place in the tri-state area.
Here is a list of transport options to reach the Bronx Zoo.
Express Bus from Manhattan
You can take the BxM11 express bus from Manhattan to travel to Bronx Zoo NYC.
It makes a few initials stops along Madison Avenue between 26th Street and 99th Street. After that, it travels directly to the zoo's Bronx River entrance, also known as Gate B.
On your way back, you can catch the bus just outside the same gate at the MTA BXM11 sign, which is just before the underpass.
Local buses
Local buses on route Bx9 or Bx19 to 183rd Street and Southern Boulevard take you to the pedestrian entrance at Gate C.
If you are traveling from Queens, take the Q44 to 180th Street and Boston Road.
Bronx Zoo's Asia Gate Entrance, better known as Gate A, is just one block north of the bus stop.
Subway
Subway is another good option to travel to the Bronx Zoo in New York.
You can take the No. 2 train to Pelham Parkway subway station.
At the station, take the elevators down to the street level.
It is a 10-minute walk to the zoo's Bronx River entrance (Gate B).
By Train
If you choose to travel by train to Bronx Zoo, you can take Metro North's Harlem line to Fordham.
From there, you can take the Bx9 bus to 183rd Street and Southern Boulevard.
Bronx Zoo parking
Bronx Zoo has two main parking lots, one at Southern Boulevard and the other off the Bronx River Parkway. The former has better accessibility than the latter.
Bronx Zoo Parking Fee is $17 for cars for the day.
If the Bronx Zoo parking gets packed, you need to look for alternate parking in nearby locations.
One good option is the Fordham University parking lot.
Bronx Zoo's Southern Boulevard pedestrian entrance is an eight-minute walk from the University parking.
Sources
# Nytimes.com
# Wikipedia.org
# Britannica.com
# Tripadvisor.com

The travel specialists at TheBetterVacation.com use only high-quality sources while researching & writing their articles. We make every attempt to keep our content current, reliable and trustworthy.
Other Zoos in New York
# Central Park Zoo
# Queens Zoo
# Prospect Park Zoo
Popular attractions in New York
# Empire State Building
# One World Observatory
# Top of the Rock
# Statue of Liberty
# Metropolitan Museum of Art
# 9/11 Memorial and Museum
# Museum of Modern Art
# Intrepid Museum
# Guggenheim Museum
# New York Botanical Garden
# American Museum of Natural History
# Edge Hudson Yards
# Vessel Hudson Yards
# Museum of Ice Cream
# BlueMan Group NYC
# New York Dinner Cruise
# New York Helicopter tour