New York Botanical Garden in the Bronx has beautifully curated indoor and outdoor gardens, plants, trees, rolling hills, sculptures, and water bodies spread over 250 acres.
The New York Botanical Garden's manicured flower gardens, lush fields, and winding trails offer a serene escape from the bustling city, attracting over a million visitors annually.
Besides hosting a rich biodiversity, the gardens offer a plethora of family-friendly activities.
This article covers everything you must know before booking tickets for the New York Botanical Garden.

Top New York Botanical Garden Tickets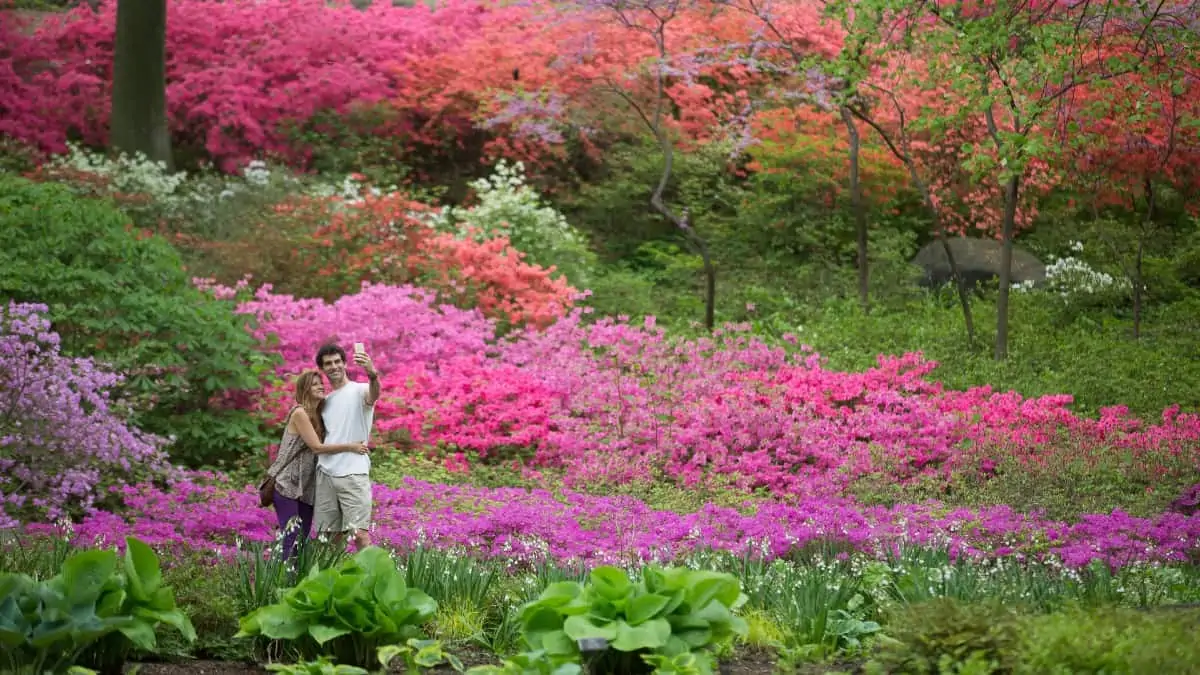 What to expect
Escape the urban jungle and relax amidst the verdure of the Big Apple's greenest corner.
Escape the chaos and take a trip to the 250-acre Botanical Garden in the Bronx, which is among the best in the world.
Stroll through the floral paradise of the New York Botanical Garden and experience the tranquility it offers.
Enjoy seasonal displays, as well as roses, azaleas, cherry trees, magnolias, a 1930s rock garden, and much more.
Visit the city's natural oasis and discover NYBG's 250 acres, which includes 50 gardens and collections showcasing everything from a beautiful maple collection to various plants and flowers found in the Perennial Garden.
Leave mesmerized by the serene beauty of the garden, having explored its diverse plant life growing in every corner.
---
---
Where to book tickets
Tickets for the New York Botanical Garden are available to be purchased at the attraction or online in advance.
Online ticket prices tend to be cheaper than tickets at the attraction.
When you buy online, you can avoid the long queues at the attraction's ticket counters.
Booking online also helps avoid last-minute disappointment and delays.
How do online tickets work
Go to the New York Botanical Garden ticket booking page, select your preferred date and the number of tickets, and buy the tickets right away.
After the purchase, you will receive the tickets via email.
You don't need to carry printouts.
You can show the e-ticket on your smartphone when you visit the attraction and exchange it for a Garden Pass admission at the Visitor Center.
New York Botanical Garden ticket prices
Adult tickets for the New York Botanical Garden are priced at US$35 for visitors between 13 and 64 years.
For children between three and 12 years of age, tickets are available for US$15.
Senior citizens aged 65 and above and students can get the tickets for US$31.
Infants under three years can get in for free and do not require a ticket.
New York Botanical Garden ticket
Take a break from the city's hustle and bustle and experience a moment of tranquility at the New York Botanical Garden.
Book your tickets now to enjoy access to the outdoor collections and trails, including the seasonal Rock Garden and Native Plant Garden.
Buy this NYBG ticket and get to visit the Everett Children's Adventure Garden and hop on the NYBG Tram Tour.
Daytime access to the Enid A. Haupt Conservatory and all Garden features are also included in the ticket.
Upon arrival, visitors will receive instructions on how to download the audio tour app on their mobile devices for a more informative experience.
Bronx Zoo Holiday Lights + New York Botanical Garden
Distance: 1.1 miles approx (1.8 km)
Time Taken: 3 minute drive
Pair your evening trip to the New York Botanical Garden with the Holiday Lights tickets for the Bronx Zoo.
Head to the New York Botanical Garden for unique after-hours exhibitions and feel the serenity of the garden overwhelm you with some of the most extraordinary evening adventures.
NYBG hosts rotating special events across the year that revolve around seasonal themes and promote promising botanists and artists.
Move on to experience the magic of the holiday season at the Bronx Zoo as you immerse yourself in a breathtaking display of animal artwork and artistic light shows.
Marvel at the carvers creating wild ice statues while indulging in delicious festive treats.
The evenings at the zoo come alive with holiday cheer through immersive light displays, custom-designed animal lanterns, and animated light shows that sparkle across the park.
Enjoy festive entertainment, seasonal treats, the Holiday Train, and classic holiday music.
The walk-through experience is a beloved tradition that enchants and delights all ages.
Get an exclusive 20% discount on booking this combo ticket.
Ticket Cost: US$62
---
---
How to reach
The New York Botanical Garden is located in Bronx Park, New York City.
Address: 2900 Southern Blvd, Bronx, NY 10458, USA. Get Directions
You can reach the NYBG by public transport or car.
By Bus
Get down at the Southern Blvd/Botanical Gardens stop to reach the New York Botanical Garden.
By Subway
Take subway line B or D to reach the Bedford Park Blvd station near the garden.
By Train
Take the Harlem local line to the Botanical Garden Station right outside the garden.
By Car
If you're driving by car, turn on Google Maps and get started!
Visitors can park on-site when entering from the Main Entrance at 2900 Southern Boulevard or park at the NYBG Parking Garage.
Timings
The New York Botanical Garden is open on all days of the week except Mondays.
The garden stays open between 10 am to 6 pm.
However, the NYBG is open on select Mondays, falling on a federal holiday.
How long does the tour take
Visitors spend around 3 hours on average at the New York Botanical Garden.
However, if you are a true enthusiast, you can easily spend the whole day exploring plants at the NYBG.
Best time to visit
We suggest booking your tickets on a weekday when the attraction is less busy for a more enjoyable visit.
Mornings and late evenings have fewer visitors, and you can visit peacefully.
Weekends and public holidays are the most crowded at the attraction.
It is best to visit the garden during spring when the weather is warm, and there is new life blooming after winter.
Between March and May, visitors can see over 200 cherry trees bloom in the garden, while in December, it is decorated to take on the festive color, and visitors can see the incredible train show.
---
---
Enid A. Haupt Conservatory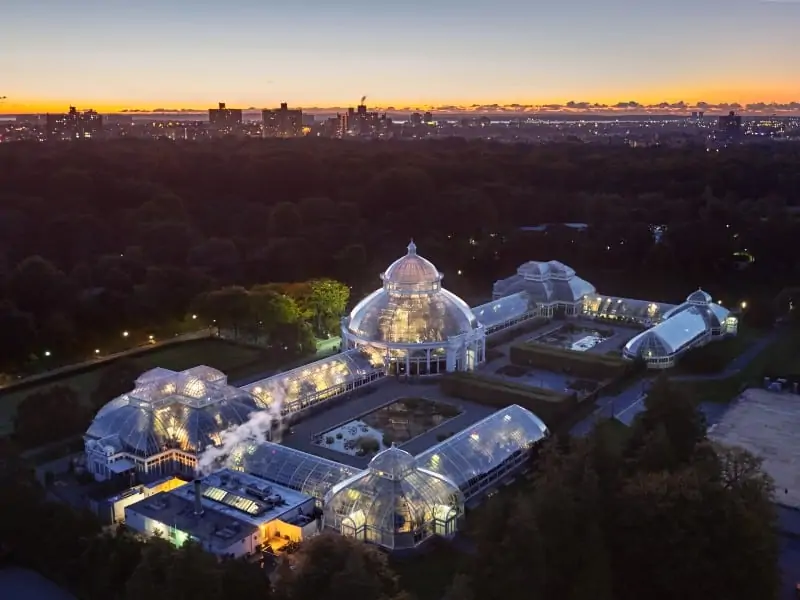 Enid A. Haupt Conservatory in New York Botanical Garden was built in 1902 and is considered one of the finest glasshouses.
The magnificent glasshouse features galleries of aquatic plants and vines, tropical rainforests, cactus-filled deserts, and other natural habitats.
Its restored palm dome displays palms from around the world.
Access to the Haupt Conservatory is limited and available only to Garden Pass + Conservatory ticket holders, which you can buy at the venue.
Map of New York Botanical Garden
The New York Botanical Garden is enormous – 250 acres of pure bliss, and it is challenging if you don't know what you want to explore.
That's why we recommend you go through the layout of NYBG and plan your itinerary before your visit.
Besides helping you see the best parts of the Botanical Gardens, the map will also ensure you don't get lost.
Keeping the New York Botanical Garden's map handy will also help you find visitor services such as toilets, cafes, wi-fi, water stations, tram stops, etc.
---
---
Restaurants in the Botanical Garden
New York Botanical Garden has two restaurants – Pine Tree Cafe and Hudson Garden Grill.
Pine Tree Cafe
Pine Tree Cafe is nestled amongst rare and unusual pines from Asia, Europe, and North America, some of which are nearly 100 feet tall. 
The menu is family-friendly and offers a wide range – from Artisanal Panini and Neapolitan-style pizza to salads and sweet treats.
Hudson Garden Grill
Hudson Garden Grill is a friendly sit-down dining experience and offers New American cuisine using locally sourced ingredients.
This restaurant is open to both New York Botanical Garden visitors and the general public.
It is open from 11.30 am to 3 pm from Tuesday to Friday, and on Saturdays and Sundays, it remains open till 6 pm.
If you are planning a visit, book a table in advance.
Visitors can also pack picnic baskets and get them to New York Botanical Gardens and enjoy them at the Clay Family Picnic Pavilions.
Outside alcohol is prohibited.
New York Botanical Garden entrance
New York Botanical Garden has five entrances, and if you have the Botanical Garden tickets, you can enter through any of these gates. 
The Main Entrance is located at 2900 Southern Boulevard and is open daily during regular Garden hours.
Mosholu entrance is at 2950 Southern Boulevard between Mosholu Parkway and Bedford Park Boulevard. It remains open during regular garden hours.
Bedford Park Gate is at the corner of Southern Boulevard and Bedford Park Boulevard and is open only during weekends and holidays.
NYC Botanical Gardens East Gate is at the corner of Waring Avenue and Bronx Park East and is open during regular garden hours.
Everett Garden Gate is on Southern Boulevard, and only school groups are allowed. 
FAQs about the New York Botanical Garden
Should I buy NYBG tickets in advance?
Yes, it is best to book your tickets online in advance. It helps avoid long queues and ensure entry, particularly during peak times.
Is the New York Botanical Garden suitable for children?
Yes, the attraction is family-friendly and suitable for children of all ages.
Is the garden accessible to people with disabilities?
The NYBG, its buildings, and all tour vehicles are accessible to people with disabilities. However, a few places do not allow for wheelchairs to move because the area is naturally rough.
Can I bring a pet to the New York Botanical Garden?
Pets, with the exception of service animals, are not allowed in the garden.
Is photography allowed at the Botanical Garden in New York?
Personal photography is allowed inside the garden, with some restrictions in certain areas. Visitors are advised to adhere to the rules and not disturb the plant life inside the attraction.
Is there a coat check at the NYBG?
No, the New York Botanical Garden does not have a coat check.
Sources

# Nybg.org
# Wikipedia.org
# Tripadvisor.com
# Britannica.com

The travel specialists at TheBetterVacation.com use only high-quality sources while researching & writing their articles. We make every attempt to keep our content current, reliable and trustworthy.
Popular attractions in New York