New York Botanical Garden in the Bronx has beautifully curated indoor and outdoor gardens, plants, trees, rolling hills, sculptures, and water bodies spread over 250 acres.
The manicured flower gardens, lush fields, and winding trails of NYBG are a perfect break from the concrete skyscrapers of New York City.
Besides the biodiversity, the gardens also organize lots of family-friendly activities to entertain and educate the guests.
New York Botanical Garden gets more than a million visitors annually.
In this article, we share everything you must know before buying New York Botanical Garden tickets.
Top New York Botanical Garden Tickets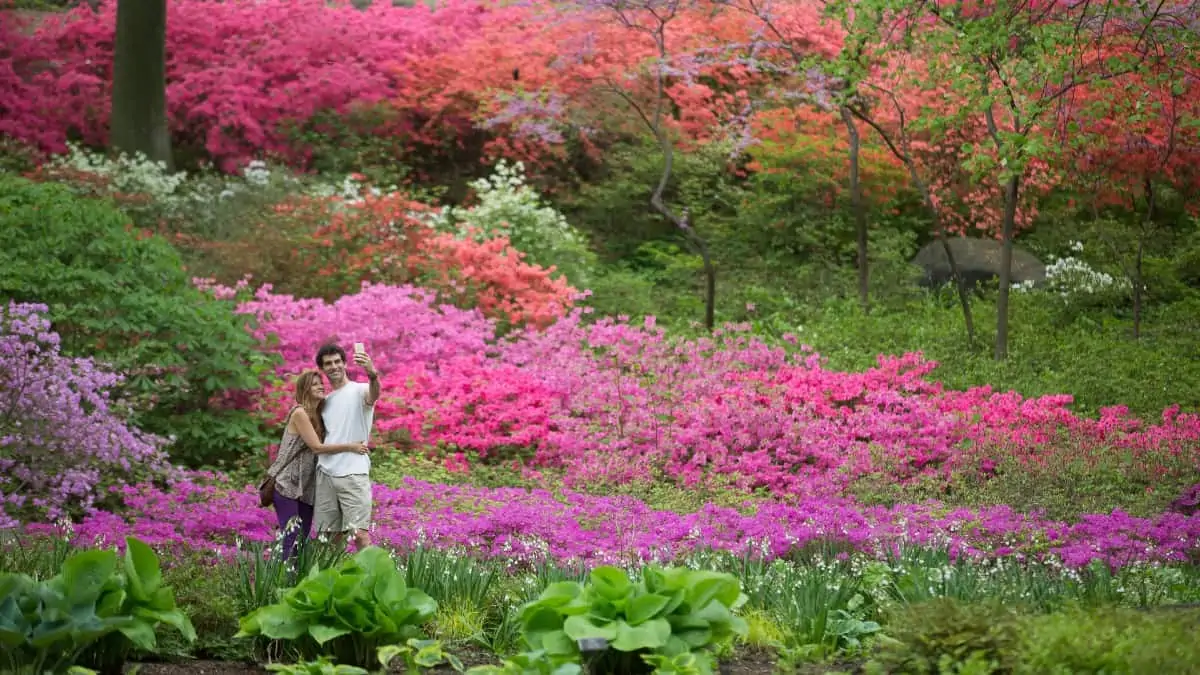 What to expect at New York Botanical Gardens
Besides providing a blissful escape from the urban jungle, the New York Botanical Gardens also has a packed cultural calendar.
Don't forget to ask for the day's program at the entrance.
Most of the time, you will be outdoors, so dress up appropriately. Since you will be exploring the magnificent greens on foot, we recommend comfortable walking shoes.
Water fountains are available at most places.
Visitors can choose from two kinds of tickets – Garden Pass or KUSAMA Garden Pass.
While the Garden Pass ticket lets you access all outdoor gardens and flower collections in the botanical garden, KUSAMA Garden Pass gets you to access the ongoing exhibition called 'Kusama – Cosmic Nature' as well.
You must choose between the two New York Botanical Garden tickets on the booking page.
---
---
New York Botanical Garden tickets
While booking your tickets to the botanical garden, on the ticket booking page, you can choose from two experiences – Garden Pass or the KUSAMA Garden Pass.
KUSAMA Garden Pass lets you access the fascinating installations that are part of the Kusama: Cosmic Nature exhibition, scheduled to run until 31 October 2021.
Where to buy tickets
You can get your NYBG entry tickets at the venue or buy them online, much in advance.
If you plan to get them at the attraction, you must get in the ticketing window queue.
Depending on the time of the day (and month), you may have to wait in the ticket counter line for 15 minutes or more to buy your ticket.
The second and better option is to secure admission to New York Botanical Garden online and avoid waiting in the queue.
That is why these tickets are also known as New York Botanical Garden skip the line tickets.
How online tickets work
When you book New York Botanical Garden tickets, you select your preferred time and date of visit.
Immediately after purchase, your tickets get emailed to you. You don't need to take any printouts.
Once you reach the Gardens at the time mentioned on your ticket, you can show your ticket on your smartphone and enter.
How timed tickets work
You can arrive at the entrance of New York Botanical Gardens up to one hour after your ticketed entry time.
That is, if your ticket has 3 pm mentioned on it, you can enter the gardens till 4 pm.
If you arrive at the Garden more than one hour late, the guest relationship manager tries their best to accommodate your entry.
However, admission is not guaranteed.
NYBG ticket prices
Garden Pass, the cheapest and most popular New York Botanical Garden ticket, costs $22 for all visitors between 13 to 64 years.
Seniors 65 years and older and students with valid IDs qualify for a $3 reduction on the full ticket price and pay only $18.
Kids two to 12 years get a $14 discount and pay only $8 for their admission.
---
---
New York Botanical Garden entrance
New York Botanical Garden has five entrances, and if you have the Botanical Garden tickets, you can enter through any of these gates.
The Main Entrance is located at 2900 Southern Boulevard and is open
daily during regular Garden hours.
Mosholu entrance is at 2950 Southern Boulevard between Mosholu Parkway and Bedford Park Boulevard. It remains open during regular
garden hours.
Bedford Park Gate is at the corner of Southern Boulevard and Bedford Park Boulevard and is open only during weekends and holidays.
NYC Botanical Gardens East Gate is at the corner of Waring Avenue and Bronx Park East and is open during regular Garden hours.
Everett Garden Gate is on Southern Boulevard, and only school groups are allowed.
---
---
How to reach New York Botanical Garden
The New York Botanical Garden is at 2900 Southern Blvd., Bronx, New York, 10458. Get Directions
It is best to take public transportation to the garden.
By Subway
Take the B, D, or 4 train to Bedford Park Blvd. Station, which is 1 km (.7 mile) from the Garden's Mosholu Entrance.
You can either walk the distance in 20 odd minutes or take Bx26 bus east to Mosholu Entrance.
Visitors can also take the 2 train to Allerton Ave. Station.
From the station, Botanical Garden's East Gate is a little less than a kilometer (.6 mile), and you can walk the distance in 15-18 minutes.
Metro-North Railroad
From Grand Central Terminal in Manhattan, take Metro-North Harlem local line to Botanical Garden Station.
The train journey lasts around 20 minutes, and you get dropped right in front of the Garden's Mosholu Entrance.
Parking
If you plan to drive to the Botanical Garden, it is best to fire up your Google Map and follow directions.
For onsite parking, you must enter via the Main Entrance at 2900 Southern Boulevard.
The Peter Jay Sharp Building at 401 Bedford Park Blvd, adjacent to the Metro-North Botanical Garden Station, is also Botanical Garden's parking.
We recommend Peter Jay Sharp garage for peak days when the onsite parking is likely to get packed.
Parking rates for weekdays
Up to 1 hour: $8
Up to 2 hours: $10
Up to 12 hours: $20
Up to 24 hours: $30
Parking rates for weekends
Up to 12 hours: $20
Up to 24 hours: $30
2 J's Parking Lot or G & R Parking Services are two independent garages nearby that come in handy during crowded days.
---
---
New York Botanical Garden hours
From Tuesday to Sunday, New York Botanical Garden is open from 10 am to 6 pm.
On Mondays, it remains closed except if it is a federal holiday, in which case it opens from 10 am to 6 pm.
During the peak months of July and August, the garden is open until 9 pm on Thursdays.
Tram Tour, Everett Children's Adventure Garden, and some outdoor gardens and collections are unavailable during extended hours.
---
---
Kusama: Cosmic Nature
Yayoi Kusama is a famous contemporary Japanese artist, drawing millions to experience her immersive installations at New York Botanical Garden.
Kusama grew up in the greenhouses and fields of her family's seed nursery, which created her fascination with the natural world.
She has used this childhood obsession with plants and flowers' colors, patterns, and life cycles to create a fascinating exhibition at the Gardens.
Cosmic Nature's dates and timings
New York Botanical Garden's Kusama exhibition is from 10 April to 31 October 2021.
The exhibition follows the garden's timings – from Tuesday to Sunday, 10 am to 6 pm, and on Thursdays, 10 am to 9 pm.
Installations at Kusama's Cosmic Nature
The Cosmic Nature exhibition led by Yayoi Kusama at NYBG features spectacular installations scattered across the garden's 250-acre landmark landscape. Here are some of them –
I Want to Fly to the Universe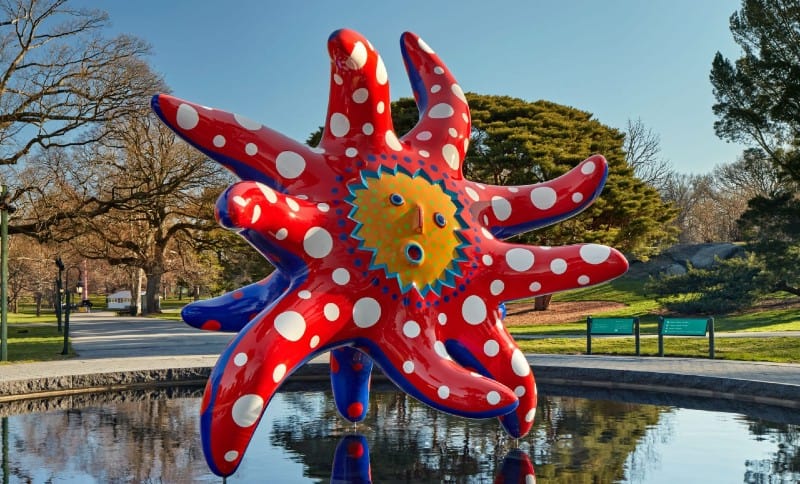 Dancing Pumpkin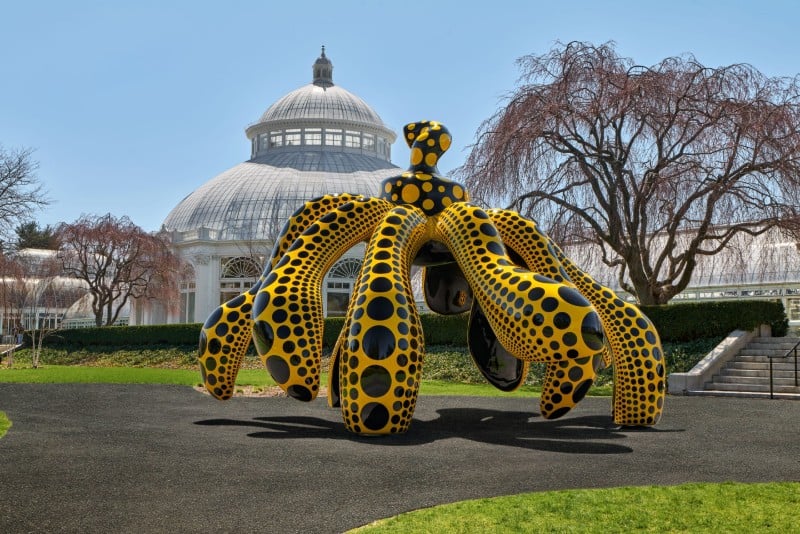 Hymn of Life—Tulips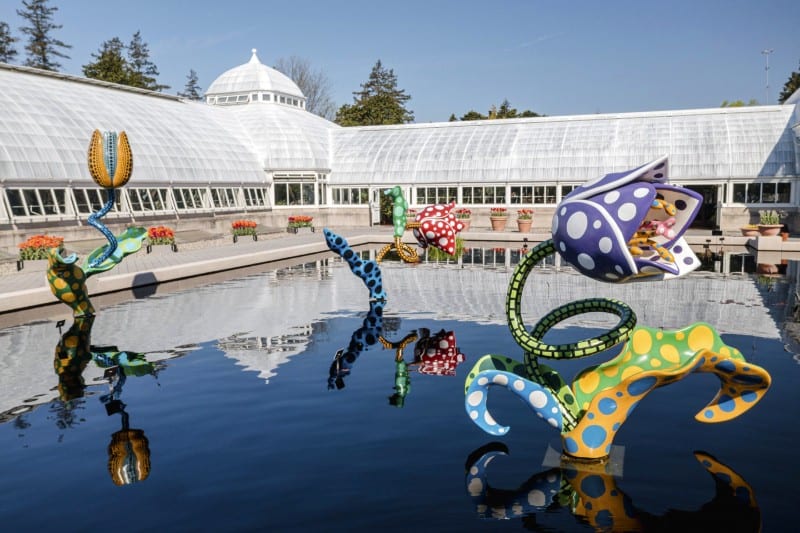 Some of the other notable installations are Narcissus Garden in the Native Plant Garden, Ascension of Polka Dots on the Trees, Pumpkins Screaming About Love Beyond Infinity, Walking Piece, Flower Obsession and Infinity Mirrored Room.
Tickets to Kusama
New York Botanical Garden's Kusama tickets include access to all KUSAMA: Cosmic Nature outdoor installations across the grounds and regular Garden features, including the Everett Children's Adventure Garden and outdoor collections.
These tickets don't get you access to Enid A. Haupt Conservatory.
Kusama tickets are highly limited and expected to sell out.
Ticket prices
Adult ticket (13 to 64 years): $25
Seniors ticket (65+ years): $22
Student ticket (with valid ID): $22
Child ticket (2 to 12 years): $12
Note: On the ticket booking page, you must select 'KUSAMA Garden Pass.'
---
---
Enid A. Haupt Conservatory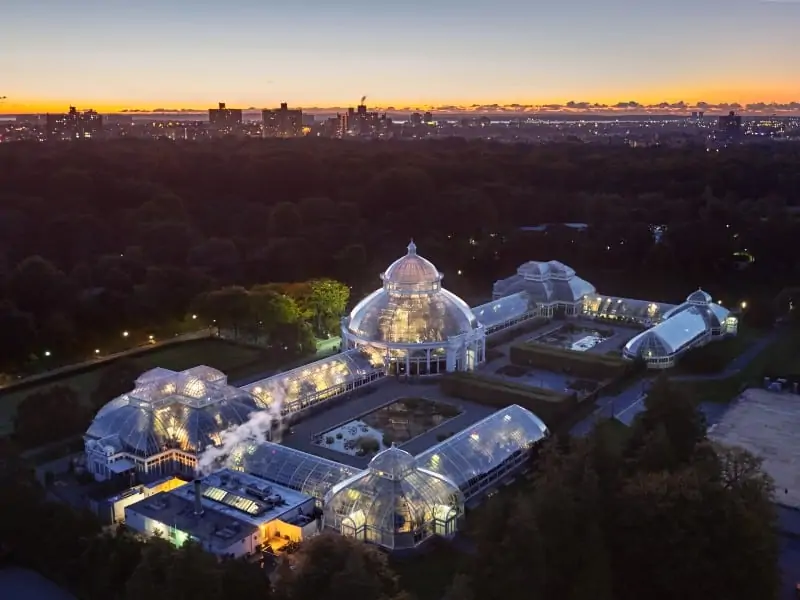 Enid A. Haupt Conservatory in New York Botanical Garden was built in 1902 and is considered one of the finest glasshouses.
The magnificent glasshouse features galleries of aquatic plants and vines, tropical rain forests, cactus-filled deserts, and other natural habitats.
Its restored palm dome displays palms from around the world.
Access to the Haupt Conservatory is limited and available only to Garden Pass + Conservatory ticket holders, which you can buy at the venue.
---
---
Map of New York Botanical Garden
New York Botanical Garden is enormous – 250 acres of pure bliss, and it isn't easy if you don't know what you want to explore.
That's why we recommend you go through the layout of NYBG and plan your itinerary before your visit.
Besides helping you see the best parts of the Botanical Gardens, the map will also ensure you don't get lost.
Keeping the New York Botanical Garden's map handy will also help you find visitor services such as toilets, cafes, wi-fi, water stations, tram stops, etc.
---
---
Restaurants in the Botanical Garden
New York Botanical Garden has two restaurants – Pine Tree Cafe and Hudson Garden Grill.
Pine Tree Cafe
Pine Tree cafe is nestled amongst rare and unusual pines from Asia, Europe, and North America, some of which are nearly 100 feet tall.
The menu is family-friendly and offers a wide range – from Artisanal Panini and Neapolitan-style pizza to salads and sweet treats.
Hudson Garden Grill
Hudson Garden Grill is a friendly sit-down dining experience and offers New American cuisine using locally sourced ingredients.
This restaurant is open to both New York Botanical Garden visitors and the general public.
It is open from 11.30 am to 3 pm from Tuesday to Friday, and on Saturdays and Sundays, it remains open till 6 pm.
If you are planning a visit, book a table in advance.
Visitors can also pack picnic baskets and get them to New York Botanical Gardens and enjoy them at the Clay Family Picnic Pavilions.
Outside alcohol is prohibited.
Sources

# Nybg.org
# Wikipedia.org
# Tripadvisor.com
# Britannica.com

The travel specialists at TheBetterVacation.com use only high-quality sources while researching & writing their articles. We make every attempt to keep our content current, reliable and trustworthy.
Popular attractions in New York
# Empire State Building
# Statue of Liberty
# Metropolitan Museum of Art
# One World Observatory
# Top of the Rock
# Museum of Modern Art
# Intrepid Museum
# 9/11 Memorial and Museum
# New York Helicopter tour
# Guggenheim Museum
# Bronx Zoo
# Central Park Zoo
# Queens Zoo
# Prospect Park Zoo
# American Museum of Natural History
# Edge Hudson Yards
# Vessel Hudson Yards
# Museum of Ice Cream
# BlueMan Group New York
# New York Dinner Cruise