Inscribed as a UNESCO World Heritage Site in 1985, the Alcázar of Segovia is a majestic castle overlooking the city of Segovia in central Spain.
Built during the 12th century, this medieval castle is one of the most famous landmarks in Spain.
The castle features stunning architecture, intricate details, and a rich history, and is considered one of Europe's most impressive attractions.
Originally constructed as a fortress, the Alcázar has served various purposes over the years, including as a royal palace, state prison, Royal Artillery College, military academy, and its current roles as a museum and military archives building.
This article covers everything you must know before booking tickets to the Alcázar of Segovia.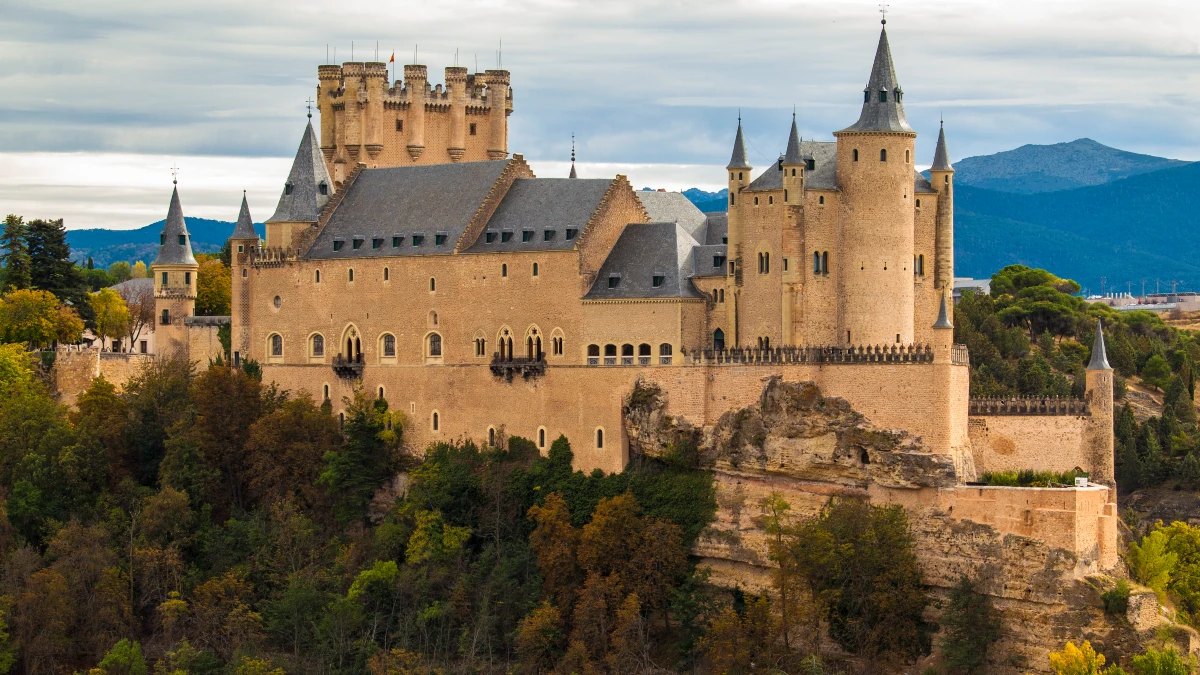 What to expect
Get ready to be transported back in time when you visit Alcázar of Segovia, a medieval fortress that has been beautifully preserved.
See one of the world's most iconic castles with a dreamy fairytale-like appearance that combines the architectural styles of various monarchs and narrates stories of the palace to its visitors.
Wander through medieval halls and admire the stunning Spanish Gothic architecture and its intricate details.
Get an opportunity to tour the magnificent castle and climb its towers to enjoy a scenic view of the town.
Discover the castle's intriguing history and the notable figures who have graced its halls with a professional guide.
Take some time to explore the beautiful gardens surrounding the castle, which offer breathtaking views of the city below.
---
---
Where to book tickets
Tickets for the Alcázar of Segovia can be purchased either at the attraction or online in advance.
Online ticket prices tend to be cheaper than tickets at the venue.
When you buy online, you can avoid the long queues at the attraction's ticket counters.
Because some attractions sell a limited number of tickets, booking early helps avoid last-minute disappointments.
When you book early, you also get your preferred time slot.
How do online tickets work
To book your visit to the Alcázar of Segovia, head to the booking page and choose your desired date and time, and the number of tickets you wish to buy.
Once you've made your purchase, your tickets will be sent to your email.
No need to take printouts.
On the day of your visit, simply present the ticket on your smartphone at the gate and walk in.
Alcázar of Segovia Ticket price
Tickets for a guided tour of Alcázar of Segovia are priced at £15 for visitors above the age of six.
For children up to the age of five, tickets are available for a discounted price of £4.
The ticket cost covers a guided walking tour in Spanish.
Segovia City & Alcázar Guided Tour tickets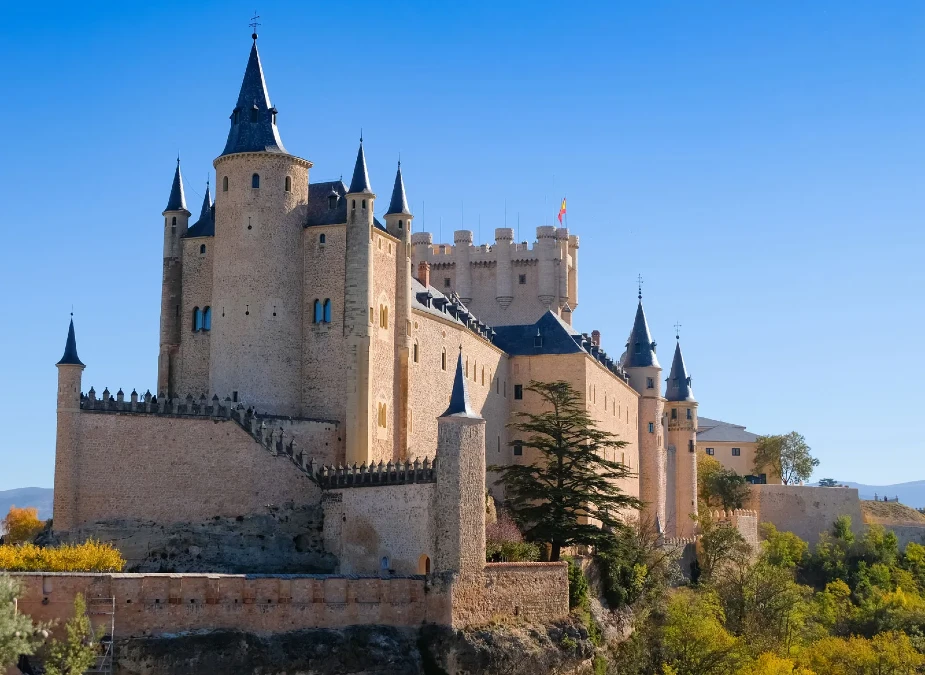 Experience a professionally guided tour of Segovia, a UNESCO World Heritage City.
Start your journey at the renowned Roman aqueduct situated in Plaza del Azoguejo, one of the most historically significant spots in Segovia.
Take a stroll around various historical sites such as Segovia's Roman aqueduct, old noble houses, Romanesque churches, Plaza Mayor, and more.
Marvel at Segovia's old city and explore the grand Alcázar with a knowledgeable Spanish-speaking guide as you learn about its royal history.
Explore twelve castle rooms that lead into two main courtyards, with each room showcasing a captivating blend of Gothic, Romanesque, and Moorish styles.
A visit to the Alcázar of Segovia is captivating for anyone interested in history, architecture or simply looking for a beautiful and unique experience.
Ticket Prices
Adult Ticket (6+ years): £15
Child Ticket (up to 5 years): £4
Segovia Guided Tour: City, Cathedral & Alcázar tickets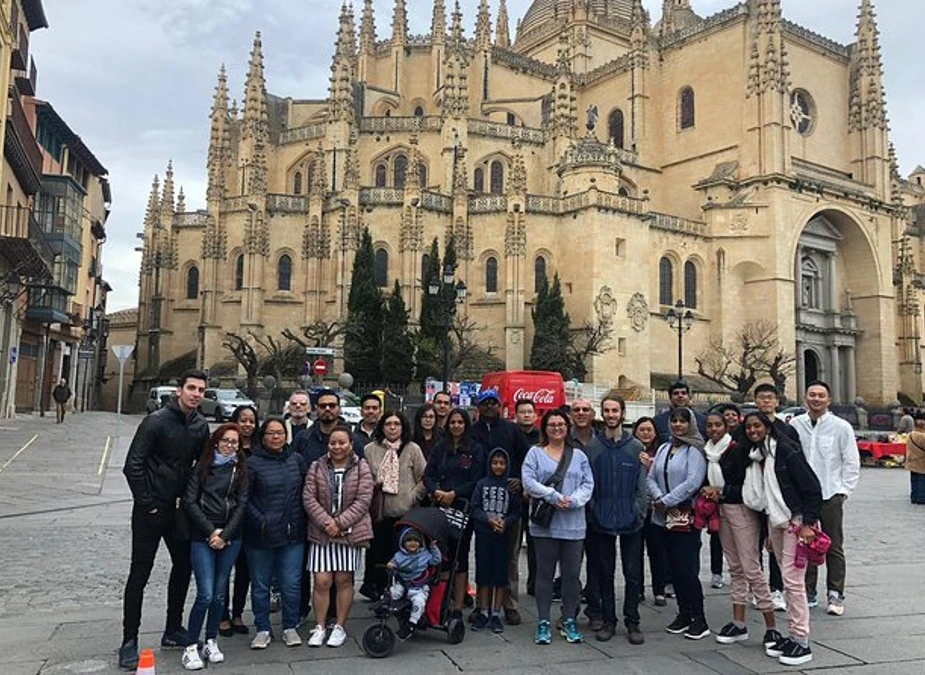 Experience the charm of a historical Spanish city with a guided tour of Segovia as you explore its many wonders.
Visit significant landmarks like the Aqueduct, Cathedral, and the Alcázar of Segovia itself, known for its impressive architecture and exquisite artwork.
Take in the sight of a 90-meter tower, and appreciate the intricate religious artwork and interior design of the stunning Gothic-style Cathedral of Segovia.
See the stunning two-tiered arches of the Aqueduct, an integral part of the beautiful and historic city.
Your Spanish-speaking guide will take you through narrow streets, which showcase the influence of various cultures that contributed to the city's prosperity during the Middle Ages.
Marvel at the Roman Aqueduct in Plaza del Azoguejo, ancient noble houses, atriums, and Romanesque church towers, as well as the Jewish quarter, before arriving at the stunning Alcázar of Segovia.
Make your way to the Alcázar and gain insight into its significance as you wander through its elegant chambers and rooms.
Discover the legends and history of this hidden European gem by booking tickets for this breathtaking tour.
Ticket Price: £20
Save time & money! Buy the Madrid Pass and visit the Royal Palace of Madrid and the Prado Museum with a comprehensive audio guide to give you fascinating information about Madrid's rich history and famous landmarks. Take a panoramic bus tour of the city's top sights!
---
---
How to reach
The Alcázar of Segovia is located alongside the Plaza de Jacinto Benavente and close to Puerta del Sol.
Address: Pl. Reina Victoria Eugenia, s/n, 40003 Segovia, Spain. Get Directions
You can reach the Alcázar of Segovia by public transport or car.
By Bus
Get down at the Alcázar stop to reach the Alcázar of Segovia.
Take bus number 10.
By Train
Estacion de Trenes de Segovia is the nearest train station to the Alcázar of Segovia.
Take the regional train.
By Car
If you want to drive to the attraction, turn on Google Maps and get started!
Park on the street near the Viaduct or in a parking garage.
Timings
In winter, from November 1 to March 31, the castle is open from 10 am to 6 pm.
During summer, from April 1 to October 31, the attraction stays open between 10 am to 8 pm.
Additionally, the tour of Segovia City and Alcázar is available at 11 am on Thursdays.
On Saturdays, you can go for this tour at 5 pm.
To visit the Alcázar, you can enter the premises up to 30 minutes before it closes.
Best time to visit
The best time to visit Segovia is on weekday mornings as soon as the attraction opens.
The crowd is less and you can have a peaceful experience.
The earlier you arrive at the attraction, the less crowded your experience will be.
Weekends and public holidays tend to be the most crowded time at the attraction.
You can plan the visit between March and September. The weather is pleasant during these months.
How long does the tour take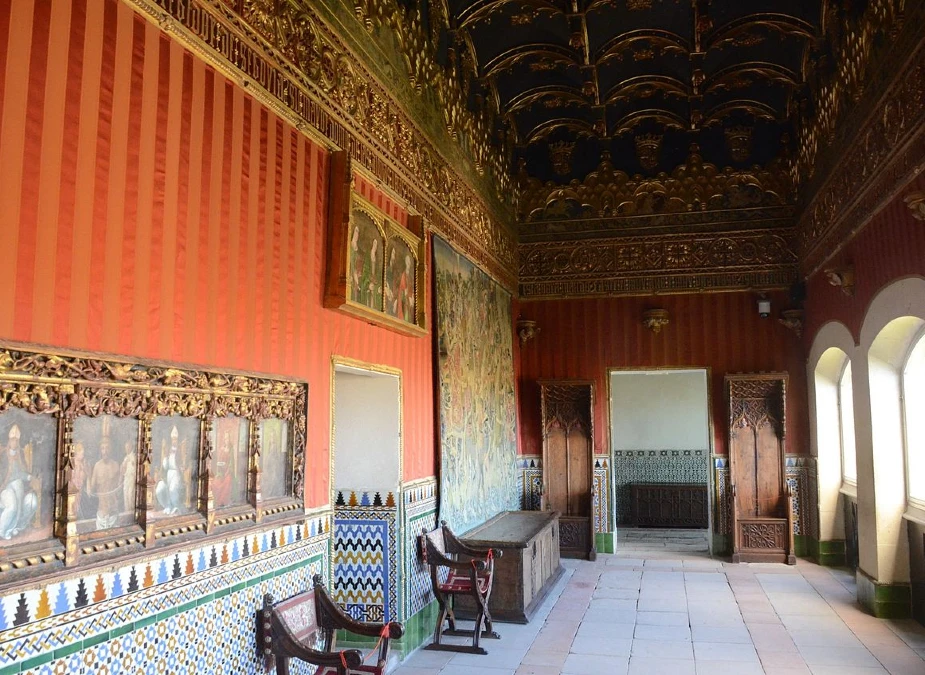 The Segovia city and Alcázar tour takes about 2 hours on average.
Visiting the Palace and Museum takes 40 to 45 minutes, and the Tower of Juan II can only be covered in about 30 minutes.
Reviews for the Alcázar of Segovia
Here are some reviews for the Alcázar of Segovia to help you plan your visit.
Stunning building & location
Walked Segovia: It's very easy; lots of small alleyways; quaint plaza:
From the central plaza, take a few steps then stroll around the walls to the Fairytale Palace: lovely:
Didn't go in as very busy, but nice to sit under the trees and chill out for a bit.
A Disney fairytale
A beautiful building – it's no surprise that it inspired the Disney castle when it has such a storybook appearance. The interiors are impressive and it's worth taking the tower tour for some stunning views over the city and surrounding countryside.
A royal residence with an impressive history
The facility is quite impressive. Started out as a military fortification. They actually had to dig the moat by breaking up rock and it could be like one of the castles used to give you an idea of what Disneyland is like. After military fortification, it became a royal residence, which sent it back to the military as an artillery school. It was used as a mint, a royal mint, at one point in time.
---
---
FAQs about the Alcázar of Segovia
Here are some questions visitors usually ask before visiting Alcázar of Segovia.
What is Segovia famous for?
Located in central Spain, Segovia is an enchanting city renowned for its remarkably preserved Roman aqueduct and the breathtaking Alcázar castle.
Is the Alcázar of Segovia tour wheelchair accessible?
Yes, the tour of the Alcázar of Segovia is wheelchair-accessible.
Why should I book a guided tour of Segovia and Alcázar?
If you wish to truly cherish and appreciate the rich history and cultural significance of Segovia and Alcázar, a guided tour is the best way to do it.

Gain a deeper understanding of the fascinating stories and legends that make Segovia such a special place, with a knowledgeable guide by your side.
What should I expect to see on a guided tour of Segovia and Alcázar?
Explore the charming old town of Segovia, with its winding medieval streets and stunning architecture, as well as the spectacular Alcázar castle.
Can I click pictures of the tour of the Alcázar of Segovia?
You can click as many pictures as you wish on the tour of Segovia and the Alcázar.
Is the Segovia and Alcázar guided tour suitable for people of all ages and fitness levels?
The Segovia and Alcázar guided tour is suitable for people of all ages and fitness levels, as it is designed to be accessible and enjoyable. 

However, it's important to note that certain parts of the tour may involve walking on uneven terrain or climbing stairs. 

Therefore, it's recommended to wear comfortable shoes and prepare for some light physical activity.
Popular attractions in Madrid