Imagine an experience that simulates the craziness of skydiving as an indoor adventure!
Madrid Fly is the largest indoor skydiving wind tunnel in Europe where children can experience a freefall without the need to jump out of an airplane.
The wind tunnel at Madrid Fly measures a whopping 4.6 meters (15 feet) in diameter and 18 meters (52 feet) in height, generating wind speeds of up to 300 km/h (186 miles/h).
This creates a powerful cushion of air that supports your body as you float and fly through the air.
This article covers everything you must know before booking tickets for the Madrid Fly.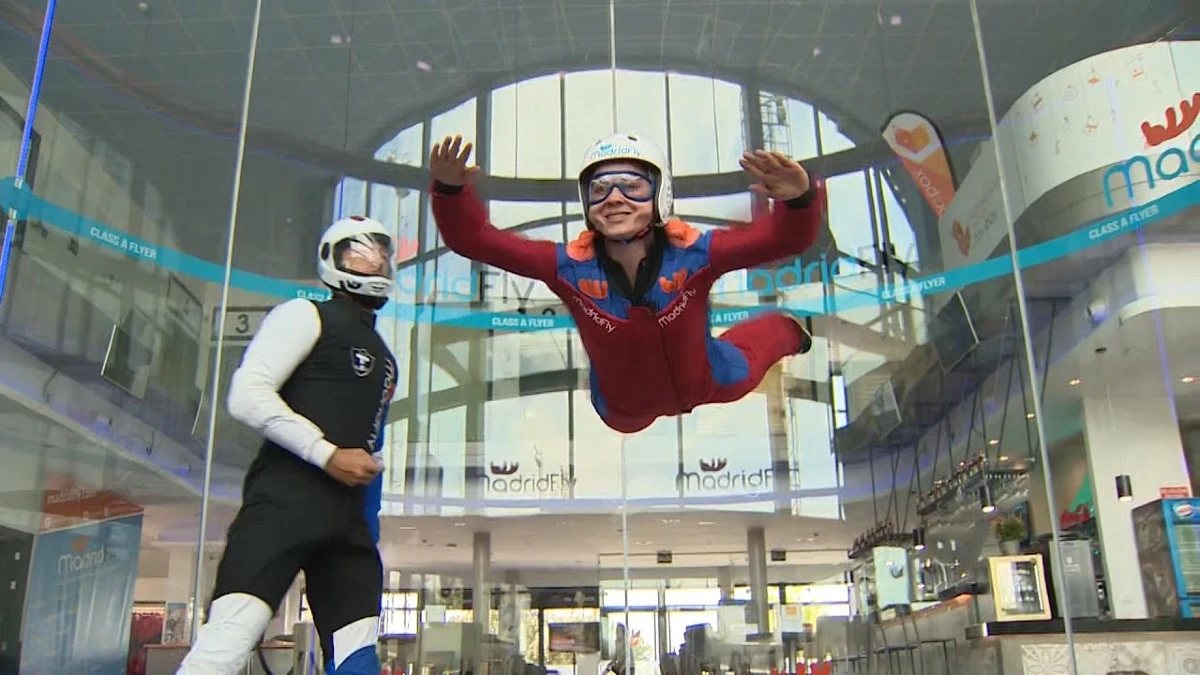 What to expect
Prepare for an extraordinary flying adventure at Madrid Fly and experience the thrill!
Two thrilling flights: Kids will enjoy two exhilarating flights in Madrid Fly's state-of-the-art wind tunnel, simulating the sensation of flying through the air.
Unforgettable adventure: Madrid Fly offers a unique and memorable adventure creating lasting memories of flying in a controlled environment.
Theoretical class: Before the flight, there will be a brief theoretical class where children will learn the basics of indoor skydiving, including body positioning and techniques.
Necessary clothing: Madrid Fly provides the required clothing for the flight, ensuring that children are properly equipped for a safe and enjoyable experience.
Experienced instructors will guide and ensure the kids' safety throughout the experience, making them feel confident and secure.
With its upgraded facilities and professional staff, Madrid Fly will surely give you and your child an unforgettable experience.
---
---
Where to book tickets
You can purchase Madrid Fly tickets online or at the attraction. We recommend buying tickets online as it has many benefits.
Online ticket prices tend to be cheaper than tickets at the attraction.
When you buy online, you can avoid the long queues at the ticket counters.
When you book early, you also get your preferred time slot.
Because some attractions sell a limited number of tickets, booking early helps avoid last-minute disappointments.
How do online tickets work
Go to the Madrid Fly booking page, select the preferred date, time slot, and number of tickets, and buy the tickets immediately!
After the purchase, you will receive the tickets in your email.
There is no need to bring any printouts.
On the day of your visit, you can walk in and show the e-ticket on your smartphone at the main entrance.
Madrid Fly ticket prices
The Madrid Fly ticket costs €50 for children between five to 12 years old.
This ticket includes two flights for one child and guides in various languages.
The maximum strength of a group allowed at the Madrid Fly is 12 people.
This ticket also covers the clothing for this indoor adventure and the theoretical class before the activity begins.
Madrid Fly tickets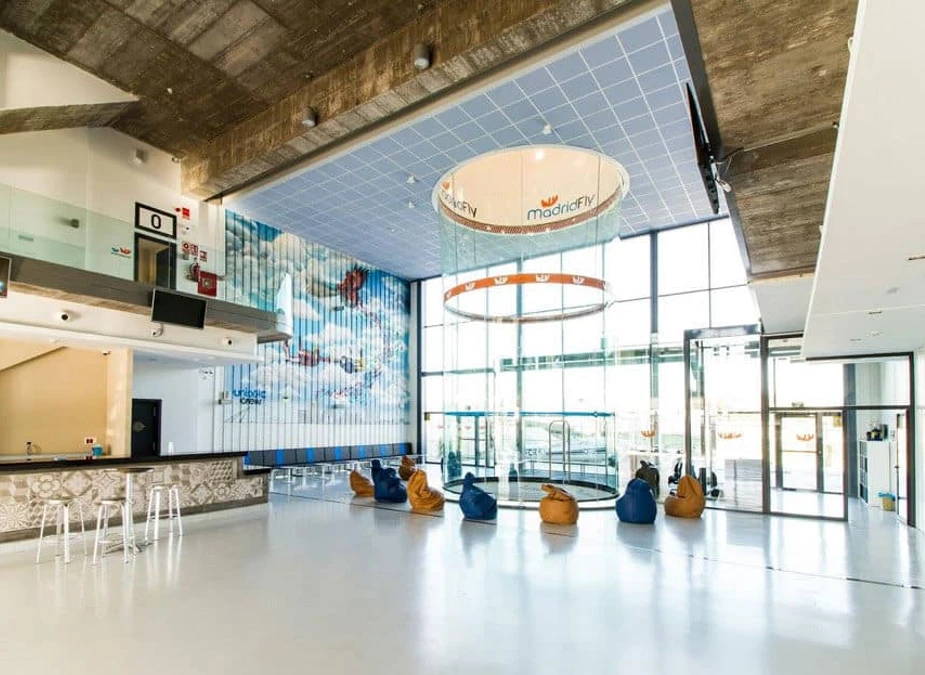 The Madrid Fly is considered one of the best indoor skydiving tunnels! With this ticket package, children aged five to 12 will enjoy two exhilarating flights guided by expert instructors.
The Madrid Fly provides all necessary clothing and a brief theoretical class to ensure a seamless experience.
An adult will accompany your child throughout the flight. Gift your child a perfect adventure that is safe and exciting at the same time.
Ticket Price
Kids Fly 2 Ticket (5 to 12 years): €50
Save time & money! Buy the Madrid Pass and visit the Royal Palace of Madrid and the Prado Museum with a comprehensive audio guide. Learn interesting facts about Madrid's rich history and famous landmarks. Take a panoramic bus tour of the city's top sights!
---
---
How to reach
Madrid Fly is the largest wind tunnel in Europe and is located in Las Rozas, Madrid.
Address: Av. Ntra. Señora del Retamar, 16, 28232 Las Rozas de Madrid, Madrid, Spain. Get directions.
The Madrid Fly is conveniently located within reach of public transportation, and it is also easy to go to on your own.
By Bus
The Madrid Fly, Spain is only 4 minutes away from the Trva.Navalcarbón-Polideportivo bus stop.
Take buses 2, and 625.
The Madrid Fly is only 2 minutes away from the Av.Nuestra.Sra.Del Retamar-Cementerio bus stop.
Take buses N903, 625, and 2.
By Train
The Estación de tren Pinar de Las Rozas is the nearest train station to the Madrid Fly. You can reach Madrid Fly indoor skydiving by taxi from this train station within 5 to 10 minutes.
Take trains C3a, C7, C8, C10, and REGIONAL.
By Car
If you're driving by car, turn on Google Maps and get started!
Parking lots are available near the attraction.
Timings
Madrid Fly is open from 5 pm to 8 pm from Wednesday to Friday, and 10 am to 9 pm on Saturday.
On Sundays, the attraction operates from 10 am to 2 pm.
It is closed on Mondays and Tuesdays.
Best time to visit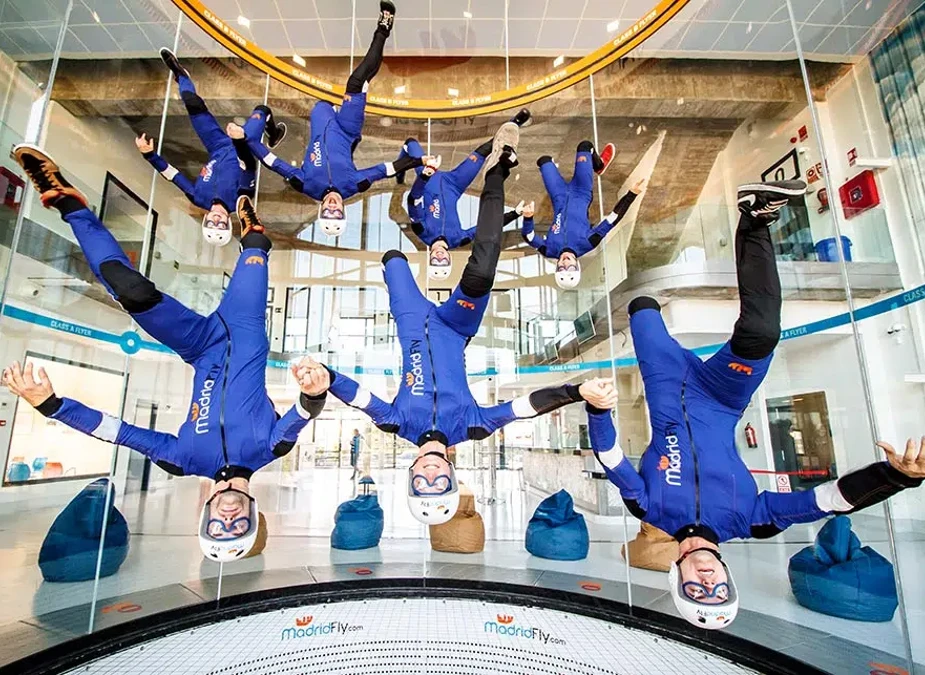 The best time to visit is the earliest time slot available, i.e., 5 pm on weekdays and 10 am on weekends.
You can avoid the crowd during the early hours and enjoy the flight.
Planning your visit on weekdays is better as weekends attract more visitors.
How long does the flight last
The flight at the Indoor Madrid Fly lasts for about 1 hour 45 minutes (two flights for one child included).
As this is a famous place of attraction, it has different time slots and you have the option to book the show at your convenience.
Your child will definitely enjoy every minute of the indoor adventure!
---
---
FAQs about the Madrid Fly
Here are some frequently asked questions about the Madrid Fly.
What is the Madrid Fly's wind tunnel?
The Madrid Fly's wind tunnel is an indoor skydiving facility that simulates the sensation of freefall through a vertical wind tunnel. 

It offers a unique and thrilling experience for both beginners and experienced flyers.
How does the wind tunnel work?
The wind tunnel of the Madrid Fly uses powerful fans at the base to generate a vertical column of air, creating a controlled airflow that allows participants to float and fly mid-air. 

It gives one the feeling of skydiving without the need for an actual aircraft.
Is indoor skydiving safe?
Indoor skydiving is considered safe when performed under proper guidance and supervision. 

Madrid Fly's wind tunnel is equipped with safety measures and trained instructors to ensure a secure and enjoyable experience for all participants.
Do I need any prior experience to try indoor skydiving at Madrid Fly?
No prior experience is required to try indoor skydiving at Madrid Fly. The facility caters to flyers of all skill levels, including beginners. 

Qualified instructors provide thorough training and guidance before each flight to ensure a safe and enjoyable experience.
What is the minimum age requirement for indoor skydiving at the Madrid Fly?
The minimum age requirement at the Madrid Fly may vary depending on the specific program or package. However, generally, participants need to be at least five years old to fly. 
How long does a typical indoor skydiving session at Madrid Fly last?
A typical indoor skydiving session at Madrid Fly lasts between 1 and 2 hours, including training, gear preparation, and flight time. 

The flight usually lasts a few minutes, but the overall experience may vary depending on the chosen package and group size.
Can I bring spectators to watch my indoor skydiving session?
The Madrid Fly welcomes spectators to watch the indoor skydiving sessions. 

There is usually a designated viewing area where friends and family can observe and cheer on the flyers as they experience the thrill of flight.
Is it necessary to make a reservation in advance for indoor skydiving at Madrid Fly?
Booking tickets in advance to secure your skydiving spot at the Madrid Fly Tunnel is highly recommended. The Madrid Fly is a popular venue, so reserving your tickets ensures guaranteed entry.
 What should I wear for indoor skydiving at the Madrid Fly?
Participants are advised to wear comfortable, athletic clothing, such as a t-shirt, shorts or leggings, and closed-toe shoes. 

Loose items like jewelry and hats should be removed or secured before the flight. The Madrid Fly will provide flight suits and necessary safety equipment.
Popular attractions in Madrid